Partner Post Roundup | Revealbot Facebook Ads Tips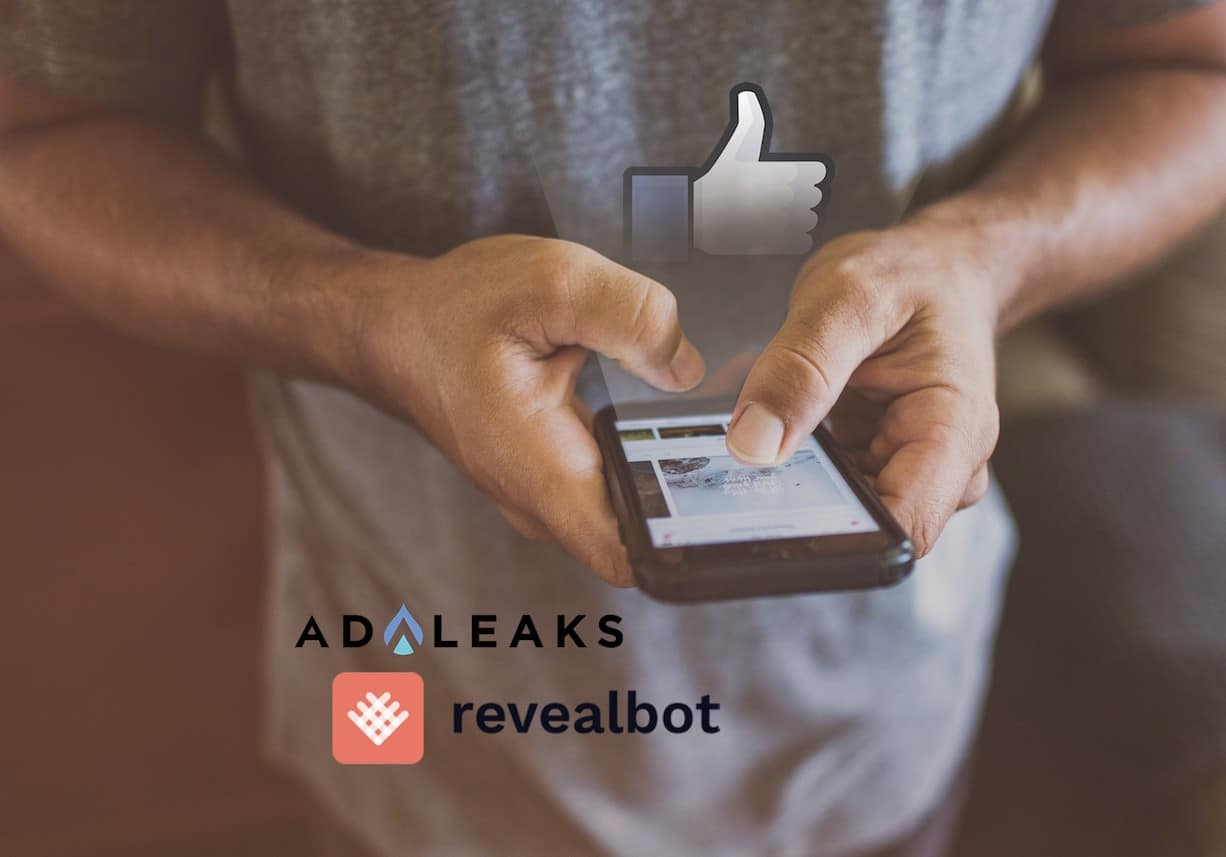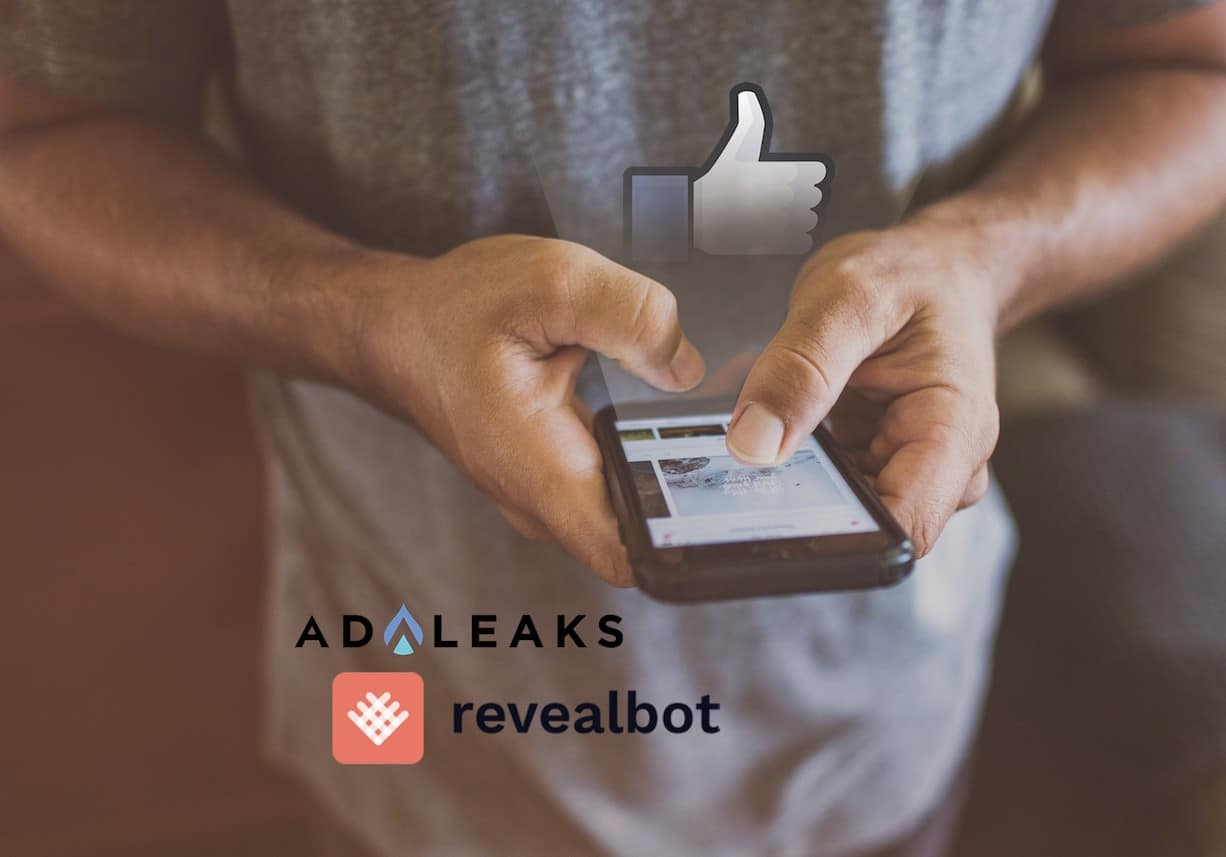 Howdy folks!
One of our partners, Revealbot, is going above and beyond to provide you with useful Facebook Ads tips and strategies on their blog.
Even if you aren't using their system to automate Facebook Ads rules and scale your campaigns (and you should!), these recommendations alone can help you get more from your campaigns.
Check out the Featured Snippets below for actionable Revealbot Facebook Ads tips from recent blogs that you can apply to your campaigns. Click the link at the end of each section to read the full post.
And if you're already an AdLeaks member, click here for an exclusive discount to start using Revealbot now.
Hacking Social Proof in Facebook Ads
Facebook Ads rely in part on 'relevance rankings' to decide which ads to show. This means your ads are more likely to appear to your audience, and at a lower cost, if "likes" and other engagement metrics are high.
Now, 'engagement' and 'social proof' aren't exactly the same thing. But in this case, you can 'hack' social engagement on your Facebook ads so every ad looks like engagement is off the charts.
Featured Snippet
"When you create a new ad in Ads Manager, Facebook generates a new page post. This post has a unique reference number, called a post ID.
"If you duplicate an ad, Facebook will create an entirely new post with a new post ID. Even though it's a duplicate post, the engagement from the original ad is attached to the original ad's post ID. That means your duplicate post will not have the 'likes,' comments, and shares the original ad had.
"But here's the trick: When duplicating an ad, there is a way to keep all the engagement by linking your new ad to the original ad…
"This is extremely useful when you're trying to scale your Facebook ads and you want to test the same ad across several audiences and ad sets. Instead of creating a unique ad for every one of those ad sets, you can use the same ad across all your ad sets. So during testing, you can gather all the engagement into a single ad and then turn off the underperforming ad sets/audiences."
Read Full Post: How to Hack Social Proof in Facebook Ads
Framework for A/B Testing Facebook Ads
The goal of A/B testing Facebook Ads is to improve your metrics, but the purpose of each test is to find out whether you should apply a variation to the entire campaign or account. (Sadly, the answer is often "no.")
Try this scientific approach to set up and run your A/B tests for credible and useful results.
Featured Snippet
The 8 Keys to Valid Facebook Ads A/B Testing
Pick the metric to measure success
Define success up-front
Define the right sample size
Establish the budget
Define the time period
Split sample groups equally and randomly
Describe the test
Monitor equal reach between test and control groups..."
Define The Right Sample Size — Statistical Significance
"A question always arises when analyzing test results, 'is the observed lift in conversion a result of the change that I made or random?'
"Linking the uplift in conversion to the tested change when it is not is related is a false positive. To reduce the chance of reaching a false positive, we can calculate the statistical significance, which is a measurement of the level of confidence that a result is not likely due to chance.
"If we accept that there is a 5% chance the test results are wrong (accepted false positive rate), the statistical significance, therefore, is 100% minus 5%, or 95%. The higher the statistical significance the better as that means you can be more confident in your test's results and 95% is the recommended level of significance you should strive for."
Read Full Post: Framework for A/B Testing Facebook Ads
5 Ways to Use Facebook Audience Insights
Facebook Audience Insights provides data about Facebook users and people who 'like' your Facebook Page. This information can help you make more effective and relevant ads for your users.
Using insights with Revealbot Facebook Ads will help you make more of the right audiences and spend less on the wrong ones.
Featured Snippet
How to Analyze Facebook Audience Insights
"...Looking towards the top of Facebook's Audience Insight tool, you'll see four tabs: Demographics, Page Likes, Location, and Activity. We'll start with demographics.
"Note: if you apply too many layers and have fewer than 1,000 people in the seed audience, Facebook may fail to show any data. On the other hand, broadening the audience (like we did as an example) may lead to irrelevant suggestions. All in all, keep your seed balanced for best results."
Demographics
"The Demographics tab encompasses data on age, gender, relationships, education, and job titles. In our case, over half of Facebook users who showed interest in software are currently married and have a college degree.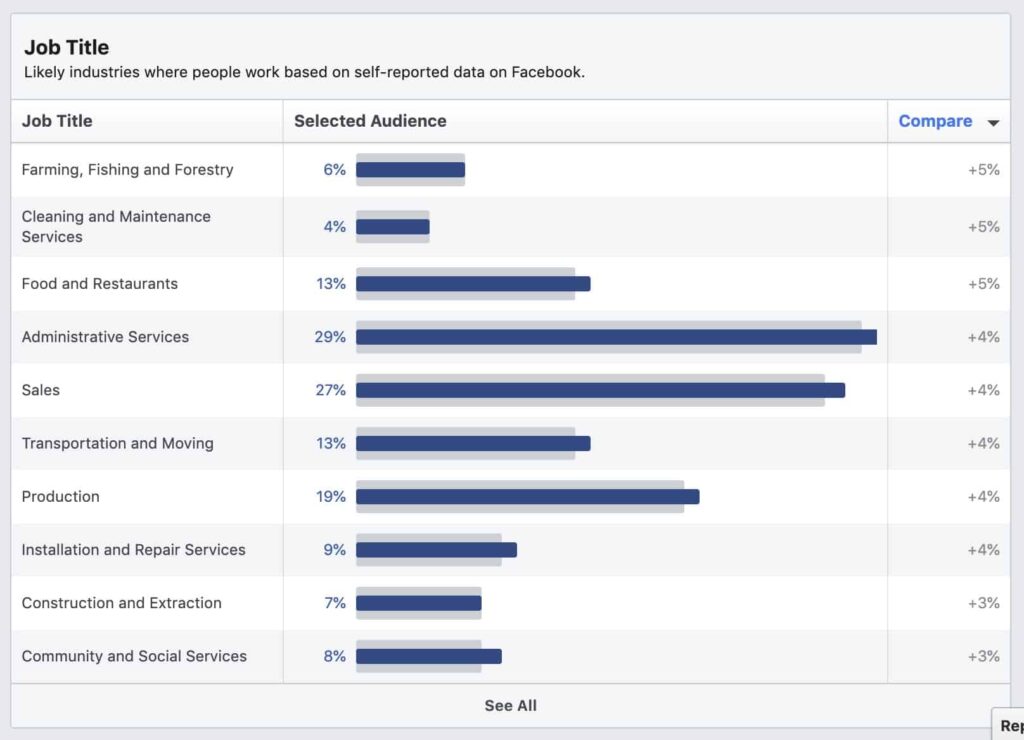 "Note: The darker blue bars represent your selected audience. The light grey bars behind the darker blue represent the global Facebook audience so you can see where your audience over or under indexes compared to all users.
"This list is sorted in descending order of how much your selected audience over indexes compared to all Facebook users.
"It is not by default sorted by most popular job titles, which is why seeing 'Farming, Fishing and Forestry' at the top is confusing at first. If you click on the 'Selected Audience' column header, you can sort by most popular job titles."
Read Full Post: 5 Ways to Use Facebook Audience Insights
How to Integrate Slack and Facebook Ads
If you're already using Slack and running Facebook Ads, connecting the two is easy.
Further, Revealbot Facebook Ads automation rules can send you a Slack notification when ads, ad sets, campaigns, or ad accounts meet your preset conditions.
Featured Snippet
"There are three ways to integrate Slack and Facebook ads:
Send Facebook lead ads submissions to Slack for salespeople to contact them
Send Facebook ad campaign performance alerts to Slack when immediate action is required
Pull Facebook ad campaign performance data and reports from Slack
"In this article, we're going to show you how to do them all."
Slack and Facebook Integration For Lead Ads
"If you want to integrate Slack with Facebook ads to push lead data from Lead Ads into your CRM, you can use Zapier's integration to send lead form submissions to Slack.
"First, you'll need to connect your Facebook profile and ad account to Zapier. Then you'll be able to select 'new lead' as the trigger event and you'll be able to select the lead ad form you want the submissions from to be sent to Slack.
"Then you'll connect Slack to Zapier and set the action event to "channel message" (or whatever you want).
"Once you do this, you'll be able to customize the contents of the message that's being sent to Slack. Obviously, you're going to want to include all of the lead's data in the message to best inform the salesperson or whoever will be contacting the leads."
Read Full Post: How to Integrate Slack and Facebook Ads
Ready to scale up your Facebook Ads performance? Revealbot's tech tools will do all the heavy lifting — just set up your rules and watch your numbers improve. Click here to learn more.
For exclusive digital marketing tips from the world's top ad buyers, Join AdLeaks today!