Apple's BNPL Solution & SKAdNetwork Updates Help Sellers, Ad Buyers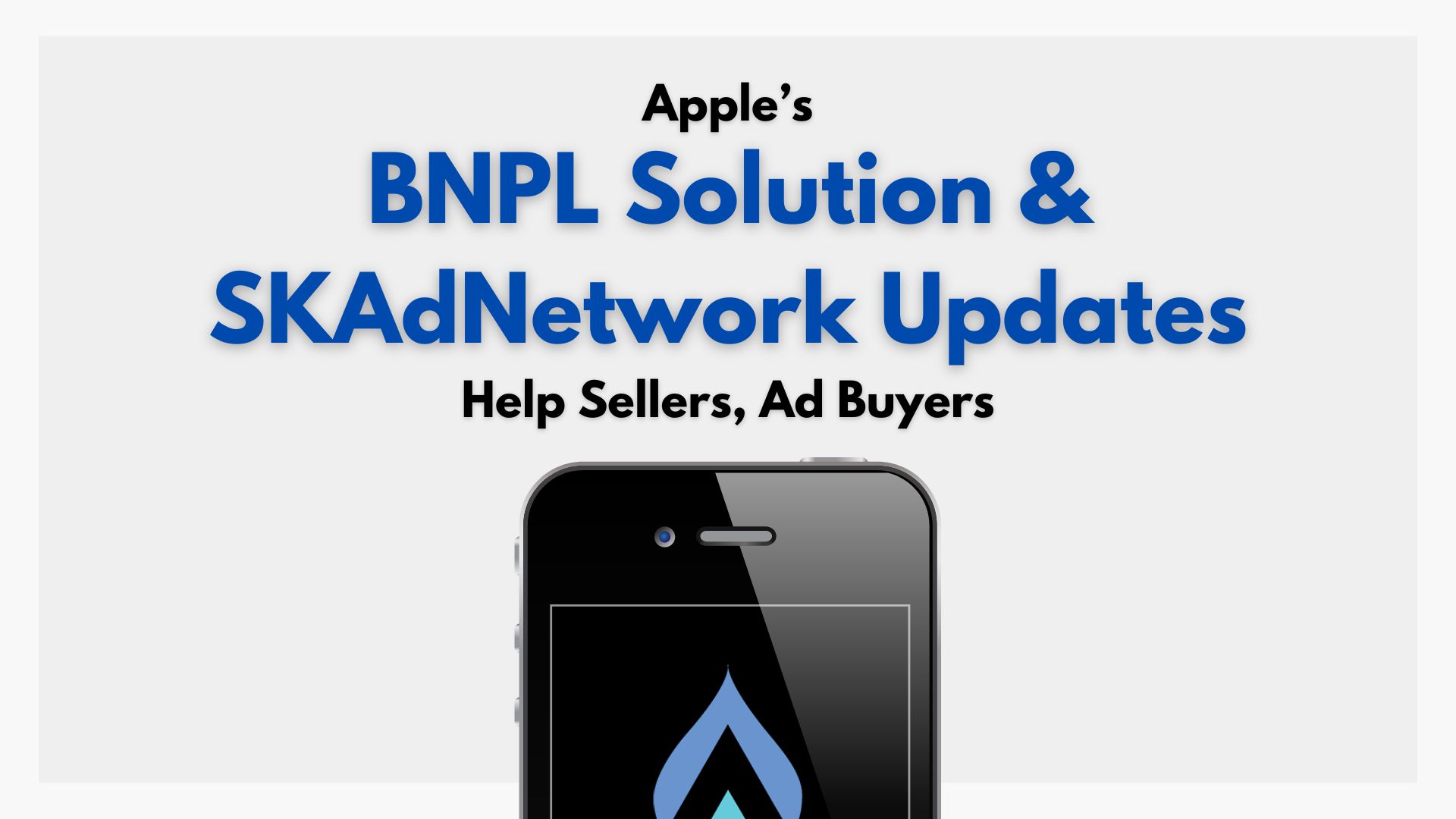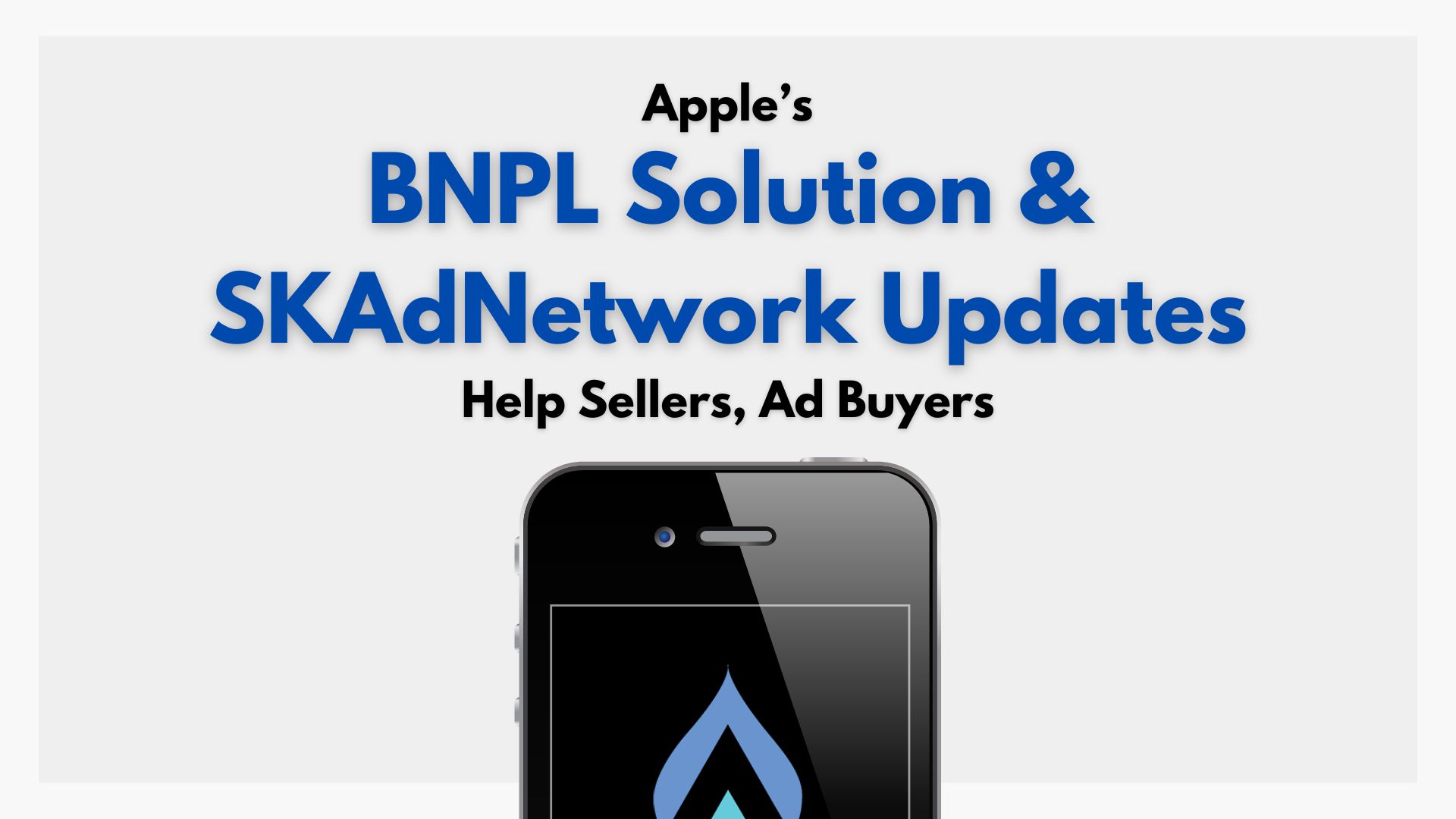 Apple has announced two new updates, a buy now pay later (BNPL) solution and a SKAdNetwork update, that aim to improve eCommerce payment options and bolster internal support for sellers and buyers respectively.
Apple is widely seen as the company that fired the first major shot in the "Privacy Wars" with its iOS-enabled opt-out for app tracking. While Facebook and other platforms have been scrambling to fill in the information gap created by a lack of tracking data, Apple has used this time to not-so-quietly beef up its own marketing and eCommerce infrastructure.
One recent example is called Apple Pay Later, Apple's new BNPL offering for shoppers who use Apple Pay.
Apple Pay Later
Apple's BNPL solution for eCommerce vendors is just the latest in a growing list of companies that are partnering with stores and shoppers to leverage this form of payment. And like those merchants, Apple Pay Later will let buyers split purchases up into four interest-free payments.
That said, there are a few things that set Apple's offer apart.
The first, obviously, is name recognition.
People who love and trust Apple products implicitly are much more likely to use something called "Apple Pay Later" than a third-party vendor that they've never heard of.
Second, the usability of Apple Pay Later should be as seamless and intuitive as Apple users have come to expect. It will work everywhere that Apple Pay does in the US, integrates easily with Shopify, and doesn't require additional back-end effort for merchants.
Finally, in addition to Apple Pay Later, the tech giant also announced Apple Pay Order Tracking, which gives sellers the ability to send receipts and order tracking information directly to your Apple Wallet.
SKAdNetwork 4.0 Update
The SKAdNetwork, for those who aren't familiar, is Apple's privacy-focused attribution API for iOS that allows ad networks or marketers to attribute installs directly from the App Store without using an attribution vendor.
While the SKAdNetwork has actually been around since 2018, advertisers and publishers didn't have much use for it until Apple added the ability to opt-out of tracking to iOS 14.
And when finally users turned to the SKAdNetwork for help, they found it "actively painful to use," as one marketer told AdExchanger.
Those challenges, combined with users' sense of urgency to collect any and all available data, have led to rapid changes for the SKAdNetwork. And the documentation for SKAdNetwork 4.0, which Apple released last week, shows four more updates that will make this tool more useful for marketers.
1. Web-To-App User Flows
Early versions of the SKAdNetwork only tracked app-to-web and app-to-app campaigns, which meant that advertisers who wanted to find out how users reached the App Store couldn't get that information. The new version, however, will give you the ability to attribute web-to-app user flows.
Apple hasn't yet clarified if these flows will only apply to Safari or also support other browsers, but the addition of this functionality will be very valuable for your broader marketing picture.
2. Three SKAdNetwork Conversion Windows
Second, advertisers will get more insight into how people engage with an app over time after it's been installed with postbacks for multiple conversion windows.
The current version of the SKAdNetwork only provides one postback per advertised app with a limited amount of data. In version 4.0, advertisers can get as many as three postbacks — one within two days, one within 3-7 days, and one between eight and 35 days after installation.
Apple still won't share any data points that marketers can use for personalized targeting, but a clearer view of app engagement can help you get a better understanding of users' in-app activity, which you can leverage in your marketing efforts.
3. Hierarchical Conversion Values
Another addition to the SKAdNetwork, hierarchical conversion values, are meant to help advertisers track more information without flouting privacy rules.
But first, we'll need a little bit of context.
The current version of the SKAdNetwork API doesn't share conversion values tied to post-install engagements if a campaign doesn't meet a certain privacy threshold within 24 hours, which makes campaign optimization a little bit like throwing darts with a blindfold on.
The new-and-improved SKAdNetwork, however, uses hierarchical conversion values to ensure that advertisers will still get some data back even if their campaigns don't generate enough installs to meet Apple's privacy threshold.
Basically, the number of conversion values advertisers see will depend on the number of installs a campaign generates. So if your ads are effective and convert at a relatively high rate, you'll be rewarded with additional (but still anonymized) conversion data. So make sure you're putting your best foot forward
4. Source Identifiers
Similar to the hierarchical conversion values, the new SKAdNetwork documentation indicates that a configurable source identifier will replace the two-digit Campaign ID field, which currently limits marketers to 100 IDs per network.
These identifier fields will offer more tracking parameters, including placement and creative type, much like a standard UTM parameter.
Taken together, these updates are a strong step forward for the SKAdNetwork's usability. There is still a long way to go, however, before Apple offers the robust tracking infrastructure that marketers considered the status quo until recently. 
Looking for more tools and strategies to overcome your eCommerce and attribution challenges? Join the AdLeaks community today and get everything you need to succeed!