Send These 3 Easter Email Campaigns to Maximize the Spring Season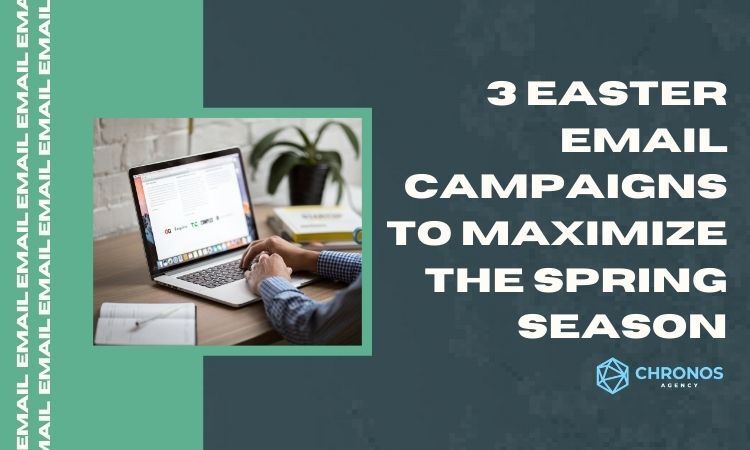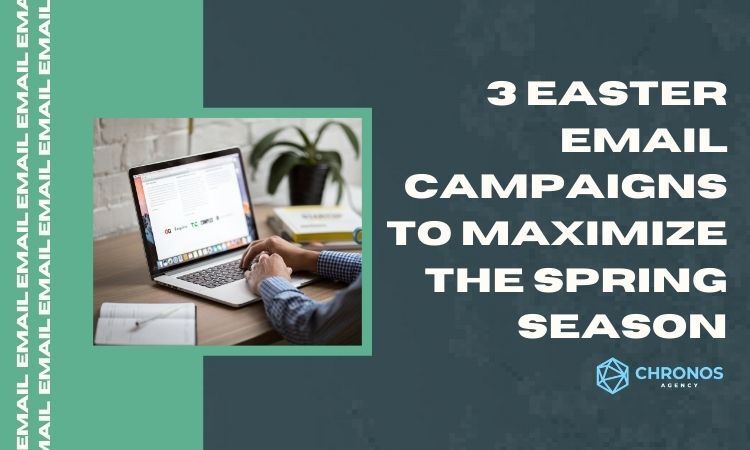 Spring is coming, and it's a season that often symbolizes a fresh start. For the retail sector, spring is actually the biggest shopping season of the year following the massive Q4 holidays. With online shopping still on a high, eCommerce stores should take advantage of three essential Easter email campaigns to maximize the spring season.
Why Retailers Need to Be Ready For Spring Campaigns
Prior to COVID-19, retail foot traffic would usually rise as spring comes closer. Though vaccines are starting to roll out, the majority of the world is still in quarantine mode. Online retailers should take advantage of this.
Also, 76% of Americans engage in household spring cleaning year after year. This triggers shopping activities as consumers aim to refresh their wardrobes and home items.
Further, spring signals a barrage of special holidays spread throughout the season. The whole spring sales season kicks off with Easter, which is a lucrative revenue opportunity. In fact, four in five Americans celebrate this holiday, spending an average of $151 on Easter-related purchases. This totals almost $20 billion in nationwide sales.
Easter is a big deal for commerce in the United Kingdom too, as it represents the second-largest sales holiday after Christmas.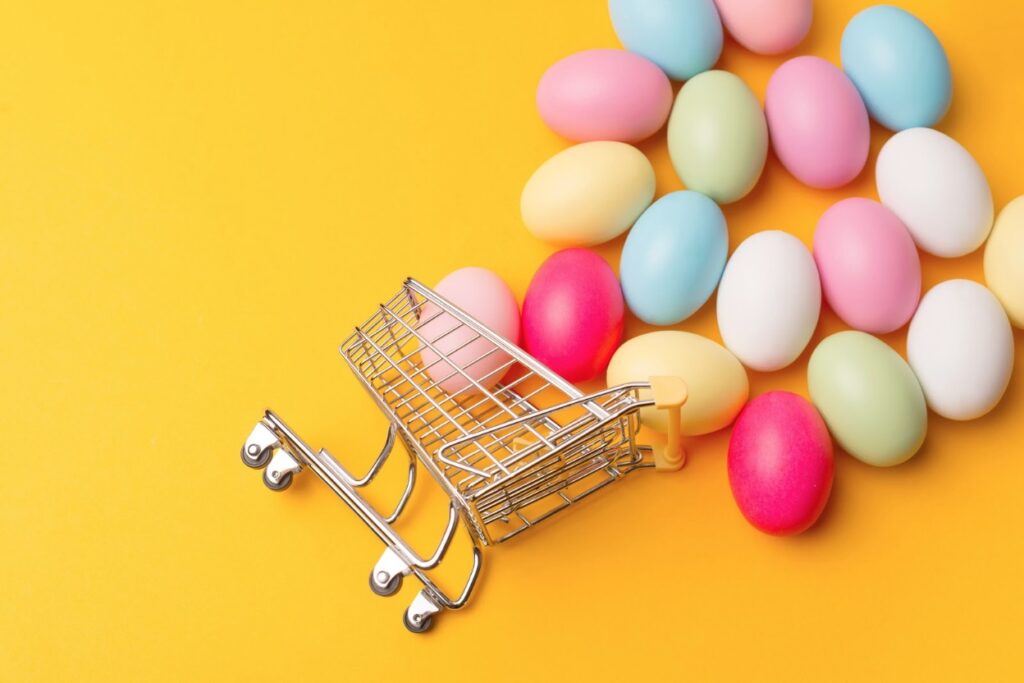 So if you haven't started preparing your Easter email campaigns and spring campaigns yet, this is the sign pushing you not to let go of this opportunity to break your own revenue records.
The 3 Easter Email Campaigns That Will Maximize Your Spring
With the proven success of the spring sales season, it's not surprising that eCommerce stores are already starting to prepare for the fast-approaching Easter holiday on April 4.
But if you haven't started setting up and implementing your own Easter email campaigns, there's no need to worry.
When it comes to holidays, there is already a tested and proven framework on how eCommerce stores can maximize the revenue they can get from these occasions.
Originally developed for the crucial BFCM season, the same principles actually apply to all holidays. In fact, this holiday sequence has led to results like a 350% boost in revenue within a week! Today, this is the trusted backbone of all holiday campaigns we implement for over 200 eCommerce stores.

The holiday sequence contains three crucial emails that you should implement right away. Check them out here:
1. Build Hype For Your Subscribers
You don't have to wait for the actual holiday date before you start raking in massive sales! The first crucial email you should always have is called a "Hype Builder."
True to its name, the hype builder email's job is to warm up your audience and get them excited for what's to come. While spring itself is a much-awaited season, can you imagine what a spring hype builder email will do?
Additionally, you're helping interested buyers to prepare for their shopping spree instead of taking them by surprise.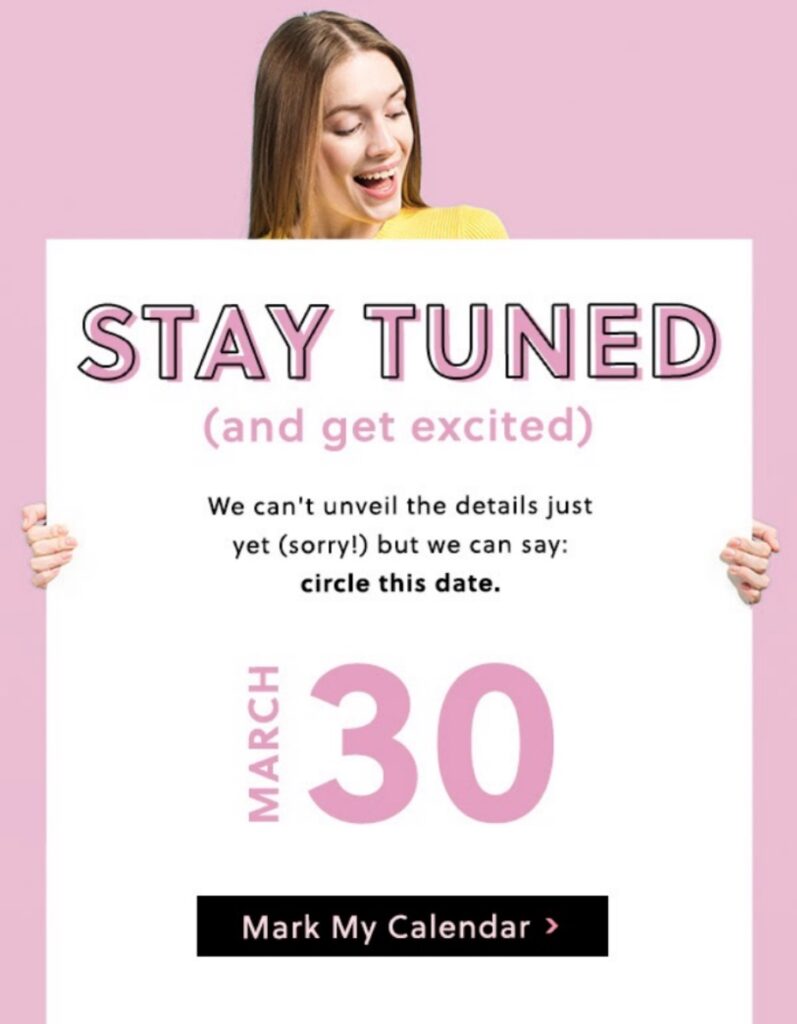 Basically, the Hype Builder aims to:
Incite curiosity and generate excitement for your existing subscribers
Inform would-be buyers of the upcoming sales event
Provide a teaser on the highlights of the sale
Provide a way for the subscribers to be reminded through an add to calendar button
Here are other tips on how to make your hype builder emails generate both revenue and excitement:
Explore an angle wherein the hype builder emails double as an "exclusive invitation" so you can engage interested customers with an early access sale. When we did this for a beauty brand, the hype builder emails actually generated up to $3,000 per email even before the holiday sale itself.
Use transactional call-to-action (CTA) buttons in your product highlights to encourage subscribers to purchase now even before the sale (or stocks might run out).
2. Cater to Your VIPs with Exclusive Easter Email Campaigns
Every eCommerce store has VIPs, which is another way of saying your best customers.
As mentioned above, you can actually use your hype builder emails to invite your subscribers to opt-in to an exclusive early access sale which will give them access to bigger discounts and less competition.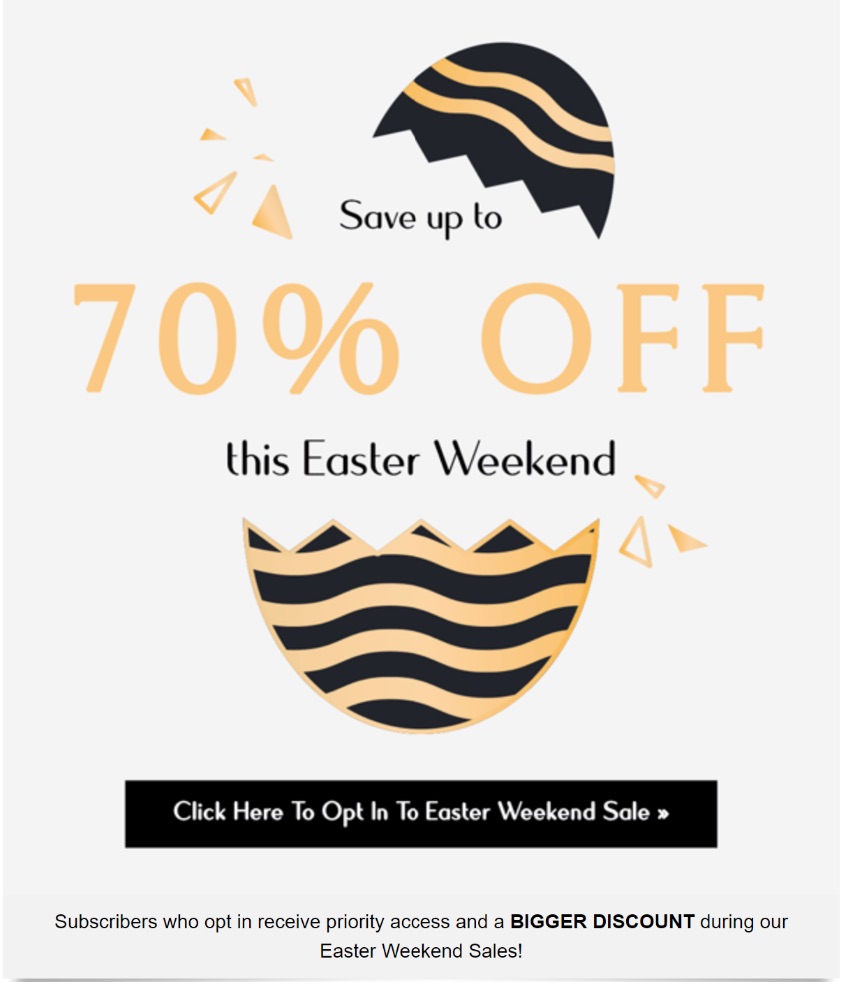 Once you have your VIP list, get your "VIP Launch Email" ready. Make sure it meets the following criteria:
Clear opportunity and message on what being a VIP entails (mention all the perks)
A message celebrating and rewarding them by making them part of a special and exclusive group
Usually, and based on our experience implementing VIP sales emails for various brands in many industries, this email will have the fewest recipients. However, the VIP launch email also generates almost double the revenue compared to the Main Launch email on the actual sale event.
Remember, these are the facts — your VIP list is composed of self-opt-in, high-value, and returning customers. They chose to sign up for this VIP list, which indicates a high intent to purchase.
Before the actual VIP sale, continue sending teaser campaigns to this special list to up your open rates and keep your unsubscribe rates low.
3. Wrap up Your Easter Emails With a Colorful Exit
When your sale event is drawing to a close, invoke the FOMO feeling and the sense of urgency to get the most out of your subscribers.
Here are some of our best practices for closing the sale:
Send reminders eight hours and six hours before the end of the sale period. Notify your VIPs and subscribers who opened or clicked on your emails throughout the duration of the Easter sale.
Integrate a countdown timer to emphasize that the special spring season sale is ending soon, and they should not miss out!
Highlight the products that have limited stocks left.
Try a surprise sales extension when your subscribers think that the sale period has ended. This strategy has proven itself, but it's best not to overuse it or it will lose its novelty.
Use the Success Framework to Get the Most out of Easter Email Campaigns
These three emails are what we call the heavy-lifting emails because of their impact on eCommerce revenue.
While these three emails are the most impactful, our holiday sales sequence contains other steps in the process that amplify the effect of these three crucial emails.
Of course, one thing to note is that this spring season sequence does not and will not work alone. There are a lot of things that factor into the success of your overall email marketing strategy — such as deliverability, segmentation, and AB testing.
These three Easter email campaigns will only work to their full potential if all other factors set them up for success. Check out this blueprint made specifically for online retailers to help them succeed.
The spring season can be your gateway to eCommerce success. If you want to ensure that you hit all your targets and all your revenue goals, you can apply for a free Chronos Agency strategy session where an email marketing expert can take a look at where your current strategy stands.