How an eCommerce Beauty Store Generated More than $40K in BFCM 2019 with Email Marketing Alone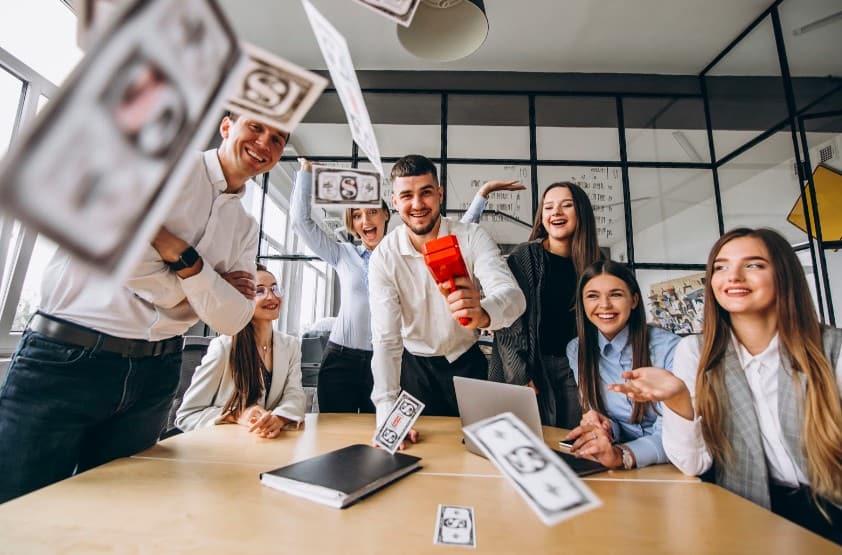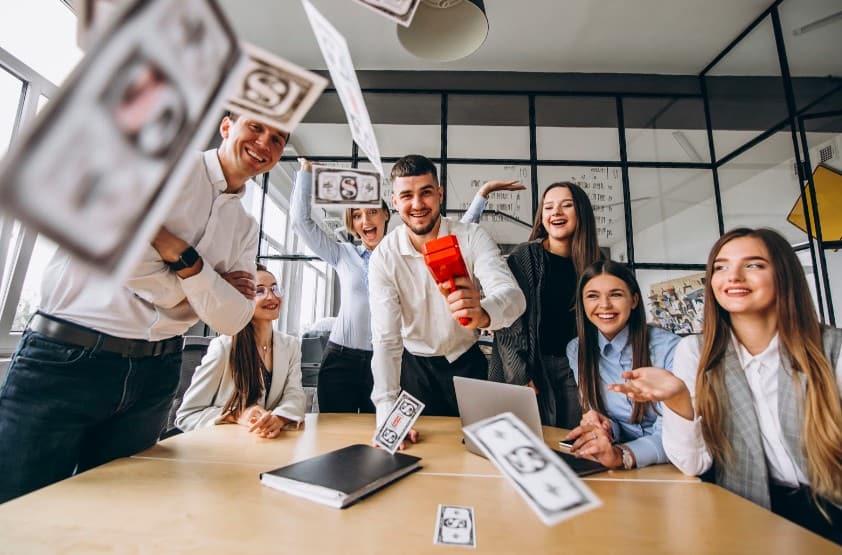 Black Friday and Cyber Monday (BFCM) 2019 came and went all too quickly, and now we're already full-swing in 2020 — but from the chaos of the end of the year rose opportunity and revenue.
This was especially the case with one of our clients, an eCommerce beauty brand, that was able to generate more than $40,000 during the BFCM rush,
So how did they do it?
The answer—we implemented our proven 6-Step Email Marketing Sequence that landed our CEO on the main stage of Affiliate World Asia. Sure enough, the strategy was once again a success.
Here's a quick recap of the six steps:
Build the hype

Email your priority list and VIPs

Launch early for VIPs

Launch to general customers

Send reminders

Close the sales
The Six-Step Email Sequence—Exposed
For you to further understand the importance of each step, here's a quick rundown of the successful BFCM email marketing campaign we implemented for our client.
Step 1: The pre-hype email with the right combination of elements
It's not enough to have your hype emails—they should be able to deliver. Without the right elements, your pre-hype emails may not be able to convert. Some of the most important elements include a clear discount percentage, the promo code, an easy-to-see CTA, or a countdown timer.
These elements will help you set up a smooth customer journey. It's important that they work together to inform your customer of your message and guide them towards completing a purchase.
Here's another thing that worked well—including the price difference before and during the sales event. We applied this strategy and check out these results: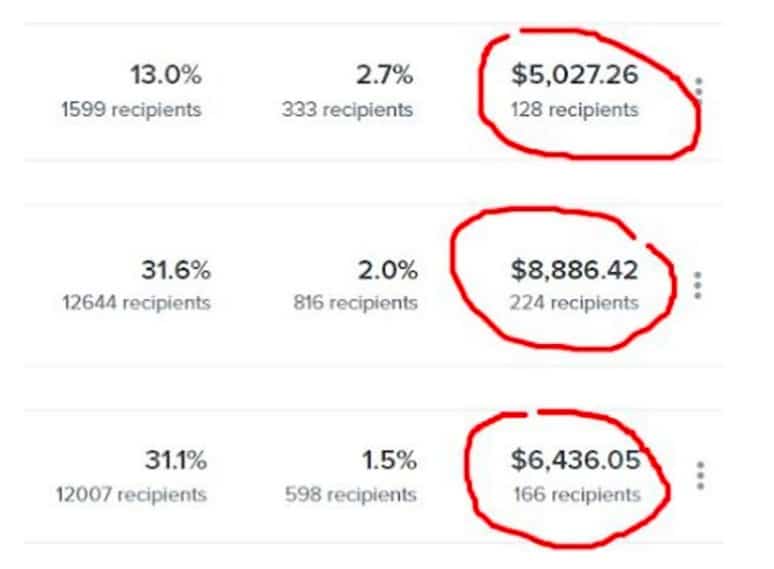 Steps 2 to 4: The email exclusive for VIPs followed by the general emails
How much are you willing to give to your VIP list? For this specific client, the VIPs were given up to 20% off during the Black Friday sale event and 25% during the Cyber Monday event.
But here's what really contributed to the success—their VIP list was given the opportunity to shop one day earlier than the rest!

It's not only a way to generate more sales from your loyal customers, but it's also a way to make your customers even happier.
Step 5: The reminder emails at the right time
As with most things in life—timing is key. For this client, we scheduled the reminder emails just a few hours after the initial emails were sent. Here are the results of this brand's reminder emails, the red circles show the results from emails sent at 6 pm while the uncircled ones were from emails sent at 10 am: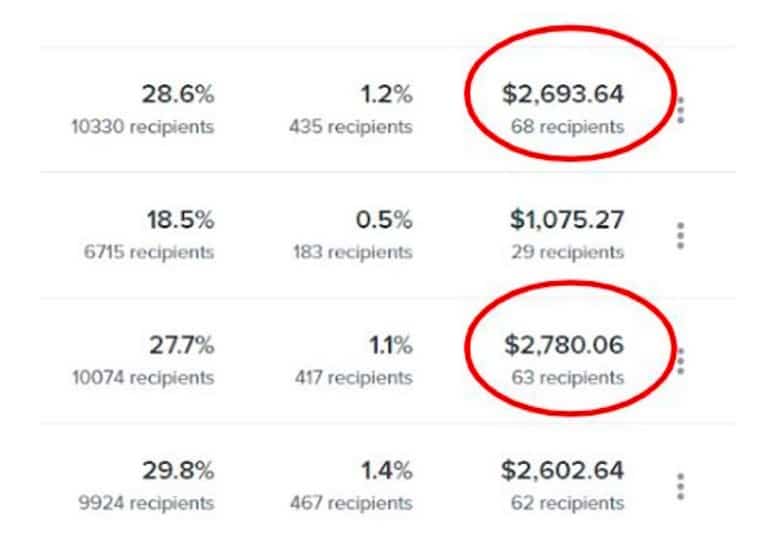 And here's an interesting observation from this year's run. The reminder emails actually generated more sales compared to the initial sale announcement emails.
It's likely that customers didn't have the time to open their emails around the time the initial emails were sent.
Reasons can range from work schedules or prior commitments. So by the time they checked their emails around midday or afternoon, the sales emails may have already been buried under countless other BFCM emails. By 6 pm to 8 pm, working professionals are already home from work, ready to shop away!
Step 6: The Closing Sale emails
Our initial retargeting strategy for this beauty brand involved sending 4 to 5 emails per day. Eventually, the retargeting plan was canceled and all efforts were focused on the main emails instead because of low open rates.
Here's the key takeaway for this. Yes, giving a sense of urgency to your customers is a go-to practice to encourage them to make a purchase. But, it is also important that you don't go overboard. You'll risk coming off as pushy and annoying, driving your customers away.
Look at the big picture, the benefits of a few extra thousand in revenue this month is not worth the cost of "burning your list. By hurting future deliverability, you risk losing hundreds of thousands more down the road!
What were the Key Success Factors of this BFCM campaign?
After consolidating all the results for this beauty brand, we were able to determine the specific holiday email strategies that contributed to this successful holiday season.

Proper Segmentation is key
We created and optimized this brand's email lists for BFCM. Ultimately, this means reviewing existing segments and making sure they're up to date before BFCM occurs.
When it comes down to it, segmentation is one of the backbones of any successful email marketing strategy. Remember, if your customers receive more relevant emails, the conversions and revenue will follow!
Email marketing works wonders when the emails are sent to the right people. No campaign would have worked if email lists were not properly segmented to begin with.
Here are the results for the segmented lists we created based on the hype emails we mentioned earlier:
VIP Email List Results: We sent this to only 12,358 recipients but it generated more sales compared to the general list.
It is vital to remember who your VIPs are. That is a list of high-value, self opt-in highly excited subscribers who purchased from you recently, and frequently.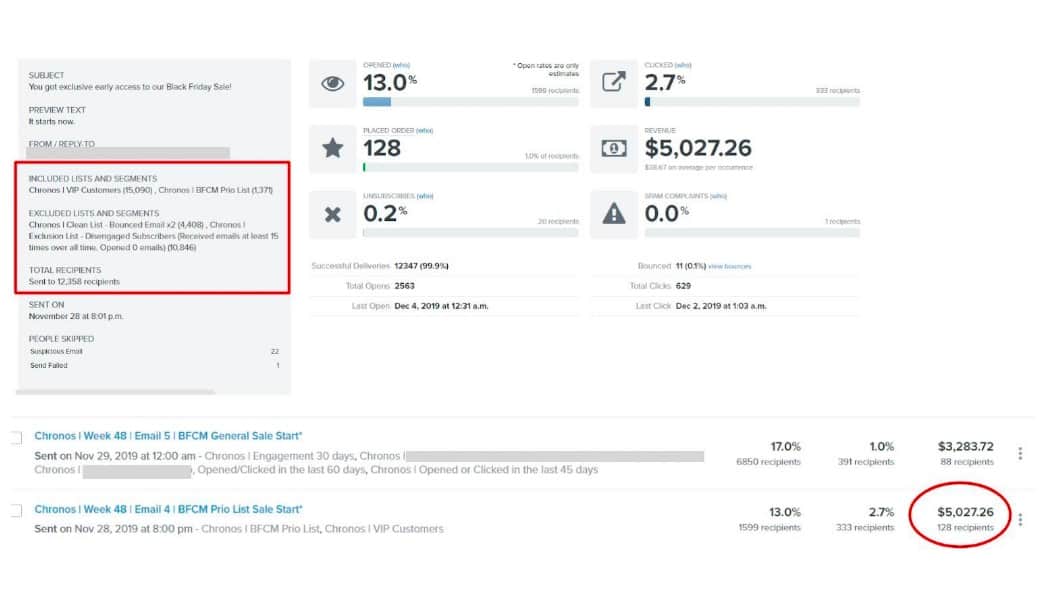 Single Product Upsells (SPU) Email List Results: This was the highest revenue-generating email from all emails sent during BFCM. Segments included those who viewed a specific product category and those who opened and clicked in the past month.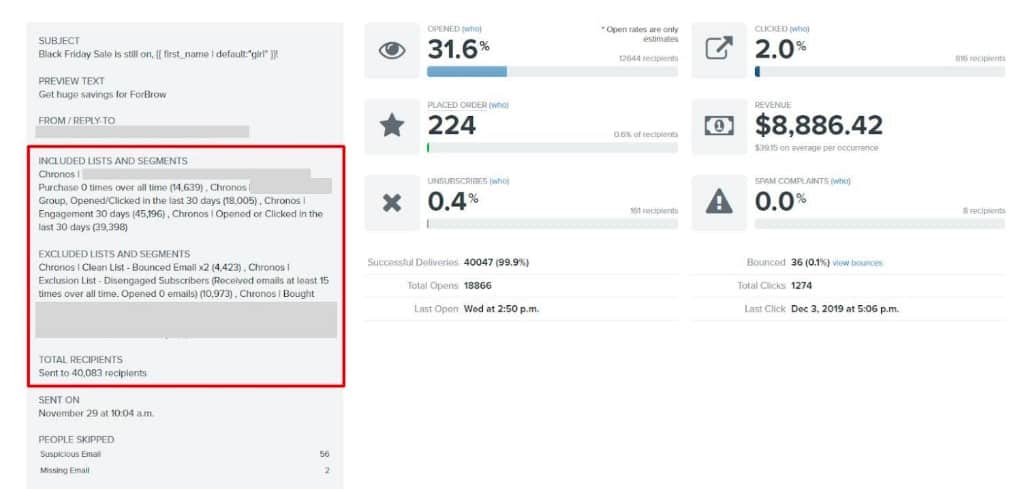 Reminder Email List Results: This was the 2nd highest revenue-generating email. Aside from the segmentation factor, this was also an "8 hours to go before Black Friday Sale ends!" kind of email. Panic buying is real.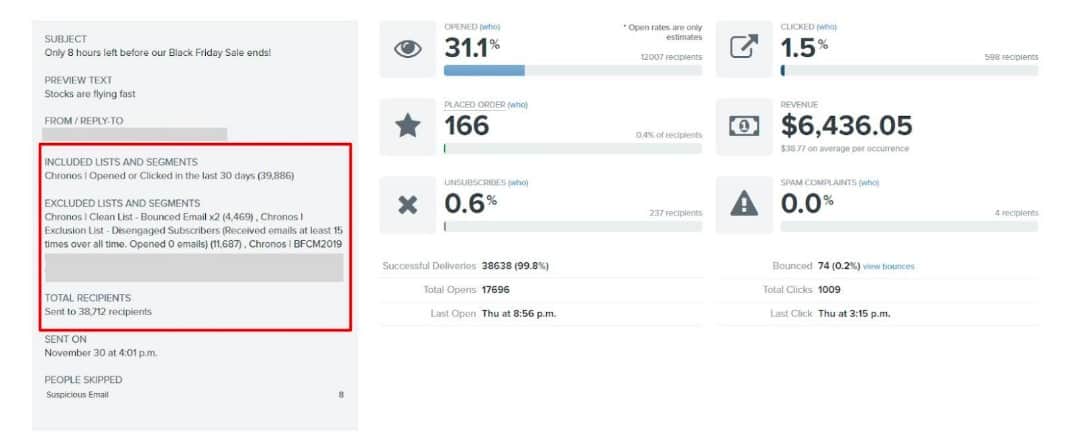 Every A/B test brings out the best of your emails
To help prepare this skincare brand for the BFCM madness, we put the emails we crafted for them through dozens of tests before the date—scattered throughout the year.
Here are the notable criteria we considered when testing the emails:
Sending time: 10:00 am vs. 11:45pm
Winner: 10:00am
Clear discount vs. reveal discount
Winner: Clear discount
With product description vs. without
Winner: Without product description
The presence of a

Free Shipping

banner
Result: Improved sales
It pays to test, test, and test your emails to find the best performing design and email campaign strategy.
In fact, you should use the resulting email design or strategy born from countless A/B tests as a basis for future email crafting. No more A/B Tests during BFCM—time to apply everything you've learned!
Early planning and preparation is essential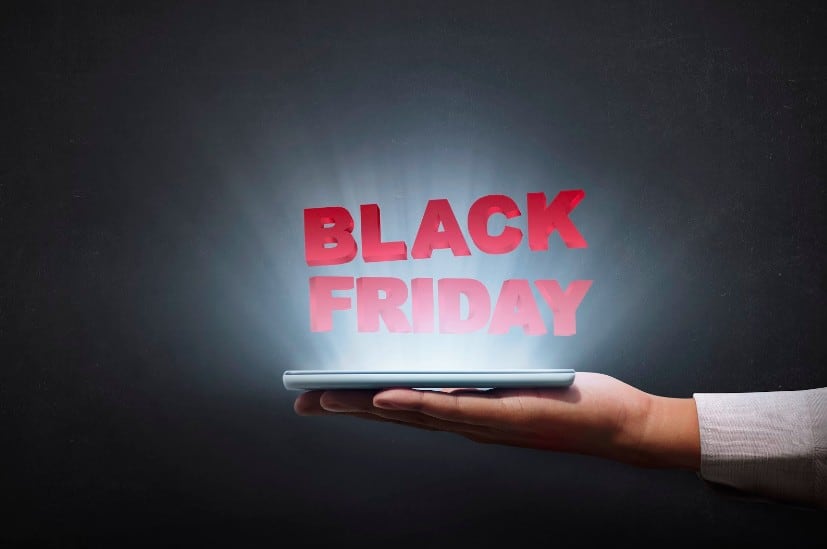 Planning ahead is a much-needed process. Don't wait until Q3 to start. As early as now, actually, you can already start planning your AB campaigns, setting your goals, and your other marketing strategies.

Remember, the BFCM is a team effort, and it involves even your creatives team aside from the sales team. It takes time to come up with ideas and strategies. It takes even more time for optimizing and setting up.

Having a checklist will also help you as you outline your plan of attack. A great starting list should have at least the types of emails you need made, the elements needed for your email design (don't forget the discount code!), the scheduling of the emails, and most importantly what segments you should create.
Being alert and flexible is also crucial
Yes, you can schedule your campaigns way ahead of time. But even if your emails are scheduled ahead, it would be good to check on your emails regularly during the sale to make sure your segmentation is optimized. If you notice a drop in your open rates, you can still adjust the next emails you'll send.
Quality Control galore
We cannot stress this enough. Imagine going through BFCM and finding out your discount code doesn't work. Make sure your emails, flow triggers, and automations all go through QC properly. Do it twice, thrice, four times or more if needed.
Invest in creativity
Having an optimized email marketing strategy will only get you halfway. To really stand out from the crowd, you've got to inject a healthy dose of creativity into your email crafting. Generic cookie-cutter designs just won't cut it, especially for BFCM. Even your subject line should be turning heads. Every single element counts!
Clarity breaks boundaries
While unleashing your creativity is great, don't stray too far from your objective. After all, BFCM is well-known worldwide so you don't have to be too different to the point of changing or not even mentioning the name of your sale. Remember—your customers are expecting something BFCM-related. Stay aligned to that theme so your customers won't misinterpret your sale as anything BUT BFCM.
Success is a process, so follow each step diligently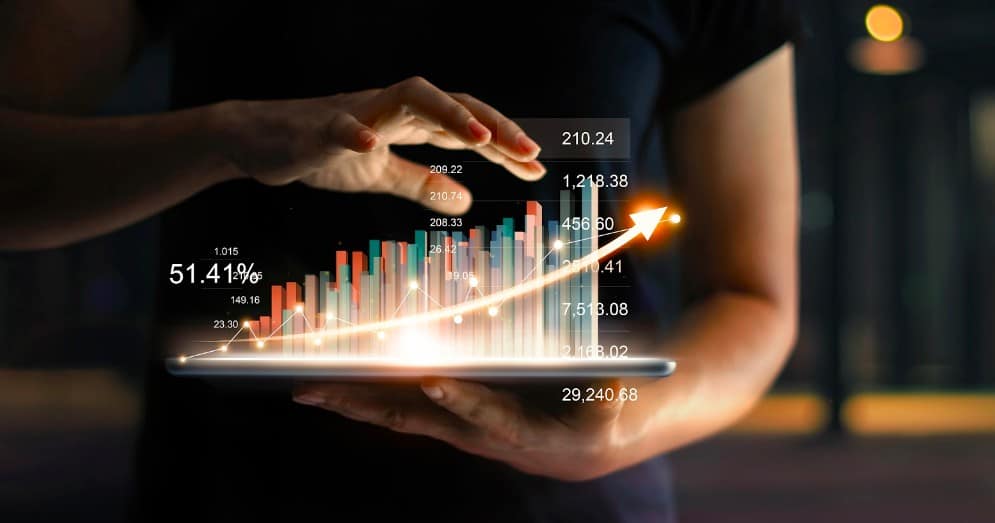 The 6-Step Email Marketing Sequence is a great starting foundation but it's up to you as to how you build up from it. If your objective is to get the most revenue you can out of a sale event, you already know the steps and you already have the tools to succeed.
In the end, your email marketing strategy should be an extension of your brand identity. Be it BFCM or any other major or minor sale events—careful planning, the drive to move forward without losing sight of your brand identity should solidify your online presence.
Are you in need of more email marketing-related assistance? Did you know that as an AdLeaks member, you actually get $200 OFF monthly when you decide to sign up for our services? We're just one call away! Schedule a free 30-minute strategy call with us and let's talk more about how we can help you use email marketing to grow your business.