6 Ways to Grow Your SMS Marketing Lists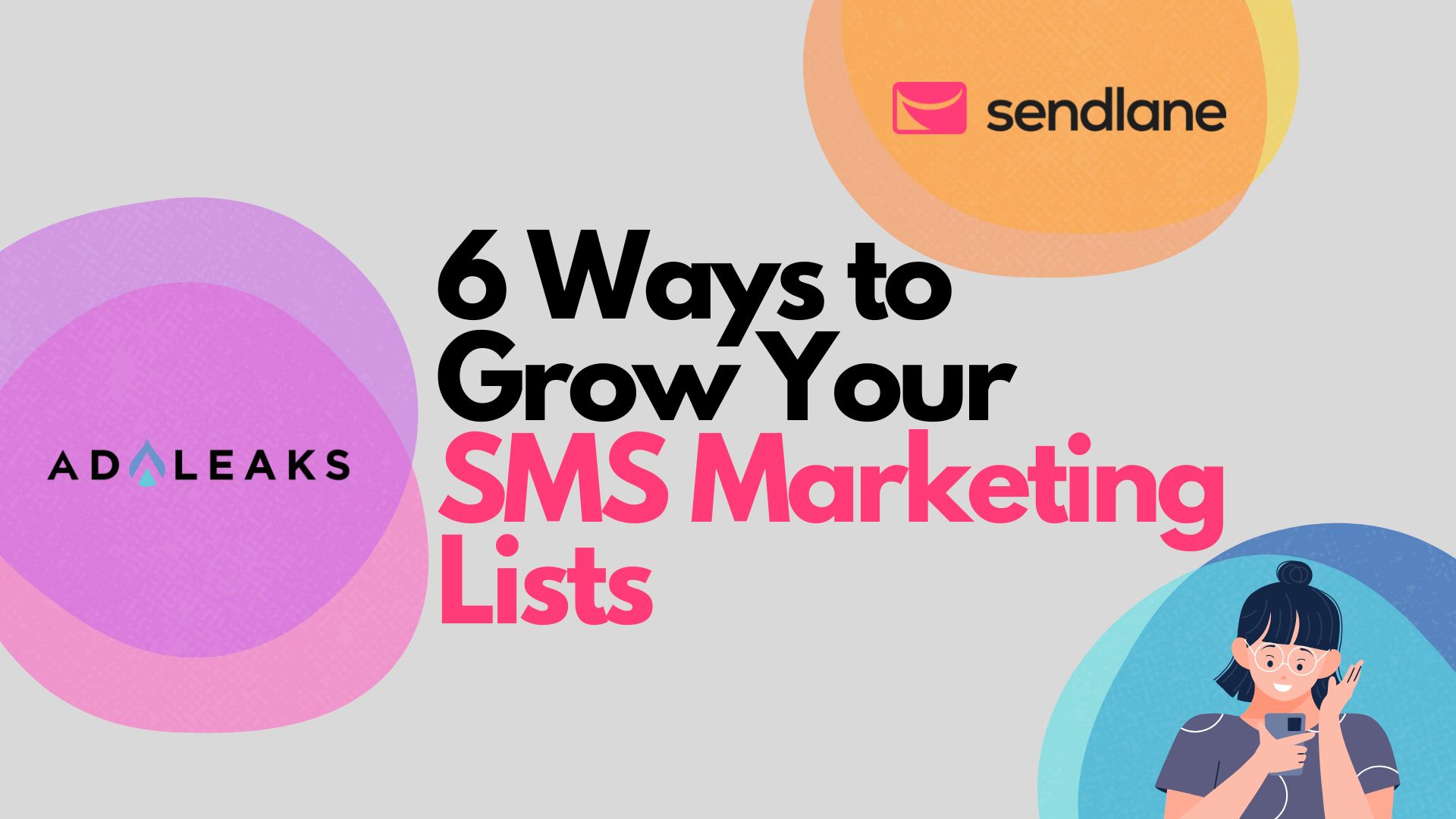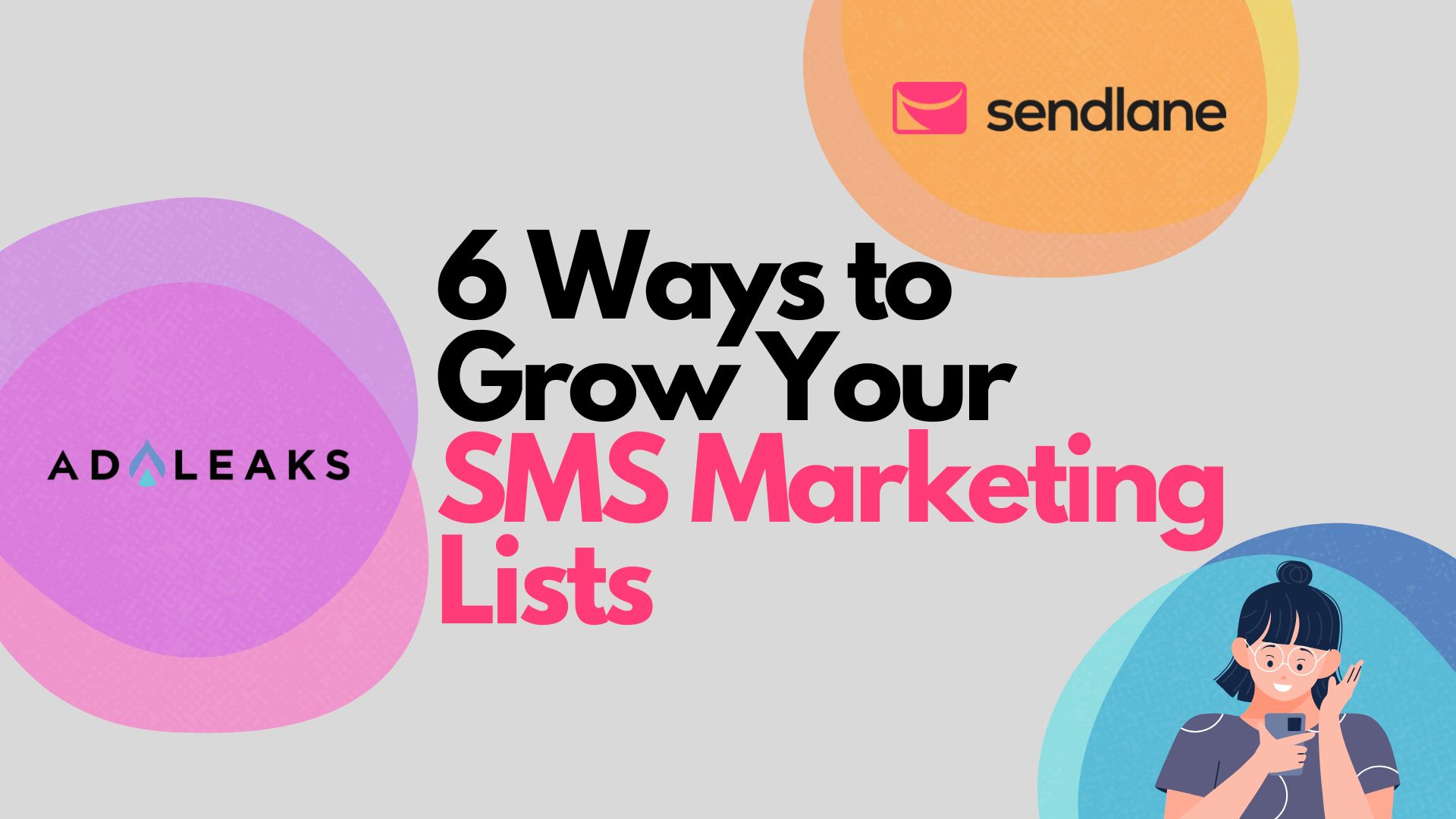 Effective SMS marketing can increase customer engagement, brand awareness, and repeat purchases with minimal effort for sellers. But first, you'll need to develop your audience. And growing SMS marketing lists can be tricky.
There's a good chance you know this already. Increasing subscribers for SMS or any other channel is always a challenge. But many retailers see a future in SMS, as SMS marketing budgets increased by 56% in 2021.
Adopting a whole new marketing channel might seem intimidating, but don't sweat it — we have six ways to grow your SMS marketing lists right here.
We even have examples from other eCommerce brands that have already figured it out, so you can learn from the best and hit the ground running.
Finally, we'll show you how to integrate your email and SMS marketing into one seamless strategy.
Let's get started!
1. Keep Your SMS Marketing Lists' Opt-In Policies Up to Date
Marketing to your audience with text messages means staying within certain regulatory guidelines.
If you don't want to alienate your audience (or find yourself on the wrong side of data protection laws like GDPR or CCPA), you'll need at least three policies in place, starting with:
1) Ask For Consent
You need users' consent to send SMS marketing messages.
This is a law, but it's also good sense, as sending texts out of the blue is considered spammy.
If you're ready to build out your SMS marketing lists, the best option is to start with an opt-in form or pop-up on your website.
This Soylent opt-in form checks all of the boxes. It leverages a discount to capture email and SMS information and provides the terms and privacy policy information in an easy-to-see location.
2) Share the Fine Print
Send users who opt-in a link to your SMS marketing terms and conditions and your privacy policy. This can be in the form of a shortened link that appears when the opt-in form is complete, in a text message, or both.
3) Make it Easy to Opt Out
Another best practice is to allow users to opt-out at any time, which means putting an "opt-out" link into every text you send.
This helpful resource summarizes compliant laws in the United States, European Union, United Kingdom, and Canada. You may also want to get your lawyer's input on the details.
2. Add SMS opt-ins to your eCommerce site
If you've been doing eCommerce for a while, you probably have an email marketing strategy up and running already.
If you do, adding an SMS opt-in alongside your email form should be a piece of cake.
Research shows that 90% of text messages are read within three minutes of receipt, so the payoff for collecting phone numbers is major.
This can also raise another question. "If users open text messages so fast, should I leave email marketing behind?"
The answer? No way!
Email and SMS marketing aren't competitors — they're on the same team. And both strategies bring something different to your customer's journey.
SMS messages can build trust via referral programs, for example, or through shipping updates and customer support.
On the other hand, emails add value and develop customer relationships with newsletters and lead nurturing messages.
We'll get into integrating these systems later, but for now, let's stay focused on opt-in forms.
You can see above how Nine West fits email and SMS opt-ins into one form.
This is basically a two-in-one deal for your lead acquisition efforts. Now you can send valuable content through two channels!
One concern, however, is that your audience might not want to complete multiple form fields. Try testing a form with both inputs and an SMS-only form to see what your visitors respond to.
You can also conduct A/B tests on different website pages to see which type of form brings in the most SMS subscribers.
3. Incentivize Customers with a Sweet Deal
Have you ever received a spam text message?
If you have, you probably understand why customers hesitate when brands ask for a phone number.
That's why you need to incentivize your opt-in.
Vincero Watch's SMS opt-in puts the reward — in this case, a sitewide discount — above the form so that it demands attention.
Notice how Vincero's copy:
Leads with enticing language
Makes "Claim Your Discount" the primary focus of the call-to-action
Grabbing your users' attention before they exit is crucial. And the discount has to present enough value to overcome any user hesitation about sharing their mobile number.
This doesn't just apply to forms. You can use your messages to make your SMS subscribers feel special too.
Language like "VIP" or "Special discount" makes people feel like they've joined an exclusive club and that their information is in good hands.
And if you aren't sure where to start, work up a discount that you can highlight on your opt-in form.
"Offering a percentage or dollar off for SMS sign-up is a great way to increase opt-in rates," says eCommerce consultant Mandi Moshay. "Free shipping is table stakes in eCommerce these days and rarely moves the needle as a discount will."
That said, don't lose sight of your larger goal — growing your SMS marketing lists is a means, not an end. Make sure that the discount you decide to offer doesn't hurt your revenue goals.
4. Deliver Customer Service in Real-Time
eCommerce brands have used live chat to provide customer service and support for a while now. But text messages might be just as effective — if not more so.
SMS marketing can answer your customers' questions quickly, just like live chat. And given that everyone is on their phone all the time already, why not make customer service available via SMS?
Further, texting sparks a genuine conversation between you and existing customers.
"As inboxes and social media feeds become increasingly inundated with ads and branded content from department stores and big-box retailers, SMS is a more personalized method for companies to engage with their audience," says MuteSix founder and CEO Steve Weiss. "SMS provides a moment to level the playing field and facilitate a two-way conversation between the brand and the consumer."
For more inspiration, check out Equal Part's Text-a-Chef series.
With this system, new customers who buy cookware can text Equal Parts' online chefs to get recipes, meal-prep dishes, and advice about "troubleshooting" a meal in real-time.
In other words, Equal Parts isn't just cookware; it's a team of personal chefs to help you get the most out of their products. Now that's cooking!
Think about how your brand can take the SMS customer experience to another level. Look for ways that a campaign can make your customers' lives easier.
Here are some examples:
Send new buyers shipping and delivery notifications
Refill customer subscriptions with two texts or less
Answer support and service questions immediately
Share educational content about how to use your product
Dig into your customer data for ideas that you can leverage to add value for your SMS subscribers.
5. Integrate Your Email and SMS Marketing Lists & Campaigns
We mentioned above that email marketing and SMS aren't competitors but coworkers.
One reason for this is that your email subscribers can generate SMS subscribers too.
Cross-promoting your SMS marketing channel is easy. You can start by mentioning an SMS-exclusive deal in your email newsletter:
In this email, Brewbike promotes an SMS offer with a mini landing page.
Potential subscribers get early access to a BFCM sale, and the email includes two ways — SMS or manual sign-up — to jump on board.
Promotions can be a double-edged sword if you're trying to hook subscribers. Savvy bargain hunters are likely to unsubscribe once they get their goodies.
But you can keep them engaged and keep the value train rolling with effective customer support and a good referral program. (See below.)
As for what type of promotion you should create, we recommend starting with your existing email list segments to tailor your SMS campaigns. After all, those are your engaged subscribers, and you can learn a lot from how they respond to your offers.
Use that information to run experiments in Sendlane to see what increases SMS opt-ins. And you're on your way!
6. Effective Customer Support and a Good Referral Program
Building useful SMS marketing lists requires more than adding new subscribers.
You also need to keep your current ones.
A referral program is a great place to start incentivizing retention for SMS subscribers. Tell your followers to join for access to special deals and discounts.
In Thread Wallets' referral messages below, they start with a sign-up form to explain what the benefits of the program are. The second message introduces urgency with a limited-time offer to drive action.
Both messages explain what the referral program is, why loyal fans should sign up, and how to do so.
If your loyalty program messages check these boxes too, you'll be much more likely to keep subscribers around.
Referral programs can work the same way. You can incentivize subscribers to send coupons to friends and family that unlock discounts for the subscriber too.
This is an especially effective tactic, as recommendations from friends and family are more likely to convert than other promotional channels.
The key is to offer a referral reward that your current subscribers can't say no to.
This is another area where your data can show you the way. Look at promotions that have performed well in the past, like exclusive first access, free shipping, or dollar-off deals to get the ball rolling.
Make Your SMS Marketing Lists a Viable Revenue Stream
SMS marketing lists can be a vital source of revenue if you nurture your audience and keep them engaged. And it works extremely well in conjunction with other channels like email marketing.
Sendlane empowers you to drive more revenue by integrating SMS and email and personalizing your customers' experiences.
See for yourself and try Sendlane for free today!