4 Ways to Optimize Your Abandoned Cart Flow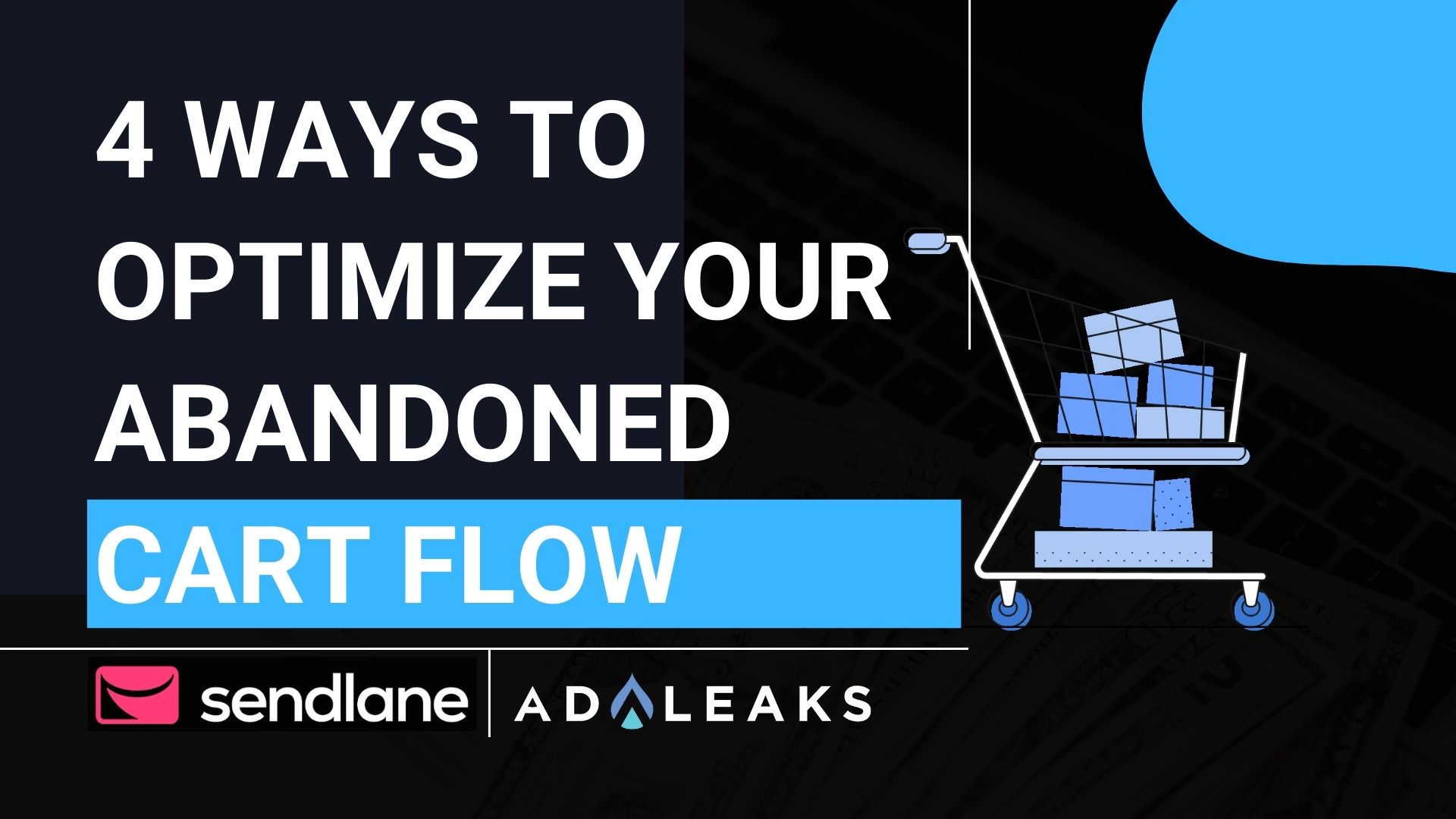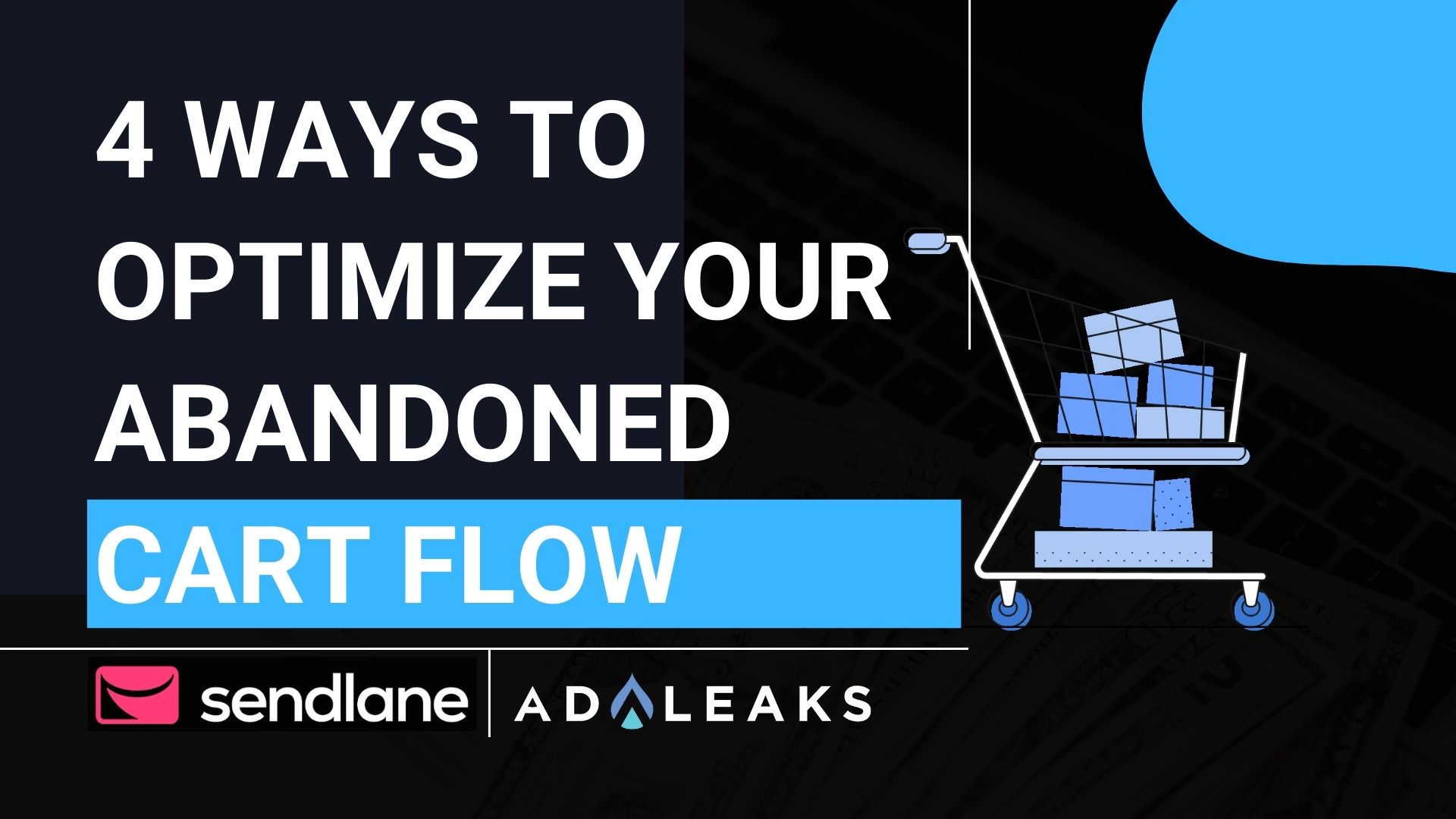 If you have an eCommerce brand or storefront, you've lost potential revenue to cart abandonment.
That's just a fact. Research by the Baymard Institute and Barilliance found that the average cart abandonment rates hover between 70-75%.
This means that, even if you're doing everything right, only three out of every 10 shoppers who add items to a cart will complete that purchase.
We have ways, though, of mitigating the damage.
You can optimize your checkout process, which can help increase eCommerce conversions by more than 35%.
And if you can tie an abandoned cart to a specific shopper, you can use personalized email messages to cut down on abandoned carts and turn them into sales.
But first, we need to address why shoppers abandon their cars in the first place.
Why Do Shoppers Abandon Their Carts in the First Place?
Great question!
Knowing why consumers ditch their digital carts makes it easier to craft an effective solution. And there are a few common reasons that shoppers don't convert — all of which you can tackle.
1. Extra Costs at Checkout
According to a Baymard survey of more than 4,000 eCommerce shoppers, about half of eCommerce shoppers abandoned their carts due to hidden or extra costs at final checkout. These can include shipping, taxes, and other miscellaneous fees.
You can remove this objection from your checkout process by being transparent about any fees up-front.
Try showing all of the transaction costs on your eCommerce store's product page and incorporating a zipcode box to estimate shipping costs.
2. Requiring Account Creation
Have you ever given up on a checkout process because the seller required you to make an account?
This is more common than you might think.
Some studies have found that as many as 37% of people abandon carts because they don't want to create a customer account. The Baymard study above showed that 24% of respondents abandoned their carts for this reason — the second-highest on the list.

This is another easy fix for most brands. Start offering a guest checkout option that doesn't require as much information. You'll still be able to capture an email address, and the friction for users will be significantly reduced.
3. Shipping Concerns
Extra shipping costs are a top-line concern for would-be buyers, but the shipping-related pitfalls don't end there. Almost one in four shoppers abandon their carts because of shipping issues.
These problems can include too few shipping options, price, and a lack of transparency around shipping costs.
What's the solution here? Try offering a wider range of shipping methods, delivery times, and payment options.
You should also estimate and display associated shipping costs before getting to the checkout page, which we mentioned above.
4. Checkout is Too Long or Confusing
What's your checkout process like?
If it's too long or confusing, you're probably losing more consumers than you should be.
Baymard reports that 17% of consumers ditched their carts because of a complicated check-out, or roughly one in six. Other studies have also found that this is a commonly-cited obstacle for eCommerce shoppers.
If this is a problem for your store — and tracking data should help you verify if it is — your best bet is to reduce the number of required forms at checkout.
This fix isn't as quick or easy as some of the others so far, but it could have a major impact on your conversion rates.
Start by ensuring that you're only asking for critical data. You can also use extensions and user cues to auto-fill forms, and update your checkout to auto-save user information so that they can pick up where they left off if they abandon their carts.
5. Window Shoppers
Baymard's recent survey found that nearly 60% of US eCommerce shoppers abandoned a cart in the last 90 days because they were either browsing or not ready to buy.
(Baymard chose not to include this data in its abandoned cart chart because "this segment of users is almost impossible to reduce through a better checkout design – most of these will abandon even before they initiate the checkout flow." Which is, y'know, a bummer.)
Similarly, SaleCycle found that 18% of shoppers didn't intend to buy when they abandoned their carts because they were comparison shopping:
Today, most consumers take the time to research and comparison shop before they make a purchase. And you aren't likely to convert many prospects who are in this stage of their buyer's journey.
If you're set up for email marketing, however, all is not lost.
Because just like you optimize your checkout process to capture conversions, you can optimize your cart abandonment flow to nurture interested leads from the research stage to the buying stage of your sales funnel.
4 Ways to Nurture Leads with Your Abandoned Cart Email Flow
We've covered the main reasons for cart abandonment and how to optimize your checkout flow to encourage more sales for shoppers who are ready to buy.
Now it's time to talk about email marketing can bring back those less-ready cart abandoners.
1. Get Email Addresses During Checkout
We've already mentioned that complicated checkout processes are a major driver of shopping cart abandonment.
And if you're losing a lot of prospects just before the finish line, it won't help to require them to create accounts, enter personal information, or even subscribe to your list.
All you need to follow up effectively is an email address and a name so that you can add them to your abandoned cart email marketing flow.
Here's a good example of email capture on the checkout page from clothing retailer Urban Outfitters:
Email marketing is a proven provider of higher ROI relative to other marketing channels, and it's a powerful tool to reconnect with shoppers and recapture lost sales.
Statistics back this up as well. Cart abandonment emails' purchase rate is usually above 10%, and three abandoned cart emails can bring in as much as 69% more revenue than just one email.
Timing is also important, as an abandoned cart email sent within an hour can boost conversion rates by 6.3%.
This is why email addresses are the most critical piece of personal information you can get from a prospect or customer.
2. Send Follow-Up Emails With Dynamic Content
A follow-up email flow for cart abandoners is vital, but it's also important to remember that some emails are more important than others.
The days of boilerplate email content for a mass audience, for example, are gone.
If you want to drive results with these emails, you need to make them highly personalized and convenient for purchasers.
Dynamic content is a component of your email that uses customer behavioral and in-session data to personalize the message.
By tracking trigger events and attributing them to a user profile, your email service provider can switch out content blocks, images, and even products to better align with that consumer's tastes — automatically.
Personalized email campaigns, according to research, can improve clickthrough rates by 14%.
Common personalization elements include addressing the recipient by name in the body text and subject line, as well as sending messages to specific list segments.
If you want to personalize cart abandonment emails at scale, however, you'll need an email service provider with robust dynamic content functionality.
Here's an example of dynamic content from Vacation's abandoned cart email:
The content in emails like these will vary depending on what shoppers left behind in their carts. The design and messaging around them, however, remain consistent.
Dynamic content relies on tracking, so you'll need a system that knows which products specific customers have added to their cart and then sends an email to that customer with the exact products they were ready to buy.
Email tools like Sendlane allow you to easily add Dynamic Content Blocks into your abandoned cart emails that will automatically pull the product image, name, and price from your site!
3. A/B test your abandoned cart emails
A perfect abandoned cart email campaign for one brand or industry isn't a catch-all solution for every eCommerce seller. What works for your customers will vary widely depending on your audience demographics, average order value, and other factors.
But you don't have to guess to get your emails right. That's where A/B testing and multivariate testing comes in.
For email marketing, A/B tests send one variation of an email to a subscriber group and another to a different subscriber subset. By tracking the results, you can determine which email is more effective and use that as your baseline going forward.
Over time, your A/B test results should produce a high-converting abandoned cart flow. And there are lots of components to test in these emails, including:
Calls-to-action (CTA)
Copy
Design
Dynamic content
Images
Messaging
Offers
Send times
Subject lines
And more!
In the example below, Food52 maintains the same email design and product recommendation, but the headings, button text, and copy are different in each email: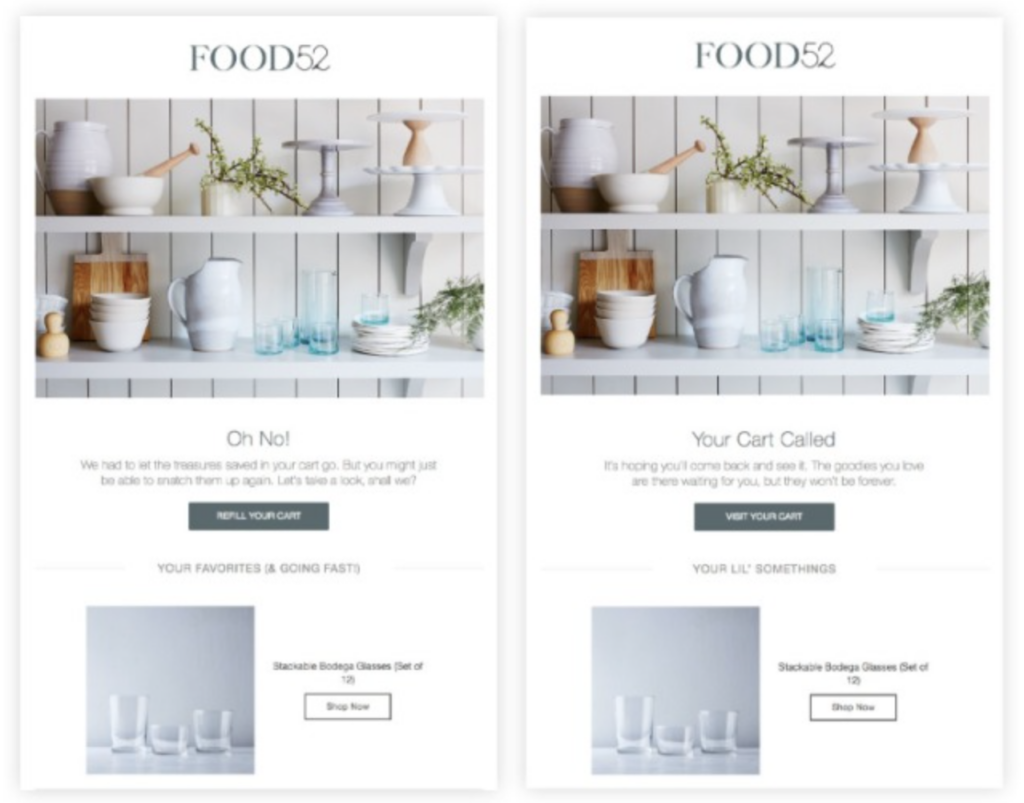 There are a few different ways to determine winners in your A/B tests, but the most commonly used metrics include:
Conversions: Conversions are the ultimate metric for email marketing success because they have a direct impact on revenue. Any test results that indicate more conversions mean you have a winner on your hands.
Click rate: If you're trying to determine if your subject line, headline, copy, CTAs, images, etc., are resonating with your target audience, click rate is a good metric to look at.
Open rate: Knowing which email variant is more likely to be opened will help you time your emails effectively and evaluate your subject lines.
These are just a few of the options available for A/B testing, of course. Once you're up and running, if you can test an element in your abandoned cart flow, you absolutely should.
4. Retargeting Across Platforms
We mentioned above that almost 60% of shoppers abandon their carts because they aren't ready to purchase. They're either browsing, comparing prices, or doing other research.
So are you out of luck when these not-ready-to-buy-buyers leave their carts behind? No way!
If you track your visitors' on-site behavior, you'll know which products customers were most interested in and/or added to their carts but didn't purchase.
And you can leverage this data to automate retargeting ads across platforms so that the products they considered in your store appear on their screens when they're searching on Google or browsing social media.
Let's be honest — you've probably seen retargeted ads yourself. Have you ever visited a product page or added a product to a cart only to see the same product advertised on a webpage a few hours later? That's retargeting.
Bones Coffee Co. is a great example of a brand running these campaigns effectively. Their abandoned cart email looks like this: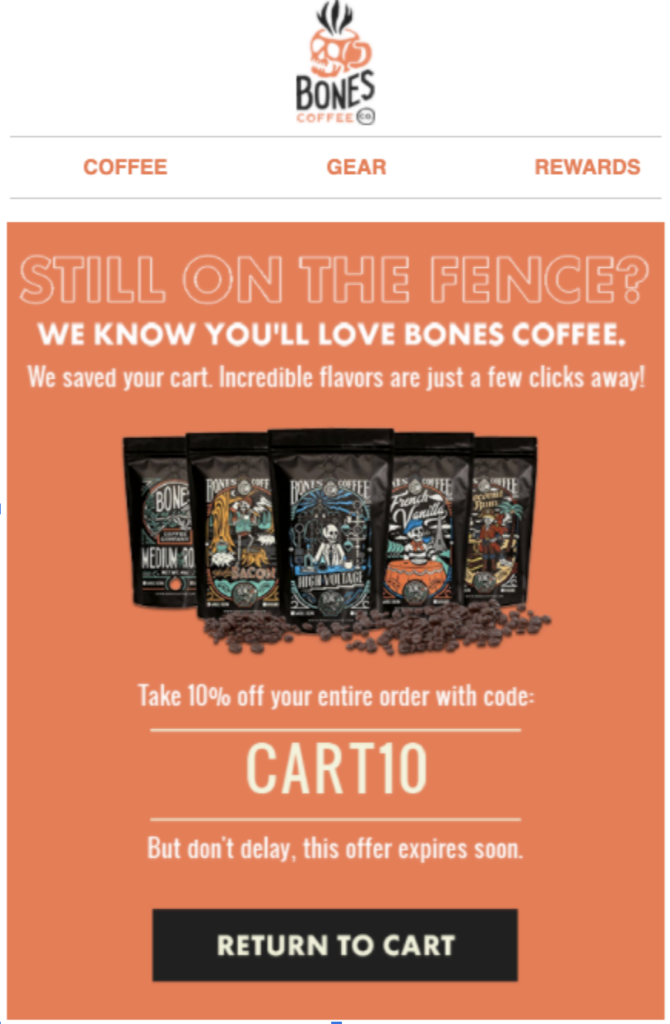 And someone who gets that email will also see this ad on Facebook: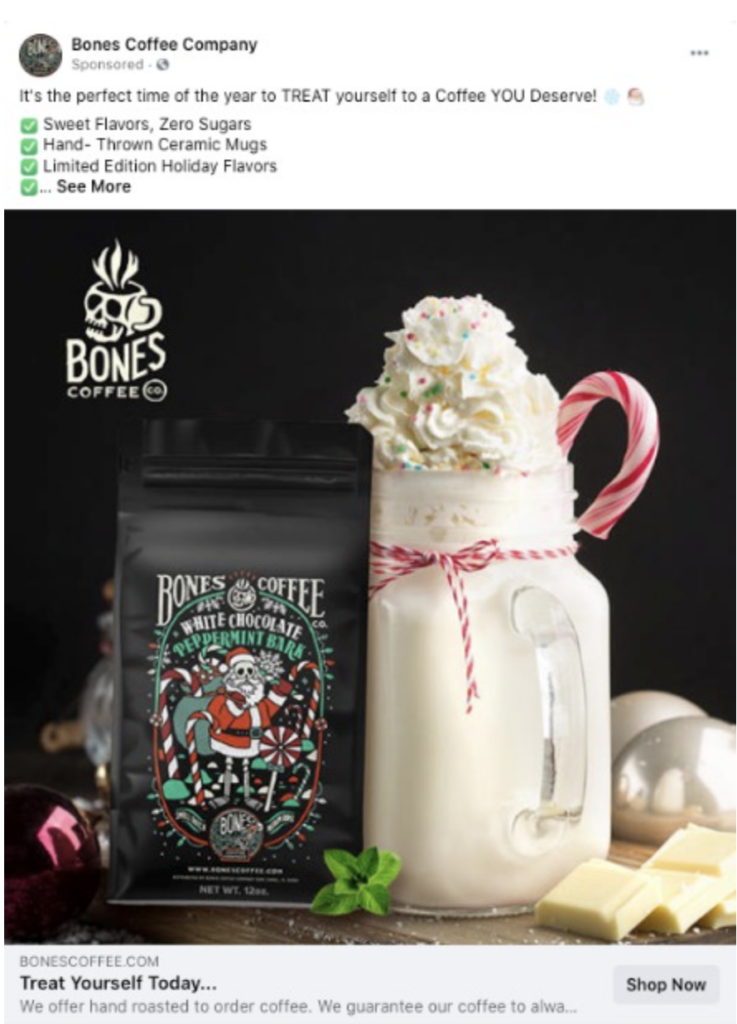 Cross-channel remarketing is a great way to nudge consumers back into your store so that they can complete their purchases.
According to DataXU, retargeting can increase conversion rates by nearly 150%. And SmartInsights found that 30% of non-converting shoppers returned to a website because of a retargeting ad.
When those "researchers" leave your website, it doesn't have to be the end of your relationship. With remarketing, you can recapture potential customers and lead them= down the sales funnel.
Use Sendlane to Optimize Your Cart Abandonment Flow
Factors that range from competition in the marketplace to poor user experience are driving average cart abandonment rates up.
But retailers can stay ahead by streamlining checkout processes and optimizing cart abandonment email flows.
The advanced email marketing capabilities in Sendlane can help you with all of the above — and more. Use Sendlane to set behavioral triggers, customize messages with dynamic content, and guide your leads through the buyer's journey with a personalized customer experience.
If you're ready to dive in, click here for your 14-day free trial now and see for yourself!