5 Tips to Boost Your eCommerce AOV with Emails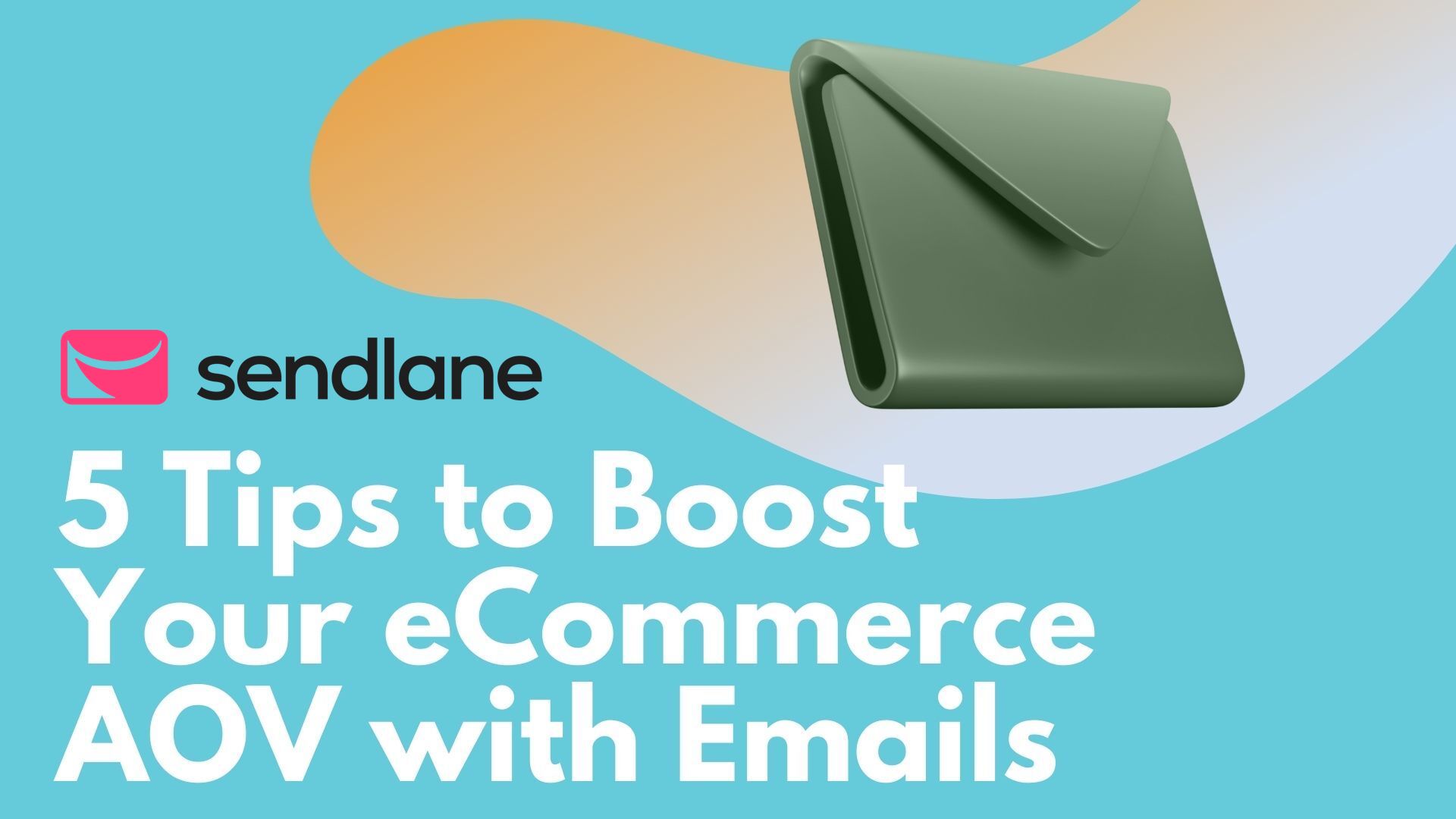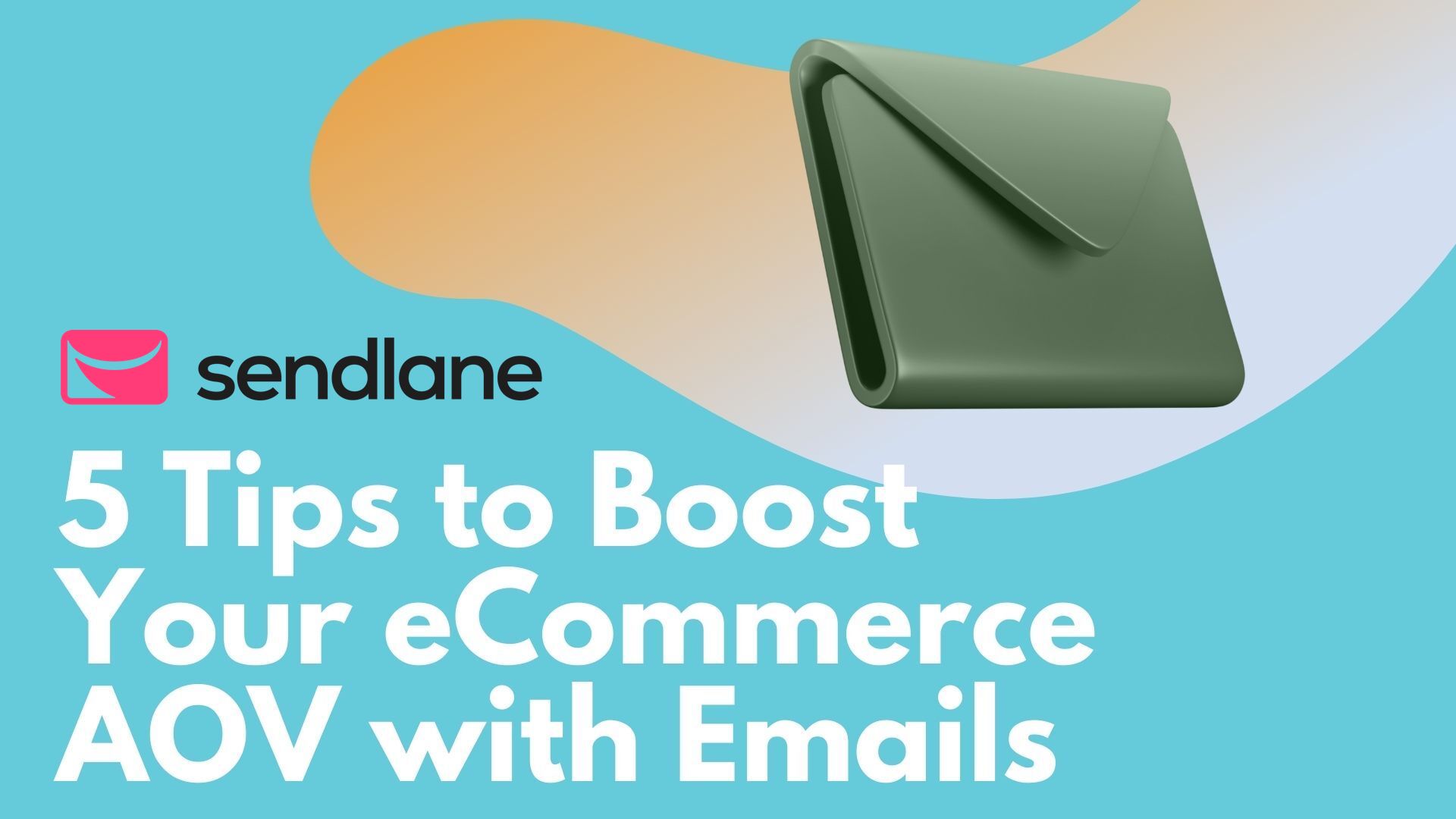 If you run or work with an eCommerce brand, the challenges never stop.
Maybe you want to increase customer retention, but your marketing budget is already dedicated to acquisition. Or you have a surplus of products that you need to sell soon but aren't sure how to do that effectively.
Whatever the issue, boosting your average order value (AOV) can help. Increasing your AOV is a great way to grow your revenue and profit while adding value for your customers.
Average Order Value Defined
Average order value is a helpful eCommerce metric for determining how much your customers usually spend.
More specifically, AOV is the average amount customers spend on each order. Among other things, this can give you insight into how your customers move through your buyer's journey. AOV can also help you optimize your marketing strategy and crank up your ROI.
Calculating AOV is fairly simple. Just find your total revenue over a specific timeframe and divide that number by the total number of orders within that same period.
Let's say, for example, that you want to calculate your AOV for the last month.
After a little digging, you find that your total revenue was $50,000 and you had 1,000 orders.
After recovering from the shock that your monthly numbers are so evenly matched, you divide $50,000 by 1,000 to realize that your AOV is $50.
Why eCommerce AOV is So Important
eCommerce AOV reveals how your customers shop, which can help with marketing decisions and pricing strategy.
And improving your pricing strategy can increase your revenue and profit margins.
Also, adjusting your marketing according to AOV can help you balance customer acquisition costs. In other words, you can increase your ROI and redistribute your budget for a more effective marketing spend.
Not convinced yet? Monitoring and increasing your AOV can help with other aspects of growth too, such as…
Higher AOV Means More Revenue
A higher AOV means that you're generating more revenue with each sale — and you don't have to reconfigure your marketing budget.
Let's say, for example, that 100 customers add an extra $20 worth of products to their shopping carts because of your AOV-boosting efforts. Instead of spending $50, now they're spending $70.
An extra $20 per sale might not seem like much if you're processing 1,000 orders a month. But if you multiply that additional $20 by 100 customers, you've got an extra $2,000 that you wouldn't have had otherwise.
Also, bumping their orders up from $50 to $70 might not seem like a big deal to your customers — especially if they feel like they're getting a good deal.
Another important note is that you don't have to drive shoppers to your most expensive items for your AOV strategy to work. It's much more important to know your audience and what their spending limits are.
Higher AOV Reduces Marketing Costs
The key to a higher AOV is understanding which products customers will want to add to their carts. Knowing the psychology behind your customers' shopping habits means that the opportunities are endless.
Again, upping your AOV means improving your bottom line without bringing other marketing tactics into the mix. If you're already using email marketing, you can tap into that psychology and reach customers with the right message at any stage of the buyer's funnel.
Here are three of the most effective ways to increase eCommerce AOV with email marketing:
1. Personalized Product Recommendations
Personalized emails make customers feel seen by brands. And emails full of personalized recommendations (based on shopping behavior) are a great way to increase your AOV while showing your customers that you care.
These emails are also a great way to urge customers to checkout. A report from SmarterHQ showed that 70% of millennials get frustrated by irrelevant emails from brands.
Further, more than 9 out of 10 customers said that they're more likely to shop with brands that share relevant recommendations.
To sum up: Personalization + Convenient Emails = Win-Win.
2. Segment Your Audience to Leverage Relationships
Customers are more reluctant to give their email addresses out these days than ever before.
And if you do have a customer's email address, you should have an established relationship based on trust and mutual interest.
The way that you engage customers should vary depending on their audience segment. And as a result, your emails will vary depending on who you're targeting.
If you want to increase AOV among your most loyal customers, for example, you might consider incentivizing them with emails that highlight an exclusive product release or discount with purchase.
To increase your AOV with first-time buyers, however, you might need to try something else. Consider offering free shipping or a free gift with orders that exceed a certain price point.
3. Test a Variety of Marketing Strategies
Email is an extremely flexible and versatile marketing tool. You can test any number of ways to reach your audience, which makes it the perfect platform for cross-selling.
With an email marketing platform like Sendlane, you can deploy multivariable segmentation, which segments your lists by customer behavior.
If you want to reach customers who made a purchase within the last 30 days, or anyone who spent over a specific dollar amount, it's easy — just create your audience segment and start testing campaigns, behaviors, messages, and more.
Five Types of Emails to Boost Your eCommerce AOV
Email is a powerful marketing channel for many reasons. One is that it's a direct connection to your customers.
Another is that Statista expects the number of email users to reach 4.3 billion by 2023. And finally, the average email marketing ROI for eCommerce per $1 spent is about $45, according to a report from HubSpot.
That's a pretty big potential audience and a pretty good return. For those reasons (and more), we're going to look at a few excellent ways that email marketing can grow your AOV.
1. Create Complementary Product Bundles
Communicating product information is critical to engaging your customers, but what if you also spent some time highlighting why your products work so well together?
Bundling complementary products together is an excellent way to make customers aware of other products, not just the one that brought them to your store. This tactic has a name — it's better known as cross-selling.
This email from Herschel Supply Co. makes it easy to save on pre-selected bundles, making that the first among several FOMO-inducing offers they've put together:
(Also, this is not a bundle of products that say nice things to each other. It's "complement" with an "e," not an "i.")
Using the Complementary Product Bundle
Show customers why they should consider buying multiple products by identifying:

The benefits of purchasing the products together
The savings from buying a bundle

Include social proof from past buyers
Add a CTA that encourages shoppers to click through to your online store
2. Offer Free Shipping Above a Certain Threshold
The National Retail Federation's Consumer Review report found that almost two out of three customers look into free shipping thresholds before putting items in their shopping cart. Further, 29% of shoppers have chosen not to complete a purchase because two-day shipping cost more.
In other words, people expect free shipping these days.
But don't worry! You can use this expectation to push a higher order value with email marketing.
One simple tactic is offering free shipping to email subscribers who reach or exceed a certain threshold. This type of email nudges customers toward making a purchase and adds to the value of being on your brand's email list.
In this example from King Arthur Baking Company, the sender combines the free shipping incentive with a sense of urgency and a few suggested items at the bottom:
The copy clearly states that customers must spend at least $100 for free shipping. The linked items make it easy to reach that threshold quickly, and c'mon — did you see all that chocolate?
Using Free Shipping to Boost Your eCommerce AOV
Review your existing AOV data to set the right threshold for free shipping. The amount should be high enough to cover shipping costs but low enough that customers will see the value in converting.
Consider what combinations of products customers might be interested in purchasing.
Leverage your customer data, and don't be afraid to A/B test a few product combinations or spend thresholds.
3. Use Customer Behavior to Personalize Product Recommendations
One of the best things about email marketing, which we mentioned above, is that you can provide customers with highly personalized experiences.
Here's an example. Skybound Comics, a Sendlane customer, increased open rates by 80% with personalization and segmentation tactics.
Personalization deepens the connection between customers and brands. It's an easy-but-effective way to provide value at every touchpoint.
Here's another example, this one from Forever 21:
The friendly and personal copy ("Hey there babe," "What You Love," etc.) enhances the offer, which also includes a discount and a free shipping threshold in the footer.
These extra options create an opportunity to increase the order's total value without coming across as too sales-y.
Using Personalized Product Recommendations
Analyze your existing customer data for popular products that your customers will be interested in. Letting the data determine which products you select removes the guesswork and increases the chances you'll get a win.
Weave personalization throughout your emails and campaigns, from recommended products to copy and images.
Pro Tip: Which products might pique your customers' interests? Consider the season, time, and current events for additional inspiration.
4. Use Abandoned Cart Emails to Nudge Indecisive Shoppers
Customers abandon their carts for lots of reasons. Shipping costs, distractions, and technical or browser issues are a few of the common ones.
How do you get these would-be buyers back to your store?
Shopping cart abandonment emails. You can automate these emails to push customers back to their carts so that they can follow through with purchases — and buy other products.
This example from United By Blue is a good example.
This message reminds the customer about their cart with creative, on-brand copy and imagery. The email also encourages a higher AOV by mentioning a free shipping threshold at the top.
Increasing eCommerce AOV with Abandoned Cart Emails
First, your emails should encourage customers to keep shopping in a clear and engaging way.
Include images of the product(s) in the cart, a link for customers to return to their cart with one click, and some relevant urgency/scarcity language.
Find the right cadence for your emails. Too late, and the customer may have lost interest already. Too soon, and you might seem desperate. If you're new to abandoned cart emails, start by sending the first message about four hours after the customer stopped taking action on your site, and send another about 24 hours later.
Looking for a deep dive into abandoned cart funnels? Download Sendlane's Definitive Guide to Abandoned Cart Emails for eCommerce ebook.
5. Upsell by Showcasing Related Products
Like bundles and product recommendations, upselling shines a light on other items customers might be interested in. However, upselling emails are unique because you can send them to customers who may not be shopping actively.
These emails typically include best-selling products or offers based on customer data like purchasing behavior, demographic information, and preferences.
To encourage the upsell, these offers usually encourage customers to "swap" a lower-priced item in their cart for a higher-priced item, or add supplementary items related to an almost-completed purchase.
This Dollar Shave Club email upsells effectively by sharing:
A new offer for subscribers
Multiple CTAs
Branded imagery and personality-driven copy
By notifying subscribers that they can re-order items outside of their typical window, Dollar Shave Club is increasing customer loyalty and adding value by showing that they care about their customers.
Emails like this ensure their audience that they'll have everything they need for a good customer experience.
Upselling Effectively with Your Emails
Like personalization, analyze your customer data to find the specific segment you want to target and which products they're most likely to add via upsell.
Try featuring new versions of existing products, early product releases, or subscription upgrades.
Pro Tip: Showing customers the benefits of your higher-priced items may tip the scales in your favor.
Add Value First
Your eCommerce AOV is an important metric that you should keep an eye on. Increasing average order value can boost your revenue significantly, and it doesn't require a lot of extra marketing resources to succeed.
If you start by testing strategies to increase your AOV with email marketing, you can tap into buyer behavior and optimize campaigns for the best possible ROI.
Also, spend some time defining the value you're adding to your customers' shopping experience. Don't just focus on moving products. If your customers don't see any added value, they're unlikely to add any additional product to their carts.
This value-add doesn't have to be complicated — in fact, simpler is often more effective. Try incorporating components like:
Social proof from past shoppers
Features or qualities of the highlighted products
Images and copy that encourage customers to learn more about the product
And remember to test, test, and test some more! You can never have too much insight into what resonates with your customers.
If you're ready to level up your email marketing with a powerful automation tool, try Sendlane for free for 14 days!