11 Ways to Reduce Cart Abandonment During Checkout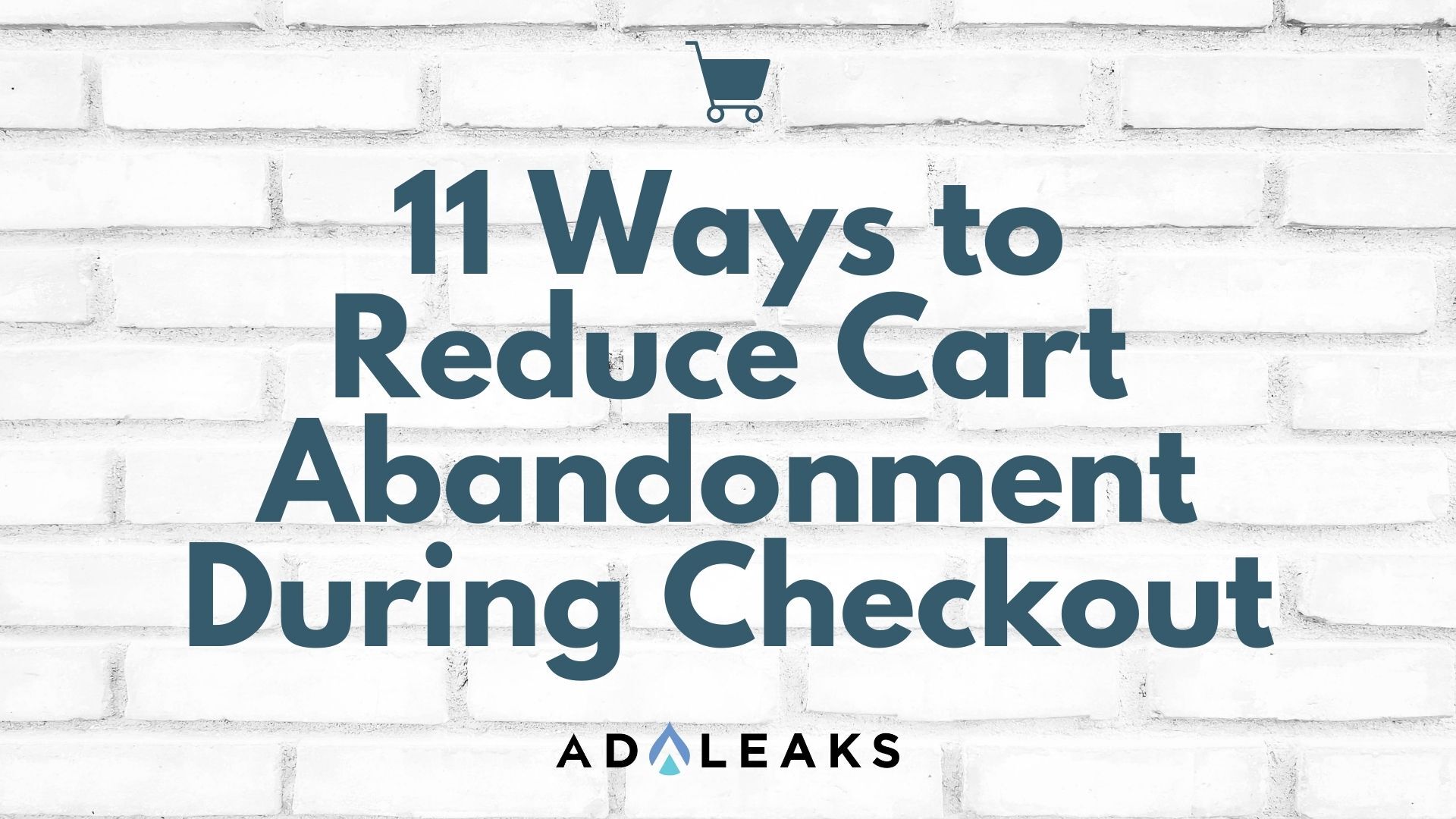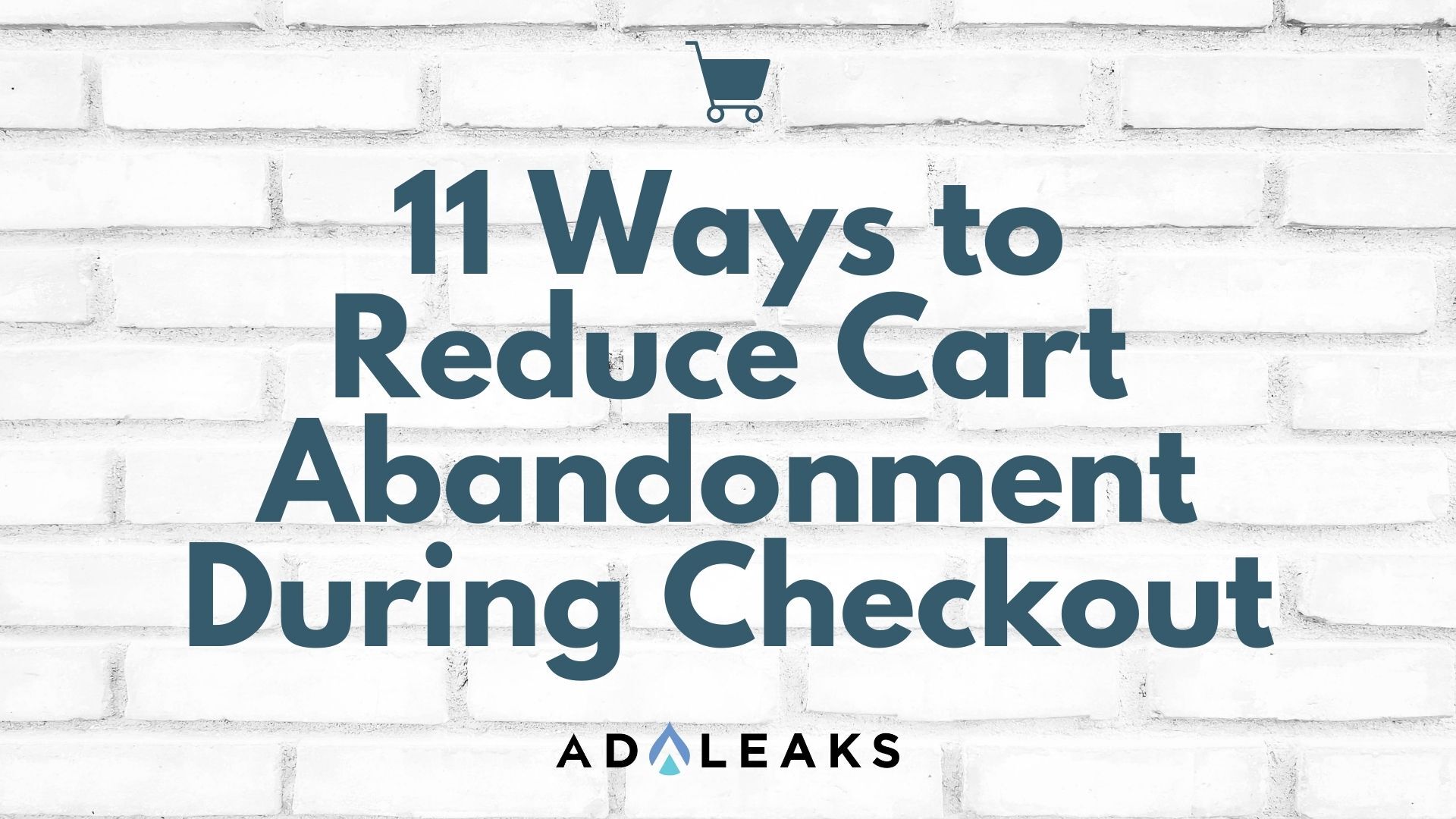 Editor's Note: This is an excerpt from our eBook, The AdLeaks Guide to Cart Abandonment. For the complete ebook (and many more!), click the link to Join AdLeaks now.
The term "cart abandonment" implies that the would-be buyer has already exited your eCommerce page.
But there are lots of things you can do within your checkout process to keep prospects engaged before they disappear in the first place.
These "pre-abandonment" tips will improve your user experience and minimize the common reasons users don't convert.
11 Ways to Reduce Cart Abandonment During Checkout
Free Shipping
Cost Transparency
Offer Guest Checkout
Add a Progress Bar
Make Returns Easy
Display Security Credentials
Social Proof at Checkout
Accept a Variety of Payment Methods
Live Chat at Checkout
Optimize Page Load Times
Exit Popups
1. Free Shipping
If there's one reliable truth in the marketing world, it's that customers like "free." In eCommerce, most customers today expect free shipping, which some vendors refer to as The Amazon Effect.
While every seller will have to weigh the impact that free shipping will have on their bottom line, this is the biggest change that you can make to impact cart abandonment. A 2017 study found that 71% of customers didn't make a purchase because of shipping or restocking fees.
That said, if you have multiple products or product categories, you can tailor your returns policy to protect your store while still giving the people what they want.
Possible variations on your policy can include:
Free return shipping for only full price items
List items as Final Sale
Free return shipping during the holidays
Return shipping depending on item category
2. Cost Transparency
Research has found that the most common reasons for cart abandonment are extra costs that are too high or appear late in the process.
Top Reasons for Cart Abandonment
Presenting costs clearly and early in the process is crucial for building trust. Delivery estimates based on tiered pricing, for example, tell buyers what they're paying for and establishes a shared expectation for a product's arrival.
When customers see additional or unexpected charges near the end of a transaction, however, they tend to reevaluate their purchase choices. This can trigger a mindset change and an abandoned cart.
3. Offer Guest Checkout
Online shoppers who abandon their carts often cite the need to create an account or user profile before buying something.
Offering guest checkout, or the ability to make a purchase without creating an account, can remove this roadblock and help you capture more potential revenue.
Ideally, guest checkout should be quick. Users expect to provide and receive all of the information they need to complete the transaction on one page with as few clicks as possible.
You should also encourage guests to return and present an opportunity to save their information and/or create a profile after making their purchase.
4. Add a Progress Bar
If you've ever picked a grocery store lane because you thought it looked faster than the others, you know instinctively that customers like a fast -- and predictable -- checkout process.
By incorporating a progress bar in your purchase path, you reduce buyers' concerns that checking out will take more time than they want to put in.
Also, creating indicators that the user is progressing and completing a task adds a sense of satisfaction to the process. This is especially useful in eCommerce, as users' gratification is delayed by the time it takes for their purchase to arrive.
5. Display Security Credentials
Securing user data and transaction information is crucial for your store's credibility, keeping your customers happy, and generally doing business online.
To reduce cart abandonment due to security concerns, display your security credentials prominently throughout checkout -- especially where users enter their payment and shipping information.
Like shipping policies, security safeguards should be visible throughout checkout so that users have no reason to distrust your store.
6. Make Returns Easy
eComm shoppers today expect a simple and clear return policy, preferably at little or no cost to them. In fact, nearly 4 out of 5 consumers expect free return shipping on their purchases.
There are long-term benefits from keeping customers happy, even if they're returning a product. One 2018 study found that 96% of eCommerce shoppers would return to a retailer based on an "easy" or "very easy" return experience.
Further, vendors might worry that a buyer who sends an item back won't ever shop with them again. The opposite is usually true, however — more than three-quarters of returns come from repeat customers.
7. Cart Page Social Proof
Testimonials, videos, starred reviews, and other forms of user-generated content (UGC) are common in ads and on product pages. But not enough vendors include social proof at the end of the process.
Highlighting the benefits of your product with UGC at the conversion stage can keep your user on track to take action. One study found that testimonials can increase conversion rates on sales pages by 34%.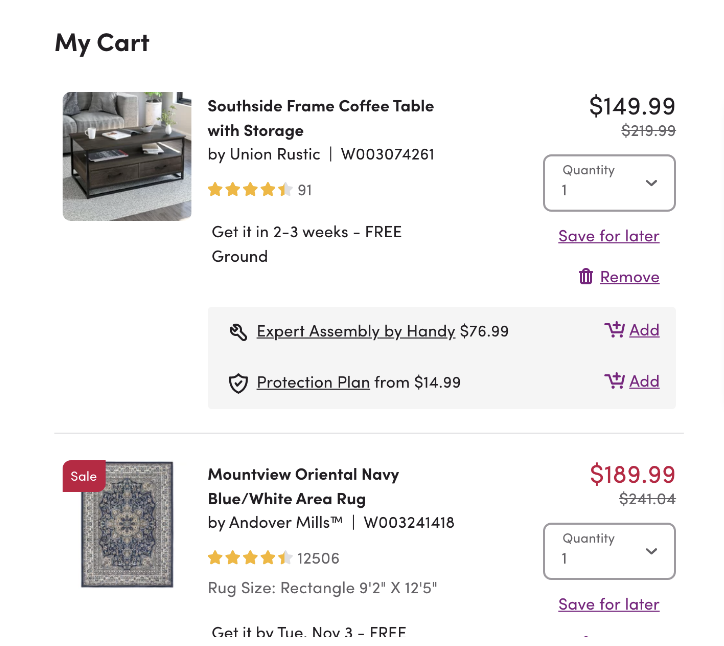 8. Accept a Variety of Payment Methods
Most eCommerce stores are already equipped to accept debit or credit card payments and PayPal, but expanding your payment options removes another potential reason for buyers to leave their carts.
Mobile payment options like Google Pay, Apple Pay, and Samsung Pay are becoming more popular, especially among younger shoppers.
Yes, integrating multiple payment providers can be a headache, and your merchant fees might increase. But if you're trying to decrease customer friction, adding more ways for users to give you their money is a good place to start.
9. Cart Page Live Chat
eCommerce live chat makes customers happy and helps online vendors replicate in-store retail experiences.
Live chat has one of the highest satisfaction levels of any communication channel. Multiple studies found that 80-90% of consumers who connected with a brand via live chat were satisfied with their interaction.
By integrating live chat into your checkout process, you can answer user questions quickly, minimize potential objections, and upsell or cross-sell related products.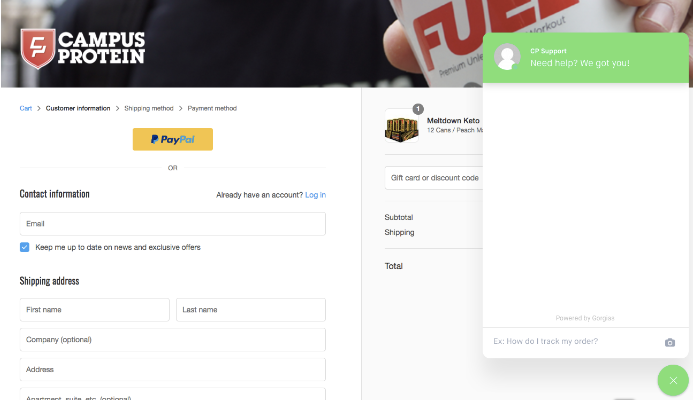 10. Minimize Page Load Times
Most websites — especially eCommerce sites — only perform well if they load quickly.
One Google study found that 53% of mobile site visitors leave a page if it takes three seconds or more to load.
And according to Kissmetrics, a one-second delay in page response can reduce conversions by as much as 7%. That single second would cost an eCommerce site making $100,000 a day, for example, as much as $2.5 million in lost sales every year.
Start by running speed tests to see how long it takes for your site to load. Tools like JetRails, GTmetrix, and Google's Measure for Developers can provide performance reports and diagnostics so you can make improvements.
11. Exit Popups to Reduce Cart Abandonment
Exit popups prompt users with an offer when their on-page activity indicates that they are going to leave your site.
For example, you can trigger a popup when a user's mouse moves toward the top of the screen quickly or scrolls over the top pixel of the window.
The popup serves as a pattern interruption that re-engages users with new information.
Transitional calls-to-action, such as 10% off an order for joining your email list, can incentivize users to stay on the page or return to your cart sooner.
For the rest of The AdLeaks Guide to Cart Abandonment, join AdLeaks today and read the eBook in the AdLeaks Vault!