5 Automated Post-Purchase Emails to Increase Your LTV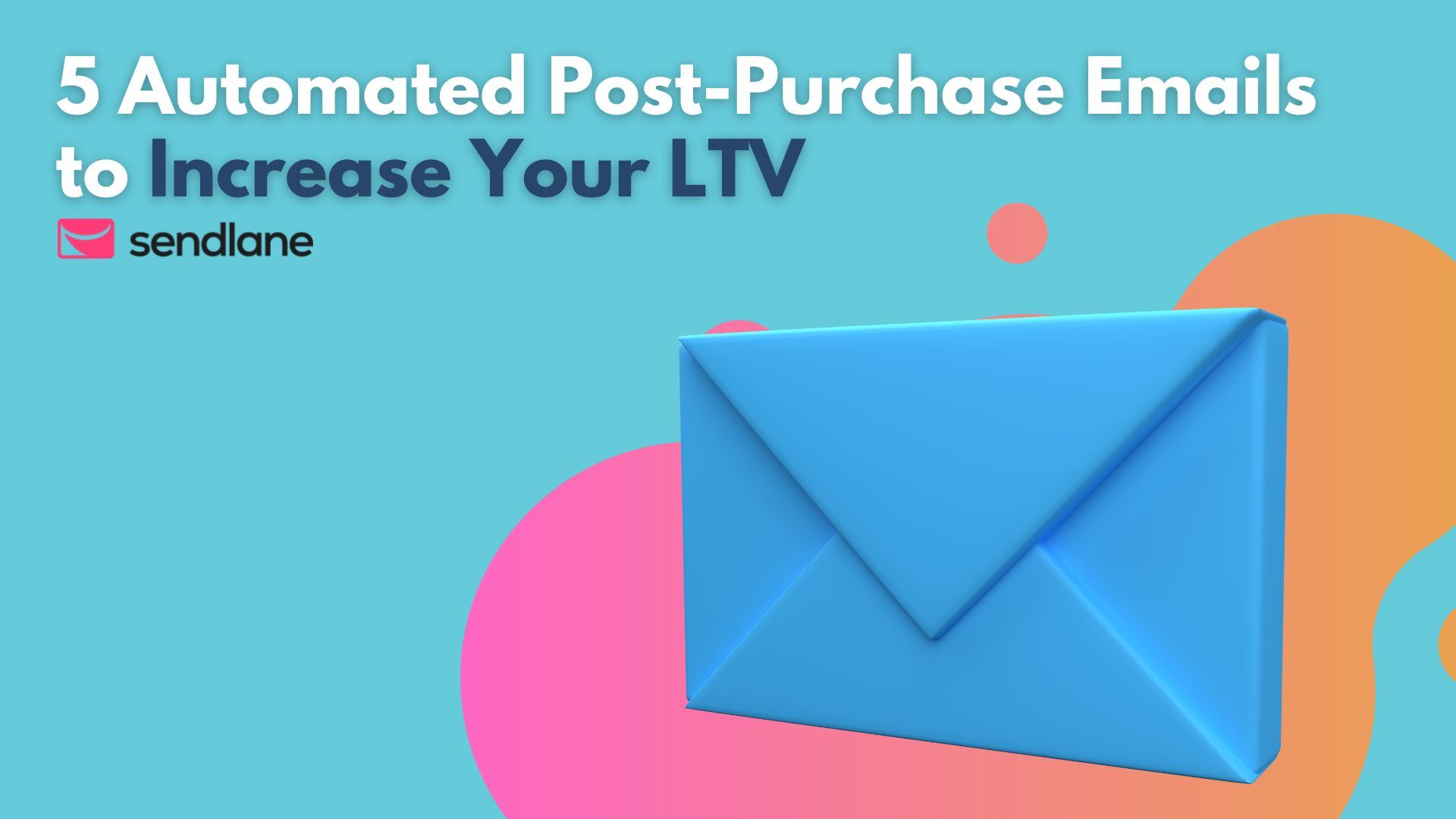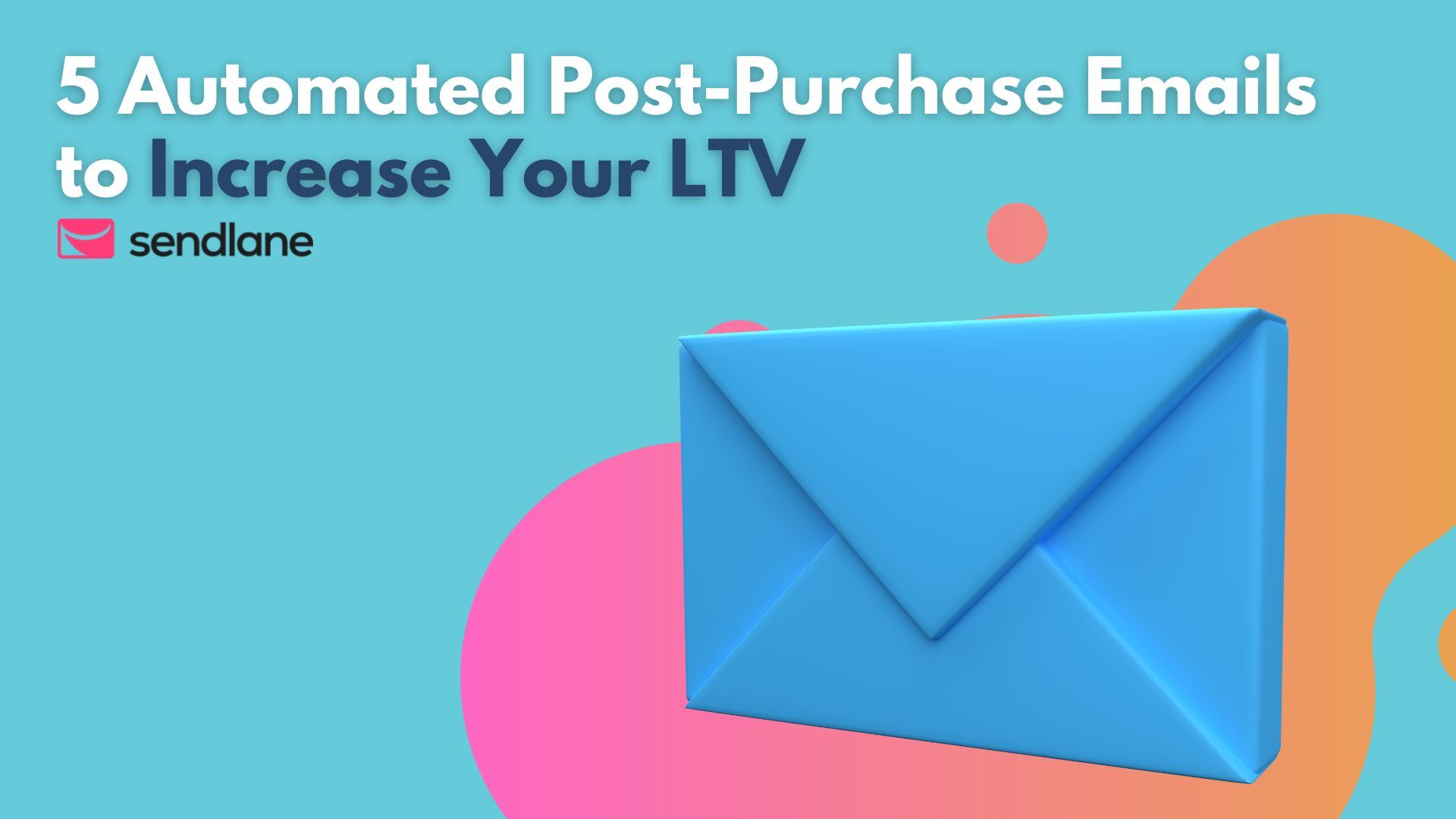 What's better than a new customer buying from your eCommerce store?
A customer buying from your eCommerce store again.
The reason? Existing customers have a 27% chance of becoming repeat customers, and they spend about three times more, on average, than new customers.
Getting repeat customers, however, requires some strategic thinking. You'll need to keep the conversations going after customers complete their purchases to boost their Lifetime Order Value (LTV) — a crucial metric for all eCommerce brands.
There's another reason too. Not only can you make more money from repeat customers, but you can also do so without spending more. That's where automated post-purchase emails enter the picture.
5 Automated Post-Purchase Emails That Belong in Your Funnel
By the end of this post, you'll have seen five examples of post-purchase emails, as well as why they are essential for increasing LTV and the best ways to add them to your automated email flow.
1. The Thank You Email
Customer service and salespeople at brick-and-mortar stores know that part of their job is being courteous and saying "thank you."
And even though your eCommerce brand may not have the same level of in-person interactions, you still need to say thanks after someone buys from your store, like Everlane does in this message:
A thank you email that goes out automatically right after a customer completes an order will help you do that.
This email is easy to add to your automation, and it goes a long way toward building trust with first-time buyers. And even if the buyer is a repeat customer, saying "thank you" is never a bad idea.
You can also leverage these emails to enhance your customers' experience by including details on what's next from your brand, shipping information, or instructions regarding their new product.
This information shows customers the value of connecting with your brand and that you're committed to building a relationship.
2. The Brand Introduction Email
When shoppers already know about your brand, they're more likely to be comfortable buying from you.
The brand introduction email builds on what new customers already know by providing additional information and sharing your brand values, like this email from Who Gives a Crap does:
There are two common ways to do this:
Create an email that sends automatically as a part of your post-purchase series.
Build a welcome email funnel that starts sending to new subscribers after signing up.
Fortunately, both of these are easy to set up with the right email tool.
Putting the first email in place is as simple as adding a second email to your post-purchase funnel.
Like the ones above, additional emails will require additional automation that triggers one day after a buyer's first purchase.
Sending these messages keeps the conversation going by welcoming the buyer to the brand "family" and encouraging additional investment — financial or otherwise.
With either tactic, remember to show what makes your brand unique and what their purchase represents.
3. The Personalized Recommendation Email
Building customer loyalty and retaining new buyers shouldn't be left up to chance.
That's why lots of successful brands send post-purchase product recommendations. Emails that recommend products can increase conversion rates and boost average order value (AOV) significantly.
Take, for example, this email from Lyst. The images and messages are clear and designed to drive click-throughs:
Further, you can add recommendations to any post-purchase email — order confirmation emails, reward program emails, and more.
This is a great way to spotlight your bestsellers and upsell or cross-sell related products to encourage additional purchases.
Start by sending a recommendation email 3-7 days after that first purchase, and another about 10-20 days after that if you want to keep the sequence going.
4. The Discount Email
Increasing your customer's lifetime value is going to require some effort. If you want buyers to come back, you'll need to make offers that are too enticing to say no to.
And is anything as enticing as a discount?
We don't think so, and we can prove it — promotional emails typically generate 14% higher open rates.
Getting a product you already like for an even better price is always a treat. And if you can tie your post-purchase discount email to a holiday or event like Ring does here, even better:
Creating a discount email for your post-purchase funnel doesn't have to be difficult.
Start by generating a unique discount code for this funnel so that you can track its performance. Then put the code in an email and set it to send 7-12 days after your first message.
Further, incorporate some copy like "Here's a special discount just for you" or "We miss you! Come back and get X% off your next purchase".
Why? Because personalizing the content helps to make customers feel special. It makes them feel like they're the only ones getting the offer.
Lots of people — especially people who are "very online" — can feel unappreciated or overlooked these days.
Adding positive, uplifting copy in these emails can scratch that emotional itch. And frankly, making people feel good feels good.
All that said, don't create an offer that will destroy your profit margins. Start by testing incremental discounts and offers to see what it takes to bring customers back and increase their lifetime value.
5. The Product Review Request Email
What do your customers think of your products?
If you want to reduce returns, identify areas to improve, and collect positive reviews that you can use for social proof, finding out is essential.
Asking for product reviews is another task you can automate with your post-purchase funnel. Depending on the product in question, send emails like this one from Cleancult somewhere between 7-30 days after your first message.
If you sell clothes, for example, you can probably assume that your buyer has at least tried on the product after 7-10 days, which makes that the best time to request a review. Other items like sheets, electronics, or cleaners, however, might require a longer wait if you want an informed opinion.
If you're worried about negative feedback, we get it — but don't let that stop you.
Showing reviews on your website can increase your ability to add new customers and sell LTV-increasing products to existing customers.
More than 90% of adults aged 34 and under trust online reviews, and positive reviews make that same percentage of consumers more likely to buy from a brand.
To get started, create a survey or Facebook page and link to it in your emails.
You should get some useable reviews about your products that you can turn into social proof after a few weeks.
Post-Purchase Emails: More Profit, Less Effort
Did you know that increasing customer retention by just 5% can boost a company's profitability by 75%?
Post-purchase emails are an essential tool for improving customer retention, and even a small increase can exponentially grow your revenue.
TL; DR: If your eCommerce store doesn't have one, it needs one.
And if you already have one, try optimizing it with one or more of the emails above.
The right cadence and content will be different for every audience, and don't be afraid if you hit a dead-end or two. The numbers don't lie — it's worth a try!
Create and optimize your automated post-purchase email funnel with Sendlane! Click here to sign up for your 14-day free trial!