11 FOMO Marketing Tactics to Increase Email Conversions
The 'Fear Of Missing Out,' or FOMO, has lots of variants.
For some, it means checking social media feeds every 10 minutes. For others, it might mean anxiety over not being seen at the right party or event.
You might even have "FOFOMO" — the Fear of FOMO — over the stuff you don't even know about yet.
Basically, FOMO comes from anticipating regret or disappointment from making the wrong decision. And clever marketers leverage this feeling by telling customers to act before their opportunity disappears.
In this post, we'll look at ways to use FOMO in your email marketing. Let's go!
11 FOMO Marketing Techniques You Can Use in Emails
Wait… are you already wondering if there's another FOMO marketing post that you should read instead of this one?
Relax! We get it. Like the Aerosmith song says, you don't want to miss a thing.
And we have good news — you're in the right place. We're diving into what makes FOMO marketing work and giving you 11 ways to implement it yourself.
1. Use a Countdown Timer to Create Tension
Adding a deadline is a surefire way to generate FOMO. And what says deadline more than a countdown timer?
Countdown timers can build excitement for a new launch, for example, or encourage event sign-ups.
They also work well if you want to increase tension before a sale ends, like this email from Harry's does:
Adding a Countdown Timer to Your Emails
Free tools like Sendric make it easy to create a countdown timer — you choose your time zone, when you want your timer to end, your language, and the colors you want, and the tool does the rest of the work for you.
If you know how to write code, you can also build a timer of your own using HTML.
2. Introduce Scarcity
The fear of limited or diminishing supplies, or scarcity, works in the same way as a countdown timer. It creates urgency, which incentivizes customers to take action right away.
How often have you seen the words 'limited stock' in a sales email?
Filson uses this technique effectively by telling customers that their pieces are unique, limited, and not available for long.
3. Make Buyers Part of the "In-Crowd"
‍Everyone likes feeling special. Being part of an elite club, hearing about new events or product arrivals, and getting member-only discounts help to fuel this feeling.
In summary, enjoying access to opportunities that others don't get scratches that FOMO itch.
Here's a great example from Riley that offers a special discount for those who have signed up to their email list.
Other FOMO Triggers For That "In-Crowd" Feeling
Provide coupons or discounts on the first purchase.
Exclusive perks that are only available to members/contacts, such as free shipping or early releases.
Display two prices, one for 'regular' buyers and a discount for members only.
Emphasize a sense of belonging, which you can support with Sendlane's dynamic behavior-based workflows. Sendlane automates emails depending on each customer's actions.
In other words, when Kate from North Carolina responds to your offer, you can make her feel like a valued customer within minutes.
4. Flash Sales
Flash sales are a great FOMO technique because they instill a sense of panic that doesn't give shoppers time to have second thoughts.
You can make offers valid for only one day or just a few hours. Nobody wants to miss a great deal — what if it isn't offered again?
Baggu puts this principle to work with their Cyber Weekend email:
‍
How to Plan an Effective Flash Sale
Create a segment of your most loyal clients. You can reach out and say thank you and encourage repeat purchases or reduce unwanted stock.
Create a simple and relevant offer for your audience.
Keep the offer juicy. The incentive should be appealing enough to get them to jump before they miss out.
Add visual elements like a GIF or attention-grabbing imagery to make your email stand out.
5. Create an Air of Mystery
Secrets and surprises put a different spin on FOMO. Not only are you afraid of missing out on something amazing, but your imagination also starts to run wild with the possibilities.
This FOMO marketing tactic works especially well with loyalty programs. Members who are already engaged are more likely to click through because they trust the sender.
Prettylittlething combines a secret discount with a lot of brand personality in this particular message:
More Secret Offers & Opportunities
Travel and accommodation sites like to use these offers to present mystery destinations or hotels in which you don't know where you're going to end up until you book the trip. Consider your products and services to see if you have an offer that this technique would work for.
Offer an incentive for correctly solving a puzzle or riddle. By implying that only the smartest will be rewarded, you're boosting the customer's ego and your engagement.
If you have an event or new product release, prepare and send a sequence of mysterious 'coming soon' emails to get your audience excited. You can reveal one thing about the main event in each message to hold their attention.
Create interactive emails that require 'scratching' or 'unwrapping' an image to reveal the offer.
6. The "Last Chance" Email
Nothing activates FOMO like pressure to make a quick decision. That's part of the reason why countdown timers and flash sales work well.
Another technique along the same lines is the 'last chance' email. You can send this out when there are only a few days or hours left in your sale, like A Kids Book About does here:
Other Ways to Use 'Last Chance' Emails
If you're promoting an event, giveaway, or competition, create an email that tells your audience it's their last chance to book, enter, or win.
Send a series of reminder emails first with phrases like 'expires next week,' 'expires tomorrow,' and 'expires at midnight.'
If your campaign is tied to a seasonal event or holiday like Christmas, send a "last chance to get it in time" email — but make sure it aligns with your ability to ship on time.
7. Offer 'Must-Have' or New Products
There's no rule that says you need a sale or special offer to create FOMO in your audience.
Sometimes all it takes is powerful words or phrases like 'must-have' and 'new.' This language conjures up something that almost becomes essential because it's the latest and greatest.
Happy Socks has the right idea with this email:
More FOMO-Boosting Words & Phrases For Your Emails
All the rage
Coming soon
Current
Essential
Hot off the press
In demand
Irresistible
Just released
Latest
Limited
Red hot
State of the art
This season's
Winning
8. Put Some FOMO in Your Abandoned Cart Reminders
Abandoned shopping cart emails are a tried-and-true customer touchpoint.
But not enough marketers employ FOMO techniques to give those messages an extra push.
This email from Cotopaxi, however, finds room for FOMO. By combining an abandoned cart reminder with a striking visual lifestyle image that shows the product in action, which will be hard to resist for someone who can't wait to get back outdoors:
The email above also gets a bonus point for reducing buyers' potential price objections by offering a financed payment option.
Pro Tip: For more tips and examples of great abandoned shopping cart emails, check out this Sendlane post. And if you sell on Shopify, you can integrate Sendlane into your store and design and automate abandoned shopping cart emails directly from Sendlane.
9. The Right Free Gift is a FOMO Trigger Too
No one wants to miss out on a gift, especially when it's free. And if you can select the gift you want from an array of options, that's even better. Throw in free shipping, and you've got a winning FOMO inducer on your hands.
Thrive Market adds all of the above — and some "exclusive" verbiage to boot — in this email. New members get to pick from some of Thrive's best sellers when they check out, as the email below explains:
More Ways to Turn Free Gifts into FOMO
Send a "last chance" email (remember those?) reminding shoppers that their free gift claim is expiring.
If your product or service is subscription-based, offer new contacts a free month or two if they sign up within a certain timeframe.
Put unique coupon codes into your emails that are redeemable for free gifts or discounts when cashiers scan them in your physical store.
Create urgency with a deadline, and add language that prevents users from abusing your offer.
10. Show No Mercy
SmartBlogger founder Jon Morrow knows the power of FOMO. And in these emails that he sends to promote his training program — the fourth and fifth in a five-email sequence — go all in.
Just check out the highlighted sections below: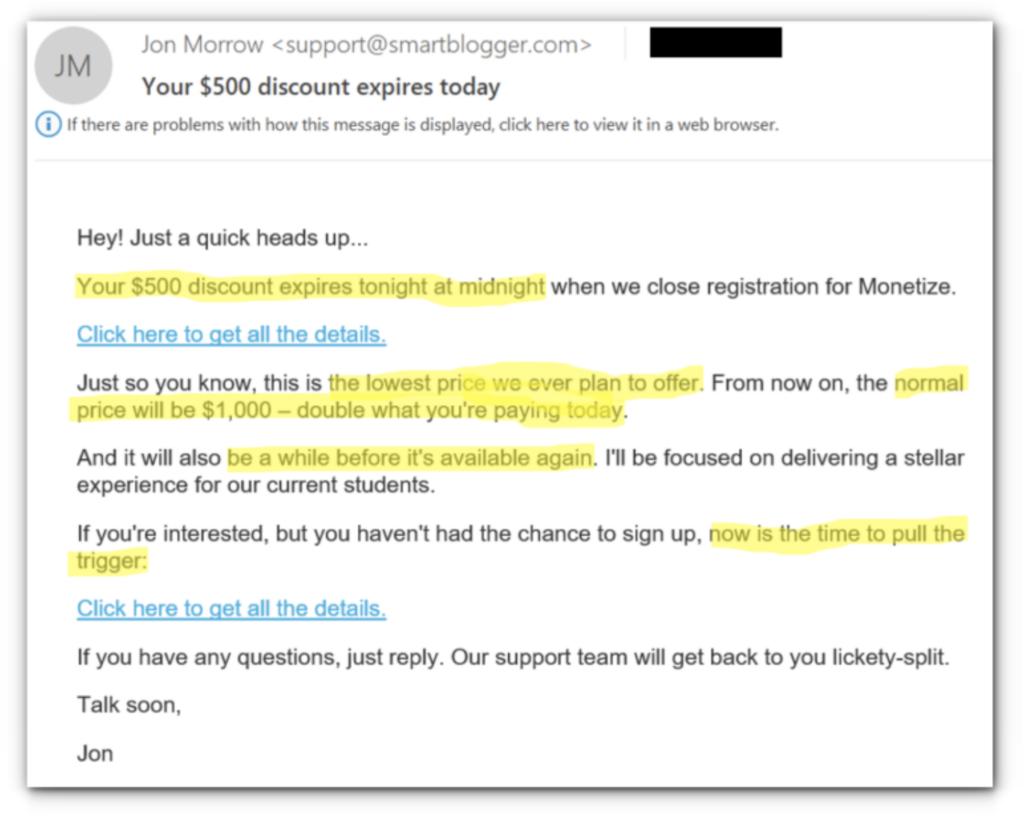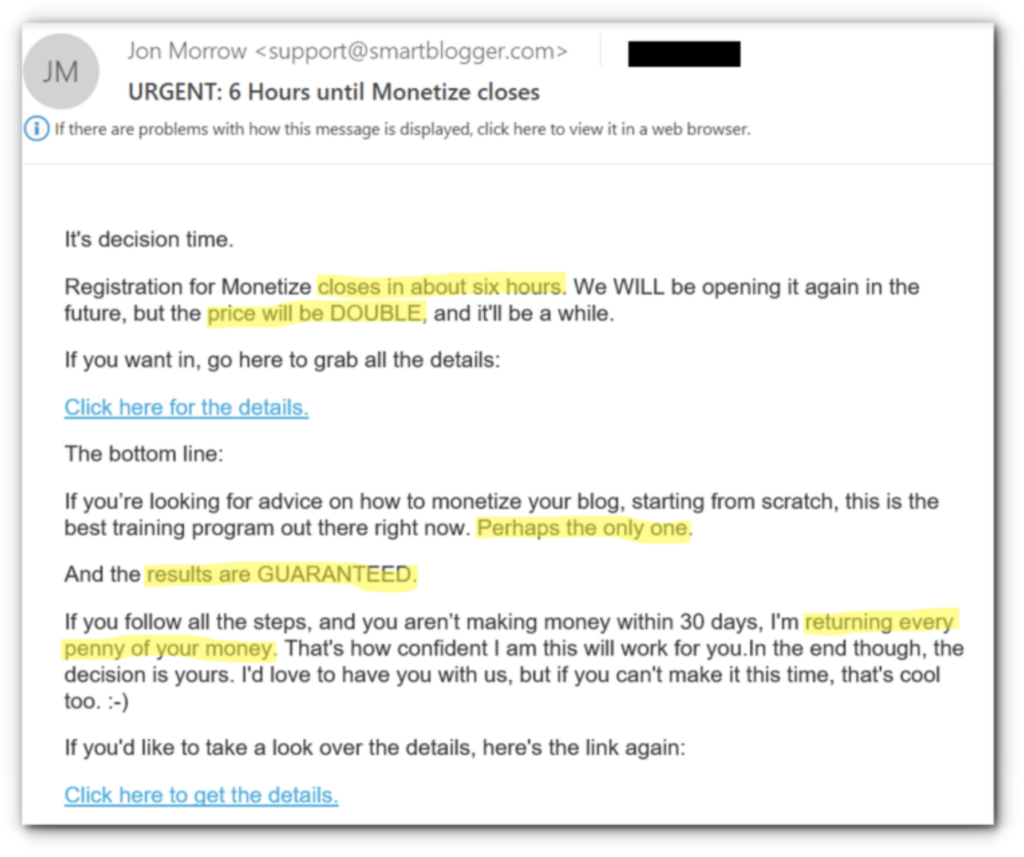 Writing emails like Jon Morrow isn't easy (which is why he sells courses to help with that).
There are some proven techniques, however, that you can use to become a more compelling email writer. Check out this post if you're looking for a place to get started.
11. Subject Line FOMO
All of the FOMO marketing techniques we've covered so far are based on the body of the email. But at least 35% of people decide whether or not to open an email based just on the subject line — before they even get to the content inside.
That's why FOMO has to start in your subject lines.
You can use FOMO techniques on emails for exclusivity, new products, discounts, and 'last-chance' sales in less than a month to get people to open their emails:
More FOMO-Focused Subject Line Ideas
A sneak peek inside our new program
Free download for the first 100 contacts
Further reductions
New stock just arrived
Should I give up your spot?
The new design trends you need in your wardrobe
You're going to kick yourself if you don't jump now
Your $500 discount expires today
11. Send a Preview to Your Most Loyal Segment
Another way to reward your best shoppers for their loyalty is with special offers and preview events. Allowing them to get the jump on everyone else is like catnip to FOMO sufferers.
Look at this Black Friday email from Baublebar. They offer a limited-time VIP email exclusive that shoppers won't want to say no to:
More FOMO-Inducing Words & Phrases
24-hour special preview
Early-bird access
Get in before the general public
Here's what we've got for you
Members' exclusive prices
Members-only
Pre-release prices
Skip the queue
Go, FOMO, Go
That's a whole bunch of FOMO marketing techniques that you can use now. Combine them with other features and functions in your email automation tool, and pretty soon, you'll be a go-to FOMO marketing expert.
Remember, the key ingredients are:
Deadlines
Scarcity
Exclusivity
An air of mystery
Persuasive language
The desire to get something for free
Also, all of these techniques can be implemented at the click of a button with an email & SMS marketing platform like Sendlane.
Ready to put these strategies to work for your business? Start your free 14-day trial and give Sendlane a try!