5 High-Converting Emails You Need After Prime Day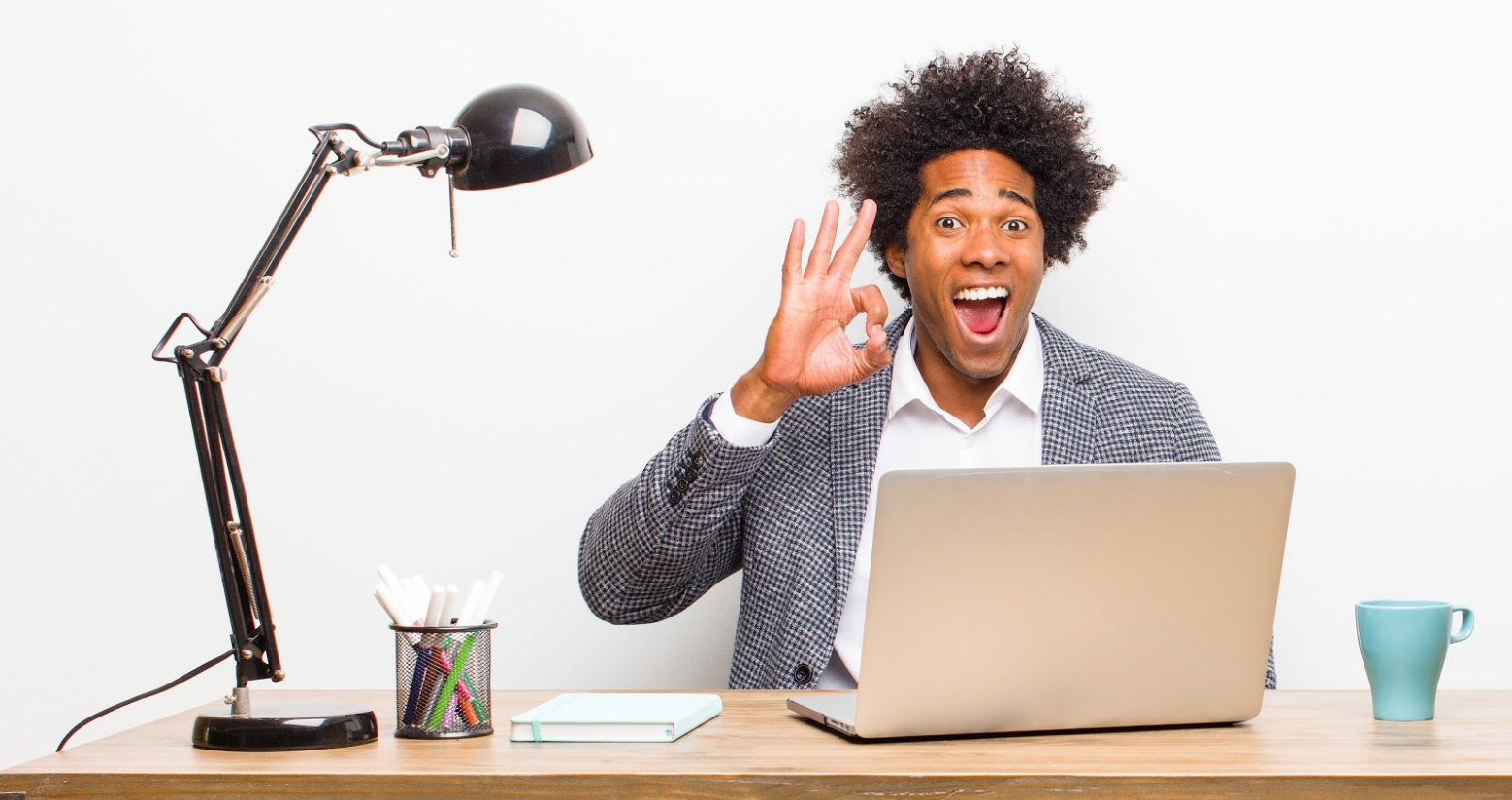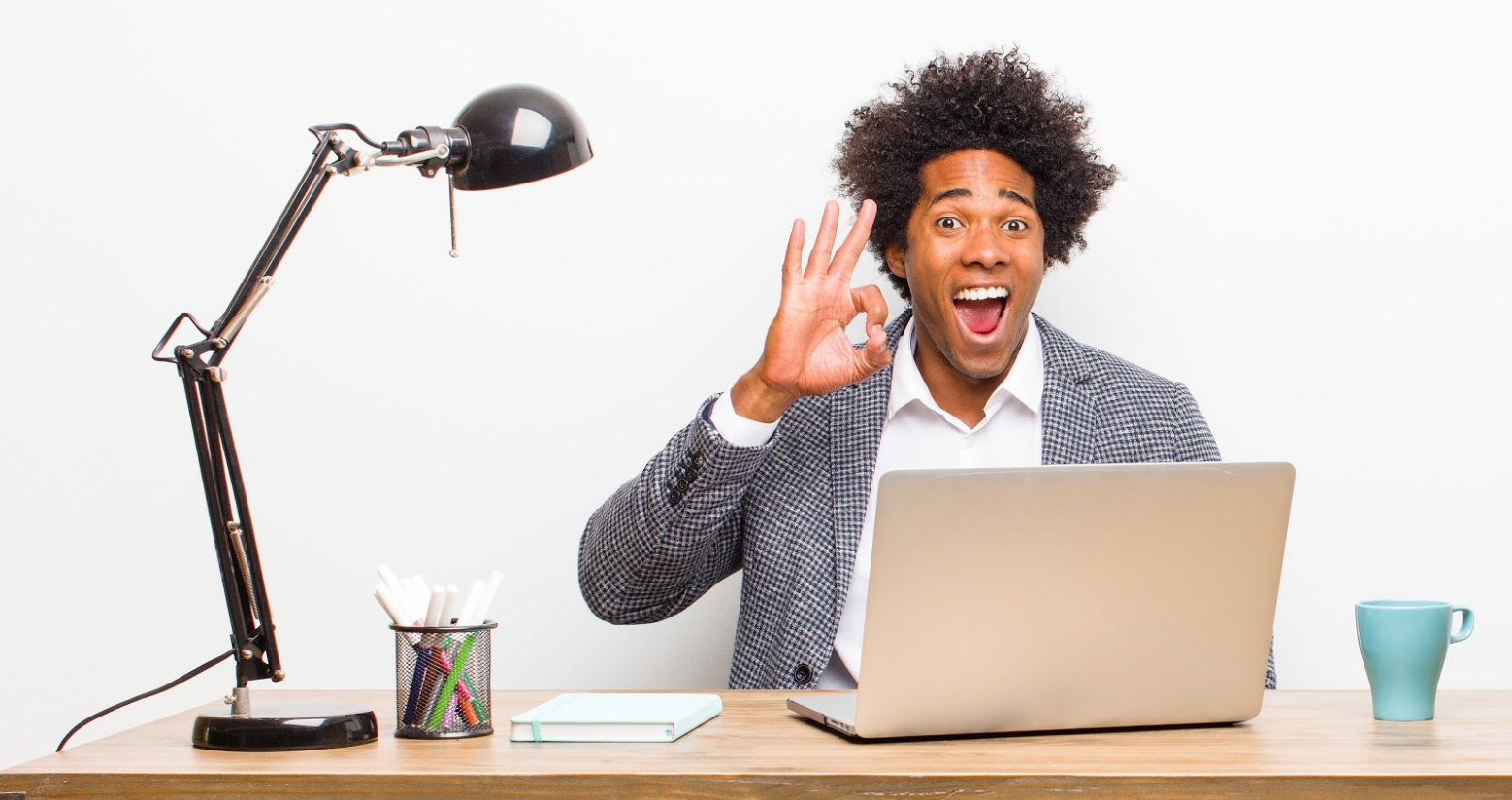 Amazon Prime Day has come and gone as 2020's first major holiday sales event during the pandemic. If you don't want to miss out on the remaining events of the season, it's time to put together some high-converting emails to reach your audience. Here's why.
Based on buyer behavior this year, the hottest items were mostly under the Tech and Electronics and Home and Health categories. With the shift in buying preferences due to the COVID-19 pandemic, it's understandable that consumers have been choosing products that fit the work-at-home lifestyle.
The Prime Day Preview
Amazon Prime Day gave us a glimpse of what's to come for holiday shopping in 2020. This particular Prime Day recorded 45.2% more sales than the previous year, which means that this BFCM may also be the biggest one to date. BFCM sales could reach as much as 30-50% higher than previous years, according to Business Insider.
In other words, this is a once-in-a-lifetime opportunity for record-breaking sales and growth no eCommerce store can afford to miss!
The Prime Day Problem
For eCommerce stores, the "Christmas Creep" often signals an early kickstart to the sales season. Stores can jump on the holiday sales bandwagon as early as Halloween. But now that Prime Day is encroaching on BFCM territory, could this signal a smaller piece of the holiday profits pie from eCommerce stores?
Prime Day pulling focus from the usual BFCM mega-discounts could certainly place more pressure on eCommerce stores to up their game. On top of the usual Q4 holiday sales blitz, shops will need to consider how to further entice customers who have had more reasons to shop earlier this year.
So how can you double down and prime your customers to spend big after two major sales holidays like Prime Day and Halloween? And how do you keep them spending into late November this year?
To help with your email game plan optimization, we've gathered five high-converting emails to break down their best practices so that you can integrate their tactics into your emails to maximize sales.
1. The Product Highlight + Recommendations Email
How do you create a high-converting email that maximizes sales on your top sellers? Simple — include recommendations of relevant products.
Since 80% of consumers are more likely to purchase when offers are personalized, you can use your primary highlight product as a gateway to lead your customers down the rabbit hole that is your store catalog.
Here's an example from ForChics: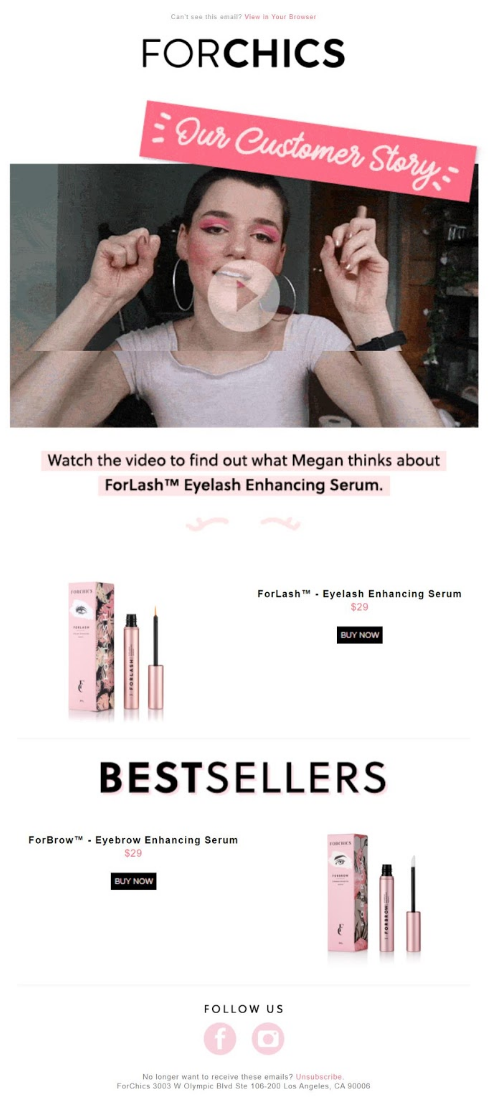 This email lands a one-two-three combo by leveraging user-generated content (UGC) in the form of a video testimonial, recommending the products used in the review in the second section, and promoting a top-selling related product in the third section.
To personalize your email further, you can base your product recommendations on new product launches, relevant products from the pages customers visited on your website, or products related to what they bought recently.
Here's another section we added below the email that does just that: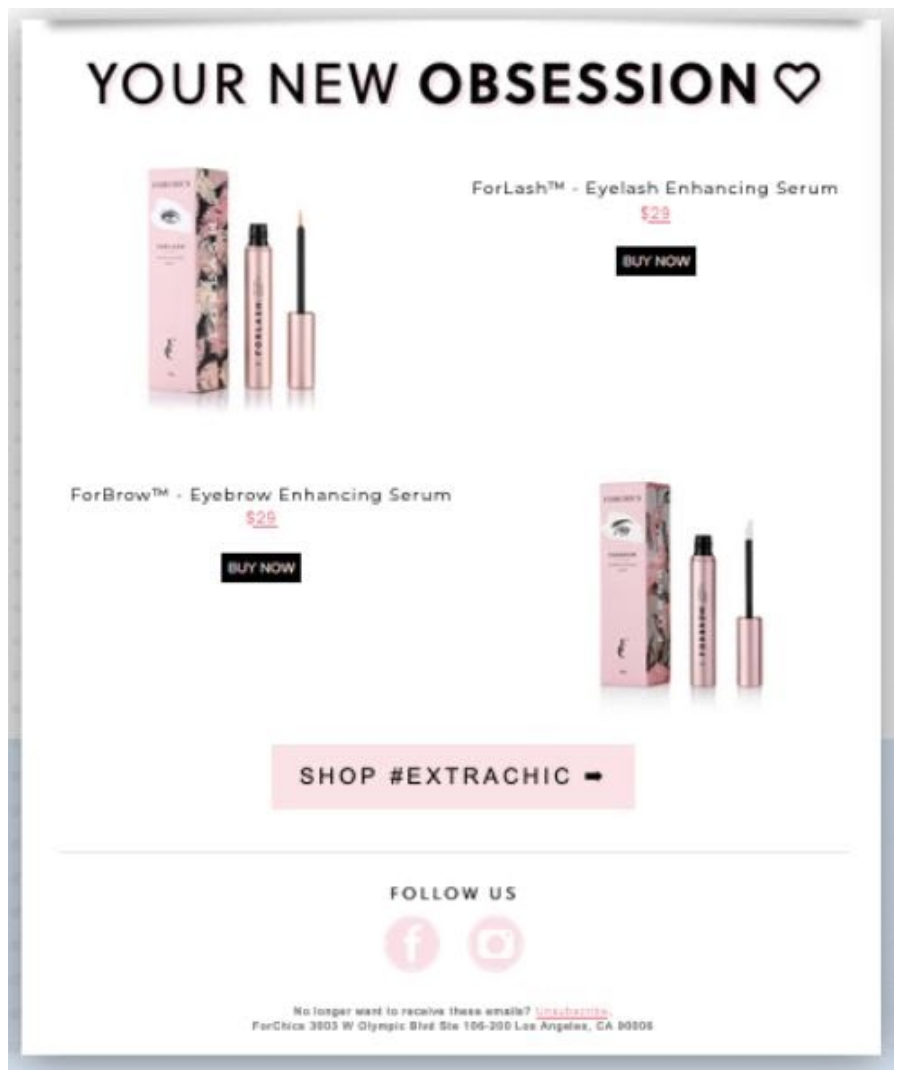 Read our post for more detail on exploring advanced segmentation strategies based on your customers' product interests.
Doing so will ensure the products you highlight in your emails are what your customers are legitimately interested in—maximizing the sales potential of that single email.
If you want more email design inspiration, check out the best email design practices in this article.
Pro Tip: Include a live countdown timer to drive home the point that these amazing offers won't last forever.
The whole concept of a limited-time offer, and the presence of a countdown clock, can generate a 400% increase in your conversion rates.
2. The Discount Billboard Email
Similar to the high-converting emails above, this is another way to expand your customers' awareness of the rest of your store catalog. And to align with the BFCM festivities, you can feed your customers' need for the best-discounted items by making sure those products get enough airtime.
How? By leveraging the product recommendation section in your emails.
It's sales season, after all. Countless consumers will be bouncing around product page after product page looking for the best deals.
This is how you can stand out from the rest. By highlighting the value you can offer your customers, you are giving them what they expect during a sale. Customers appreciate you showing them what they'd want to buy.
This email also encourages customers not to stop at just one purchase. This means, if you play it right, you'll get yourself some repeat customers!
Here's an example from Sommer Ray: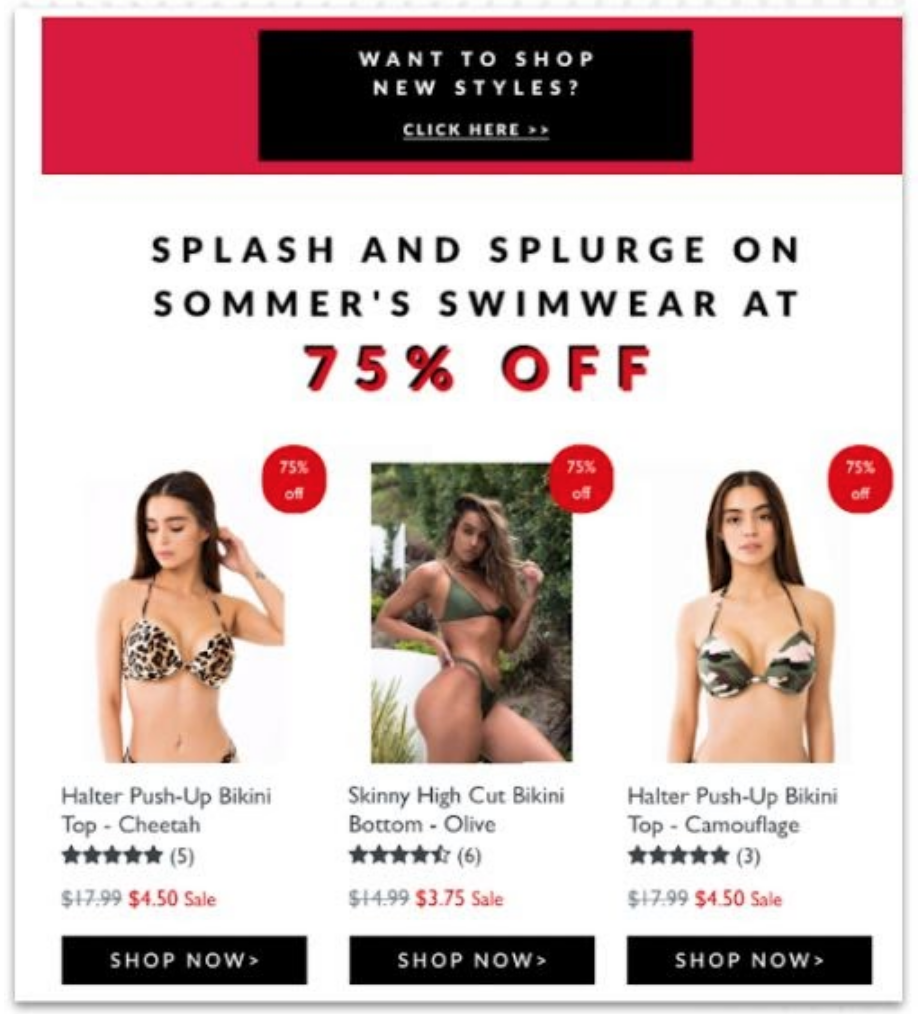 Under the context of "shopping for new styles," customers were enticed to buy something slightly different by the big slash in prices.
3. Abandoned Cart Follow-Up Email
BFCM is the best time to follow-up on any abandoned cart backlogs. With the prime incentive of discounts, you can win-back customers to finally complete their purchases at a discounted price.
According to a Baymard Institute study, the common issue customers have for abandoning carts are high prices and additional fees like shipping, taxes, and whatnot. This is the best solution to overcome that specific obstacle. And a big sales event is the perfect opportunity to throw that issue out the window.
The point of BFCM is to eliminate this objection. You lower the price, and your potential customers no longer tell themselves, "It's too expensive."
So you can win-back a lot of new potential business by contacting customers who abandoned their cart. If you have a site-wide sale, it probably negates the additional costs and makes it a viable option.
Here's an abandoned cart email example from ForChics: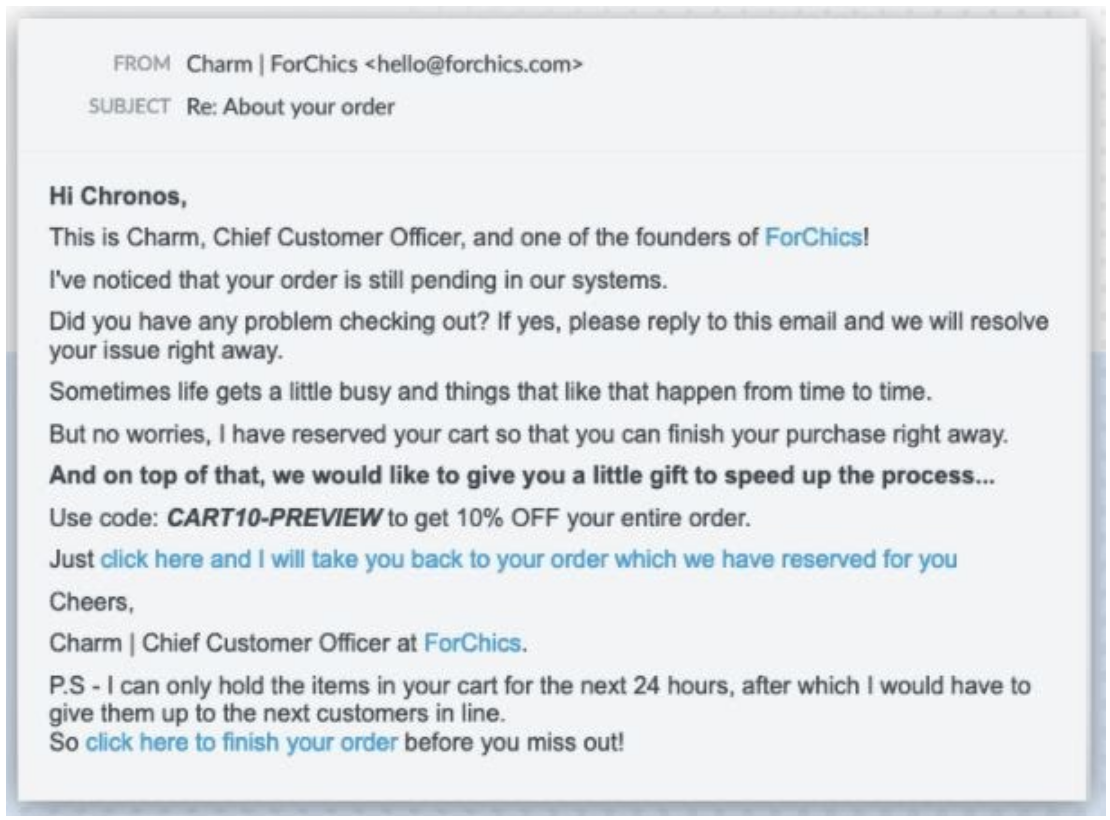 As you can see, it doesn't have to be too complicated or heavily-designed. A simple text-based reminder is usually enough with the included discount incentive.
Pro Tips
Use urgency. If you use words like "Limited time only!" or "For the next 24 hours," they'll know that the deal won't last forever.
Reinforce their fear of missing out (FOMO). In other words, if the subscriber doesn't buy now, they will regret it later. That's the message an abandoned cart email should send. By combining it with a limited-time site-wide sale, you can get even better results.
If you haven't explored advanced email marketing automation tools like Klaviyo, you might not be able to access the data you'll need to run advanced cart recovery strategies. But don't despair. In the next campaign, you won't need data on website usage or online shopping carts.
4. Cart Threshold Gift Campaign
Increase your high-converting emails' AOV by rewarding your customers for big purchases.
When your customers reach a specified cart price threshold, reward them with a discount on their next purchase to encourage repeat buying!
Here's a basic example for illustrative purposes: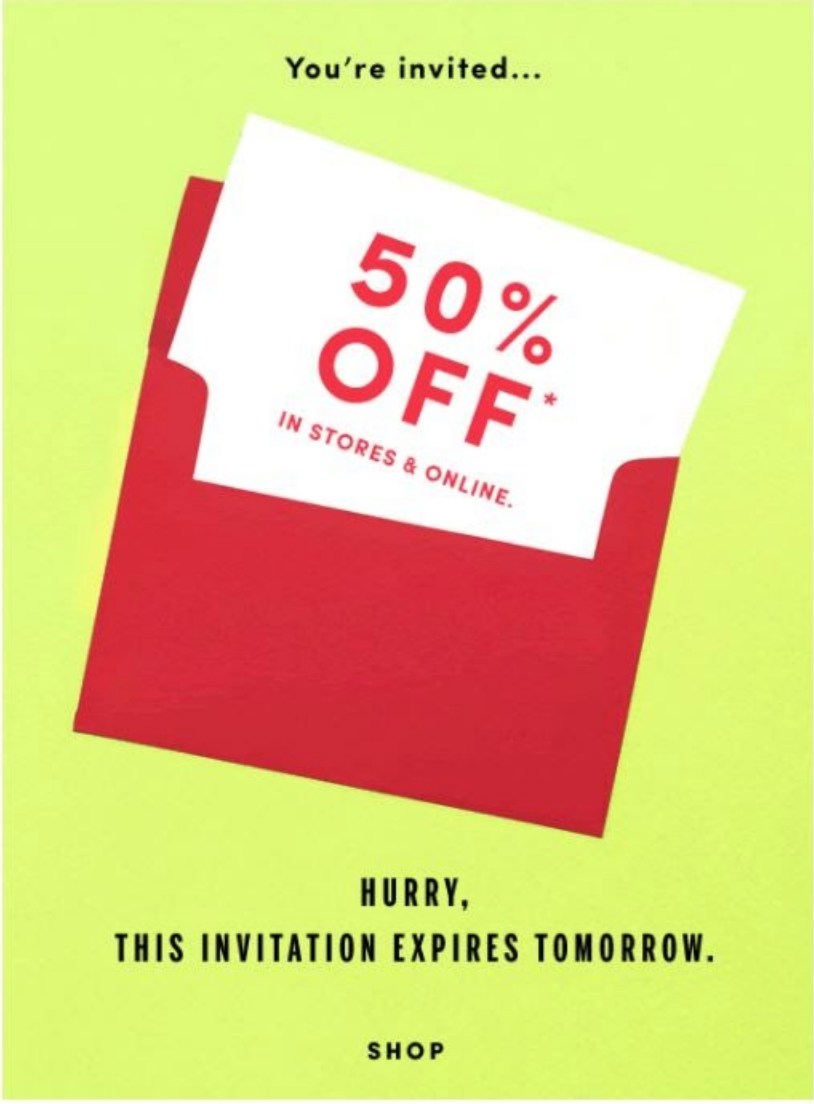 This campaign is a straightforward but effective tactic to increase the average order value (AOV) per customer that doesn't require audience segmentation like the three emails above.
For example, executing higher-value bundles can increase overall AOV and revenue with post-purchase flows. Bear in mind, however, that these are people who have just bought from you. How do you get them to spend with you again and stay on as returning customers?
Alternatively, you can offer a gift that complements your sale items. Are you selling fall/winter clothes? Offer gloves, a beanie, or a winter-appropriate accessory. Selling gym gear? Throw in a relevant free gift like a gym bag on large orders, or free shipping with a minimum spend.
The possibilities are endless, and there are few technical requirements to get a promotion like this up and running. Take your time and produce creative marketing campaigns with high-converting emails that matter to your target audience.
Pro Tips:
Develop a discounted gift set that caters to your customers' preferences.
Include an exclusive discount code that your customers can use for their next purchase, with or without a minimum spend.
Create urgency by emphasizing the time-limited nature of your gifts.
4. End of Sale / Last Chance Emails
Last-minute end-of-sale campaigns can bring in extra revenue and end your holiday season with a bang. Strike while the iron is hot by offering a final discount promo to commemorate the end of the sales event.
This way, you can give your subscriber one last chance to shop 'til they drop. Frame it as your gift to them, and they may even thank you for it.
Marketers typically call this a reminder email. It's the last email you should send and an integral part of a promotional campaign with high-converting emails.
Here's another great example from Sommer Ray: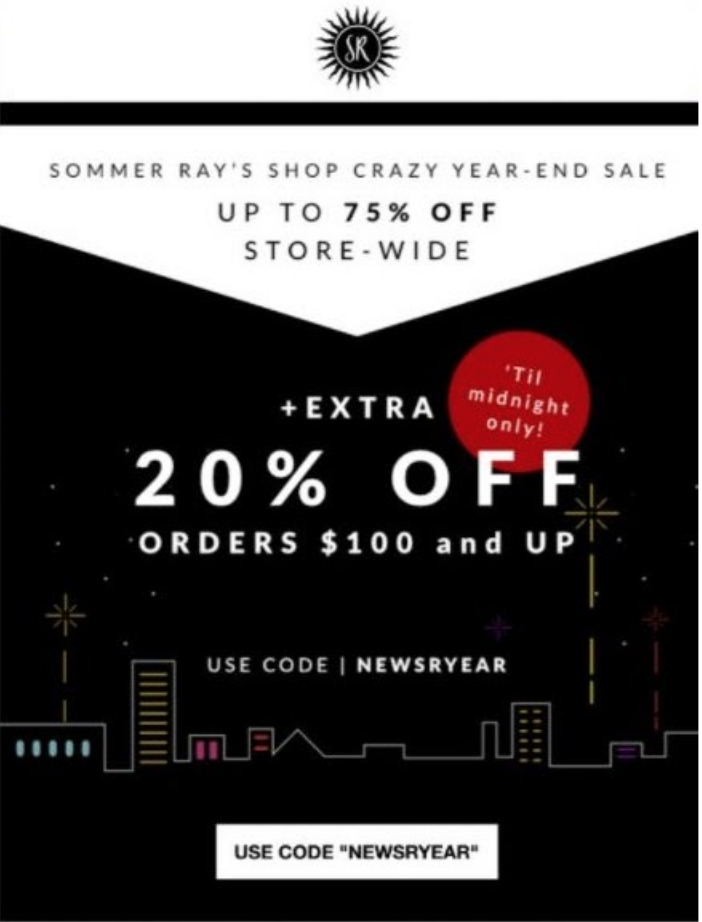 We typically use timers to convey the urgency of a sale ending, but "'Til Midnight Only' stands out as the cherry on top of a too-good-to-be-true offer.
You'll be surprised at how urgency and offering great value can come together to generate impressive last-minute sales. Remember the KISS rule when designing these types of emails—Keep It Short or Simple.
It's Never Too Late to Add High-Converting Emails to Your BFCM Game Plan
There's no such thing as a perfect plan. Both consumer behavior and the eCommerce space can get quite unpredictable, especially during high-intensity sales events.
The second most important thing after preparing for a big sale event is being prepared to make any on-the-spot adjustments when necessary.
And if you want to minimize any bumps in the road, download our Ultimate Guide to Crush Record-Breaking Sales this BFCM 2020.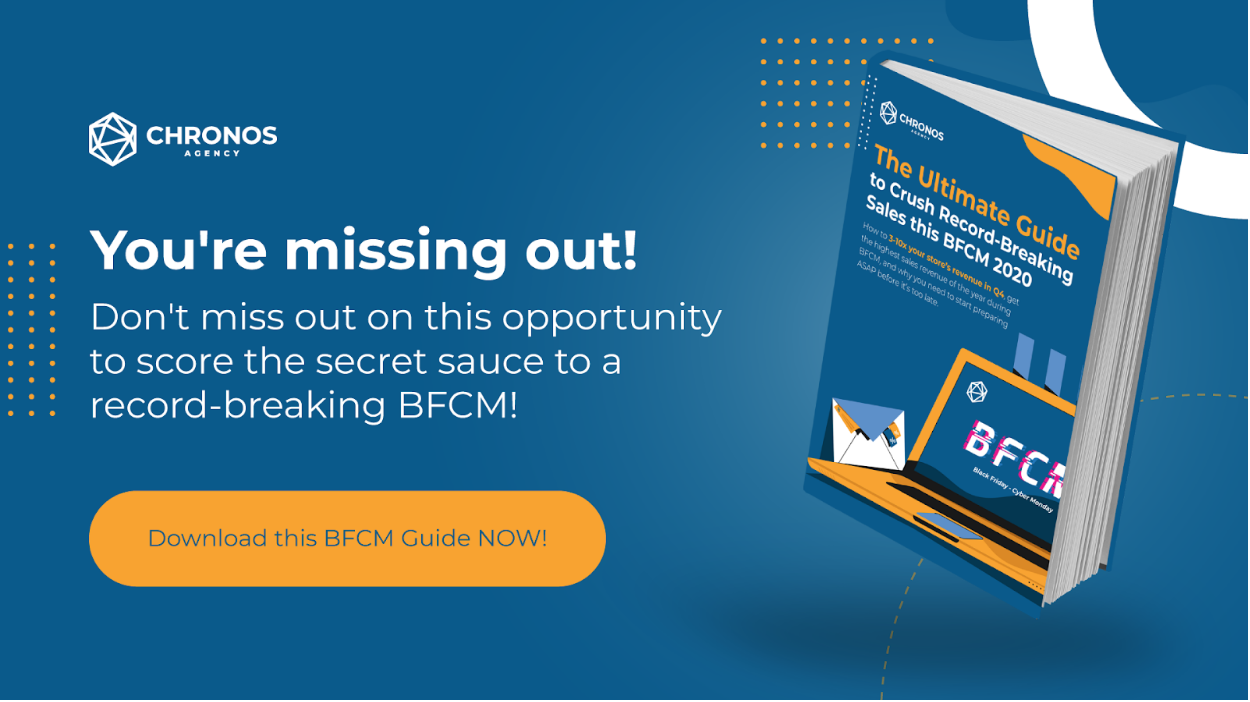 That said, we know that a lot of eComm store owners have their hands full this time of year. So why not let someone else handle your email marketing for you?
At Chronos Agency, we can take that burden off your shoulders, and AdLeaks members can get $200 off our monthly retainer. Schedule a call now and get your email marketing 200% ready for BFCM 2020!