How to Use Cart Abandonment Emails to Get More Dormant Revenue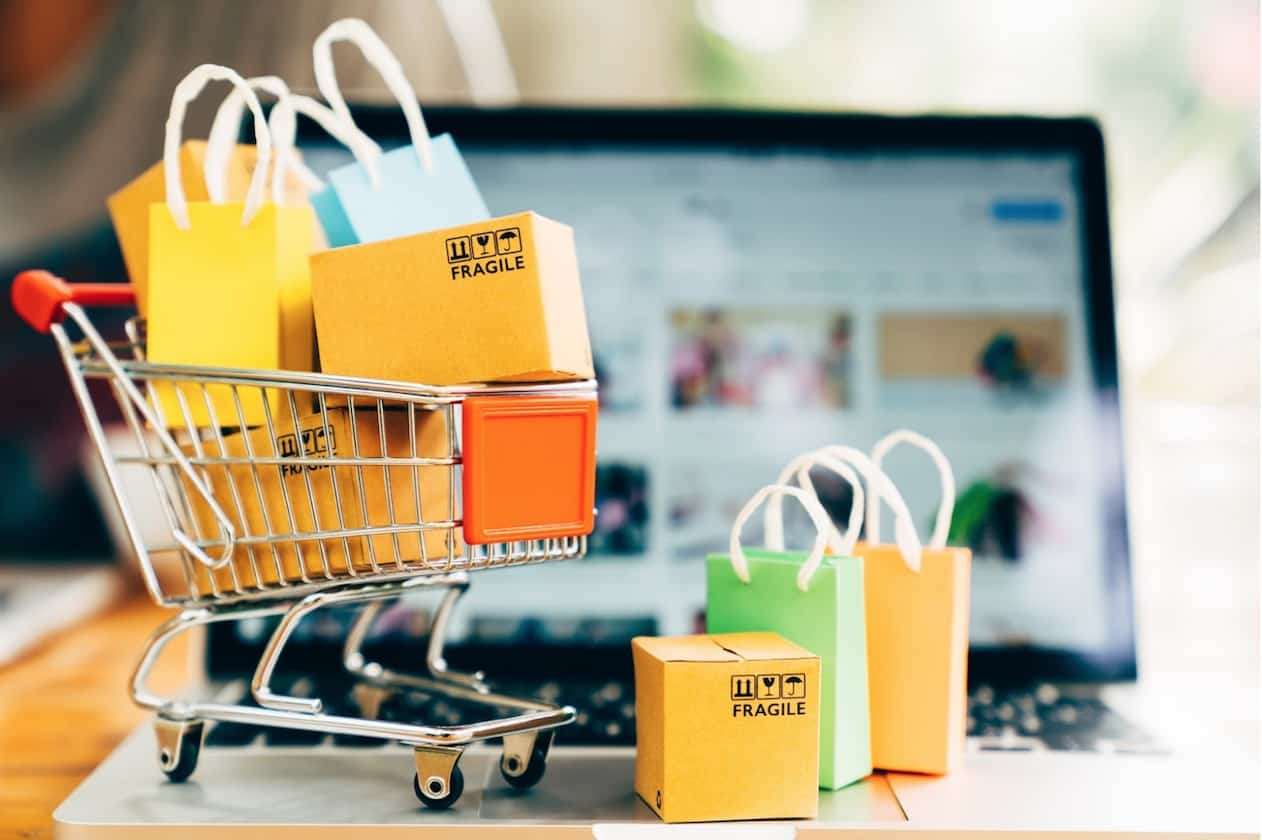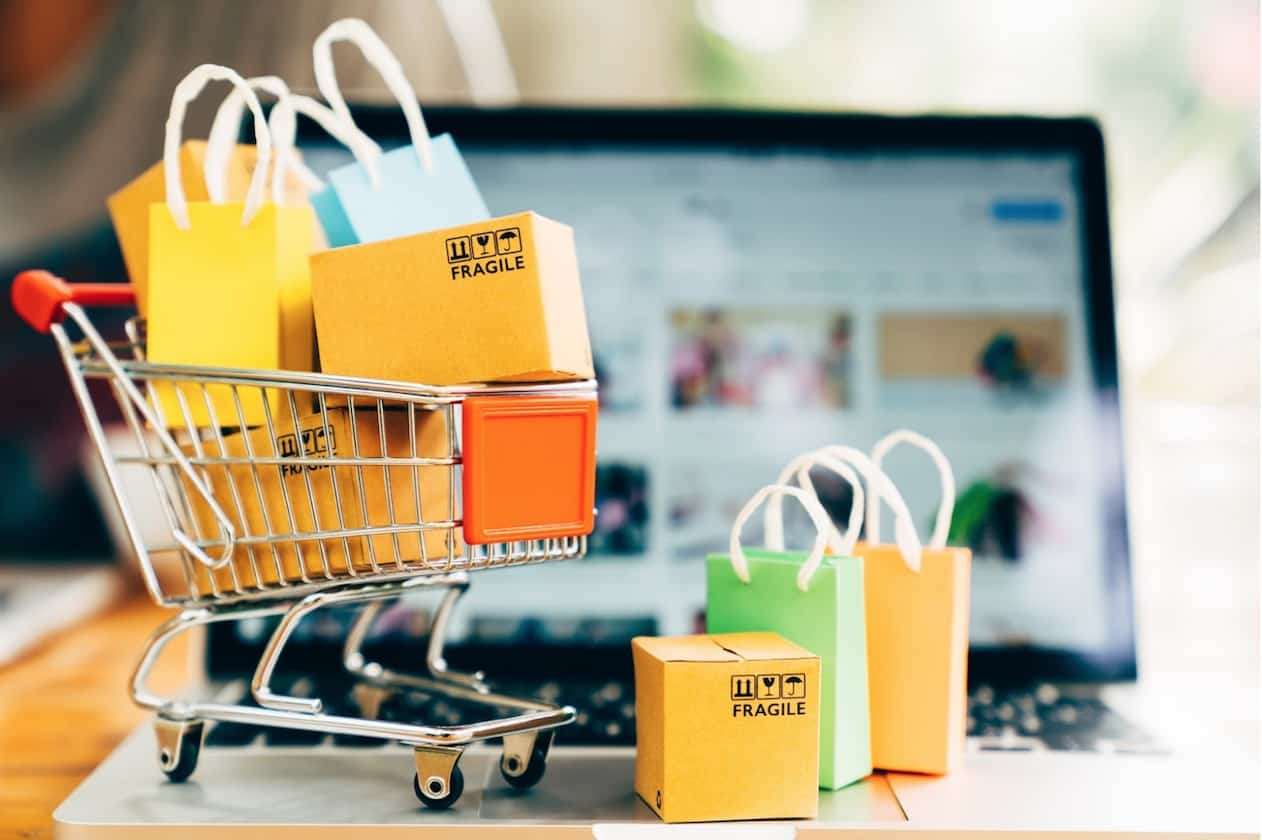 Have you ever thought about how many of the carts that online shoppers fill up with eCommerce products actually make it to checkout?
Of the many challenges eCommerce brands face, cart abandonment is usually at the top of the list.
Now, why is this a problem in the first place?
Well, imagine three shoppers walking through your brick-and-mortar store. All three of them pull products from your shelves, fill up their carts, and proceed to the checkout counter.
The first shopper completes their purchase and brings their haul home. You notice, however, that the other two shoppers pushed their full carts into a corner and left your store.
Let's go further and assume each shopper put $100 worth of products in her cart. Again, only one of these three carts made it through checkout.
At the end of the day, the math is pretty simple. Your store collected $100, but if all three shoppers completed their purchases, your revenue would have been 3x higher. Those carts that your shoppers left behind represent $200 of potential sales that could've happened, or should've happened, but didn't.
So, what can you do to save those potential sales and get those shoppers back in your checkout line? Cart abandonment emails can help!
3 Steps For Effective Cart Abandonment Emails
This strategy applies retention email tactics, as you're essentially maintaining your current customers' interest in your brand and products.
With cart abandonment emails, you're reaching or winning back customers who left their shopping carts in an attempt to finally get them through check out.
This process works best in three steps:
1. Remind Your Customers
Start with an email reminding your prospects that they have items ready for purchase. This might include a product list or images of the items in the user's cart.
You never know, maybe your customers just got sidetracked and forgot about completing their purchase. In these cases, a reminder email is enough to get them to return to their carts.
2. Offer Discounts With Deadlines
If reminding your customers isn't enough to motivate them, then add in some incentives in your emails.
After all, who says no to a discount -- especially on a product they already know they want?
Adding an expiry date for the discount can also help create a sense of urgency. That just might prove to be enough motivation for a portion of your customers.
3. Remind Your Customers of the Deadline
In this email, remind your shoppers that they have a discount waiting, and they can only use it within the (rapidly expiring) time frame.
Again, maybe your customers did see your offers and were planning on buying, but completing the purchase just slipped their mind.
By creating and automating an email campaign with this process, you can send a series of emails that engage your customers while keeping your offer at the top of their minds.
And by making it easy for shoppers to return to their abandoned eCommerce carts, you can capture 'dormant' revenue while building relationships with your buyers.
3 Tips for Customizing Your Abandoned Cart Emails
1. Know Who's Shopping
There are two types of customers you'll need to keep in mind here: First-Time Customers and Returning Customers.
For first-time customers, you can easily offer them a discount for being, well, first-time customers. This way, they'll understand that they're receiving a one-time promotion and it's not something you provide regularly.
For returning customers, however, abandoned cart emails are a great opportunity to cross-sell or upsell. In other words, you can offer them products of similar categories to their initial items of interest.
2. What Products Are Often Left in the Cart?
If certain products are left in carts often, you can create specific emails that offer more information on those products. This content can reduce any customer objections and help them better understand what they're buying.
You can even invite your customers to contact support or view an FAQ for the products to get them back on your website.
3. Offer Discounts on High-Value Carts
Are you looking at too many abandoned shopping carts with high-value products?
Consider offering a discount or incentive for the cart as a whole. This should encourage your customers to come back and finally make the purchase.
A/B Testing for Optimizing Cart Abandonment Emails
For your cart abandonment emails to reach optimal effectiveness, you'll need to A/B test them regularly.
For example, track which of your emails perform better than others, and which ones have features that you can change or update.
The needs of your customers and your eCommerce business always change, so don't expect one specific style of your email will work for a long time.
Best Examples of Cart Abandonment Emails
Here are 11 of our favorite examples of cart abandonment emails from various brands, along with some takeaways that you can apply to your own campaigns.
1. Bearsville Soap Company | Clear Call To Action
Making your CTA clear and visible at first glance is always important. In this example, the use of white space made their CTA button stand out.
Not only that, but the "Return to your cart" CTA also made it clear to their customers what the link does and where it would lead them to.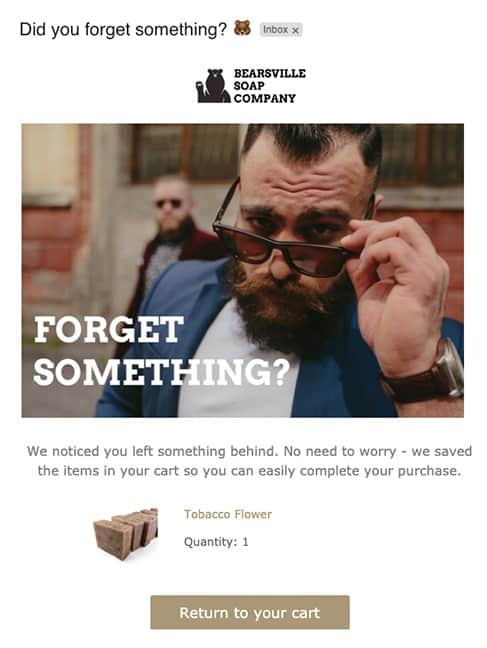 Image source: Active Campaign
2. ThinkGeek | Compelling Email Copy
When it comes to email copy, always remember you're having a conversation with your customers.
In this example from ThinkGeek, they embrace the interests of their customer by incorporating them into their email copy. This adds value for your customers and it makes your relationships even stronger.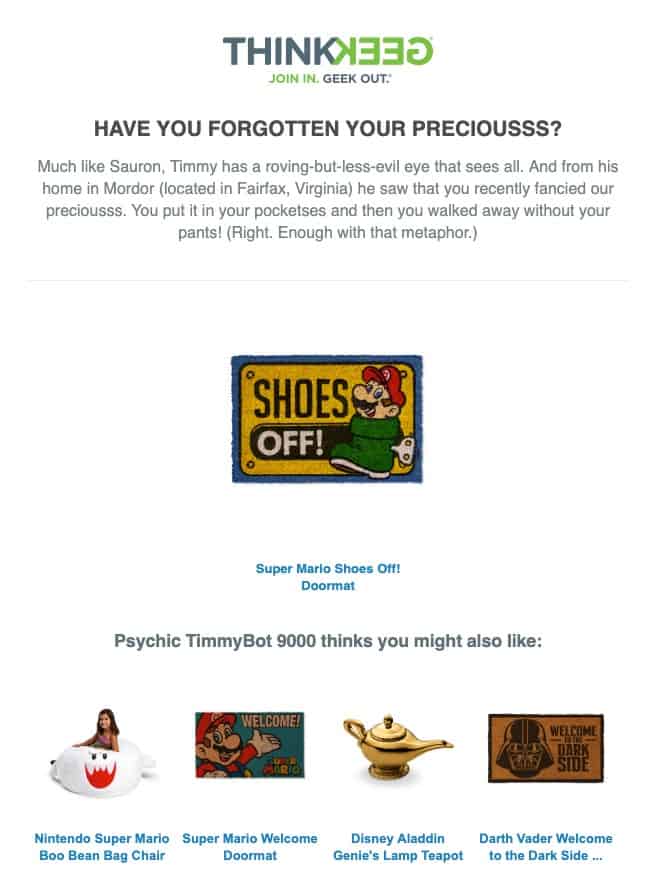 Image source: Active Campaign
3. Thred Up | Show the Product
Including an image of the product your customer left in their cart may remind them what exactly they forgot -- and why they wanted it.
It's much easier to help them remember why they considered buying the product in the first place by showing them through pictures rather than just words.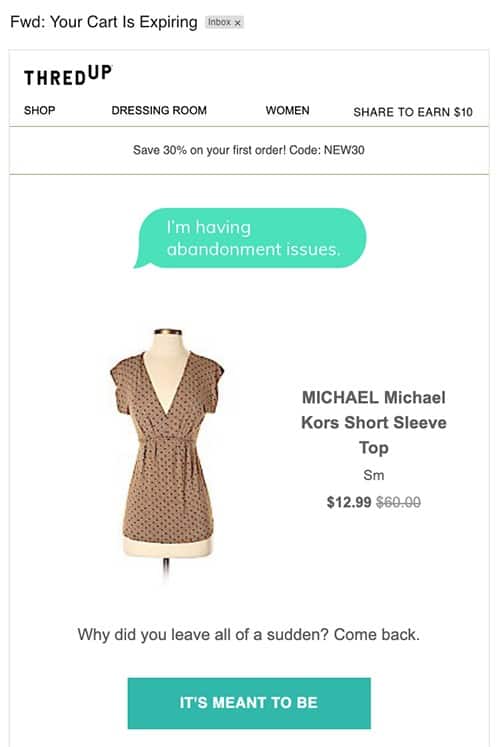 Image source: Active Campaign
4. Sugar Bear Hair | Fun Graphics
Don't be afraid to use fun graphics and animations in your emails. GIFs are a great way to make your emails more engaging.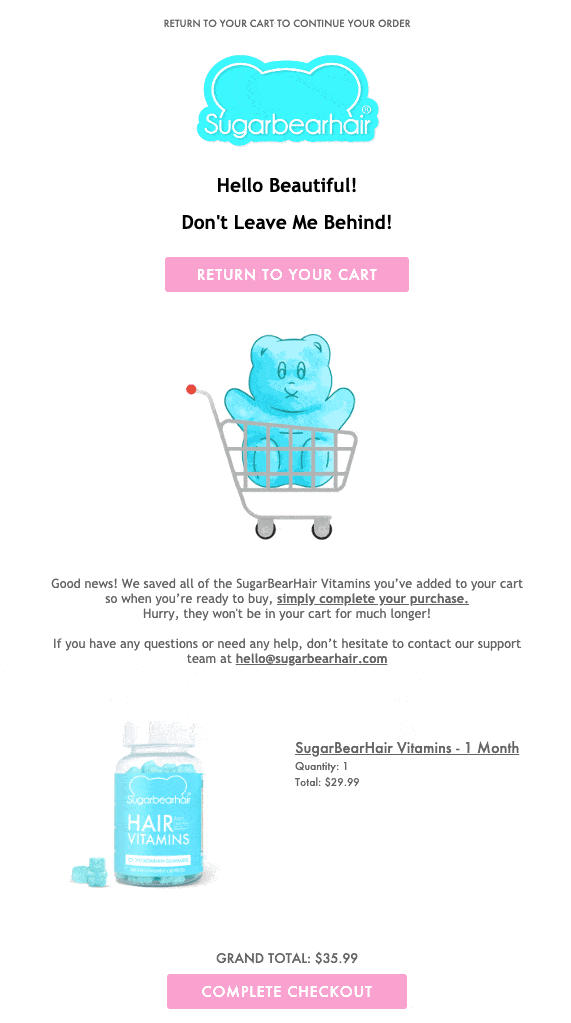 Image source: Active Campaign
5. Google Store | Sense of Urgency
Creating a sense of urgency, like this example from the Google Store, can pull shoppers back to their abandoned carts.
Making your customers aware that items in their carts are in limited supply, for example, or that they have access to a special discount that will expire soon, can bring back shoppers that didn't complete their orders.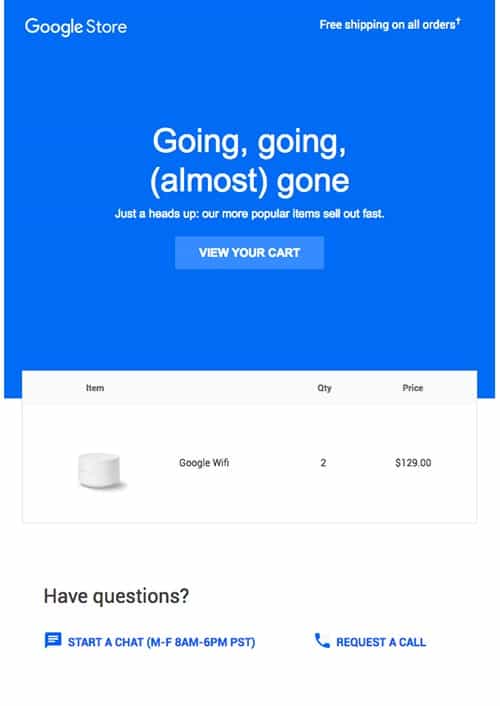 Image source: Active Campaign
6. Vans | Offer Alternatives
In this example, Vans offers a couple of alternatives related to the product left in the customer's cart.
This way, you can cross-sell other products your eCommerce brand is selling. Just make sure they're related to the original product that was left in the shopping cart.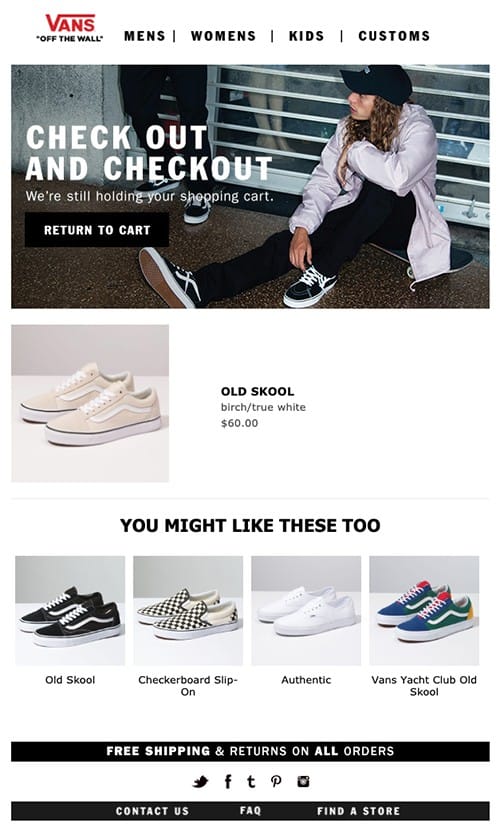 Image source: Active Campaign
7. Whiskey Loot | Address Product-Related Concerns
This seller found that customers were abandoning their shopping carts because they were unsure about the products they chose.
As a response, this email provides a fun list of suggestions of what you can do with the products and address some frequently asked questions about them.

Image source: Active Campaign
8. Brooklinen | Featured Product Reviews
Maybe your customers needed more convincing before buying your products, or they had second thoughts at the last moment.
Featuring reviews in your cart abandonment emails can help your customers make up their minds finally push through with their purchase.

Image source: Active Campaign
9. Lime Crime | Offer a Coupon
Only offer coupons as a last resort in your attempt to get your customers back to their abandoned carts.
Take note: If you're sending a series of cart abandonment emails, save the coupons for the last email in the sequence.
Image source: Active Campaign
10. Lush | Optimize For Mobile
Nowadays, everybody does almost everything on their phones. This is especially true when it comes to opening and viewing emails.
Make sure your emails display and work properly on mobile screens.

Image source: Active Campaign
11. Quip | Simple Emails With One CTA
Get straight to the point. Highlight what your customers left in their carts and finish with a single CTA button.
Too many words or buttons may just confuse and scare away your customers. This makes it easier for customers to scan through your email and immediately grasp what the email is asking from them.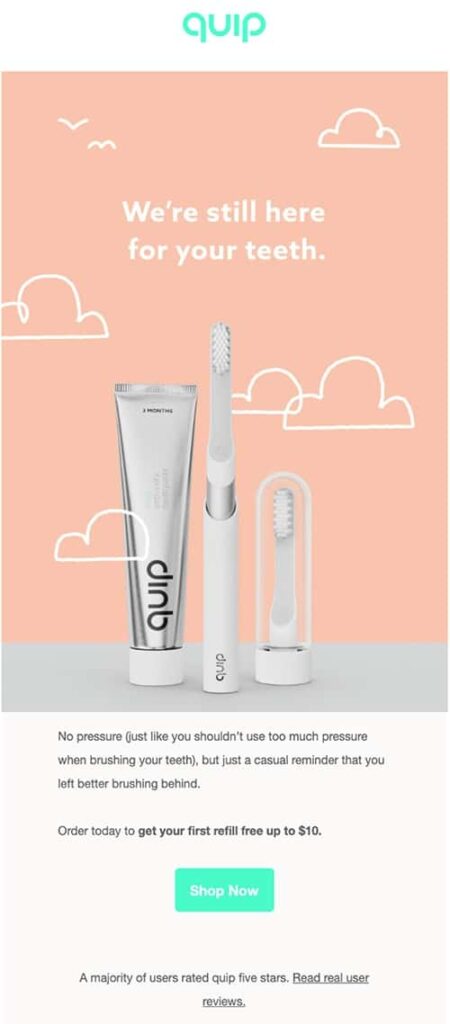 Image source: Active Campaign
The takeaway? You don't need flashy designs or deep, complex copy for cart abandonment emails.
These emails need to accomplish their one purpose -- reminding your customers to return to their carts and complete their purchase -- and nothing else.
Engage in the Conversation
When you start email marketing, it's all about engaging in a conversation with your customers. This can be an effective platform for addressing concerns your customers might have about their purchases, which caused them to abandon their shopping carts in the first place.
Sometimes, a gentle reminder is all it takes to get those abandoned carts to, and through, the checkout counter. And what better way to send such a reminder than through a personalized email? You're solving your customers' issues and building relationships with your brand—it's rarely this easy to kill two birds with one stone.
Are you still having trouble with getting your customers back to their carts? Get more cart abandonment tips and suggestions from eCommerce experts as an AdLeaks community member!