6 Steps to 3x Your BFCM eCommerce Sales in 2021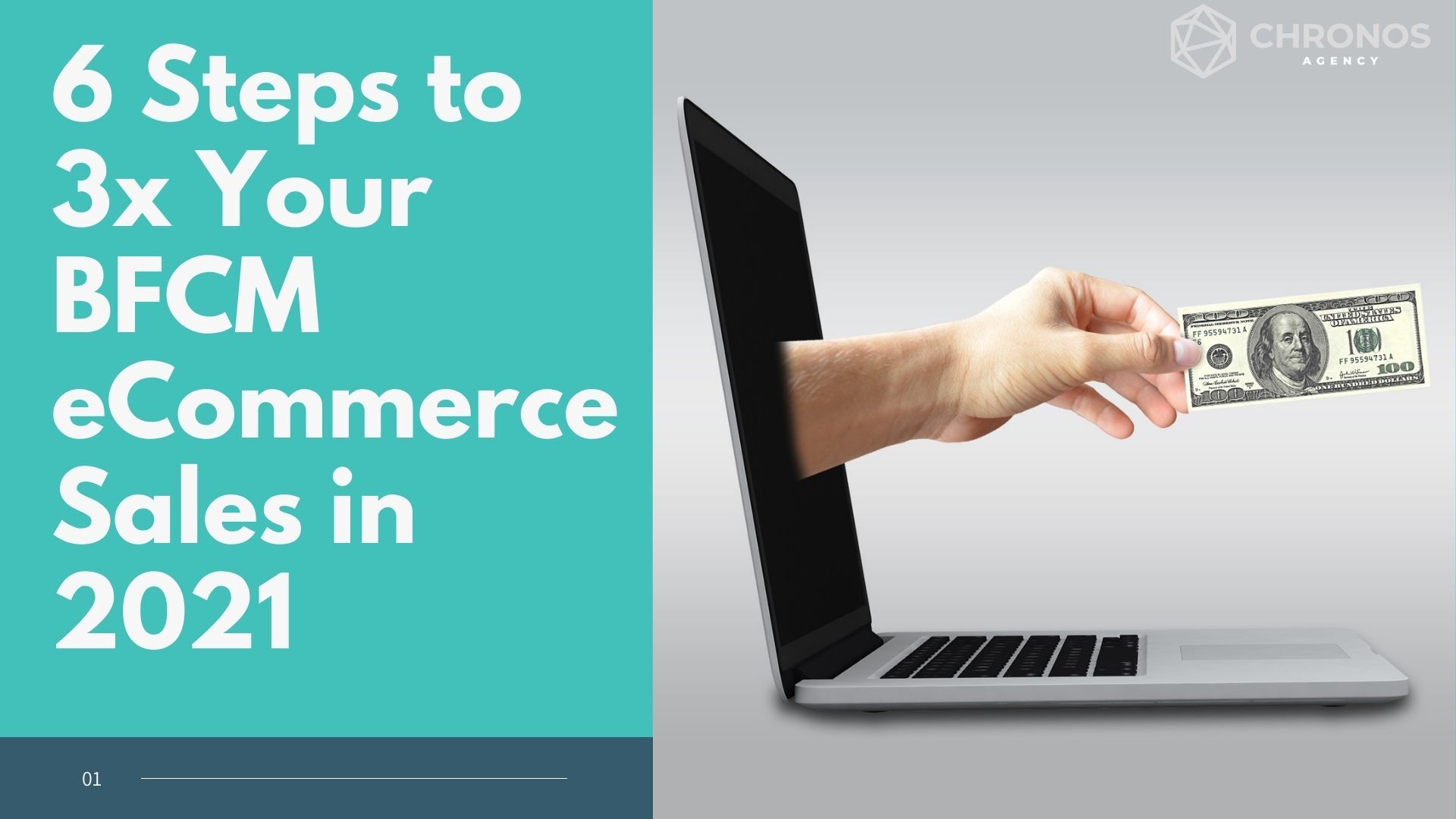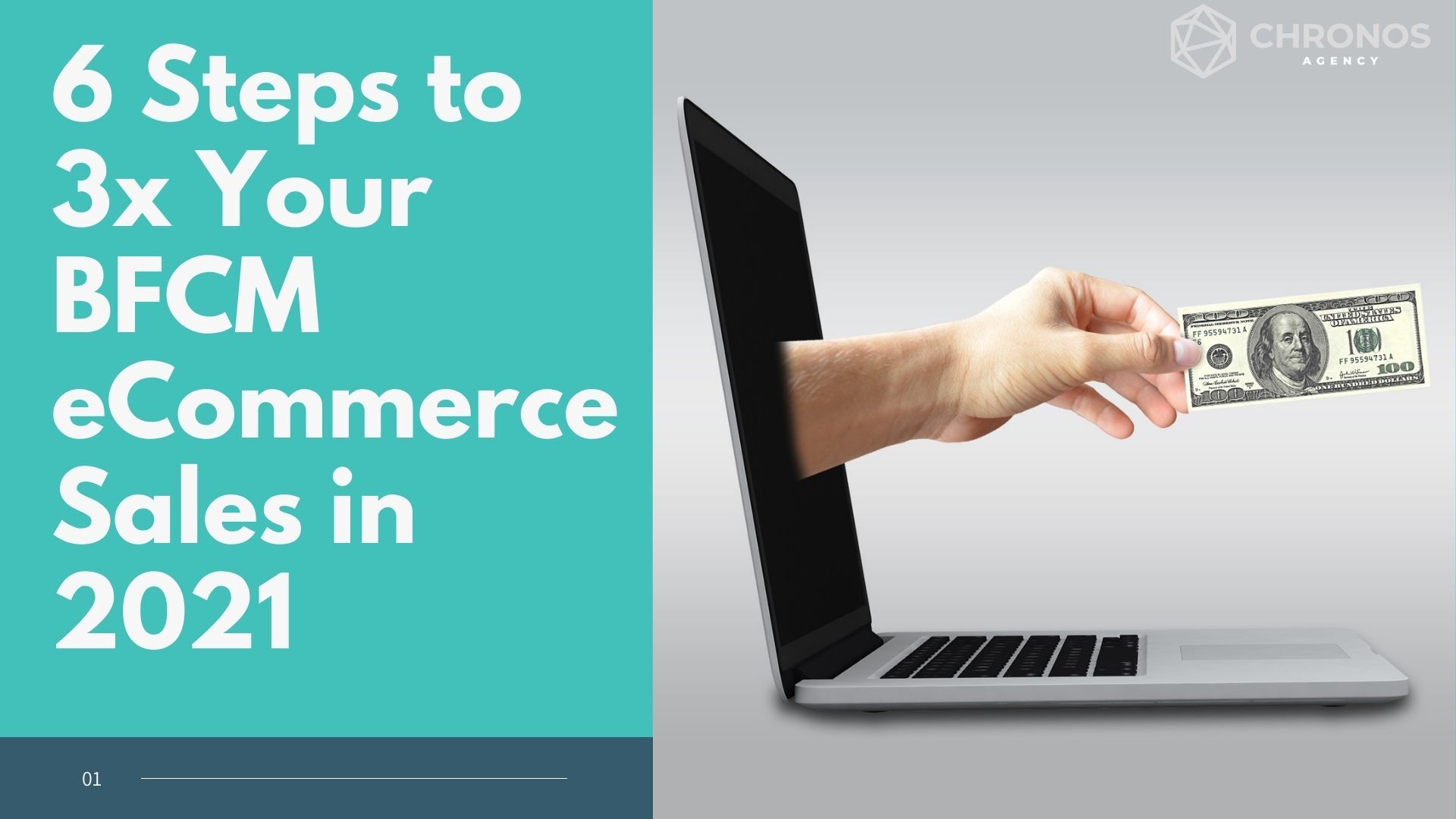 BFCM eCommerce sales are upon us, and every seller and storefront is getting ready for a big marketing push. After all, the potential to maximize profits during this season is endless. And with the right email marketing strategy, you can set yourself up for a successful Black Friday and Cyber Monday well in advance.
Chronos Agency has worked with more than 300 eCommerce brands over the past three years, and each BFCM just keeps getting better. And the numbers don't lie — brands we work with usually see a 3x to 10x increase in sales revenue solely from email marketing during this crucial eCommerce holiday.
What Makes BFCM eCommerce Sales Different in 2021?
This BFCM will be the second one since the COVID-19 pandemic hit. Experts are predicting that 2021 sales will break records once again.
Last year, the pandemic changed consumers' mindsets and purchase behavior. It accelerated the growth of the eCommerce industry by roughly five years. And even though vaccines are rolling out, the pandemic's effect on online shopping behavior is expected to carry over to this year.
So it's extremely important to start preparing for BFCM as soon as possible. Investing in an effective email marketing strategy will warm up the stage just in time for your store to take on the holiday chaos.

Here's the good news: you don't have to start from scratch. You don't even have to spend a lot of time thinking of new strategies. Our data-driven insights from last year's BFCM successes will be your guide to boost your revenue growth this year.
The Winning 6-Step BFCM Email Marketing Strategy for 2021
In 2020, we generated $3 million USD in email revenue in less than a week with our proven six-step email launch sequence. Using this formula as the overall strategy, we've further optimized it and tailored it for this year.
1. Build the Hype!
Excitement plays a big role when it comes to shopping behavior. Sure, Black Friday is still two months away. But you don't have to wait until the last minute to start creating excitement around your sale event. If you start building hype now, you'll reap greater rewards when BFCM comes.

The Hype Builder does exactly that — it gives your list a preview of what's to come. Here are some ideas you can explore:
A simple announcement of your upcoming sale
A detailed announcement showcasing products that will have a BFCM discount
Include an "Add to Calendar" button in your email
Get your customers to whitelist your email so they don't miss out
Include a Hype Builder segment or banner in your post-purchase flows leading up to Q4
2. Build Your Priority Lists Early On
You probably already have VIPs. These are your customers who are highly engaged and have purchased from your store more than once.
In the context of BFCM eCommerce sales preparation, your VIP list is composed of customers who are most likely to purchase during the sale event.

As early as now, start creating your BFCM VIP list by doing any of the following:
Update your pop-up and optimize it for capturing leads who are specifically interested in BFCM sales
Roll out an invitation to your high-value customers and encourage them to join your exclusive BFCM VIP list
Emphasize the perks of being a BFCM VIP and craft an irresistible offer

If you're not familiar with why you need a VIP list, here are the reasons why you should include it in your BFCM email strategy.
A VIP list helps with customer segmentation. You will be able to easily target your most engaged and interested contacts.
It increases your open rates and keeps your unsubscribe rate low as you come closer to BFCM. Since this list is already engaged, you can keep sending them Hype Builder emails to keep them excited while amping up your deliverability rate.
3. Grant Exclusive & Early Sale Event Access to Your Priority Lists
Now that you have your BFCM VIP list, you don't have to wait until the actual Black Friday Sale or Cyber Monday Sale to start seeing a boost in profit.
Maximize the potential of this high-value list by granting them exclusive and early access to your BFCM sale.
Send hype builder emails to your VIP list to make them feel the exclusivity and privilege even more. These hype builders can generate significant revenue for your business.
Last year, we observed around $2,000 to $3,000 in revenue from a single hype builder email and $8,000 from a single early-access email.
4. Open the Flood Gates to the Rest of Your List
It's time for your Main Launch! This is the email that goes out to the rest of your list. You can also use this email to retarget those from your VIP list who haven't purchased anything yet.

While there's a lot of room for a profit boost with this email, you have to remember that every eCommerce brand out there is also conducting its own BFCM sale. You have to stand out in an inbox that will definitely be crowded.
Sending this email won't guarantee success on its own. Make sure your email copy is on point. Ensure that your creatives are already fully optimized by the time BFCM rolls out. If you need a refresher, check out this list for seven high-converting email hacks.
5. Send Social Reminders to Maintain Momentum & Leverage Social Proof
Of course, one email during BFCM won't cut it. You have to keep feeding your list with reasons to purchase from your brand.
One tried and tested eCommerce marketing strategy is leveraging social proof. After all, 84% of people trust online reviews as much as their friends.

Sprinkling your BFCM email workflows with social reminders will increase your credibility as a brand. You can use customer reviews and testimonials, but ultimately what works best is what we call user-generated content (UGC).
UGC is content created by actual users, like how-to videos, vlogs, or DIY tutorials. Including these in your workflows will help create a fear of missing out (FOMO). It will draw potential customers to want to try out your product because they've already seen actual customers enjoying it.
6. End Your BFCM Sale with a Resounding & Strategic BANG
Black Friday and Cyber Monday are epic eCommerce events because they can pull in major revenue in just one weekend.
Up until the last hours of Cyber Monday, there will still be shoppers lurking around like vultures. It's your job to make the most of it!

There are three key factors to keep in mind when crafting your Sales Closing email strategy: deadline, FOMO, and urgency.
Deadline: Make your deadline known to your list. Announce it ahead of time, and make sure they know that this sale happens only once a year.
FOMO: Play with your copywriting skills to emphasize that this sale event is one of a kind and that they are missing out on something huge if they don't buy now.
Urgency: Invoke a sense of urgency. Part of our email marketing strategy is sending reminder emails eight to six hours before the end of the sale period. You can send this out to your VIPs, or even your customers who have opened or clicked on your BFCM emails. Last year, one reminder email pulled in almost three times the revenue compared to the next closing emails.
To make sure your closing emails hit the spot, here are some examples of actual strategies we implemented:
Put a timer in your emails to pile on the sense of urgency
For the ultimate FOMO and urgency push, indicate 'limited stocks' on your best sellers
Play around with your CTA button depending on your previous A/B test results. Transactional CTAs work best, but we've also found that including the discount in the actual button also works.
Don't Reinvent the Wheel. This BFCM eCommerce Sales Strategy is More Than Enough to Win in 2021.
Again, you don't have to rack your brains thinking of original strategies. Often, the best strategy is the one that has already worked wonders and generated successful numbers every year.
You just need to make a few tweaks to maximize the potential of this Six-Step Holiday Email Sequence and make sure your content stays relevant.
Of course, you need to keep in mind that this sales sequence doesn't work alone. It's just one part of the whole email marketing strategy ecosystem.
It can be overwhelming, but we've simplified it for you in the Chronos Agency 12-Day Road to BFCM Email Challenge. This amazing step-by-step guide will help you maximize your profits this BFCM 2021 using our eight-figure email and SMS marketing framework.
You just need 12 days to get your eCommerce email marketing strategy up to speed. Make this BFCM 2021 your best yet, and we'll see you inside!