8 Things You Should Know Before Choosing a CPA Network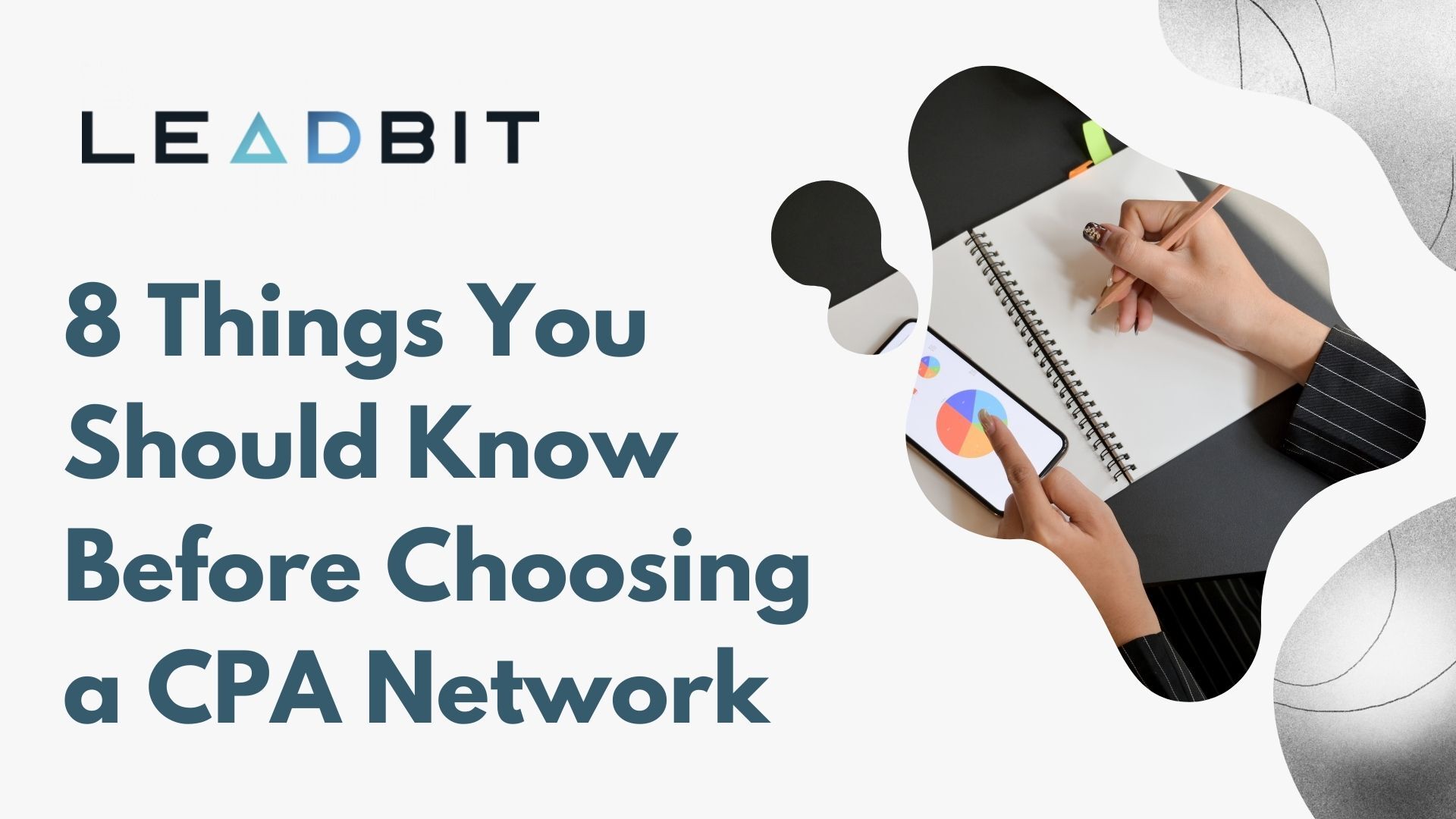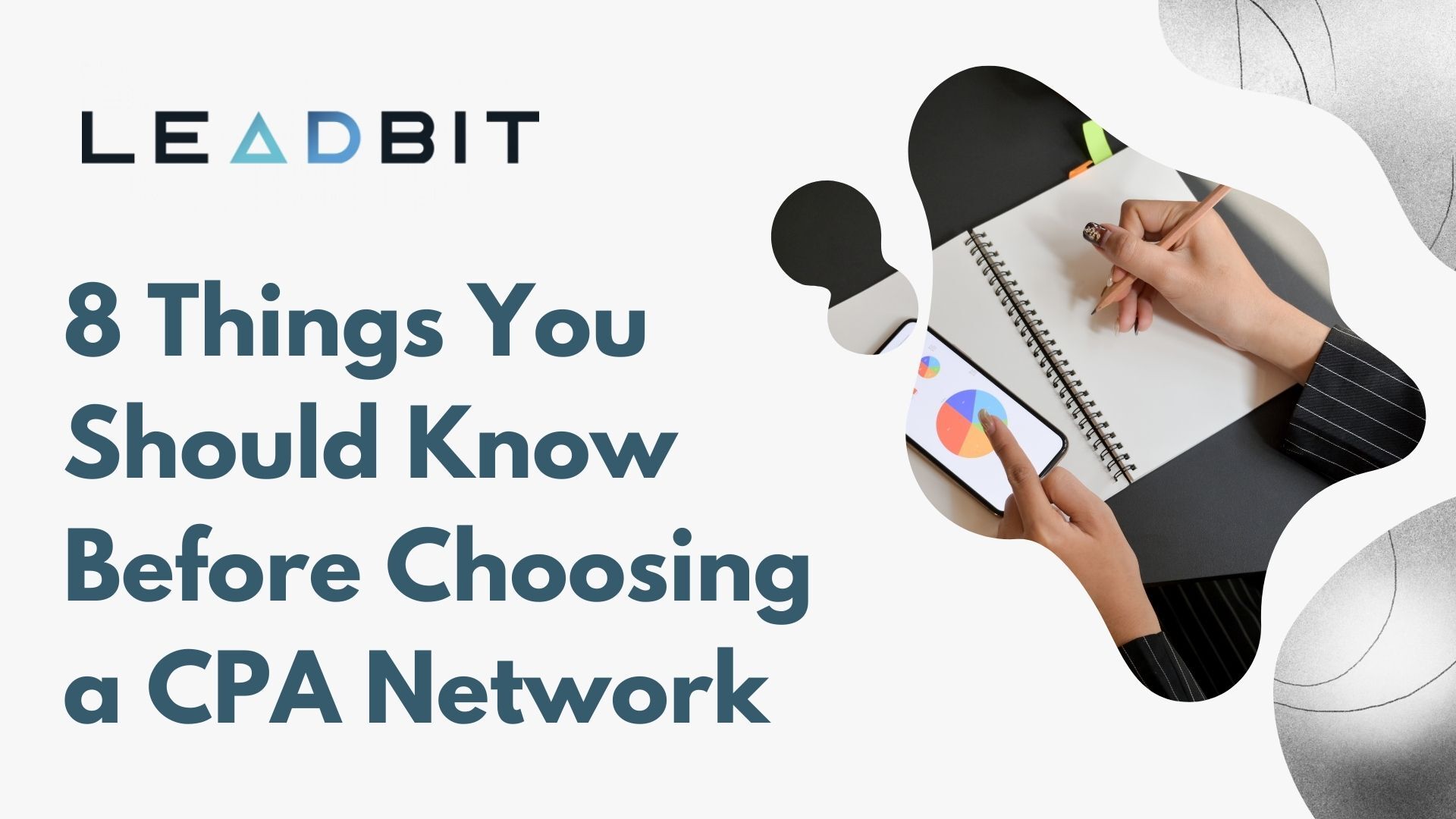 Affiliates and digital marketers looking to expand their brand have to weigh a lot of factors before committing to a CPA network. Before you sign on the dotted line, here are eight components to look for in an effective CPA network.
1. Choose a Vertical
Some CPA networks provide offers in various verticals, while others specialize in specific niches.
If you're choosing an affiliate program for the first time, working with a partner that knows one or two verticals well is ideal. Managers in narrowly focused networks are less likely to spread themselves too thin and have deeper expertise in their niches.
LeadBit, for example, is a narrowly focused international CPA network that specializes in the popular and profitable Nutra, Gambling, and Dating verticals. By committing to these specific fields, LeadBit's managers have developed a depth of knowledge to become top-notch professionals.
2. Review CPA Network Options for Reliability
Next, seek out a reliable CPA network. Start by looking through affiliate program rankings and reviews from a variety of sources. The more information you can find about an affiliate program, the more trustworthy it should be.
It's also a good idea to look for networks that have been on the market for a while, as they'll have more experience and better offers to run. They'll also have a better understanding of the market than newer operations.
Because LeadBit has been on the market since 2014, for example, the company has built a trustworthy reputation. And while the organization specializes in three specific verticals, LeadBit has developed more than 1,500 worldwide offers either in-house or through the best advertisers in those industries. 
3. Payouts and Frequency
Payment conditions are one of the most important aspects of selecting a network.
Before you commit, compare offer payments and learn about the possibility of rate bumps. Inquire about hold availability and the payment frequency. The quicker payments are made, the better. Look into preferred payment methods as well to make sure that the network is compatible with your needs.
LeadBit pays on demand, and their minimum payout is $50, which is one of the lowest limitations on the market. LeadBit can also help you with your cash flow, and they pay by capitalist, WebMoney, Paxum, credit card, wire, PayPal, Qiwi, or Bitcoin. The organization will also transfer your payout to MGID and Datspush accounts if that is your preference.
4. Analyze Offers and GEO Collections
Before deciding on a network, you should consider the vertical and geographic (GEO) availability. 
Remember, it's about quality, not quantity. The goal in analyzing these offers is to select a network with a solid list of verticals and GEOs. The network you choose should have high-quality offers to compensate.
As a market leader, LeadBit's 1,500 offers are always fresh, thoroughly tested, and high-performing.
5. Transparency and Communication
Another component to be aware of in choosing a CPA network is the communication from the network's side.
When you sign up, you should be assigned a personal manager who will assist you in selecting and approving offers. If the manager is slow or unresponsive, the network as a whole probably isn't paying close enough to the details that will maximize your offer.
In contrast, LeadBit's managers know their spheres from A to Z and are always available to provide guidance and assistance. That includes seeking out the best rates and the highest caps, as well as providing positive and proactive customer assistance.
6. Creative Elements
Partnering with a CPA network that can provide a variety of creative elements makes the whole process easier. You'll need landing pages, banners, ad copy recommendations and more for an effective, high-converting offer.
When affiliates need additional assets, LeadBit has the infrastructure to provide those assets, as well as dynamic tools to streamline the process. LeadBit also publishes a monthly Hot Topic Report full of value and industry insights for members.
7. Ease of Approval
The simplicity of approval is another good measure of a CPA network's quality. Professional affiliates, for example, rarely have problems applying to a network. That said, some networks will refuse an affiliat without reason or take an unreasonable amount of time to accept an account.
The situation may be much more difficult for newbies, as not all CPA networks are newbie-friendly. Therefore, finding a good and reliable network is not an easy task for them.
In contrast, LeadBit's robust network includes more than 2,500 active affiliates and can support new entrants into the field who are willing to work hard and achieve. That includes a fast approval process for qualified applicants.
8. Presence at Large Industry Events
Finally, leading networks typically have a presence at large industry events like expos and conferences. You can check an affiliate calendar for upcoming industry events to see if your CPA network is participating or when it sponsored notable events.

Because LeadBit operates in the UK, Russia, India, and Ukraine, the organization is regularly present at major affiliate events. LeadBit is also behind the Moscow Affiliate Conference (MAC) event.
Looking for the right CPA network to build your brand as an affiliate? Click here to learn more about how LeadBit can help you!