Why Is My Facebook Ad Not Delivering?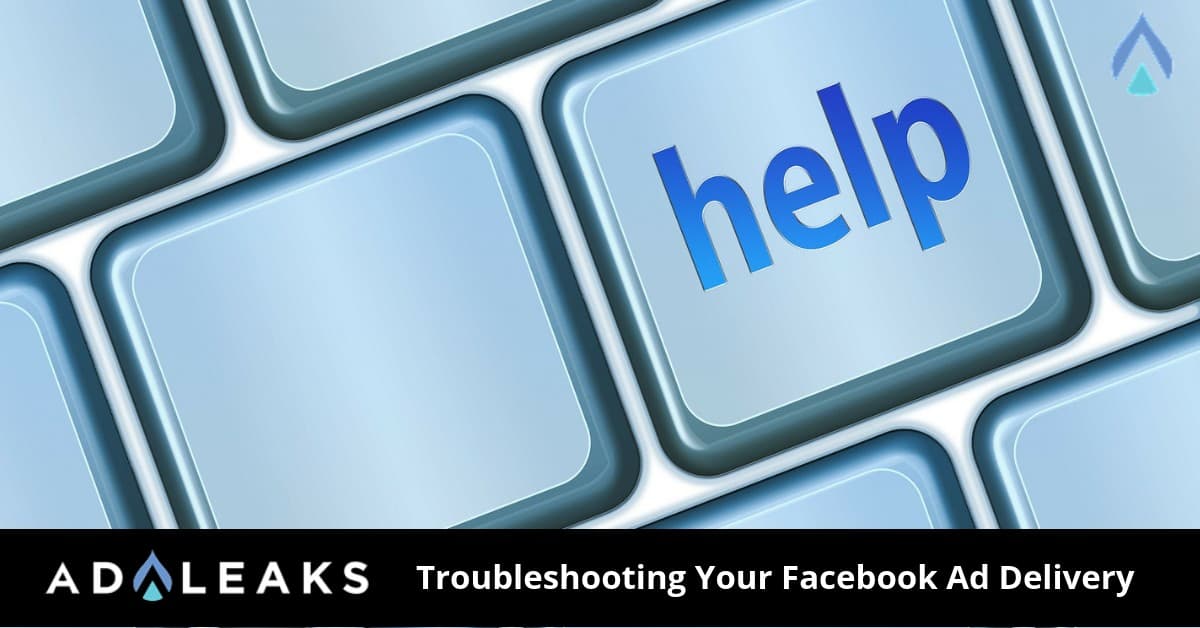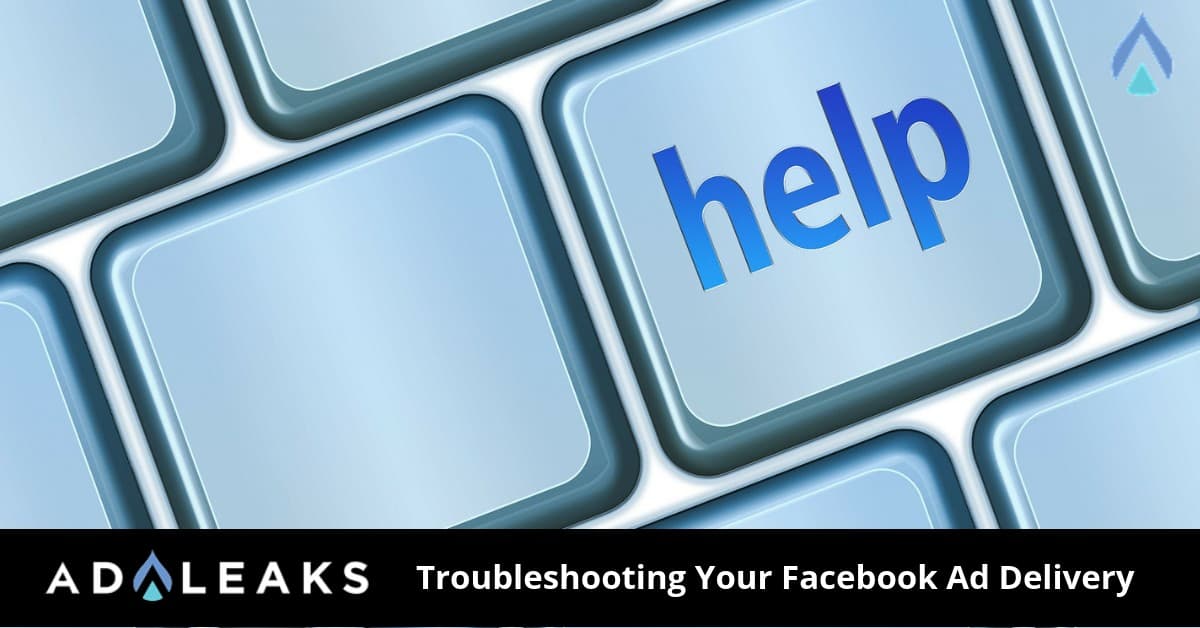 Editor's Note: This post has been updated with new links and content.
Original Publication Date: April 9, 2019
You spent hours on strategy and customizing your creative, your campaign is kicking off... and then you found out that your Facebook Ad is not delivering.
To save you from this frustration, here is a list of reasons why your Facebook ads are not approved. Use this guide to know what to do next time, or to troubleshoot your ad next time it is stuck in the Twilight Zone.
Why Is My Facebook Ad Not Delivering? Because The Ad Was Rejected.
Facebook will send you a notification via email or in ads manager, with the reason of disapproval.
The most common reasons for disapproval are:
It promotes drugs, weapons, explosives, violence, unsafe diet supplements, malware and spyware, and "Adult content".

The ad promises counterfeit or fake documents - passports, or immigration papers.

Exaggerated "before-and-after" images of diet supplements and unrealistic easy money schemes.

Low-quality ad types like withholding information, 'clickbait' and ads with sensationalized language.
Here are your options if your ad is rejected:
Make the requested changes. For instance, if they said your image was inappropriate, change the image and save the ad. Once submitted, they will review it again and hopefully, it'll be published.
Appeal the disapproval. Do you feel like this was a mistake on Facebook's part? If so, you can submit an appeal here to work on getting the ad approved. A lot of times, this can take a while to get reviewed. Once reviewed by Facebook, they'll either approve or deny your appeal. If approved, your ad will automatically be started and you'll be notified.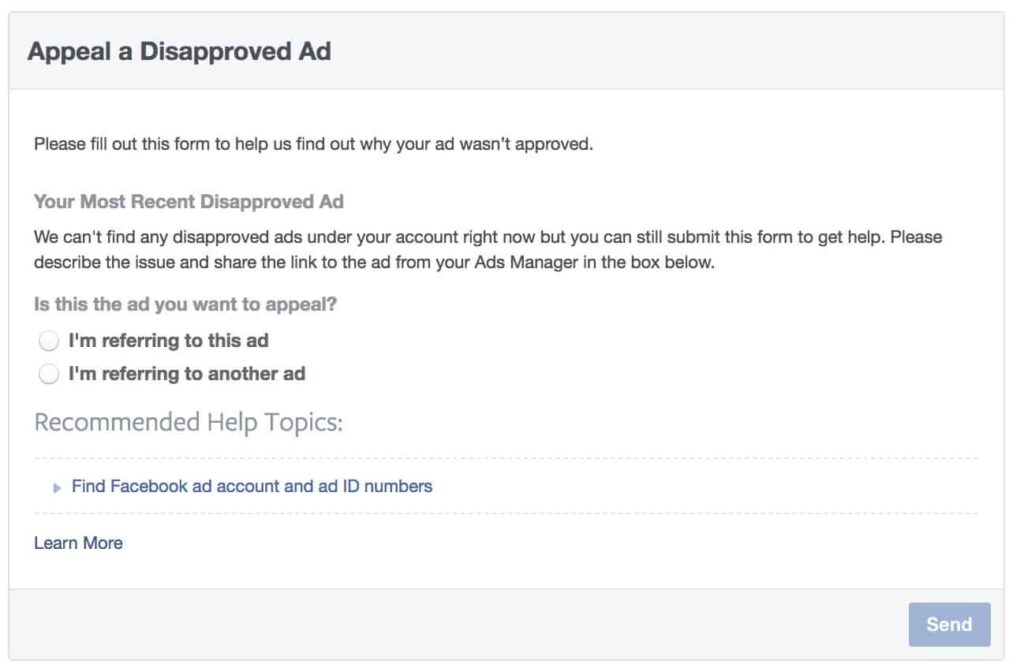 Financial Issues
Every ad account has a spending limit to make sure your campaigns do not go over your intended budget. Sometimes, ads are not posted simply because you went overboard with your budget. Luckily, it's the easiest issue to fix – remove or change your preferences in the Billing & Payment Methods tab.

The 20% Rule Violation
Facebook standards describe an ideal ad having an image to text ratio of 20%. Before, Facebook would reject your ad outright. But now, usually without warning, Facebook will simply reduce your ad's reach or not run it at all.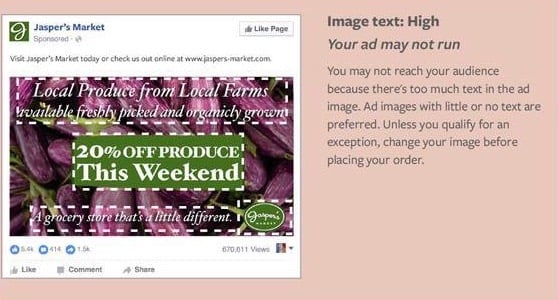 However, the following are exceptions to the rule:
Book and Album Covers are basically 90% text with maybe one or two objects on the entire cover, making them an exception.
Games wouldn't make sense to follow the 20% rule. It is likely people wouldn't click on the ad unless it featured the game's name in big bold letters.
Product Images almost always have more than 20% text on them, including ingredients, descriptions, brands, and product names. And only a terrible event poster would contain zero details about the event it is meant to advertise.
Your Bid is Too Low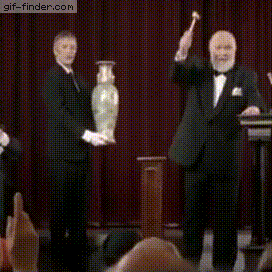 As you may know, your ads are competing against thousands of ads in a giant digital auction at the same time.
When they pick a winner, Facebook doesn't always look at the price. Instead, they calculate the "total value" based on these 3 major factors:
Bid price: The price you're willing to pay.
Estimated Action Rates: How likely your audience will engage in your desired action.
Relevance and Quality: How interesting your ads are to your audience with quality determined by the amount of negative/positive feedback.
So to get chosen, your goal for every campaign should be to maximize all three factors.
Optimization Goal and Overlapping Issues
Be specific in selecting an optimization goal so Facebook can deliver the ad accurately to your target audience.
Keep track of your progress and adjust accordingly. In some cases, your ads could be competing against each other or overlapping in the auction. The Audience Overlap Tool prevents your ads from competing against each other.

Your Ad is Stuck In Review
Facebook reviews each ad to see if it meets the advertising Terms of Service. It usually takes 24 hours although some cases may take longer.
There are a few things to do here.
First, schedule your ads as far in advance as possible. Next, try to do everything you can to ensure your ad clearly follows Facebook's guidelines.
Finally, don't edit the ad until the ad has gone through. Doing so restarts the review process.

Your Ad Has Political Issues
Facebook is increasingly strict about running ads with political content or on behalf of politicians. But they said, "What may be considered non-political today could easily change next week". So if you're running political ads, be sure to stay up-to-date on Facebook's regulations.
The Stamp of Approval
Familiarizing yourself with the policies and guidelines of Facebook Ads will save you a lot of time. However, if your ad is running for at least 5 consecutive days, and has over 500 impressions, you can utilize the Delivery Insights.
This is a Facebook tool that helps you diagnose problems with your campaign. Following all of these tips can help ensure your ad delivery is smooth.
Happy Hunting! And for more exclusive digital marketing tips, click here to Join AdLeaks Now!