5 Acquisition Strategies to Grow Your Email List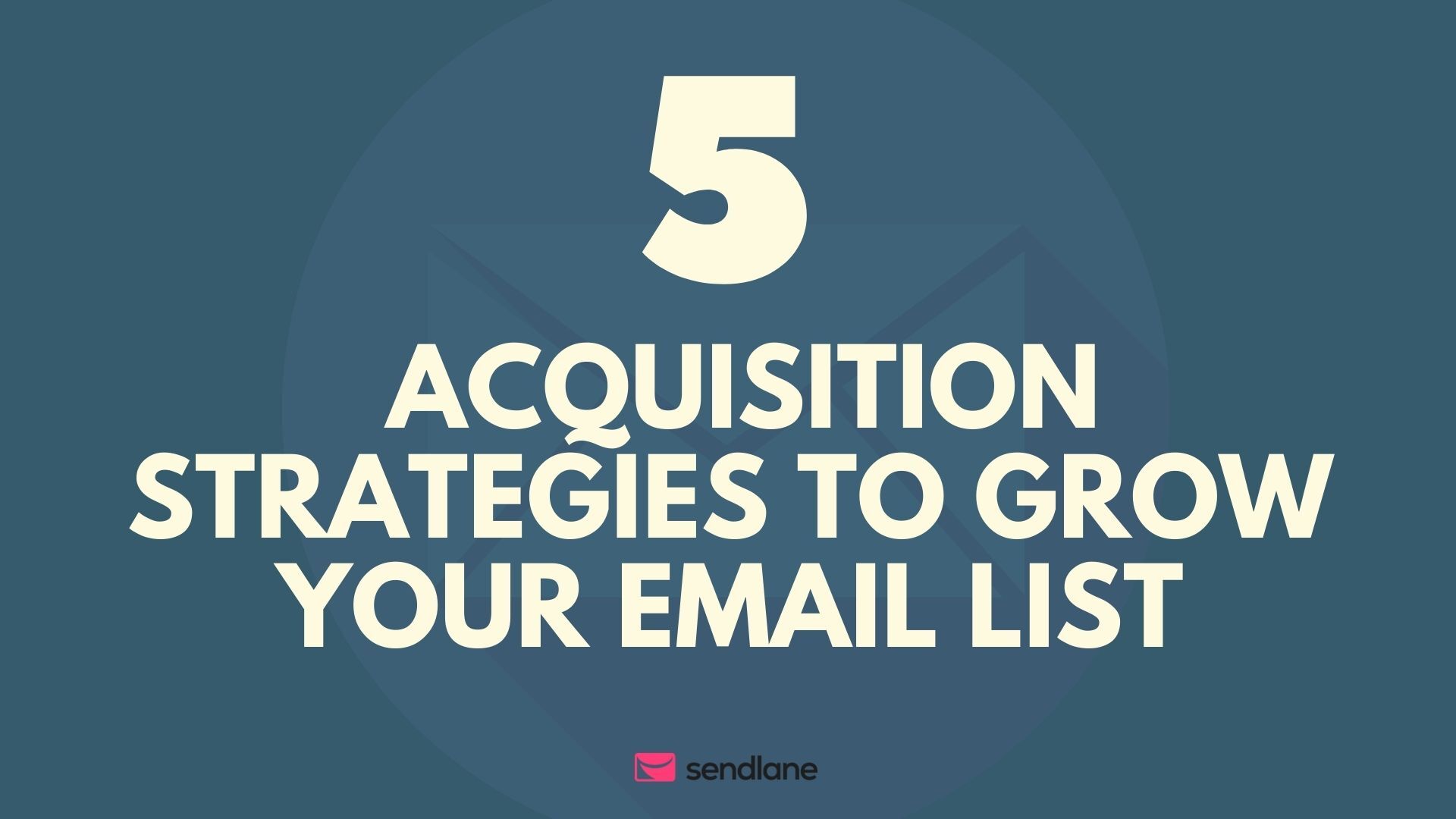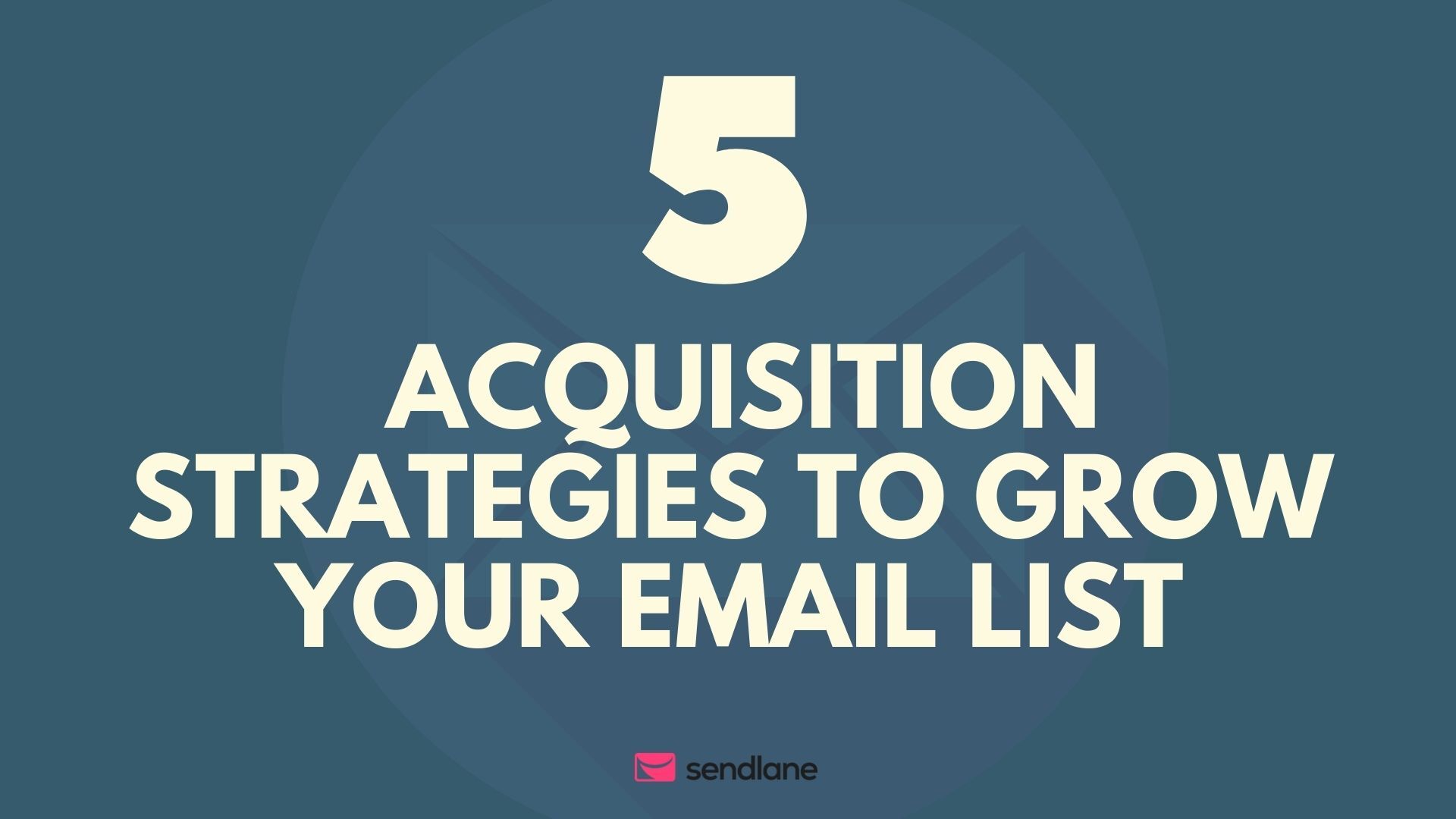 If your brand is going to thrive in the eCommerce space, email acquisition strategies are a must-have for your marketing plans.
In other words, you need to grow your email list.
And while there are plenty of ways to do that, a few methods stand out as consistently successful in the digital marketplace.
5 Proven Email Acquisition Strategies For eCommerce Brands
We all know that the marketplace has changed in the wake of the coronavirus pandemic. But as we discussed on our podcast, email marketing still offers a ton of value for sellers, and it will continue to do so.
That said, generating high-quality leads will take some time and effort, especially in light of the privacy changes coming from Apple and other marketplace leaders. More importantly, not every idea out there will work for your brand and audience.
After digging into what's working for our own customers, we were able to collect five proven tactics to fuel your email acquisition strategies and build your user base.
1. Leverage High-Traffic Pages
If you're pursuing new subscribers, you need to meet the people where they are — especially on your website.
When a page on your site is getting lots of traffic, you have a better chance to collect email addresses. That's exactly what Limelush is doing here:
To find out which pages on your site merit a pop-up, start by looking at Google Analytics (or another analytics tool like HotJar) to see what pages are getting the most traffic.
Pro Tip: If you don't have analytics set up on your site, this guide makes it easy.
Once you're in Google Analytics, follow these steps:
Login to your dashboard
Click Behavior → Site Content → Landing Pages/All Pages
Edit the date range
Review the report
Also, the pages that get a lot of traffic can change from time to time.
If you're using social media or Facebook ads to promote certain products or categories, for example, the traffic to those pages may increase while others decline. Similarly, an influencer or publication might write about your brand, and suddenly the pages they linked to are blowing up.
That's why you'll want to review your site's traffic regularly to look for new opportunities to leverage pop-ups.
Also, if you're showing the same opt-in with the same copy throughout your website, there's probably room for improvement in your conversion rates — especially on high-traffic pages. It may take a bit more time and planning, but refining your creatives can boost opt-in conversions.
By looking at the page's content and asking a few pointed questions — why is traffic high? Where is the traffic coming from? Are sales are high or low? — you can get a better idea of the types of changes that will make a difference.
Even something simple, like changing the form type or adding a GIF, can pay off on your high-traffic pages.
A few options to try include:
Exit-intent popups
Fullscreen (like the image above)
Floating bars (top or bottom)
Lightbox
Sidebar sign-ups
Slide-in or slide up forms
As you get more familiar with your analytics and test different pop-up options, it will get even easier to collect more email addresses and connect with your audience.
Next Steps For Sellers
Review your analytics regularly. Your analytics shouldn't be hard to understand, especially with tools like Google Analytics or Hotjar.
Usually, reviewing your data twice a month and during promotions should tell you what you need to know.
And when traffic increases on specific pages, review your opt-ins and conversion rate for those pages. Try A/B testing different forms or copy on that page to see if your numbers improve.
And speaking of testing...
2. A/B Test Your Opt-Ins
If there's anything that the past year has taught us, it's that we should sit back and expect things to go on as they normally.
And that applies to everything in your lead generation funnel, including your opt-in forms.
Continuously A/B testing both our form types and the offer in question is a great way to grow your email list.
Does testing increase conversions? You'd better believe it.
One simple A/B test helped a brand up opt-in rates by 37%! And it only took a few minutes of work to adjust on one form.
A few simple changes can have a major impact. And there are quite a few options for running these tests, including:
Next Steps For Sellers
Test one form type vs. another. If you use pop-ups exclusively, for example, try a floating bar with the same offer and content.
Alternatively, if your page is full of slide-up offers, try a full-page or "Welcome Mat" form. And if you use Sendlane's Intelligent Pop-Ups, you can create on-brand opt-ins easily. Further, your dashboard analytics will help you identify top performers with confidence!
Test the offer. In this test, retain the form type but change your offer. If you offer a discount percentage to sign up, for example, update the incentive to something like Free Shipping or a gift. Incorporating social proof could also have an impact.
Change the mobile offer. If you get a lot of smartphone or tablet traffic, test a mobile-only offer. Let shoppers subscribe by text message, for example (which Sendlane offers too), to see if users convert at a higher rate.
3. "Personalize" the Offer on Product Pages
Typically, there are two ways that you can personalize offers on product pages.
The first, which may depend on the features of your email tool, is to display a pop-up specifically for people who come to your site from somewhere else.
Some tools, like Justuno, make this easy. A form tool can help you create opt-ins that also generate access to onsite personalization and even gamified forms (which we'll cover in more detail below).
The second personalization opportunity can work no matter what email capture tool you're using. If you don't feel like switching opt-in tools, you can add a touch of personalization to specific product pages manually.
For example, let's say your eCommerce brand specializes in home decor. If someone lands on a product page for accent pieces, you can create have a form that directly mentions that category:
‍You can customize these offers and incentives with a touch of personalization that isn't overbearing.
You can do something similar with the products on your site. Making product page pop-ups more personal may require some imagination on your part, but this could be the subtle shift that boosts your site's conversion rate.
Next Steps For Sellers
Consider an email signup form tool. As mentioned above, Justuno and other tools are useful for dynamic onsite personalization.
Personalized offers are also good for your customer experience, and onsite personalization can increase your email open rates too.
Get creative with product category opt-ins and calls to action (CTAs). If you aren't interested in an opt-in tool, there are other ways to add that personal touch.
Start by reviewing the categories on your site. How do the demographics of your high-traffic pages break down? Would a less formal tone, for example, generate more signups from your users? The answers to questions like these can help you optimize your forms more effectively.
4. Grow Your Lists With "In-Stock" Notifications
Did you know that out-of-stock items contribute to $1.75 trillion in lost revenue for online retailers annually?
Ouch.
And as the seller, it's rarely your fault if something is out of stock. Supply chain issues and other factors can be unpredictable and unavoidable.
To keep these buyers engaged (and grow your email list), you can add stock alert notifications when products are unavailable. A few third-party tools make adding this option to your product pages easy.
If a product is out of stock, you can give website visitors a chance to input their email or phone number so that you can alert them when the item is available again.
These emails also provide you with a well-segmented list for bringing sales back to your store. You can also get these "hot" leads into one of your automated email sequences as well.
Next Steps For Sellers
Add a "back in stock" extension to your store. There are lots of options out there, and some are better than others. To find the right one, check out these apps for Shopify, the top plugins for WordPress, and this free option for sites running on Miva.
Create an automated funnel for anyone who opts in. This is a golden opportunity to build relationships with interested leads. At this stage, if they can find your product elsewhere, they'll probably buy it from another seller.
You can still win them over long-term, however, if you send emails that resonate and present your brand in an interesting and authentic light. Develop a funnel specifically for building trust and leaving a good impression.
And if you're using Sendlane, you don't need to start these from scratch. You can use our pre-built email automation templates to get started.
5. Gamify Your Opt-In Options
Who said growing your email list couldn't be fun?
Turning your opt-in forms into games is easy with the right tools, and they offer a jolt of excitement alongside your chosen offer.
The two most common options for gamification are giveaways and spin-to-win opt-ins.
First, with the right preparation, giveaways can produce a major increase in your email list. And users who are already interested in your offer can be spurred into action with an incentive that relates to your brand's lifestyle, as the pop-up below shows:
Tools like Viralsweep, Gleam, or KingSumo can make it easy to set up a giveaway of your own.
The second way to gamify your opt-ins is to try a spin-to-win or play-to-win email capture form on your site. And Justuno's spin-to-win options, for example, integrate seamlessly with Sendlane:
The idea of playing and winning something, no matter the outcome, is often enough for users to hand over their email addresses.
Next Steps For Sellers
Plan a giveaway for list-building optimization. Again, notice the word "plan." You'll need to figure out how to make your giveaway effective and logistically sound before you announce it.
To see how you can run a successful giveaway, read through Gleam's tutorial and see if the effort is worth it for your brand.
Test gamified forms on your high-traffic pages. Gamified forms can be a fantastic way to boost signups. They're a simple switch that can have a notable impact on email marketing campaigns. That said, compare the conversion rates of your gamified forms to your previous opt-ins to make sure that your audience is engaging.
Build Your Acquisition Strategies Around Creativity & Consistency
Implementing effective email acquisition strategies can take some time and effort, but it can pay huge dividends for your brand. Just stay consistent look for new approaches that will intrigue your audience. The results will be worth it!
Ready to start implementing these strategies? Test them out in Sendlane today! Sign up for your free 14-day trial here.