AdLeaks TV Episode 22 | Custom FB Metrics + Optimize Social Proof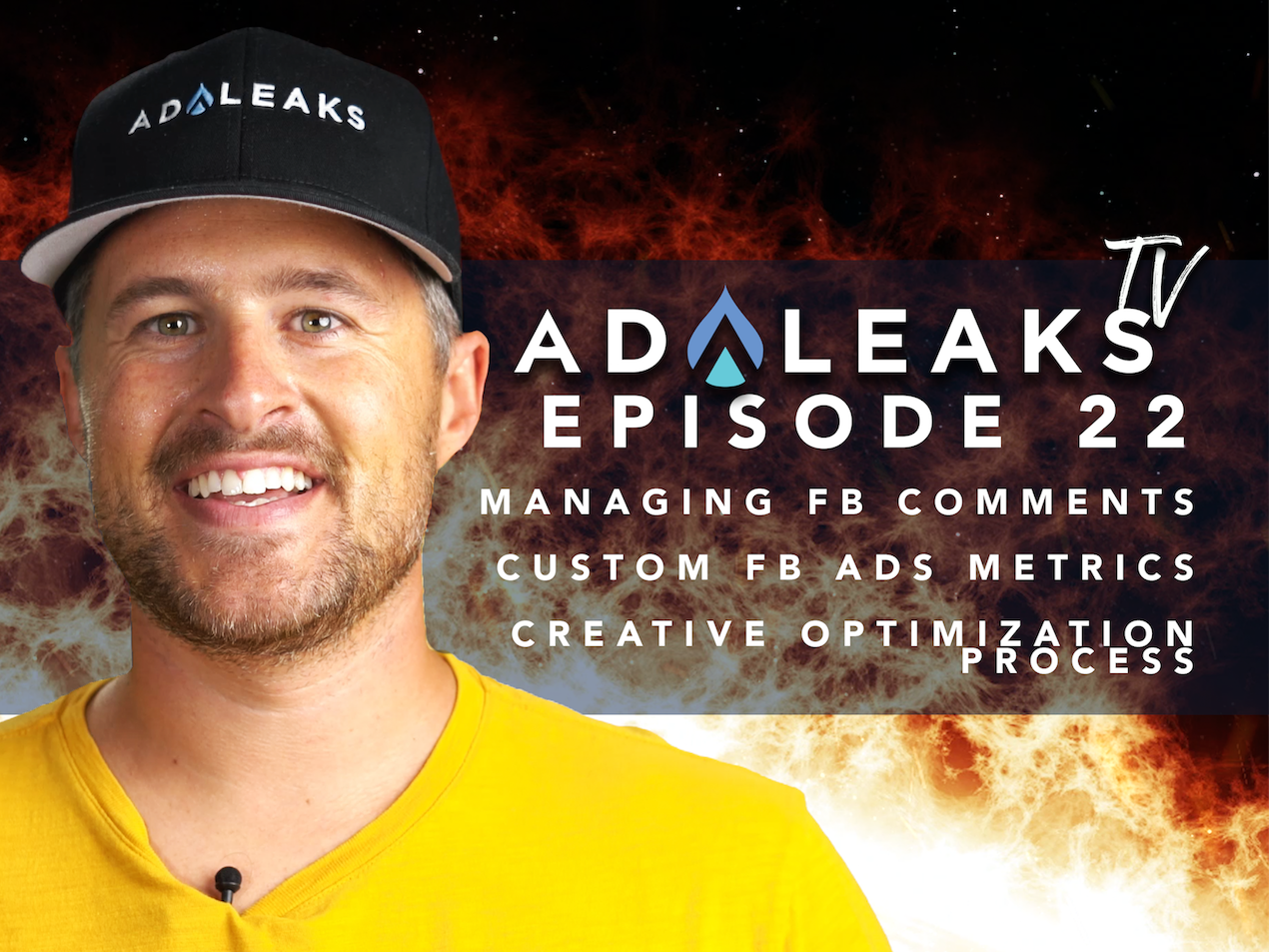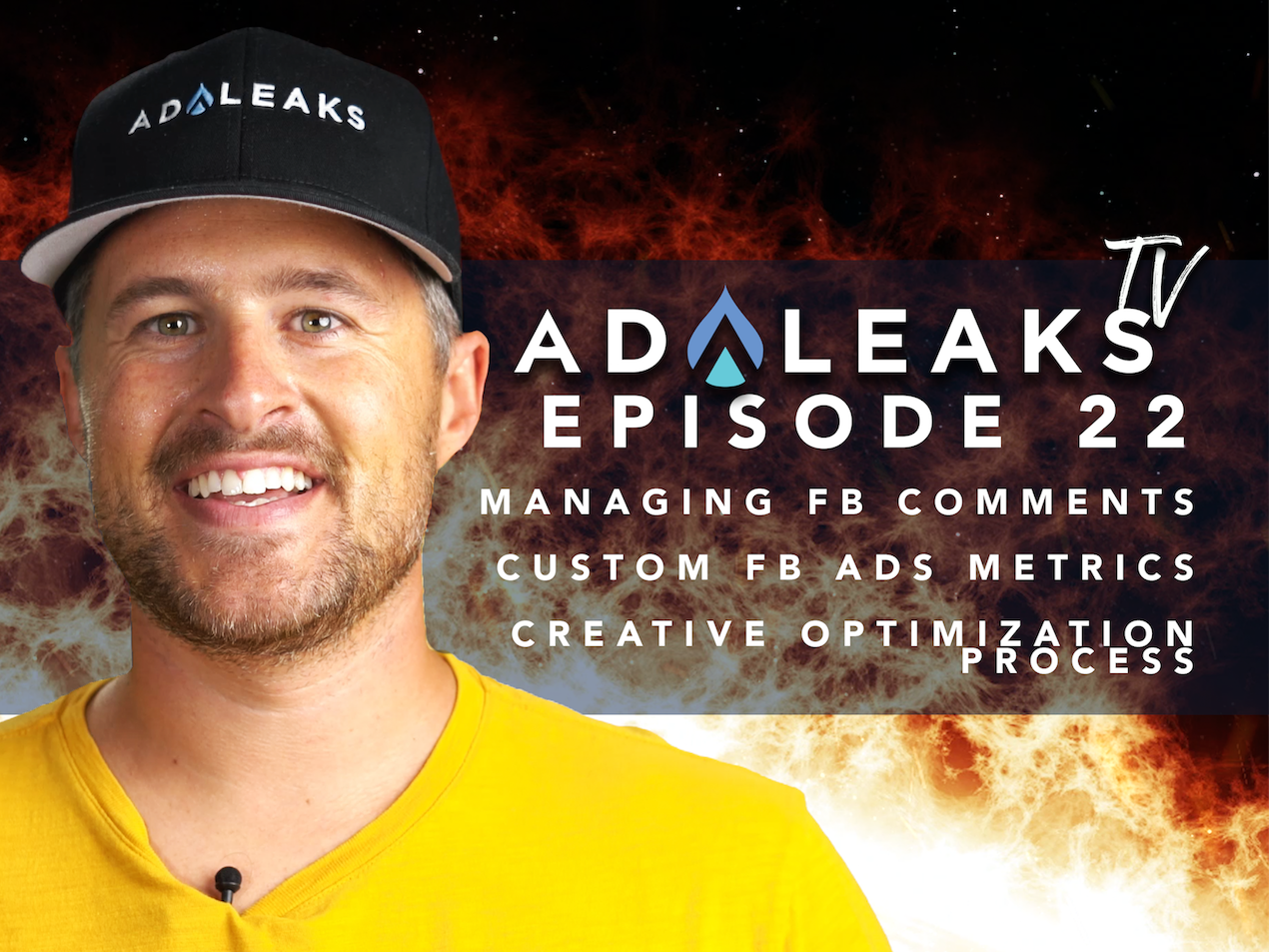 Hi, I'm Luke Kostka, AdLeaks' director of visual marketing, and welcome to AdLeaks TV Episode 22.
If this is your first time watching, we're bringing you this week's most valuable and popular posts from AdLeaks' community of expert online marketers and ad buyers from August 5 to August 11.
If you're already an AdLeaks member, visit your group today for the latest discounts, industry news, and insider tips that come with your membership.
Or you can start a conversation yourself. You'll get answers from the group a lot faster than you will from a customer service rep, trust me.
If you haven't checked out AdLeaks yet, you can get started at joinAdLeaks.com. There's hundreds of courses with real-life tips that will make you real-life money.
AdLeaks is also on Instagram, LinkedIn, and YouTube, which is where you'll find more AdLeaks TV.
Cuz let's be honest, that's what you really want.
AdLeaks TV Episode 22 Featured Videos
Our first video this week is a brand new training from Tyler Garner. Tyler shows you how to embed your best Facebook comments to enhance the social proof of your landing pages.
Embed Your Best Facebook Comments for Social Proof
This video's about 10 minutes, and Tyler used this method himself to cut conversion costs by 15 - 30% across multiple campaigns.
Let's take a look --
"We'll use this as an example. I'm going to use this comment right here and add that to our product page.
"So you'll come down to where it says embedded comments, code generator. And you need to add code here. For the comment, you find the timestamp of when the comment was made and click it. Once you click it, copy and paste it into the field.
"If you've replied as the page or if someone else reiterates the comment, that further enhances the social proof. If I want to include the reply, I need to get the timestamp from that reply.
"Once you've uploaded the code and it's populated, you can see it's using the right one. The next step is getting the code. And there are two steps here.
"The first thing I'm going to do is grab this code. Then we find the body of your online store by going to actions, edit code. Paste that in, make sure that it looks accurate, and check the preview. Just make sure you haven't broken anything.
"Then we come back to the product page, which is where we want the comment today. This goes into the middle section inside the editor. And when you preview it, now you can see that there's a comment here."
Thanks Tyler. Next up is a video from Gil David, who's been sharing some excellent tips for auditing your ad accounts in the last few weeks. This week is no different.
Custom Metrics in Facebook Ads Manager
In this new video, Gil breaks down new functionality in Facebook Ads Manager that you can use to create custom metrics.
If you want to see metrics like AOV, CVR, and more in your Ads Manager, you can now. You can also dig into more detailed metrics at the ad and ad set level. Watch this --
"How do you know if it's enabled in your account? Quite simple, really. You just go to customize columns, and you'll see this option here. So if you've got it, great, if not, it should be coming soon.
"You can actually edit them once you create them as well. It shows you what the calculation or the formula is.
"These are the main ones I've used in recent months. Average order value is obviously important. Scroll stop percentage is also useful for measuring videos. You see three-second video plays provided by impressions. And that shows me what percentage of people that see the ad actually watched at least three seconds of the video."
This video's just 3 minutes long, and it's totally worth your time if you want to see custom metrics for your Facebook Ads.
Also, some accounts might not have this feature in their column setup yet, but it should be rolling out globally very soon. Thanks a lot Gil.
Optimizing Creatives for Native Ads
Our last new video comes to us from Maor Benaim, who's shared his Creative Optimization Process for native ads. There's tons of tips in this 10-minute video, so let's watch some of it.
"What we'll do here is get six different ads with different text and different images. First of all, we'll assume you're using smart bid, which is Taboola's automated bidding, or the equivalent on Outbrain. And second of all, we're talking about a new campaign. You don't know which creatives are performing, which aren't performing, and you haven't made any adjustments yet.
"We're going to upload six different ads with different text and different images. Once each one reaches 100,000, you kill the bottom three. And it's also important to get to that benchmark where you're running your ads in terms of desktop and mobile."
Thanks Maor. Native ads are still an underused option for a lot of advertisers, so check out Maor's other videos if you want more information.
That brings us to our last post for this episode.
You ready? Let's saddle up.
AdLeaks TV Episode 22 Throwback Post of the Week
This week's throwback comes from Dee Deng, a longtime AdLeaks contributor and a very handsome man.
About two years ago, Dee shared a simple Customer Lifetime Value (CLTV) Calculator template that you can use to leverage your data in more profitable ways.
This video is about 15 minutes long, and Dee shares everything you need to know.
He explains how to set up and use the calculator, how to dig into your data effectively, and how to turn what you learn into actionable insights. See for yourself --
"Let's start at the top and we'll zoom down. So your inputs are here. Anything with light blue is for you to manually input. We'll talk about the customer life span assumption in a minute, but the total is here.
"Anything that is light yellow, you're going to have to reference another cell, which I'll show you later as well.
"And you've got your key metrics, which are all computed based on the calculations above. Gross margins, same kind of deal. We've even got gross margin ROAS, net, and net ROAS in here as well."
Thanks Dee. For the whole video, visit the Knowledge Units section in your AdLeaks group and click on Unit 15, the Calculators unit.
Final Thoughts on AdLeaks TV Episode 22
And that does it for AdLeaks TV Episode 22!
Thanks for staying till the end. I knew I could count on you.
Now, if you aren't a member, go to JoinAdLeaks.com and sign up today.
The videos we've shared today are just a taste of what you get as a member.
The Calculators unit alone has 6 more posts, and there are more than 70 Knowledge Units available in AdLeaks now. More posts and units are added constantly too.
Each Unit has multiple videos, articles, Q-and-A's, and other stuff that I don't have time to mention.
Also, please check out more from AdLeaks on Facebook, Instagram, and YouTube.
Again, there's more AdLeaks TV on YouTube, and leave a comment to let us know if there's something you'd like to see in future episodes.
Thanks one final time to our contributors this week and the AdLeaks community.
I'm Luke Kostka, and thanks again for watching AdLeaks TV Episode 22.