5 Email Acquisition Strategies to Grow Your Lists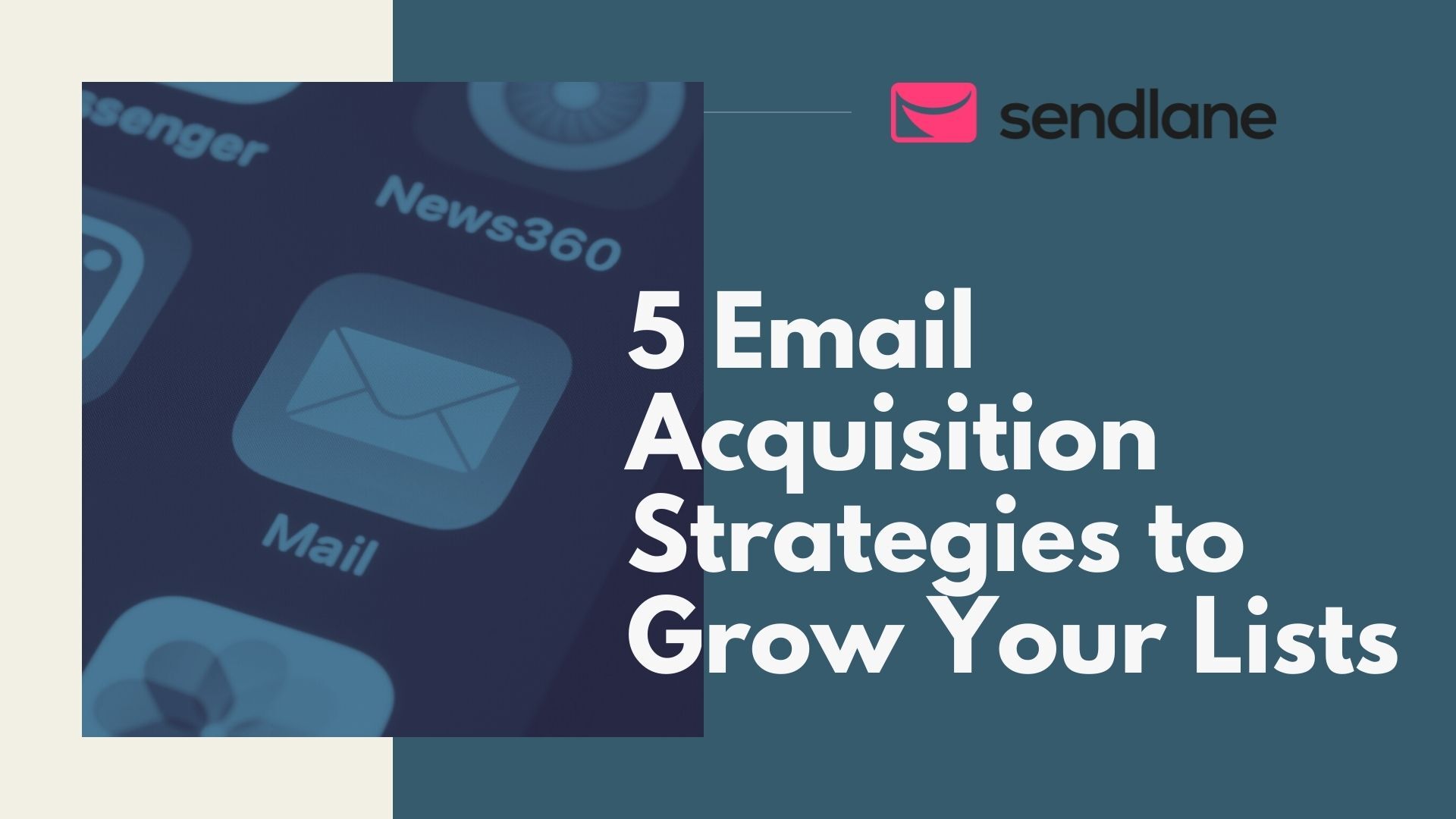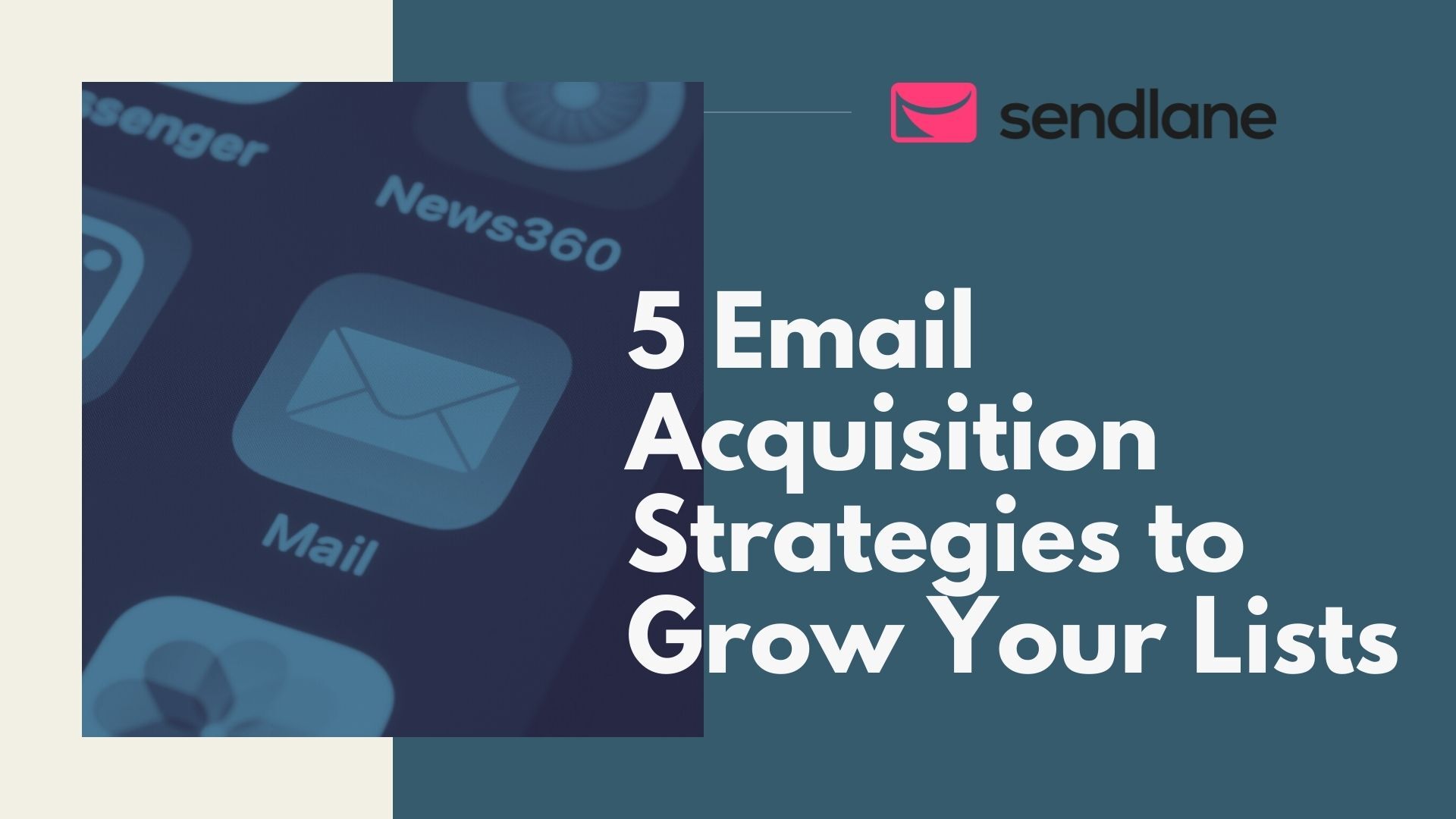 If you want your eCommerce brand to thrive in the ever-more-crowded online marketplace, then you'll need to prioritize email acquisition as a part of your marketing strategy.
By the end of this post, you'll have five reliable strategies to boost lead generation for your eCommerce brand, real steps you can take to make these strategies work, and a few third-party tools to make your life easier.
Let's get started!
5 Tested Tactics for eCommerce Email Acquisition
Generating leads and collecting email addresses starts with finding tactics and strategies that work for your specific brand in your specific niche.
That said, we've been actively analyzing what's working for our customers, and some common factors are succeeding across the board. The first one might seem obvious, but we figure it's best to start with the low-hanging fruit before you start climbing the trees… ‍
1. Leverage Your High Traffic Pages
If you're focused on adding new subscribers, you need to meet the people where they are — especially if they're already on your site.
Pages that get lots of traffic give you a better chance to collect email addresses from the people who visit them. Caraway Home did precisely that with this pop-up:
Use Google Analytics (or other analytics tools like HotJar if you have them) to see which of your pages get the most traffic.
Pro Tip: if you aren't tracking behavior on your site, use this guide to set that up. You'll probably need to wait a few days or weeks before you have enough data to determine which pages are pulling the most traffic.
If you do have Google Analytics set up already, you can find your high-traffic pages in three easy steps:
Open your dashboard
Open Behavior → Site Content → Landing Pages or All Pages
Review the data or expand the date range for a more complete picture
Also, your high-traffic pages can change over time.
If you're running social media ads that link to particular products or landing pages, for example, the traffic to those pages might increase and pull potential views from other pages. If a third party reviewed or linked to one of your products, that could drive traffic to that page up too.
That's why it's worthwhile to regularly review your site's traffic to see where you're next opportunity will appear.
Up Your Opt-In Game
Lots of eCommerce brands use the same opt-in form and content on every page. This is a great starting point to cover your bases, but if you're trying to scale, we think you can do better.
Take the time to review that page's content and determine why it's high and where the traffic is coming from. Are the sales as high as your traffic levels?
Doing this can give you a better idea of how to get creative and crank up your opt-in conversions.
Even a simple change like updating the type of opt-in form you use could be the key to getting more from your high-traffic pages.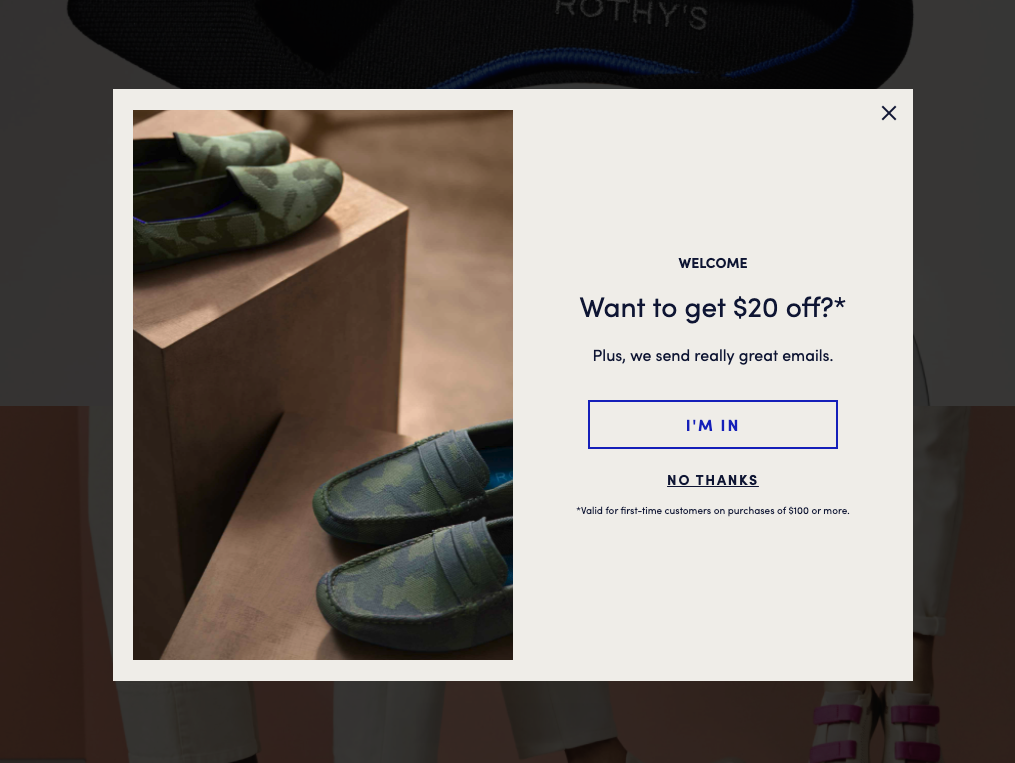 ‍These common opt-in forms might be worth a try if you aren't using them already:
Exit-intent popup
Floating bar on top or bottom
Fullscreen (like the image above)
Lightbox
Sidebar sign-up form
Slide-in or slide up form
How to Get Started
Review your analytics every two weeks or so with a tool like Google Analytics or Hotjar. Keep an eye on traffic levels when you run promotions too. When traffic goes up for a specific page, check the conversion rate for opt-ins on that page.
A/B test different forms or copy on your high-traffic page to see if that improves your conversion rate.‍
And speaking of A/B tests…
2. A/B Test Your Opt-In Offers & Forms
If we've learned anything from the eCommerce market shifts over the past year or so, it's that we can't sit back and expect things to go on as they always have.
And that lesson applies to your entire lead generation process, not just your opt-in forms.
If you want to increase conversions and grow your email list, you should A/B test both form types and the offers they contain continuously.
For example, this guy used one simple A/B test to increase opt-in rates by 37%! And that was just one test on one form, which only took a few minutes to set up.
The results from running A/B tests can dramatically improve your email acquisition rate, as well as your conversion metrics in other areas. Use these suggestions to get started:
How to Get Started
Do you use the same type of form throughout your site? Try testing a different one. If you have pop-ups everywhere, for example, try a floating bar with the same offer and copy. If you use a slide-up offer, test a full-page form. And Sendlane's Intelligent Pop-Ups make it easy to create branded opt-in forms and track which ones are performing well with dashboard analytics.
Test a different offer without changing the form. If you're offering a sign-up discount, change it to free shipping or a free gift. You could also try adding social proof to the form to see if that impacts things.
If a large share of your traffic comes from mobile devices, try testing a mobile-specific offer. One common option is to let shoppers subscribe via text message. (Sendlane also makes SMS marketing easy!)‍
3. "Personalize" Product Page Offers
There are two ways that you can "personalize" product page offers to increase conversions and email acquisition.
One depends on the email opt-in tool you're using, but the second is available for any email capture tool.
The first option is to display a pop-up specifically for people who come to your site from a particular link.
Form tools like Justuno can help you create these opt-ins for email subscribers, for example, while also providing access to onsite personalization and gamified forms (which we'll discuss further in a bit).
If you don't want to set up a new opt-in tool, however, the second option is to add a bit of personalization to your product pages.
Here's a simple example. eCommerce brands that specialize in coffee can split categories according to product types.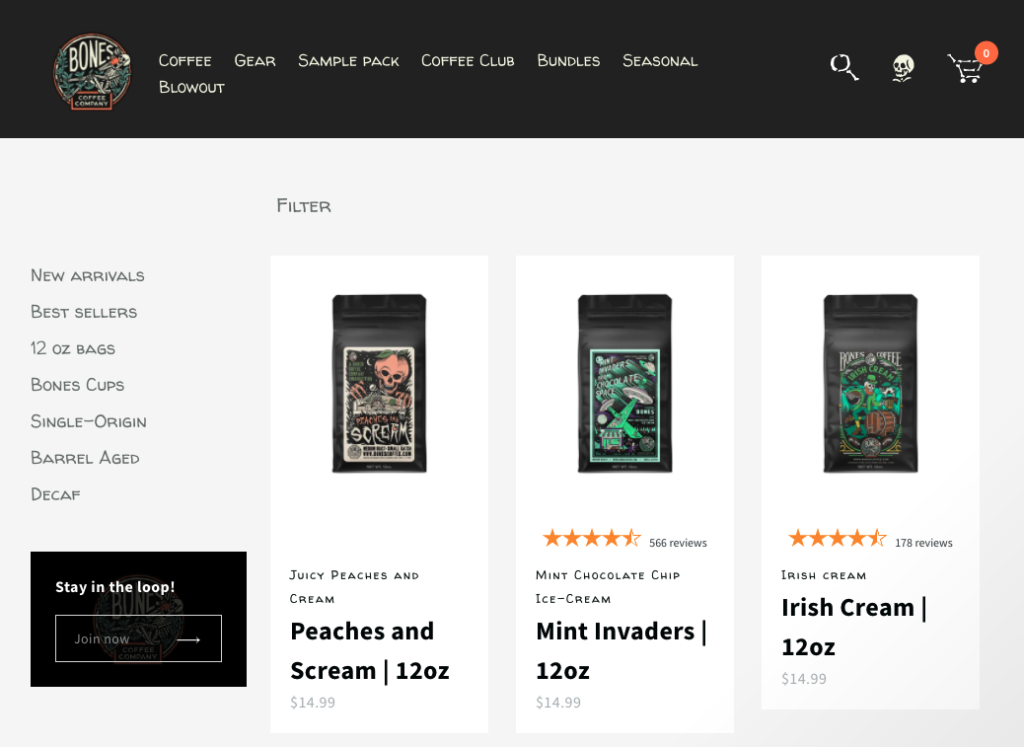 On red wine product pages, you can mention red wine specifically, and white wines pages can do the same.
You can do something similar with the products on your site — more personalized offer copy can incentivize each opt-in. Again, this will take some effort and a bit of creativity on your part, but personal product page popups can drive the results you've been looking for.
How to Get Started
As mentioned above, an email signup form tool like Justuno can help with onsite personalization, which does wonders for the customer experience. This can also help to increase your email open rates too.
Use what you know about your audience to develop creative product category opt-ins and calls to action (CTAs). Do certain demographics view specific pages more often? Would a playful tone drive more signups, or does your product call for something more formal? Questions like these will help you optimize your forms — and help you get to know your audience better.
4. Use In-Stock Notifications for Email Acquisition
Did you know that online retailers lose about $1.75 trillion every year because of supply issues like out-of-stock items?
Most of the time, out-of-stock items are beyond your control. But if you don't give shoppers a follow-up option, they're going to look elsewhere for that product.
Stock alert notifications are a great solution for this problem — and you can use them to grow your email list too!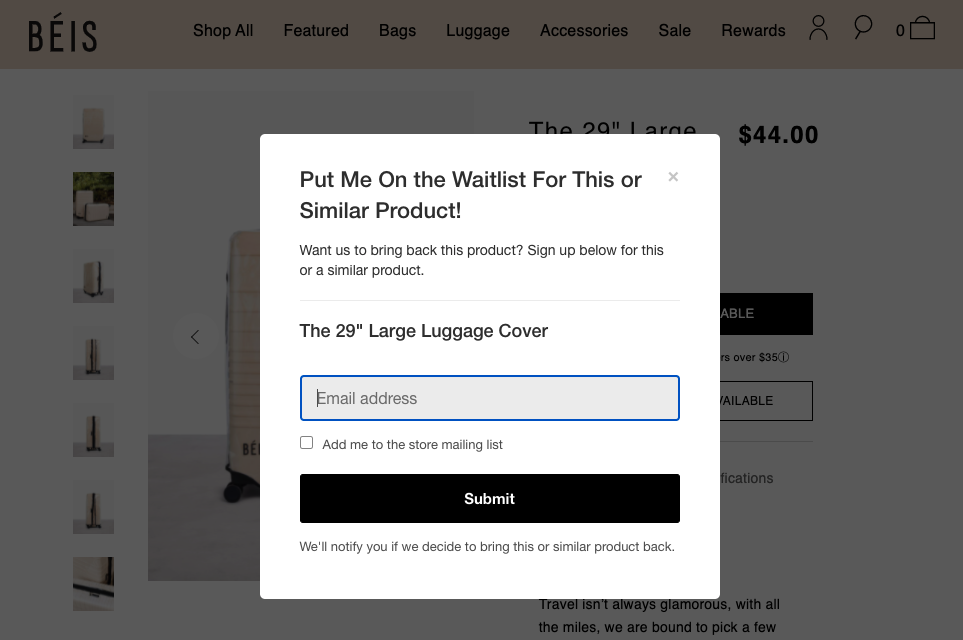 Depending on your eCommerce platform, you can use a third-party tool to add this option to your products.
When a product is unavailable, you can build in an option for website visitors to add their email or phone number so that you can alert them when the item is available again.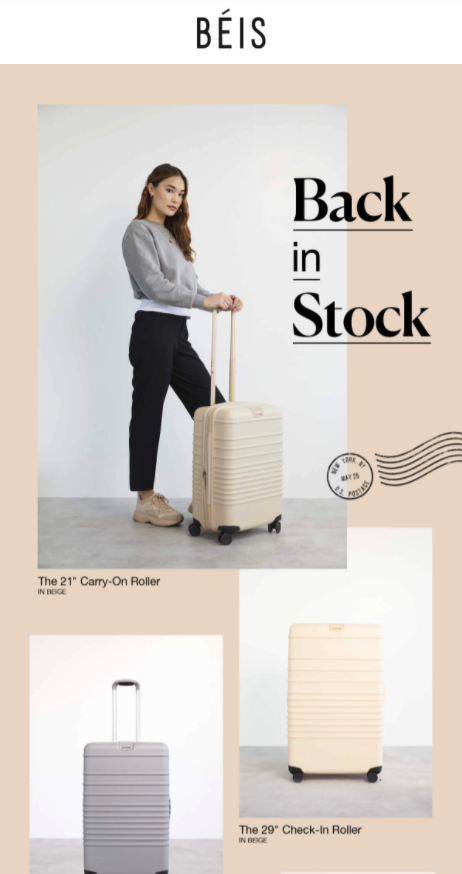 Further, you can use this information to segment your list and bring customers back to your store. You can also use opt-in text to add these users to your automated email flows.
How to Get Started
Choose a "back-in-stock" app for your eCommerce store. There are a lot of options, especially for Shopify, WordPress, and Miva.
Place shoppers who opt-in into an automated funnel to build their relationship with your brand. Even if they find the product elsewhere before you restock, you can still win them over with better communication, support, and authenticity. A funnel that builds trust and leaves a good impression will pay off over time. And if you're using Sendlane, you can start with pre-built email automation templates that do the heavy lifting for you.
5. Build Your List with Gamified Opt-In Options
Supercharging your email acquisition can be fun for you, but you can make it fun for your audience too by gamifying your opt-in forms.
We've seen two gamified options succeed often for eCommerce brands:
Giveaways
Spin-to-wins
Giveaways take some planning before you launch them, but they can pay off with major subscriber gains if you do it right.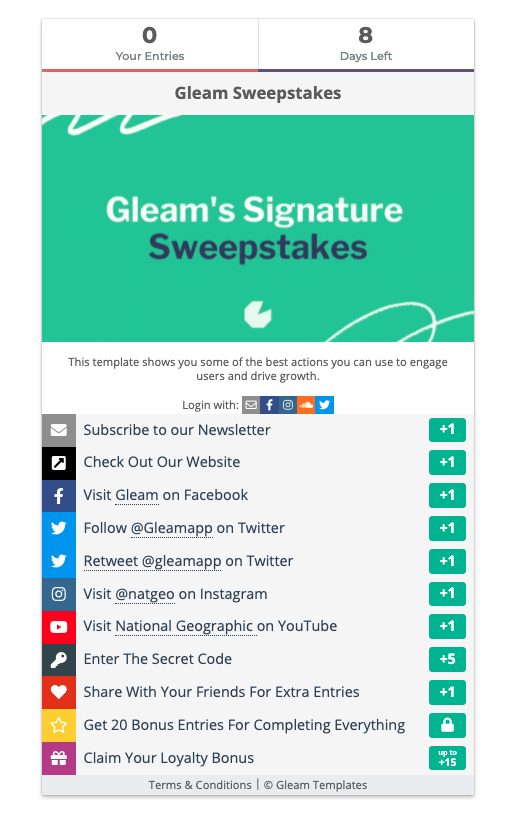 You can use tools like Viralsweep, Gleam, or KingSumo to create and fine-tune your own giveaway. And you can even join forces with other brands (not direct competitors, of course) to reach a wider audience.
Second, you can gamify your opt-ins with a spin-to-win or play-to-win email capture form on your site.
If you've ever watched Wheel of Fortune, you know that there is something about spinning a wheel and getting a reward that's hard to pass up.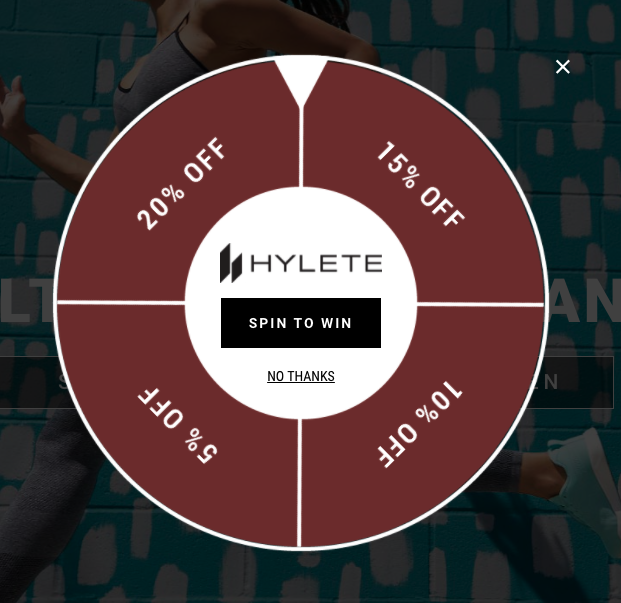 Justuno offers a spin-to-win option (and integrates easily with Sendlane) if you'd like to go this route. Your visitors input their name and email to spin the opt-in form wheel and earn a chance to win. Common prizes include free shipping, a gift, 50% off their next order, or something specific to your brand.
This type of email acquisition form is available through various third-party tools for a reason — it works! And it can work for your eCommerce brand too.
How to Get Started
Plan your list-building giveaway well before you launch. You'll need to have all the pieces in place to make sure users get their rewards or this promotion will go bad in a hurry. Read Gleam's tutorial for a comprehensive guide to preparing your giveaway.
Test gamified options on your high-traffic pages and compare them to your existing opt-in rates. With the right tool, this simple switch can boost signups significantly.
Email Acquisition Requires Creativity and Consistency
Email acquisition for your eCommerce business can feel like climbing a mountain or running a marathon. But other stores are already doing it, and you can too!
If you start to feel stuck, look for a different angle but stay consistent. And don't forget to kick ideas around with your team to find the right offer and copy that speaks to your specific audience.
Ready to take your email acquisition to the next level? Test these strategies out with Sendlane today! Sign up for your free 14-day trial here.