The new in-stream video ads will now allow advertisers to show 5-15 second ads to users who are watching a Facebook video. The in-stream ads will be available for the video view, brand awareness, reach, and the page post engagement objectives. And, will be available as a placement in both the power editor and the latest version of the ads manager. As of right now, Facebook is being pretty picky about who they are allowing to use this feature. And, are requiring advertisers to meet strict requirements in order to be eligible.
"There's a spectrum of ways people are watching video on Facebook. There are shorter, on-the-go experiences and longer, lean-back experiences. We're building ad products to match those experiences and behaviors." – Kate Orseth, Product Marketing Manager at Facebook.
While this announcement might have come as a surprise to some folks, if you've been following the news coming out of Facebook lately, you're well aware of the fact that Facebook is doubling down on video and heavily investing in new features. Case in point, just a few weeks ago Facebook rolled out their New Video Feature 'Watch' and have since been rolling it out to a select number of publishers and content creators.
Up until recently, advertisers were really only able to run stand-alone video ads in users newsfeeds. But now, with the latest update, the options for pre-roll and in-stream video ads have become much more robust. Advertisers will not only be able to show these new in-stream ads on the news feed, but they will also be available on the audience network.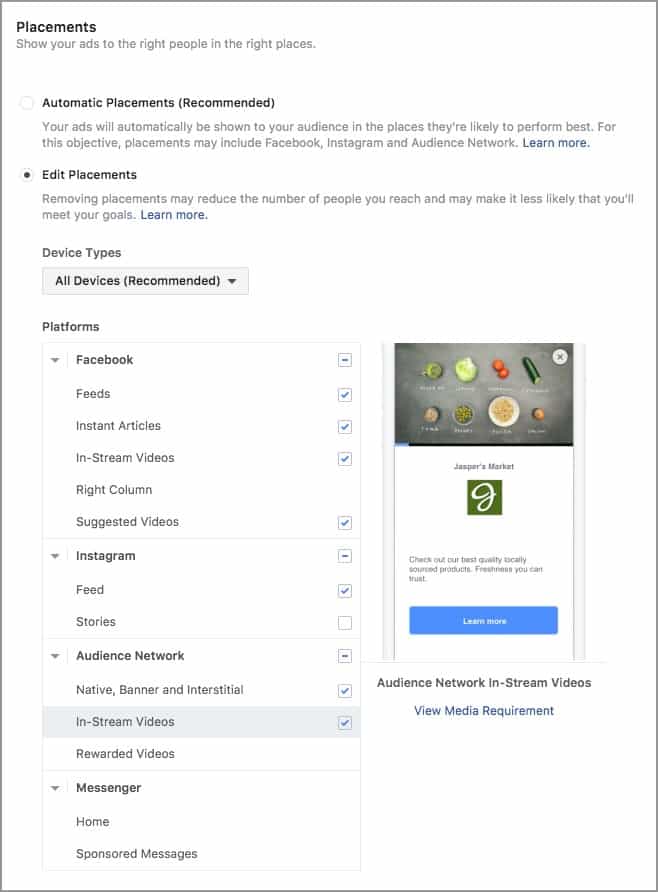 With recent news of Facebook running out of space for ads on the newsfeed, this new addition should really come as no surprise. The new in-stream video ads will open up a whole new avenue for advertisers to get in front of users. And, to top it off, while they're actively consuming their favorite content.
Facebook has said repeatedly that they want to create a place where users can come to consume their favorite content in a user-friendly way, and also provide the content creators a way to earn revenue from their original content. The company is also looking at partnering up with some major organizations such as the MLB & MLS league to begin carrying longer form shows along with the already popular short form content.
The testing from the first initial adopters has been very promising. Users watched an average of 70% of the 15 seconds in-stream video being watched to completion, and that is including the audience network.
While the in-stream videos have not been rolled out to everyone and will be limited to the new Watch platform, this move is just further proof that VIDEO IS KING on Facebook, and if it's not part of your strategy for 2018, well, you may be missing out on some amazing new opportunities!
Requirements for In-stream Video Ads:
Facebook in-stream:
Video length: 5-15 seconds

Objective: Video views, reach, brand awareness or post engagement

Aspect ratio: Vertical (up to 9:16), Square (1:1), landscape (16:9)
Audience Network in-stream:
Video length: 5-120 seconds when automatic placements is selected, 5-30 seconds when selecting in-stream placements on their own.

Objectives when using automatic placements: Video views, reach, brand awareness, post engagement, conversions, traffic, app installs, catalog sales when using automatic placements.

Objective when using on its own or with Facebook in-stream video: Video views

Aspect ratio: Square (1:1) or landscape (16:9).
Facebook and Audience Network in-stream together:
Video length: 5-15 seconds

Objective: Video views

Aspect ratio: Square (1:1) or landscape (16:9)
Well, that's all for now folks. Please let us know if you have this service available to you, and how you plan on using it to your advantage in 2018. And, as always, for any questions comments or concerns, please feel free to drop us a message below in the comments.
Happy Hunting!