Unlock Revenue from 2.82 Billion Users When You Pair Email Marketing with Your Social Media Efforts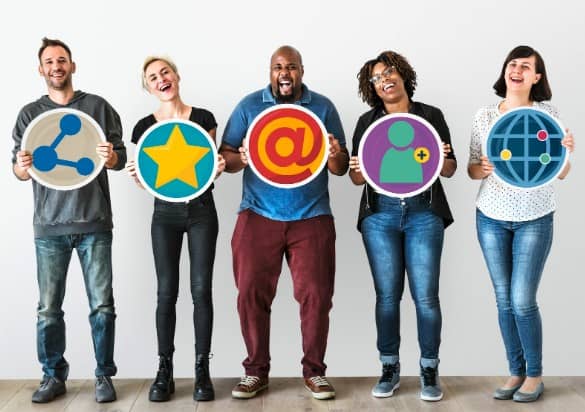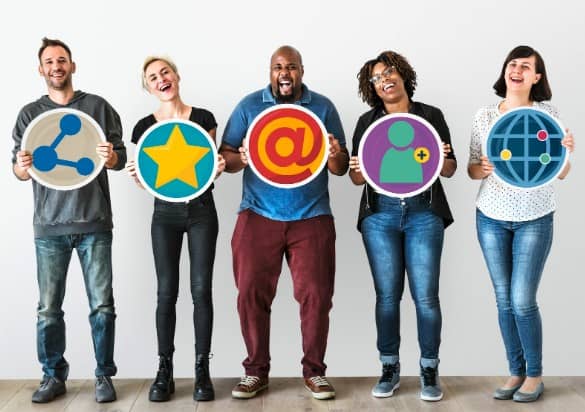 Every entrepreneur, both young and old continuously look for the best marketing tool that can generate the most revenue for their business. But in reality, there is no one perfect tool. While there are marketing tools that outperform the other in certain aspects, they underperform in others just as much.
When it comes to building brand awareness and reaching out to a huge audience of prospects, social media marketing comes into mind. But, what if you could choose a marketing channel based on return on investment alone? When it comes to high ROI (4,200% to be exact!), email marketing takes the lead.
And according to small businesses looking to expand their marketing efforts—social media and email marketing are at the top of their lists! 
Now with these two marketing tools being most popular, many would argue one is better than the other. So I'm here to present you with this question: Why not both?
Why not integrate your email marketing with your social media marketing efforts? Why not use the strengths of one marketing tool to make up for the weaknesses of the other?
Here are some methods you can use:
SYNCHRONIZE YOUR EMAIL AND SOCIAL MEDIA CAMPAIGN CALENDARS
While each form of digital marketing has its own platform of operation, you can't avoid executing similar marketing campaigns in both channels. To make the most of this, why not synchronize your marketing operations. 
How? Encourage your email and social media teams to collaborate with each other. This will establish consistency between the two teams and it will also help  avoid launching duplicates of the same marketing campaign.
Here are 4 useful calendar tools you can explore:
CoSchedule is best if you're  looking for an efficient and highly organized scheduling software for all your content marketing needs. Organize content marketing from campaigns all the way down to every team member's task with an easy-to-use drag-and-drop calendar.

Percolate works best in integrating your marketing efforts with social media channels. Everything from content creation, distribution, audience management, social listening, analytics and customer care features are covered.

Kapost is the organizing software for you if your content marketing efforts focus on enterprise-level B2B customers.

Google Calendar

is a useful time-management tool when you need to keep up and be reminded of your many appointments, meetings, and events. This is also great for you and your attendees participating in meetings.
BEEF UP YOUR EMAIL LISTS BY ASKING YOUR SOCIAL MEDIA FOLLOWERS TO SIGN UP
Have you amassed a following in your social media profiles? Why not ask your thousands of followers to sign up for your email lists? That way, you can engage with them on a more personal level. 
Through Facebook, you can add a Subscribe Form to your Facebook page. While through Twitter, you can use Twitter Cards. In both methods, your prospects won't have to leave their social media sites to sign up.
Here's a big bonus for you, having your social media followers sign up to your email list means welcoming the possibility of your followers recommending your brand to their own followers and friends. Imagine getting even 10 of your followers to recommend your brand to their friends, with each of your followers having 10 friends. Then those friends recommending your brand to another 10—your prospect base grows exponentially!
COLLECT CONTACT INFORMATION
When you look at a social media site like Facebook or Twitter, what do you see?
Where you see a bunch of people sharing their every thoughts and lives, we see email addresses! And as we all know, an email address is the MOST important piece of information you can get from your customers when it comes to eCommerce.
And since every social media account has an active email address, this only makes email addresses more viable as prospective contacts for your email list. 
RETARGET YOUR SOCIAL MEDIA ADS TO BUILD YOUR SEGMENT OF INTERESTED EMAIL SUBSCRIBERS
Social media platforms are great places to cast your ad campaigns into and see who bites. While this means your ads are exposed to a broader market range, this will not guarantee high conversions.
The solution: You can maximize the conversion rate of your social media ads by retargeting them to your email subscribers. Since your subscribers are customers who are already interested in your brand, your ad content is more relevant to them as compared to a random "passersby" on social media platforms.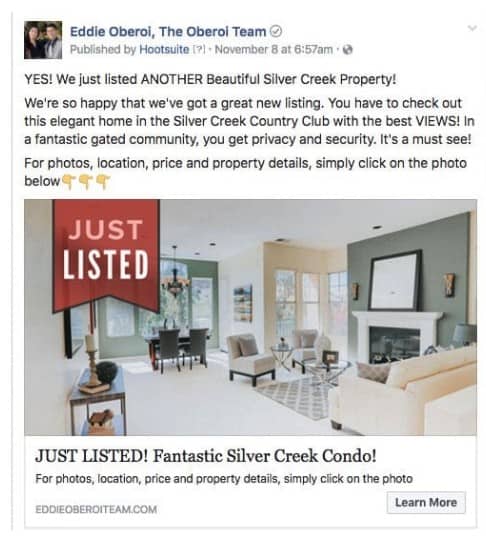 Let's take a look at an example of a real estate ad above. If you've been a follower on their Facebook for a while now, you're probably more or less familiar with their brand, their listings, and their modus operandi. 
You'd find it more comfortable to take the leap of booking an appointment with them for a viewing that may eventually lead to you buying a new home with this particular realtor. After all, homeownership is a pretty big step, and you're less likely to take the plunge from a realtor you've just seen for the first time on an ad. 
The buyer's journey becomes significantly shorter and a large portion of the decision making has already begun when you followed their account. This applies to business owners looking for solutions for their businesses too. 
Think about it, with which group of people would your ads have a higher rate of conversion with—100 targeted, but newly engaged users on social media or 10 of your brand's subscribers? According to a study, acquiring new customers can cost up to 5 to 10 times more than selling to a current customer, and the concept can apply here too! It's cheaper to retain a current customer than attract a new one. 
Build on what you already have and start giving your subscribers the nurturing they deserve. 
GATHER USER-GENERATED CONTENT
Another perk of diving into social media is the abundance of organic or user-generated content. In terms of eCommerce marketing, that means real and raw feedback from customers.
Once your eCommerce brand has built up its presence and identity in social media, your customers would naturally gather around and follow you. Now you have a great source of customer feedback following your social profile.
You can gather your customer reviews on your brand, your products, or your services from your brand's social media profile and add them to your marketing email content. Your email campaigns now have higher credibility when you're highlighting products with real reviews.
Check out how Sommer Ray's shop leverages user-generated content on their email lists.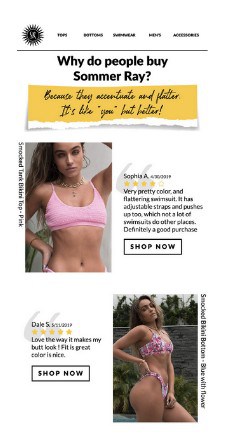 OUR MAIN TAKEAWAY
Digital marketing is always evolving, so it's no surprise that there is no one digital marketing tool to rule them all. With the abundance of tools available to us, we should strive to learn how each one works and, more importantly, how we can make them work in tandem. 
As we mentioned earlier, we should not look for the perfect digital marketing tool. Instead, we should see all marketing tools as interconnected—whose specific strengths can cancel out each other's weaknesses.
Are you still having trouble with getting your email marketing and social media in sync? Please don't hesitate to hit me up with your questions!
As an AdLeaks member, you get $200 off every month of our setup fee. If this is something you're keen on, you can take advantage of the perks of being part of this community by following this link.
About Chronos Agency Founder Josh Chin
Josh is the co-founder of Chronos Agency, a leading e-commerce marketing agency with a team of 60+ responsible for generating multiple 8-figures in trackable eCommerce revenue for clients. The agency specializes in scaling high-growth eCommerce brands with email, SMS, and conversational marketing.