AdLeaks TV Episode 20 | Scaling FB Ads + CCPA Part 2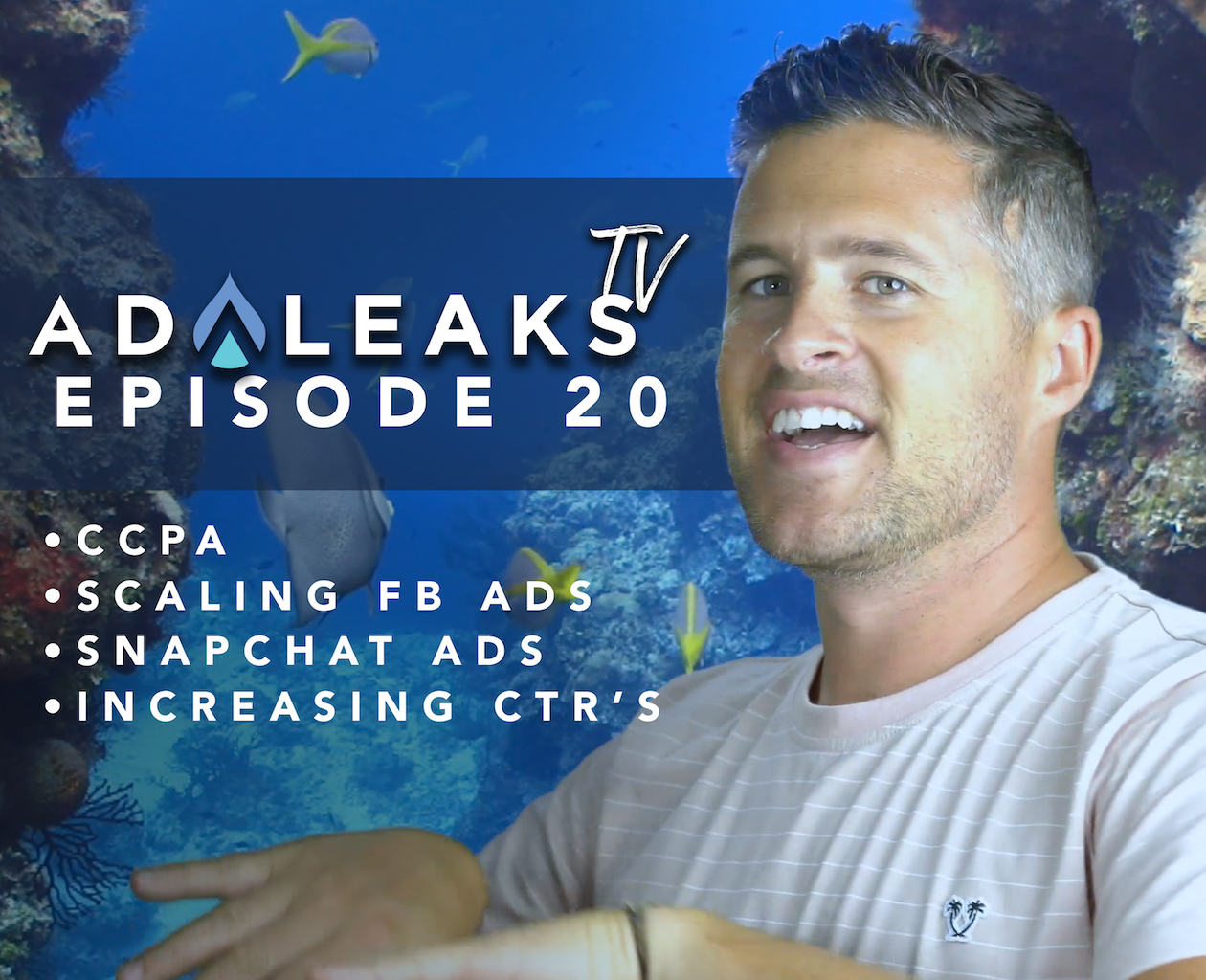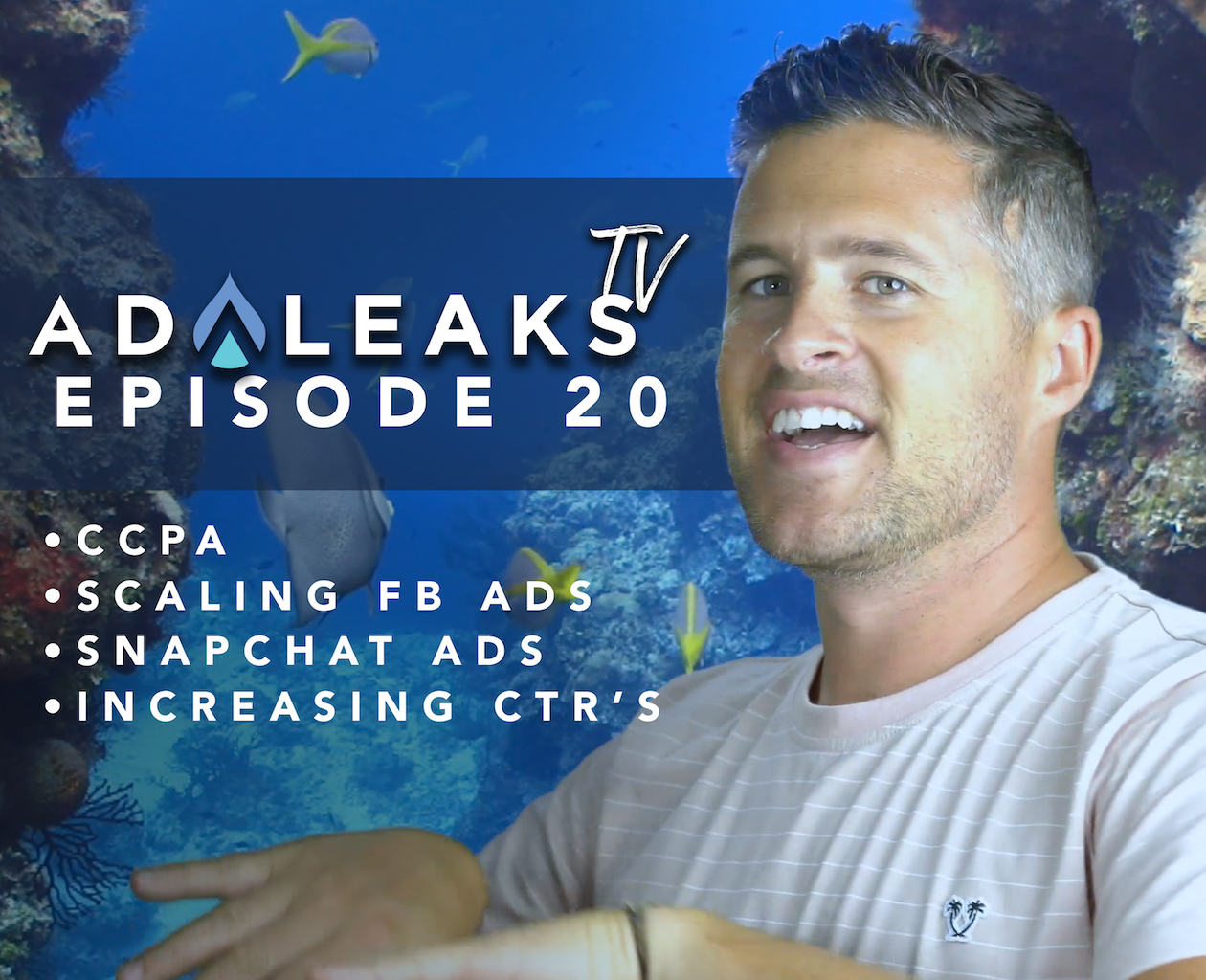 Hi everybody, I'm Luke Kostka, AdLeaks' director of visual marketing. Welcome to AdLeaks TV Episode 20.
We're bringing you AdLeaks' MVPs (Most Valuable Posts) from July 22 to July 28 so you can improve your ad campaigns and make more money.
As always, if you're in AdLeaks, check out the discussions, deals, and knowledge units you get with your membership. Everything is linked through your Facebook group, so head over there and see what's new.
And if you aren't a member, go to joinAdLeaks.com and sign up now.
Also, check out AdLeaks on your favorite social network, including more episodes of AdLeaks TV on our YouTube page.
Episode 20 Featured Videos
We've got a few featured videos for you this week, so let's get into it.
CCPA Explainer Part Two
Our first video is a follow-up from last week by Gil David. Gil added a second part to his explainer video on CCPA, the new California data privacy law.
In this 5-minute video, Gil shares the latest updates on compliance and transitioning to new Limited Data Use settings in the next few weeks. Check this out --
"...This is based on the legal advice that they've taken and the steps they've taken to make their site compliant. Otherwise, they're liable for lawsuits, which you wouldn't want. If you just switch one of these on or select one of these without permission, the liability falls on you as well.
"So, like I said last time, get your clients to seek legal advice. If they're already compliant, you can end the transition period now. If they'll be compliant in the next week because you already have that process in motion, you can select that option. This is already giving people more time if they need it. It's a random date, but you get until the 20th of October now."
Thanks for sharing Gil.
Use Clean Data to Scale Facebook Ads
Next, we've got a video on how you can effectively scale your Facebook Ads by removing bot traffic and using clean data.
This video, from Justin Brenner, has a step-by-step guide that includes the JS code you need to use this filter.
Justin, can you tell us a little bit about this?
"This script actually allows you to detect the ISP provider and pass it into your analytics. You can drop this code into your footer right above the clip and the closing tag.
"Go into your Shopify and open your "theme.liquid." Look for the closing of the footer and drop it in right above that. This way it's not slowing anything down because the code is towards the bottom. and the script will run at the end.
"Once you drop that in, save it. You're going to notice that there will be a little bit of changing or adjusting in the code, depending on what dimension you need to pass."
Thanks Justin. Next, we have an update from our new Snapchat correspondent, Savannah Sanchez.
Snapchat Ads Best Practices
Savannah has been killing it with Snapchat Ads for a while now, and she was kind enough to share a bunch of great tips, including how to set up e-commerce campaigns, ad creative best practices and much more.
The video is 35 minutes long and it's packed with info. Let's take a look --
"When you set up your ad set, you'll have the option to choose different bidding strategies. There are three -- auto bidding, target cost, and maximized bid.
"I've tested all three, and every time I get the most consistent results when using a target cost bid. So when you're setting up your campaign, you tell Snapchat how much you're willing to pay per customer.
"If I'm selling a $40 shirt and I want to get a 2x return on ad spend, I would set my target cost at twenty dollars. I'm essentially telling Snapchat that I do not want to pay more than twenty dollars to acquire a customer. Snapchat will actively look for people in your target audience who they think will for less than 20 dollars. So I highly recommend the target cost bidding strategy."
Audience Selection
"Another question I get often is about audience selection. When you choose your audiences on Snapchat, I highly recommend going for broad audiences. And by broad audiences, I mean audiences with at least 10 million people in the audience.
"Common audiences I use on Snapchat are females 18-to-24 in the U.S. That is a massive target market. And Snapchat doesn't have a lot of people to be able to serve ads to.
"This advice isn't necessarily for everybody. If you have a targeted or niche product, it will make more sense to layer in more interest targeting. For instance, like I mentioned, I have a client that sells maternity clothing. So a broad audience, like females 25-to-34, will probably be relevant because I want to reach people who are shopping for baby clothes."
Thanks Savannah. If you're thinking about jumping into Snapchat Ads, this is a must-watch video for you.
Affiliate Tips for Google Ads
Finally, we've got some affiliate tips from Maor Benaim that you can use to crush Google Ads.
In this video, Maor breaks down how you should be using remarketing, YouTube Discovery ads, and tricks to increase click-through rates. Over to you, Maor --
"The first tip is using observation lists. The second is using remarketing not just for the Google Discovery Network (GDN).
"Tip three, use the new discovery network. Tip four, use YouTube discovery ads. And our final tip is to keep up with new tricks to increase CTR on your search ads."
Thanks Maor, and thanks to all our video contributors this week.
By the way, if you want to contribute to AdLeaks and see your face in one of these little boxes, let us know. We're always looking for valuable information to share and we'd be happy to chat about adding you as a contributor.
Alright, we've got one more for you today -- the Throwback Post of the Week.
AdLeaks TV Episode 20: Throwback Post of the Week
This week's throwback comes from Alex Stiehl, one of our moderators and an OG AdLeaks member.
Back in 2018, Alex shared a great list of custom audience ideas that you use for targeting and Lookalike audiences.
Click here to see the whole list.
Final Thoughts in AdLeaks TV Episode 20
And that brings us to the end of AdLeaks TV Episode 20! Thanks for sticking around, we hope these tips help you with your ad campaigns.
Remember, AdLeaks is on Facebook, Instagram, and YouTube, so please check out more content on all those social networks.
There's also more episodes of AdLeaks TV on our YouTube channel, so let us know what you think in the comments and on Facebook.
And if you aren't a member, go to JoinAdLeaks.com now and sign up. There's a lot more where this came from.
Thanks one last time to the AdLeaks community and our contributors this week.
I'm Luke Kostka, and thanks again for watching AdLeaks TV Episode 20.