AdLeaks TV Episode 5: Holiday Marketing Strategies, eCommerce Growth, and More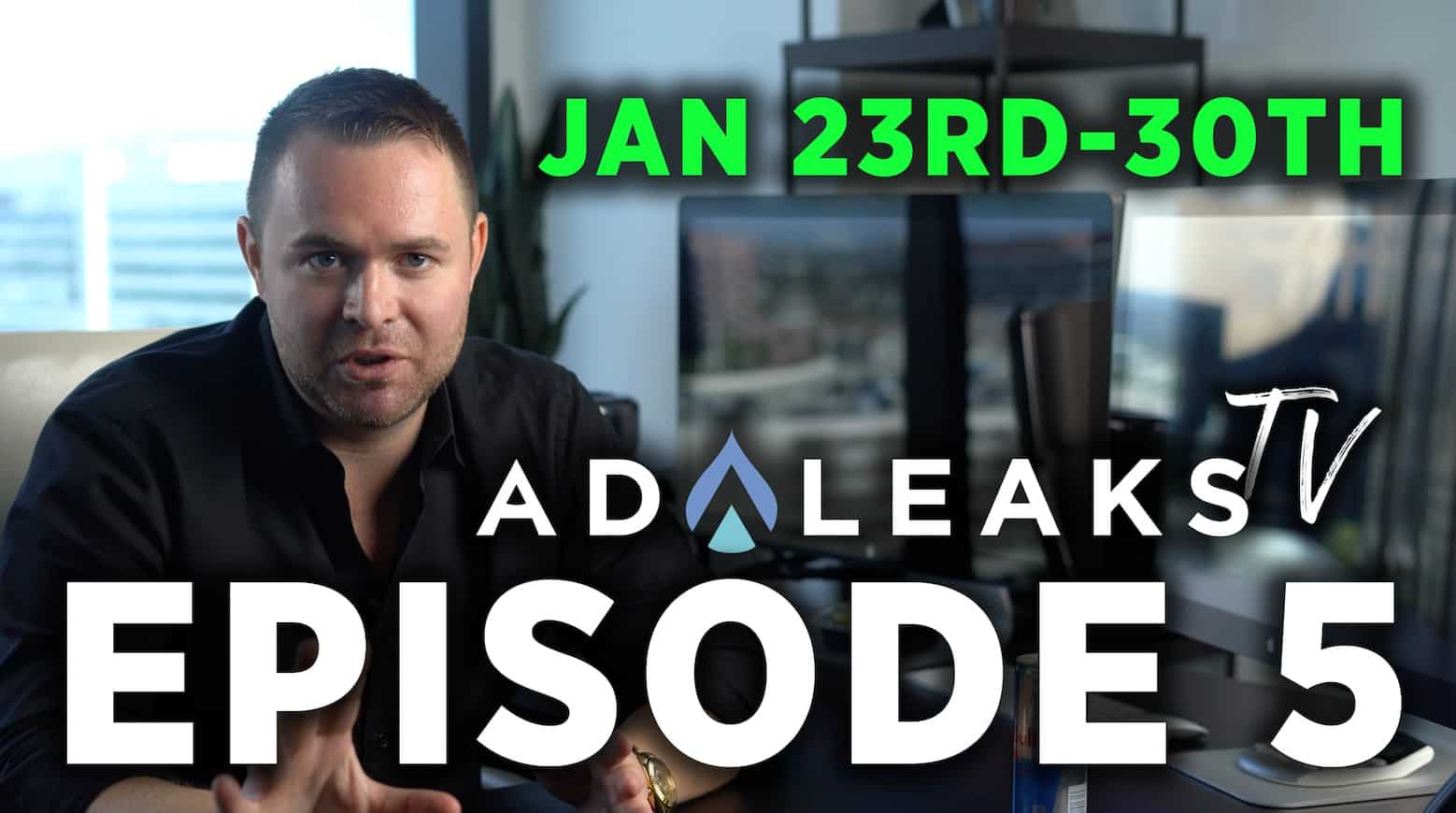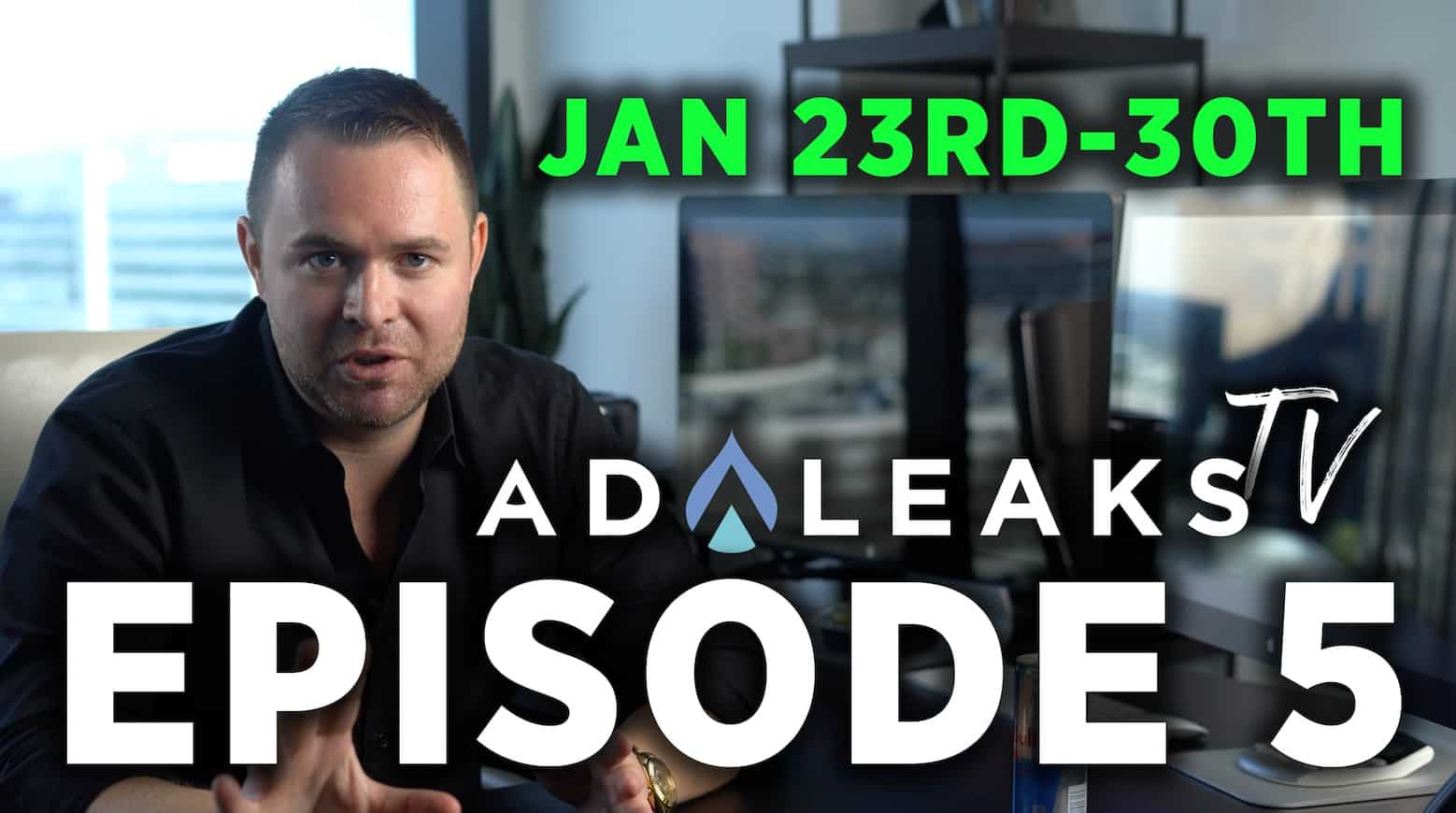 Welcome to AdLeaks TV Episode 5!
We're covering content in AdLeaks from January 23rd to the 30th.
Check out Episodes 1-4 of AdLeaks TV on our YouTube channel. And if you want access to these videos as soon as they're published, don't forget to join AdLeaks today!
To serve the broader AdLeaks audience, we've embedded the video and a transcript of AdLeaks TV Episode 5 for you below.
Let's jump into it!
AdLeaks TV Episode 5
Tim Burd:
I want to start with a big shout out to Dino Panopoulos. Thank you for doing these week-in-reviews that make AdLeaks TV possible.
Election-Driven CPM Increases
First, keep in mind that this year that the political arena is just starting to heat up with the Iowa caucuses, New Hampshire, and so on. We're likely to see an unseasonal increase in CPM due to the election year. Keep that in mind when you start seeing your CPM go up.
Also, if you aren't a member of AdLeaks, you should join AdLeaks to get access to all of the posts mentioned in this video, as well as 500 other videos, courses, how-tos, tutorials, and much more. Not to mention over 50 amazing deals on your favorite software and services that can save you hundreds of dollars a month. That's right -- you can actually gain ROI on your AdLeaks membership.
Holiday Marketing — Email & SMS Strategies
This first post by Joshua Chen, one of my favorites of the week, was about strategizing your SMS and email marketing to capture leads for Valentine's Day or any holiday. And this is to replicate Josh's tested and proven holiday strategy from his Black Friday/Cyber Monday 2019, which catapulted their $831k week. You can apply that here to Valentine's Day and any other holidays.
Here are three campaigns to get the gist of their six-step Valentine's Day sequence that uses both email and SMS marketing. And again, you can set these up for any high-converting holiday season.
1. Hype Builder Emails
Number one, hype builder emails. Teaser email campaigns make your audience feel like they're special and part of an exclusive community. The flexibility of emails allows you to create content that matches how you want your customers to see your brand.
You can showcase the most relevant products of the season to draw them in right away. This stage is crucial for tagging and segmenting your customers before your main event based on their behavior.
Establish who your VIPs are and further prune your main segment to only target them during your main launch. This way you can improve open rates and reduce unsubscribe rates throughout the entirety of the holiday sale.
2. Priority List Email & SMS
Number two, priority list email and SMS. Launch pop-ups on your site as early as the beginning of January for Valentine's Day -- about a month to six weeks in advance. That way you can retarget subscribed people later with Valentine's Day offers or other holiday offers. Make the copy short and don't forget to have a compelling offer to increase the chance of sign-ups.
Offer a clear call to action. If they're subscribing to your list or getting first dibs on your new collection, be clear in what you want them to do.
Also, attract them with incentives. By taking personal information, be it email or SMS, you want to give your future customers something in return. Offering a discount code to newbies or a free shipping coupon actually goes a long way.
Benefit them visually. An image that celebrates this holiday's theme is powerful. Be mindful of how it's optimized for mobile, tablet and, of course, desktop.
Remember, one size does not fit all. Pop-ups on your site can serve different functions. Thus it's important that the copy is tailored to this -- that is, pop-ups that collect emails or phone numbers.
3. Priority Launch
Number three, priority launch email and SMS. Your VIPs are a self-opt-in group of highly excited high-value customers who purchase from you recently and frequently. Show exclusivity when you roll the priority list invites before any sales emails.
Your priority launch should be executed before your main launch to gain loyalty and trust with your loyal customers -- a group that is worth more than you think.
Finding Clients with UpWork
This next post by Jeff Minnichbach for AdLeaks TV Episode 5 is about how to use Upwork to land clients. Jeff says that if you're not using websites like Upwork to land customers for design, marketing, production, or other kinds of jobs, you're totally missing out on business.
Jeff was top-rated on Upwork for several years and generated over $100,000 in his first year, 2016, by bidding on jobs all day, every day. Yes, it's basically a full-time job, but it works, and the ROI is huge.
In this video are his favorite tips and tricks for landing new business from Upwork, which could add thousands of dollars per month in additional revenue for your business.
Page Insights For Messenger
This next post by Rutger Thole, one of our frequent contributors, is a quick 5-minute video about how to use Page Insights for Messenger.
In this video, Rutger shows us where you can find your Page Insights for Messenger and what metrics to look at. You can use this data to decide if you should send your next broadcast out or not.
He also shows you how to determine your block rate. What's normal? What's too high? What should you include in your ad sets? What should you exclude? And what to make sure you don't run into any issues and so much more.
If you're doing anything with Messenger or want to be doing anything with Messenger, this is a must-watch video.
eCommerce Growth — What's Holding You Back?
This next post was by Tyler Garner. The three sticking points of eCommerce growth that's holding you back. This was a great post about the things that are typically holding people back in three levels of spend.
The main ranges that people get stuck and seem to be $0-500/day spend, $500-5,000/day ad spend and $5,000+/day ad spend.
Spending Level 1: $0-500/day
For the zero to five hundred a day crowd, you really need to work on your landing page to break out of this zone.
Also, review your sales process, your offer, your product, and positioning. All the basics. If you're stuck at that spend level, that's what you need to work on.
Spending Level 2: $500-5,000/day
Once you get out of that, you're going to find you get stuck in another zone, the $500-5,000/day zone.
To break out of this zone, you need:
Very powerful creative and killer copy
Customized rules and automation for your ad buying
Talented ad buyers
Horizontally scaled and recycled audiences
A lot of conversion rate optimization
Pricing adjustments, including a structure or restructure your offer
Funnel flow optimization
Customer lifetime value optimization
These are all the things that will allow you to scale past five thousand dollars a day up to the next level.
Spending Level 3: $5,000+/day
To scale profitably beyond $5,000 a day, there's a bunch of things you need to do. One of them, the big one, is to get creative. And we recommend that you get creative from Welling Media or Chamber Media, which are both great companies.
And the next thing would be an angle. You also need a great angle for whatever your product is, and some great media buyers. You need to start segmenting audiences. You're going to have to restructure your offer and diversify your offers. This will increase the average order value and such.
You also need automation at scale. You'll have to automate more of your customer service, more of your ad buying and so on. You'll need better attribution measurement, which measures where the sales are coming from and how much of it. You need to diversify your assets like landing pages, advertorials, product pages, quizzes and so much more.
Also, you need to focus on new audiences, recycling old audiences, and conversion rate optimization, of course. I just covered the basics of this very long and detailed post, and I definitely recommend that you read it, especially if you're struggling with anything below the $5,000 a day mark.
High-Spend Lead Generation on Facebook
Now we come to some general questions. What is your favorite high spend lead generation structure for your Facebook campaigns? My favorite answer was my own answer, which is shotgun and surfing all day long.
If you aren't aware of my shotgun strategy, it's in the units section. Basically, you start out with 20 to 40 ad sets in one campaign with high budgets. Then you start cutting ads first around 4:00 a.m. that aren't doing well. After that, start cutting ad sets around 6 a.m. that are doing terrible. Then you cut anything doing terribly again in another few hours.
Then at noon, you're going to be doing only things on the ad set level and you cut anything that's not profitable at even by a dollar. And you continue this for the next few hours. Then reset and turn everything back on and do this for another few days.
Once it's been a few days, you can start leaving bad ads off. After a few more days, you can start leaving bad ad sets off. You should be surfing the good ad sets during this time. This is obviously a very simplified way to describe this. And if you want to get a full, detailed look, I deftly recommend you check out my shotgun and surfing video in the unit section.
If you're looking to spend a lot of money, whether it's on eCommerce or lead gen, it's the way to do it consistently and to be profitable almost every day. Check it out.
Phone Numbers Vs. Emails for Discounts
This next post for AdLeaks TV Episode 5 was about collecting phone numbers for a discount rather than email. Christopher Berg had a great answer here -- he said that email is slightly edging out SMS on revenue when considering email and phone number collection rate and campaign revenue. Email wins hands down, though, when he considers that he gets a much bigger list for retargeting on other ad platforms.
Here are his stats on testing phone collection versus email collection. His email pop-up collection rate was 8 percent, whereas his phone number pop-up collection rate is only 0.7 percent -- a big difference. The email campaign average revenue per unique email is about 4 cents. His SMS revenue per phone number is about 50 cents. Big difference there, right?
When you factor it all in, the email pop up collection RPM is thirty-five cents and the SMS pop-up collection is thirty-four cents, so email is slightly beating SMS. If you optimize a little more, maybe by asking for email on desktop and SMS on mobile, you could probably optimize that a little more, but those are great stats.
Improving Facebook Customer Feedback Score
This next question, which I see quite frequently is about improving your customer feedback score on Facebook. We all know how important that is.
My favorite answer was by Damien Defranco. Damien said, have products you would be proud to sell. If the quality isn't high enough to where you would be confident selling it to your family, don't sell it.
Long story short, build a brand around real quality products and real quality customer service. It's that simple. If the quality of your products is not good, customer service isn't great, if you wouldn't recommend it to your best friend or your family, don't do it. You need to make your business so good that you will actually be around in a few years.
Video View Strategies
This next post asks if there are any good video views strategies.
Jamie Harmon says video views and page post engagement at the top of the funnel, video views and awareness in the middle of funnel at a $1 day per ad set targeting all possible custom audiences who've engaged with your brand in the last 28 days. Stack each one of those in different ad sets based on Curt Maly's BELT Method.
Jamie's been using this method with clients and they're seeing CPAs drop and purchases increase after it runs for a bit. This method is very effective, though it is a little tougher to scale. But for a lot of clients that don't have a massive budget, it's a great method.
Forming Partnerships with Other Companies
This next AdLeaks TV Episode 5 question was how does a company reach out to another company to form a partnership? Seemingly easy question, right? But there's a lot of different things that go into this.
In Damien Defranco's answer, he goes into great detail about percentage splits, how to reach out to other companies, what to say, what to look for, what to do, what not to do, expected outcomes, and so much more.
You have to read this if you want to expand your business with partnerships. This is an easy way to add more money to your bottom line.
Negotiating Dropship Agreements
This next post was about negotiating dropshipping agreements. Again, great answer by Damien Defranco. Damien goes into the who, what, where, when, how and why of dropshipping agreements. If you dropship, you definitely need to read this. It'll save you a lot of effort, money and time.
Equal Pricing Across eCommerce Platforms
Next, should you have equal pricing on your Shopify store versus your Amazon store?
Steven Black says he keeps his prices a few dollars higher on his Shopify stores. This allows him to leverage a perceived discount on Amazon and the Prime shipping experience when he runs retargeting ads on his abandoned carts to split test those ads between going back to his store and going back to Amazon.
Setting, Testing, and Scaling KPIs
This next question was for agency owners -- what's your process for setting KPI testing and scaling?
This is a great grace post for all the agency owners out there about how to talk to your clients about the key performance indicators or KPIs. How do you explain the need to test? What do you tell them when it comes to scaling?
There are so many great answers here that you just need to check this post out for yourself.
Cost-Effective Strategies for Launching New Websites
This next post was something that I get asked all the time. What's a good strategy to kick start a newly launched website for cheap?
Great question, and a great answer by Damien Defranco again. Be active in blogs formed in communities that talk about the subject of your business. Provide value and become an authority. This can indirectly market your website with links in your profile.
You can use Q&A sites like Yahoo! Answers, Quora, Reddit, etc. Write detailed answers there in the space and talk about your niche. Become an authority there and top writer in categories, and it attracts a lot of people to follow you, and in turn, your website or blog.
Post Consistently
Do three releases minimum per week. This is a great opportunity for long-term or organic growth, SEO boosting, etc.
Create a Facebook group and blog there too. Post daily tips and tricks. Create a following and add memes to it. These groups can grow quite big -- trust me, I know. Provide value and become an authority with a following and people will buy whatever you post.
Also, create a YouTube channel and release 2 to 3 tutorials a week on anything that your business and product can be useful for. This will generate long term viewers and traffic. There are lots of things you can do, all for free, that just take a bit of your time.
Thanks for tuning in to AdLeaks TV Episode 5, this is your host Tim Berg. Stay classy, AdLeakers.