Send These 3 BFCM 2020 Email Campaigns to Maximize Sales
It's never too early to start preparing for the much-awaited Black Friday and Cyber Monday (BFCM) season. This year is no exception, especially because this year's Black Friday might be a completely online event. That's major news for eCommerce stores that are prepping BFCM 2020 email campaigns!
During BFCM 2019, we worked with a beauty brand that generated $59,000 in revenue from email marketing in just seven days. Interestingly, $45,000+ of that revenue came from campaigns alone!
The brand also saw 31.6% open rates at that time, their highest ever, after averaging 20%.
We also projected the five email campaigns that would perform well during last year's sales season.
Check out this snapshot of some of the results: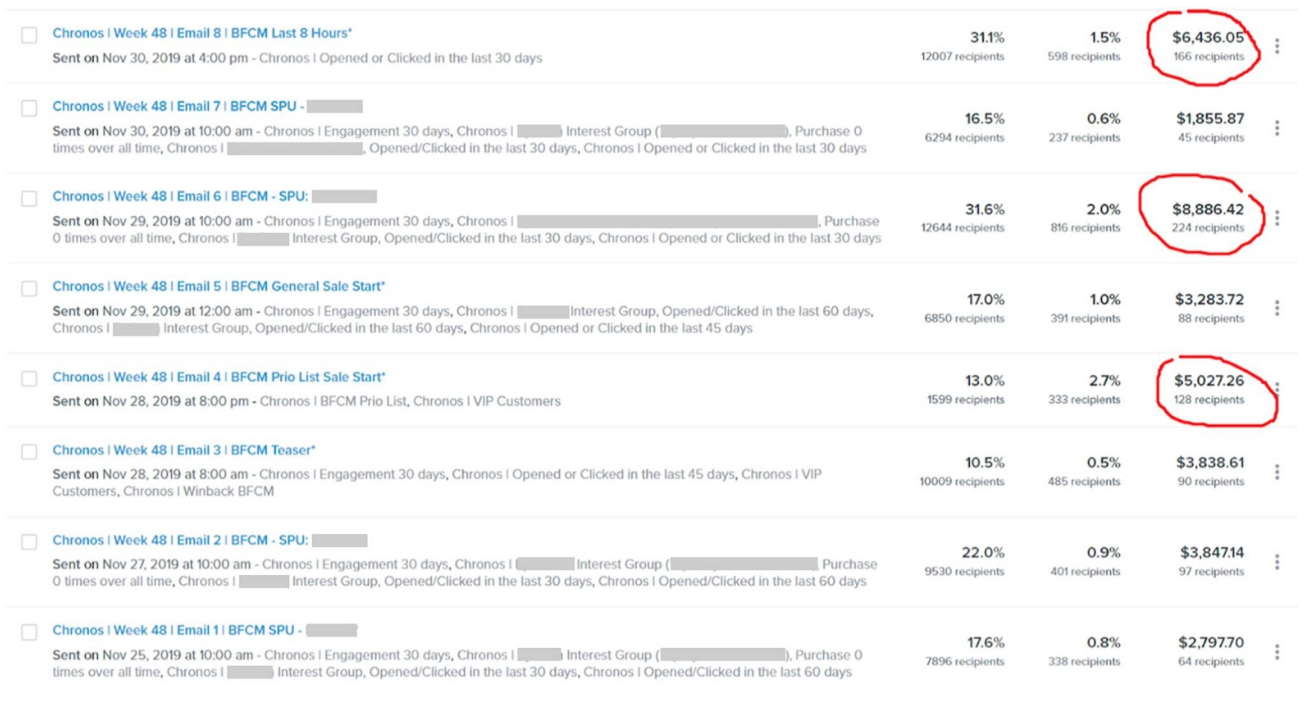 We'll zoom in on the three highest-performing campaigns that could make a difference this BFCM 2020 and maximize your sales.
The Three Must-Have BFCM 2020 Email Campaigns
At Chronos Agency, we mention the 6-Step Holiday Sales Sequence frequently. Each step in the sequence is essential to achieving groundbreaking results, but these three emails did a lot of the heavy lifting for this brand last year.
1. Build Excitement First, Reap More Sales Later
The first email in the sequence is what we call "the Hype Builder email." It aims to excite your customers by giving them a teaser of what's to come.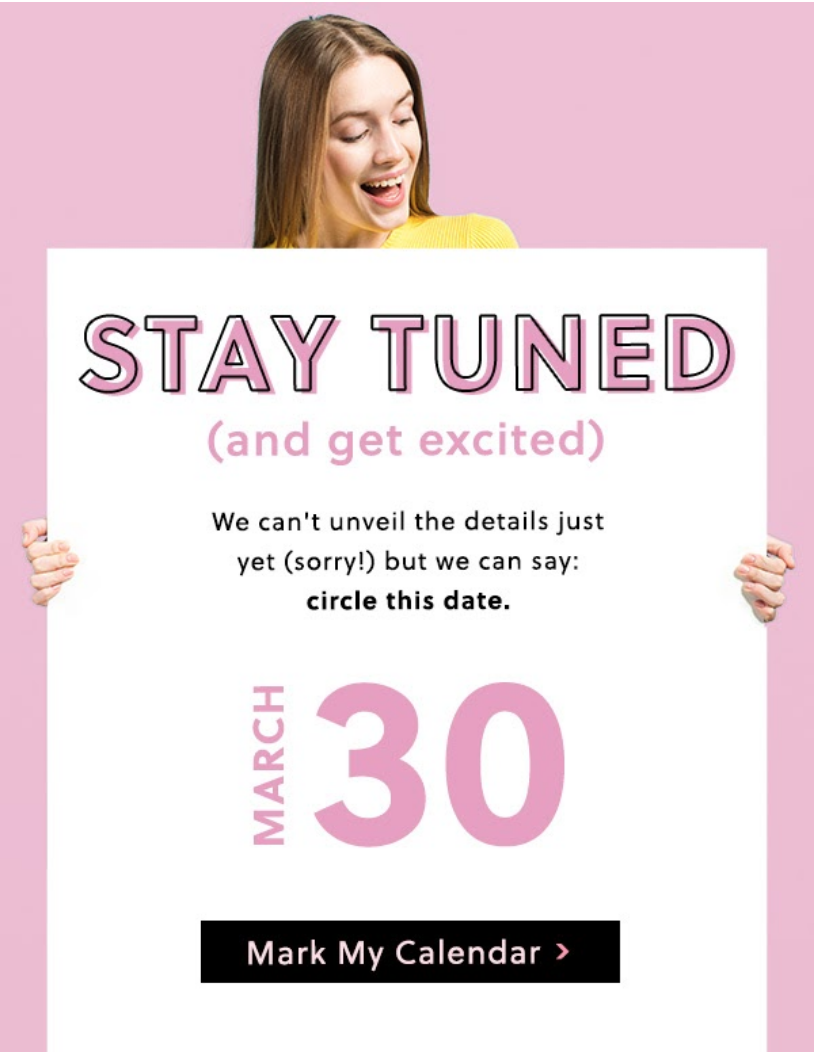 Example of a hype builder email
The Goal of a Hype Builder Email is to:
Generate anticipation and curiosity for those on your list
Notify would-be buyers of the upcoming sales event
Highlight the discounts coming their way (see point 1)
Provide a reminder for the upcoming event, such as an add to calendar button
You may also want to include an opt-in option if they want to receive updates and announcements specifically related to your BFCM 2020 email campaigns. Consider this your VIP list.
Having a VIP list is effective because it will help with your customer segmentation. It can also increase your open rates since you'll have subscribers who voluntarily signed up to receive updates.
The VIP list is crucial. This will help in keeping your open rates high and unsubscribe rates low as you approach the sales period. So make your VIPs feel like they are part of an exclusive cohort by continuing to send them teaser campaigns and bigger discounts.
Here's what we did:
We sent hype builders that served as invitations to an early access sale. Interestingly, these pre-hype emails actually generated around $2,000 to $3,000 in revenue per email.
We used more transactional call-to-action (CTA) buttons in our emails. For example, we included a product block to highlight must-haves and recommendations and the CTA button was the discount code as opposed to "Shop Now".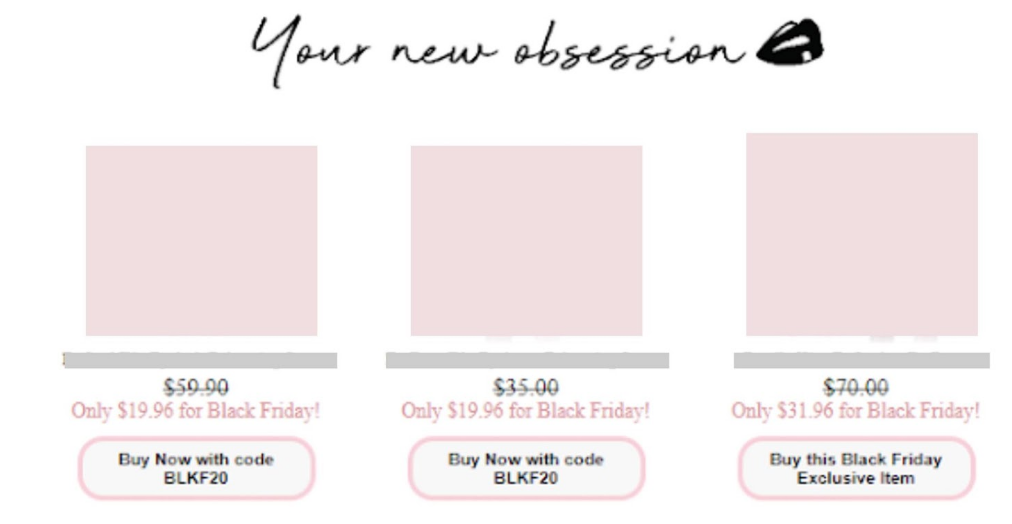 By doing so, we were able to drive some customers to purchase even before the actual sales day. And we did it by offering a clear, singular messaging: huge sales are coming, grab these warm-up discounts before the big day.
2. Roll Out The Red Carpet Early
Essentially, we classify our VIPs as customers who bought from us recently or buy frequently.
The keyword here is opted-in.
During the holiday sales season, VIP customers who opted in to be part of your VIP list get access to bigger discounts, or get to have early access to the sale.
After building the hype towards the main sales event and your VIP list, what's next?
Your "VIP Launch Email." This message is intended to:
Give your VIPs an exclusive opportunity to avail better deals and more discounts
Celebrate and reward them by making them feel like they're a part of an exclusive community
Announce another perk of being your store's VIP customer, early access to the sales
Interestingly, this launch email had the smallest number of recipients, but it was able to generate almost double the revenue compared to the general list.
Why? It's because the VIP list is a self-opt-in list of high-value, returning customers.
Since they voluntarily signed up for this, you're sure to generate revenue be it through average order value or the frequency of which they have bought from your BFCM campaigns.
So remember to keep building your VIP list in the days leading up to BFCM, so your VIP launch and the campaigns following that will be a smashing success.
3. Remember To Seal The Deal
The crucial factors of "The Sales Closing Emails" are urgency, deadline, and the fear of missing out (FOMO).
This is where we really leveraged the sense of urgency. We sent reminder emails eight and six hours before the end of the sale period. We sent this out to a special segment composed of VIPs and customers who opened or clicked our emails all throughout the BFCM period.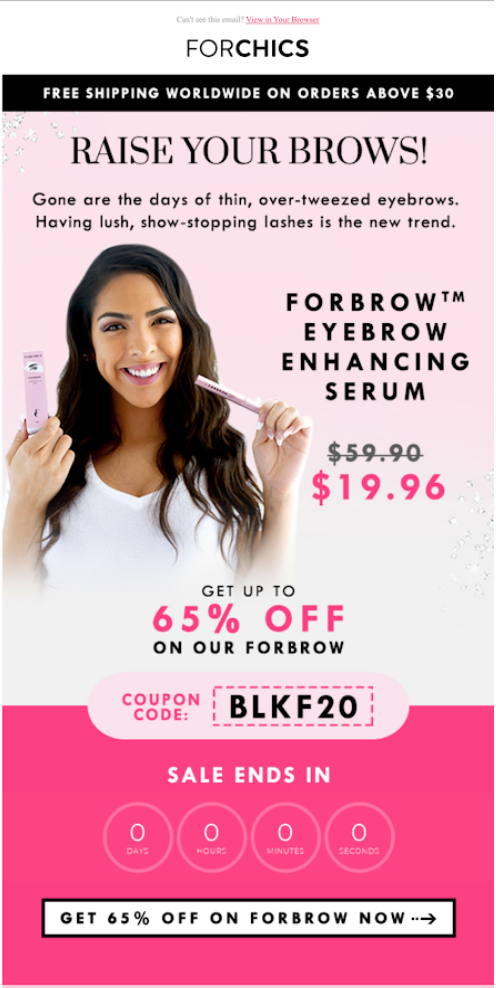 As a result, one email generated almost three times the revenue compared to the succeeding sales closing emails!
Remember that the first Sales Closing email almost always hits the hardest, since it's the first that speaks of urgency. That's why it's recommended to send a follow-up after two hours, which is exactly what we did.
Ideas for Sales Closing Emails
Integrate a timer in your emails to give your customers the push they need.
Indicate product scarcity by marketing your highlighted products as having limited stocks.
Dig deep into your A/B test results library and apply the strategies that worked best. For example, previous A/B tests for this client showed that including a 'Recommended For You' section had a positive impact on conversion rates. We leveraged that by showing customers the products they already wanted.
Work the discount into the CTA button. A transactional CTA suits the urgency of these sales emails.
These three hard-hitting emails make up only half of our highly effective six-step sales sequence. This means there are three other steps that contributed to the success of this brand.
The sequence is the backbone of our whole BFCM strategy.
In fact, the results have been so phenomenal that we've started applying it to other eCommerce events and holidays like Valentine's Day.
Your BFCM 2020 Email Campaigns Can Set New Records
The six-step sales sequence doesn't work alone. There are other factors that you have to integrate into your strategy, like segmentation and A/B or multivariate testing.
It can be pretty overwhelming, especially since some of these strategies have to be done in advance to ensure that you maximize your sales.
There's still time to prepare for BFCM, so make every minute count!