5 eCommerce Cart Abandonment Lessons from 500k Customer Conversations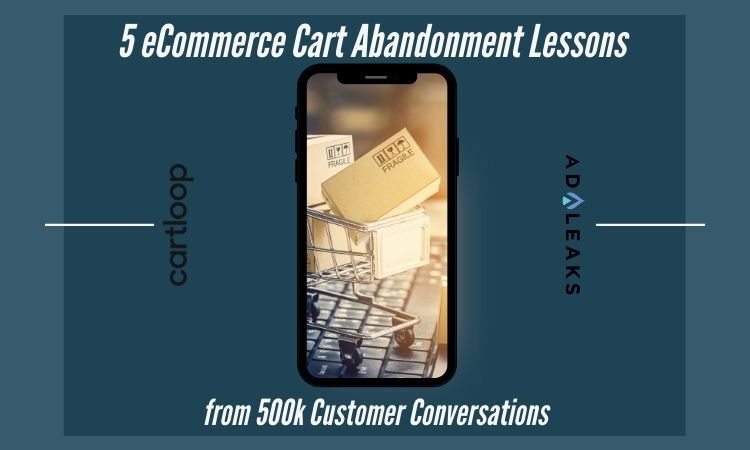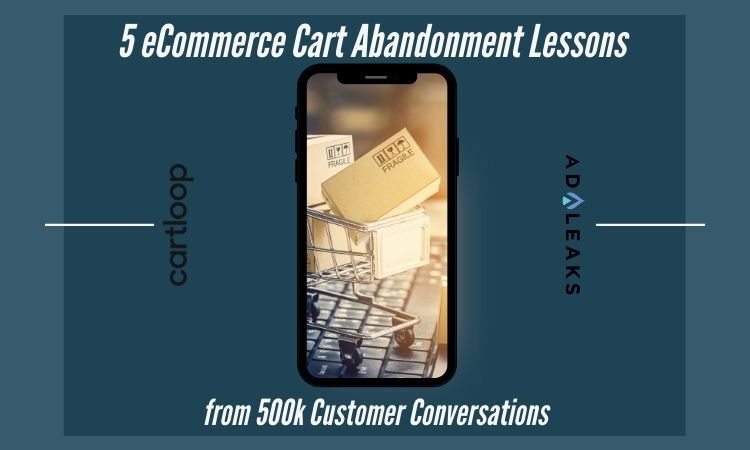 When was the last time you spoke directly to your customers to find out what wasn't working for them?
Because we just did!
More specifically, we analyzed more than 514,719 text conversations with abandoned shoppers to find out exactly why they placed items in their cart but didn't buy them.
At a time where online competition is at its record height, a conversational approach can take you places when you're navigating new behaviors and demands of your customers.
According to Shopify Plus's annual report, the five trends that will define eCommerce in 2021 are:
Record online competition
New consumer behaviors that reshape retail
Fulfillment emerging as a competitive differentiator
Brand building challenged by marketplace dominance
Prioritization of retention as acquisition costs spike
Given these market forces, it's time for eCommerce sellers to double down on recovering abandoned shopping carts this 2021. And to do our part, we've compiled some crucial cart abandonment tips for your eCommerce business and summarized them into five actionable lessons below.
So let's dive into the 5 vital lessons from real abandoned shoppers.
Lesson 1: Empathy Goes a Long Way
In a Salesforce survey, 54% of respondents felt that companies should transform how they interact with customers. There is a need to communicate emotional intelligence and personalized experiences over digital channels. We definitely agree.
You should aim to deliver connected experiences instead of fleeting transactions.
An empathetic customer approach can offer you insight into sentiments that numbers and statistics won't show you.
Brand experience is proven to be directly linked to customer loyalty— it impacts how likely a customer is to return to your store and buy from your again. It's a compounding effect on your revenue because a returning customer can bring 67% more sales to your store than first-time shoppers.
With this in mind, we recently reached out to 12 key players from direct-to-consumer (DTC) brands to share the secret sauce of how they built better customer experiences.
These are our six favorite tips:
Your must-haves for returning customers: quick shipping, open communication, encouraging product reviews, and staying true to your brand promise
Take note of both quantitative and qualitative customer data
Make sure support is easily accessible 24/7 to your customers during their moment of need
Automate how you respond to support tickets across SMS, live chat, email, Instagram DMs, or FB comments. You can use Gorgias for a quick response.
The best way to get customer feedback is by speaking directly with your customers face to face
Responding personally on social media—comments and DMs gives you direct insights into who your customers are and what they want from your brand
The next natural step is to talk to your customers — humanization is the new personalization. And this brings us to our next lesson in eCommerce cart abandonment tips you should know.
Lesson 2: Shoppers Don't Abandon Carts Because of Price Concerns
The biggest mistake you can make this year is not using your abandoned carts as an opportunity to understand your customers in more depth. Delving into your customers' opinions and feelings about your brand can carve new revenue-making opportunities for you and your store.
Based on more than 500k customer conversations that we had with abandoned shoppers, we found that the most common reasons for cart abandonment were caused by:
Payment Issues
Unexpected Fees
Technical Issues
Long Shipping Times
Trust Issues
Lack of Product Information
As this Statista data shows, eCommerce cart abandonment rates have been more or less the same for the last 13 years. What you can glean from this inference is that no one's really solved it yet.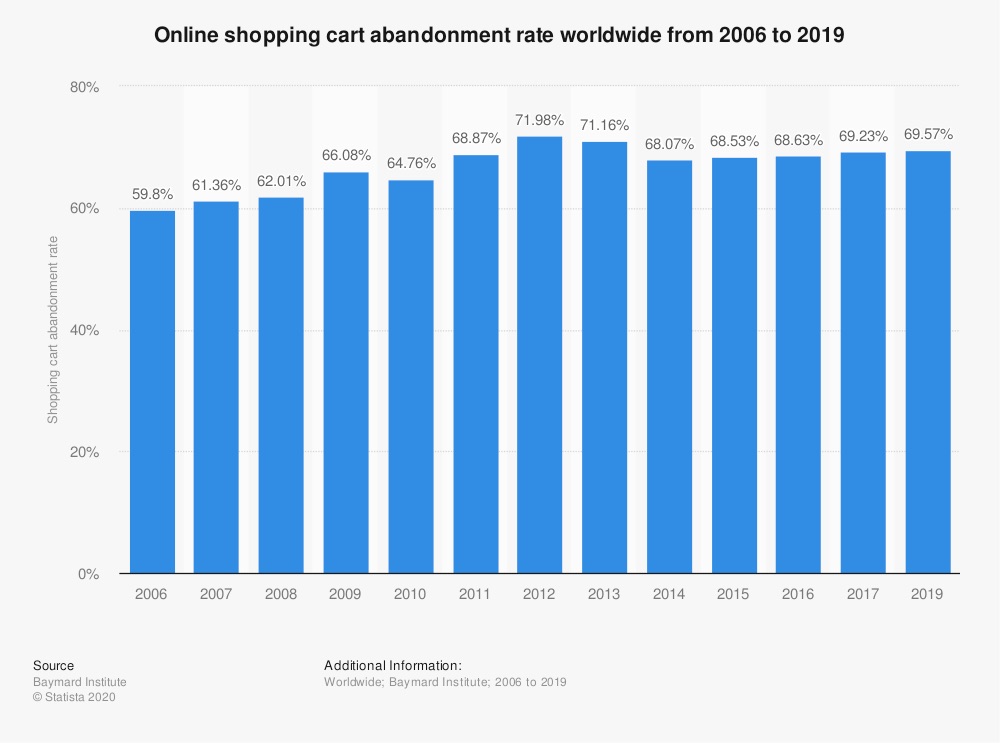 Shoppers who place products into their shopping cart and leave without completing their purchase are only one step away from making that purchase — but didn't.
These are the hottest leads you could get. How do you reach out to them, persuade them, and nudge them to complete their purchase — all within the crucial decision-making stage?
If there's one tip that will improve your eCommerce cart abandonment rates this year, it's that your brand needs to start a conversation with your customers in 2021.
Lesson 3: Payment Issues Are the Top 3 Reasons for Abandonment
According to a study, 8% of customers will abandon their carts if they don't see a payment method they want. That's just one reason your checkout process should be the easiest and most seamless component of your customers' buying journey.
Here's a great conversational example of a cart recovery SMS that best illustrates payment issues from a customer's perspective: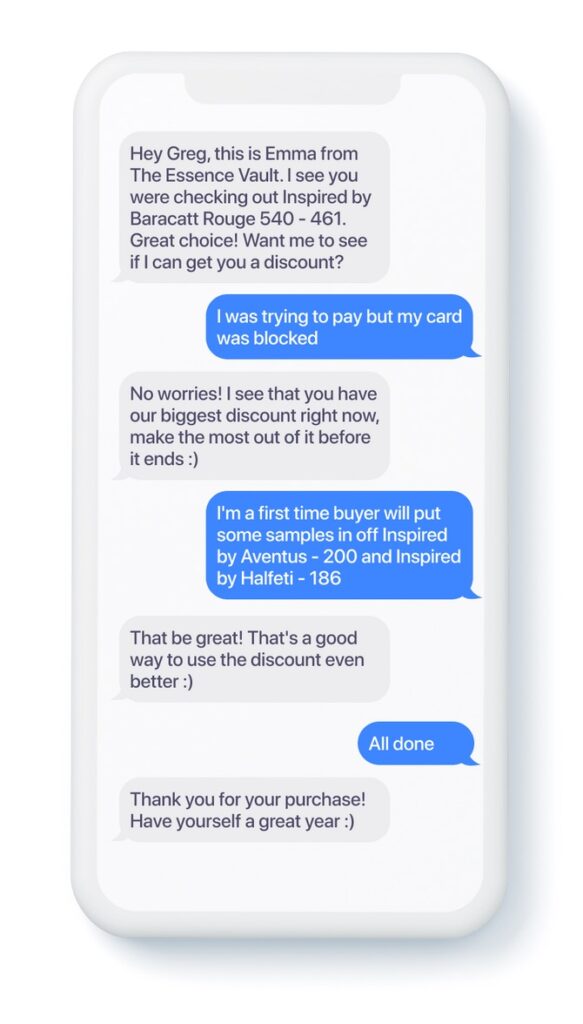 Let's face it, your customer didn't spend time browsing and adding to cart only to be deterred by a lengthy checkout process riddled with roadblocks. It can be very frustrating, and chances are they won't come back.
If you're offering limited payment options, chances are they won't retry again after their payment was declined. This adds up to about 4% of your customers who came close but didn't close the deal.
Use this step-by-step guide to minimize payment issues:
9 Steps to Reduce Payment Problems at Checkout
Reach out to your customers within 30 minutes — that's your best chance at recapturing their attention before a sale is lost for good
Offer to try and understand their situation so they know that you're focused on helping them find a solution
Provide an incentive such as a discount, free shipping, or a time-limited offer
Guide them through the checkout process again
Open the lines over email live chat and SMS to make it easy for your shoppers to reach you
Make sure to offer to take payment through online banking, debit cards, and all major credit cards: Mastercard, Visa AMEX, Diner's Club, Maestro
Find out which payment methods your customers prefer and prioritize them: PayPal, AmazonPay, Shop Pay, Apple & Google Pay
Don't annoy them by asking for essential information only, and allow payments using a Guest Check Out
Offer "buy now, pay later" options— a popular one is Afterpay
Also, offering interest-free installments is a great way to help customers feel that it's easier shopping with you than anywhere else.
Lesson 4: How to Handle Shipping Delays
Almost 3 out of 4 surveyed consumers (73.6%) say that delivery is most important to the overall shopping experience. Also, same-day shipping can motivate 49% of shoppers to buy from you. (Yikes!)
The key to managing your customers' expectations when you're facing longer shipping times is responding quickly and reacting appropriately.
Here's a great example of how it's done over a conversational text message: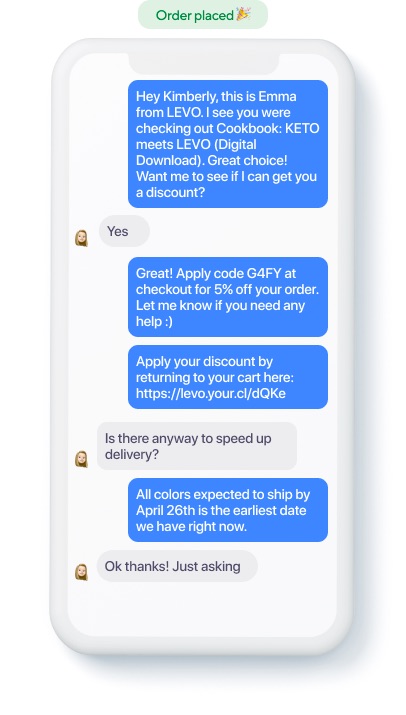 Even if you're dealing with shipping delays like the example above, this conversation uses three tactics to manage the situation well:
"Kimberly" first introduces herself from the brand and immediately establishes herself as the customer support contact in case the shopper needs to get in touch
It communicates transparency about the estimated shipping time and manages their expectations with real-time updates
Reassures the customer dealing with long wait times with extra communication
Having a single point of contact for your customers is a great strategy that will keep customers always in the loop and keep their trust levels up until their order arrives. In SMS marketing, brands can easily establish a two-way communication channel using dedicated phone numbers as opposed to using shared numbers.
If you're able to interact with your customers in real-time, they'll not only appreciate being kept in the loop and the instant support.
You can also display your brand's information on shipping and delivery details on your website to inform shoppers and draw their attention using a call-out bar or a pop-up on your website. Here's a great one you can customize according to your website.
Lesson 5: Unexpected Fees and Taxes Will Cost You
Everyone loves free shipping and guaranteed free returns. In fact, customers are five times more likely to buy from you if you offer it.
But here's what you should be doing if you're wondering how to offer free shipping and conserve your margins at the same time:
Build your shipping costs into your product prices
Be transparent about it and remind them frequently
Your customers will appreciate the authenticity, and it'll earn you more trust points with them
Or, exercise a shipping threshold and advertise it everywhere on your site — welcome banners, footer, at the checkout, etc.
As our point above, only offer free shipping after a cart passes a certain dollar amount
Leverage user-generated content to emphasize your unique selling points
How to Act on eCommerce Cart Abandonment Feedback in 2021
Congrats on making it to the end! How did you like our top 5 eCommerce lessons and cart abandonment tips?
I know we even went through some pretty cool conversational examples of cart recovery text messages. You can also check out this case study of how Jazzcupo converted a massive 20% more abandoned carts for their store.
They hit 14x more in ROI from using a conversational approach.
Before we go, let's jog your memory. Wrapping up the 5 Lessons on Cart Abandonment we summarized from 500k real text conversations with abandoned shoppers:
Empathy goes a long way
Price is not why shoppers abandon their carts
Payment issues are the top 3 reasons for abandonment
Shipping delays— manage them by responding quickly and reacting appropriately
Unexpected fees and taxes will cost you (and your business)
Finally, here's one last eCommerce cart abandonment tip: offer real value to your customers by engaging frequently and gaining insights through real-time feedback.
Try out a conversational approach this 2021 and start recovering up to 5x more abandoned carts. And book a demo with us at any time or get a 14-day unlimited trial now!