6 eCommerce Holiday Marketing Opportunities You Shouldn't Miss in Q2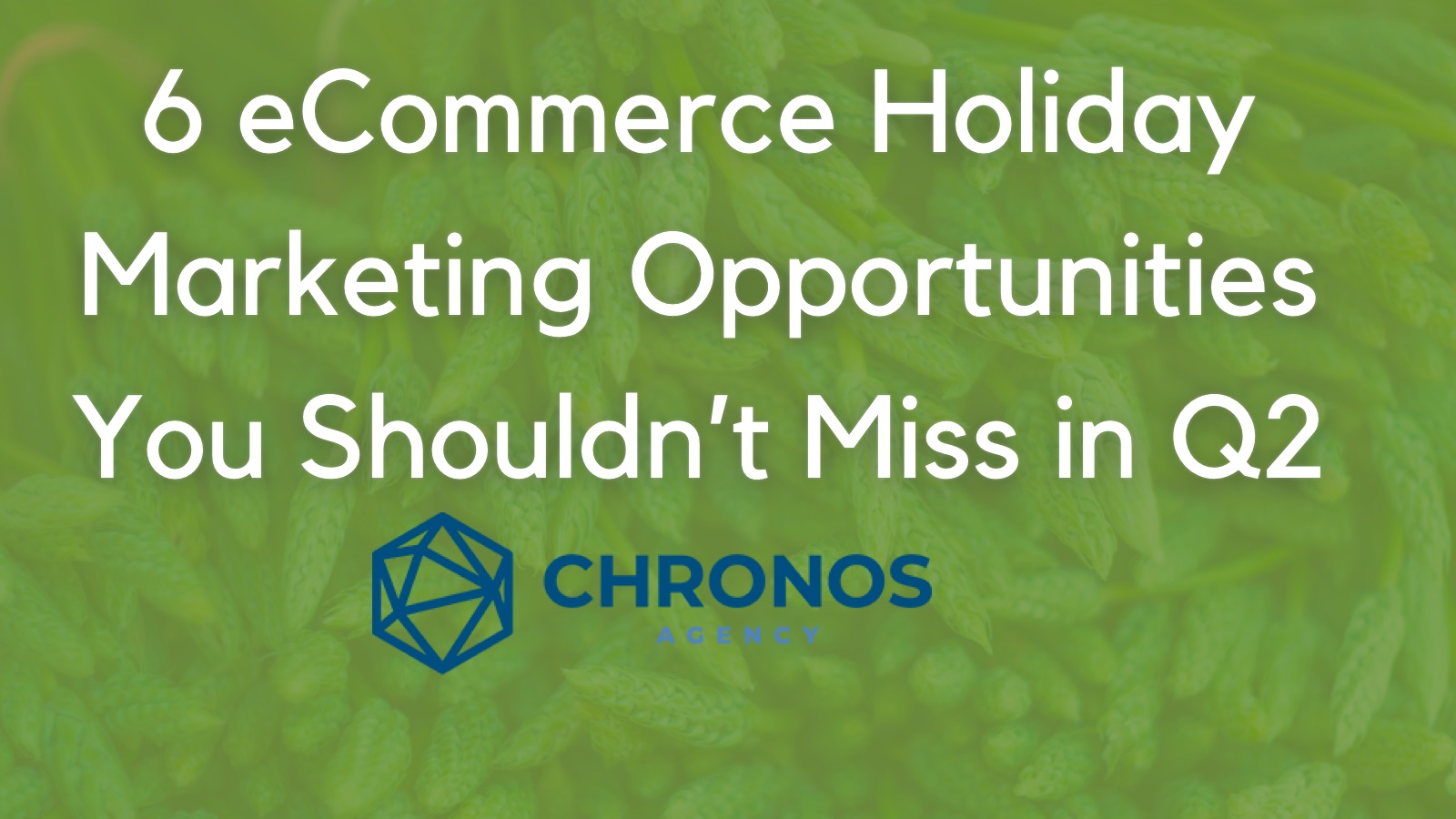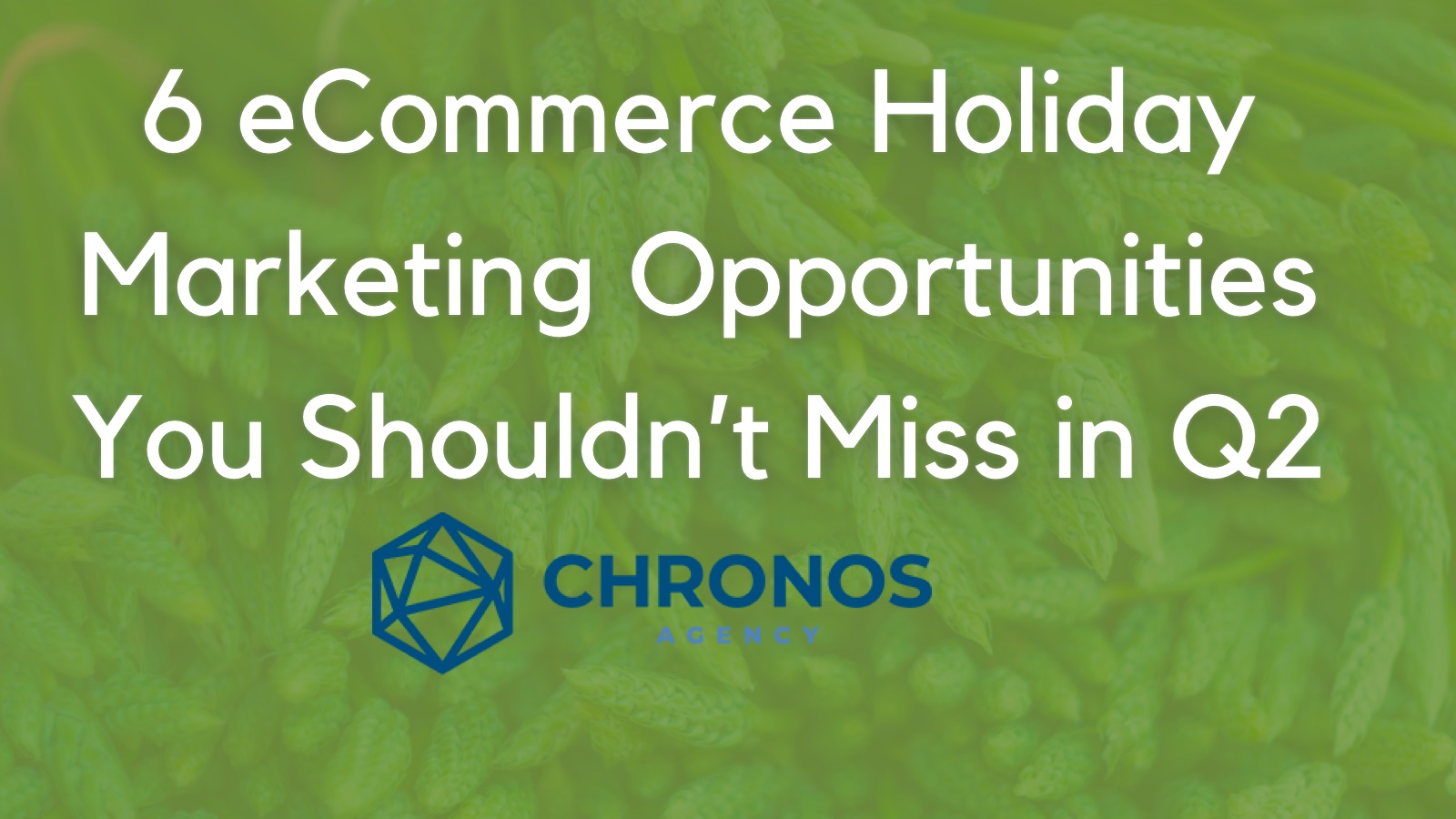 Holidays are eCommerce stores' best friends. Even 7 to 8-figure brands still invest heavily in their eCommerce holiday marketing efforts.
The holidays are fantastic opportunities for your online business to boost its revenue and grow its customer base.
After all, it's the best time to catch consumers in a shopping mood and build your relationship with them.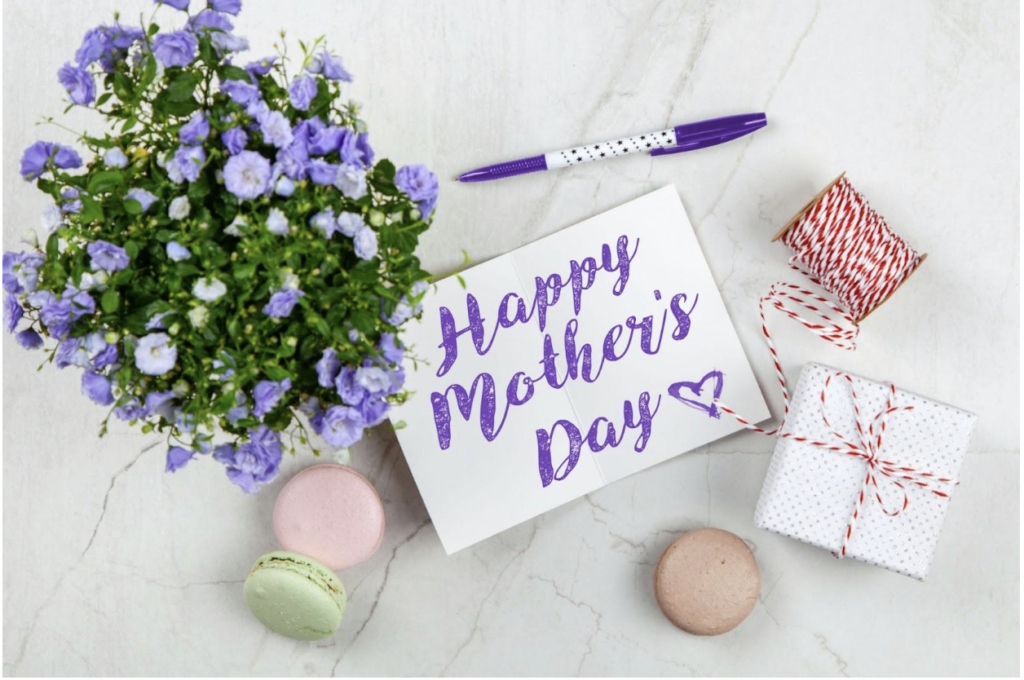 To help you get started, we've put together a concise list of holidays you should leverage during Q2. We've also included some action items that you can use as guidelines when setting up your Q2 holiday marketing game plan.
We've also put together a handy downloadable filled with insights from industry partners and experts from Klaviyo, Gorgias, ROAS Media, Tapcart, Okendo, and more on the aspects you need to zero in so that you can expect to scale from $1M to $10M plus!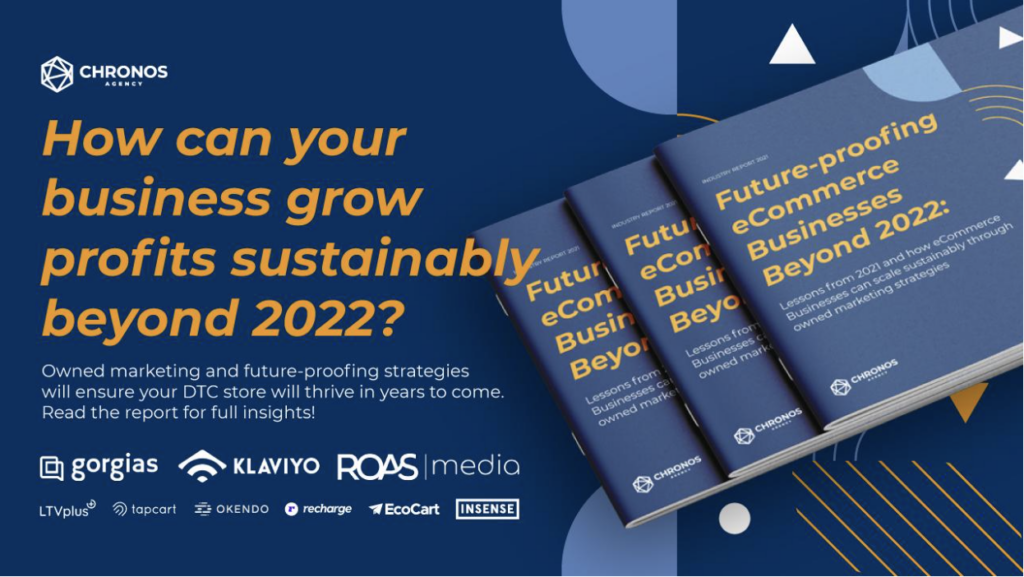 Big Profit eCommerce Holiday Marketing Opportunities To Leverage
There are four holidays in Q2 that keep consumers reaching for their wallets. The first one is only a few days away…
1. Easter Sunday (April 17)
Religious and non-religious people around the globe celebrate Easter. In addition to religious gatherings, this is a time when people connect with their families, enjoy cultural food, and even go shopping for seasonal products.
In the US, around 81% of the population celebrates the holiday, and 28% of them choose to shop for Easter goods online.
Take advantage of this opportunity by catering to this particular demographic when setting up your promotional materials.
ACTION: Leverage personalized and segmented messages while sticking to your branding standards.
Because Easter is a highly commercialized holiday in the USA, you'll need to localize your content to cater to American audiences. Don't forget, however, to build your customer relationships with creative and on-theme content.
Make family and the core culture of Easter the center of your promotional material. Practice proper list segmentation to make sure your Easter campaigns reach the right audiences.
Here's a great email example from DoorDash where on the get-go their copy already highlights the importance of family during the Easter holiday. They even themed their gift suggestion email after the Easter holiday spirit of giving and being generous to your family and friends.
DoorDash also touched on their customer experience by including a simple step-by-step process that explains how to send gifts using their service.
2. Earth Day (April 22)
This is where sustainable shopping enters the limelight. Appeal to your younger audiences by showcasing content that highlights sustainable practices and shopping options.
What's the benefit of catering to your Millennial and Genz Z consumers? Consider these stats:
The sustainability of business operations is still a big factor when it comes to consumer buying decisions. This is in addition to the ongoing pandemic as well.
With that in mind, you can celebrate Earth Day by highlighting your company's sustainable and eco-friendly practices.
ACTION: Promote sustainable products and delivery options
Do your delivery operations offer more eco-friendly packaging options? Promote it! Use content to let your customers know that your online store is part of the sustainable shopping agenda.
Highlight user-generated content (UGC) to help get your message across to your customer base. If anybody's going to question your brand's sustainability practices, your own customers would have the answers.
Here's an example from the beauty brand ForChics. Their Thank You email includes content that reminds their customers about their cruelty-free products.
So not only are they thanking customers for buying from their store, but they're also showing their customers why buying from them is the right choice.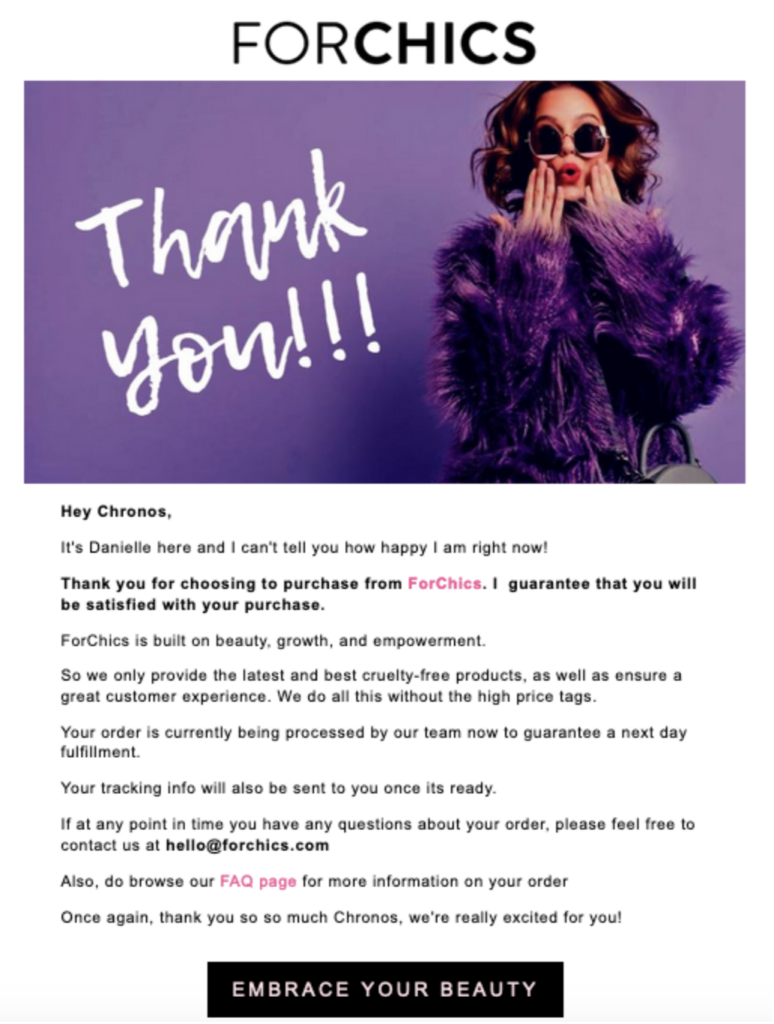 Another action you can take, if possible, is collaborating with Environmental Groups. If it's right for your niche, you can try marketing campaigns where your brand donates a percentage of your profits made on Earth Day sales to those groups.
Every little bit counts, and your customers will greatly appreciate your initiative in acknowledging their values.
3. Mother's Day (May 8)
Mother's Day is one of the bigger holidays you mustn't miss out on. In fact, it's the third-largest celebrated holiday in the US! And out of the whole population, 29% of Americans choose to buy their Mother's Day gifts online.
This is the best time to showcase gift guides and gift bundles as they're the best way to help your customers find the gift they're looking for. Push the effectiveness of your Mother's Day campaigns with customer retention email strategies.
Consider this Mother's Day email we made for a client. The key takeaway here is to focus your copy and content around appreciating mothers. Your intent to sell shouldn't be as pushy this time.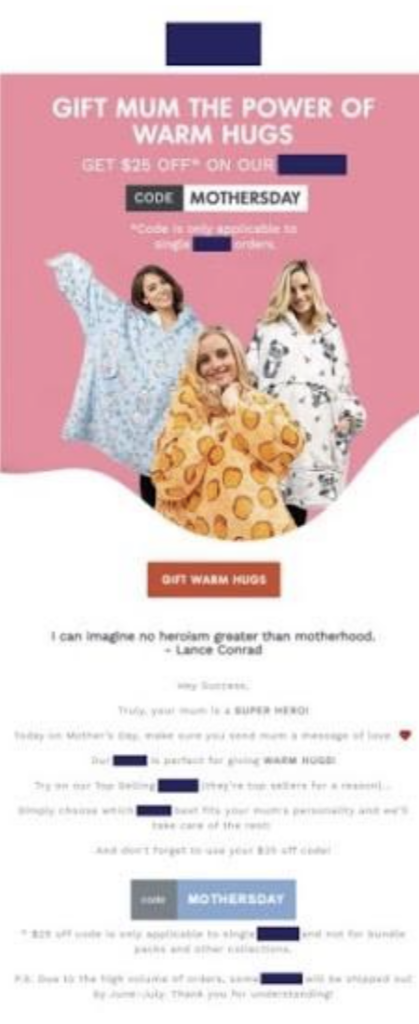 4. Father's Day (June 19)
Don't forget about Father's Day! In both the US and the UK, 77% of men celebrate Father's Day, which is a significant audience worth catering to.
Also, 37% of consumers say they shop online for Father's Day gifts, and 57% of them use mobile devices.
So aside from making personalized messages and content for celebrating Fathers, you'll need to consider optimizing your marketing campaigns and website to be mobile-friendly.
As is with Mother's Day, you can't go wrong with gift guides and bundles dedicated to products fathers would love.
Here's a simple yet effective email example by Eight Sleep: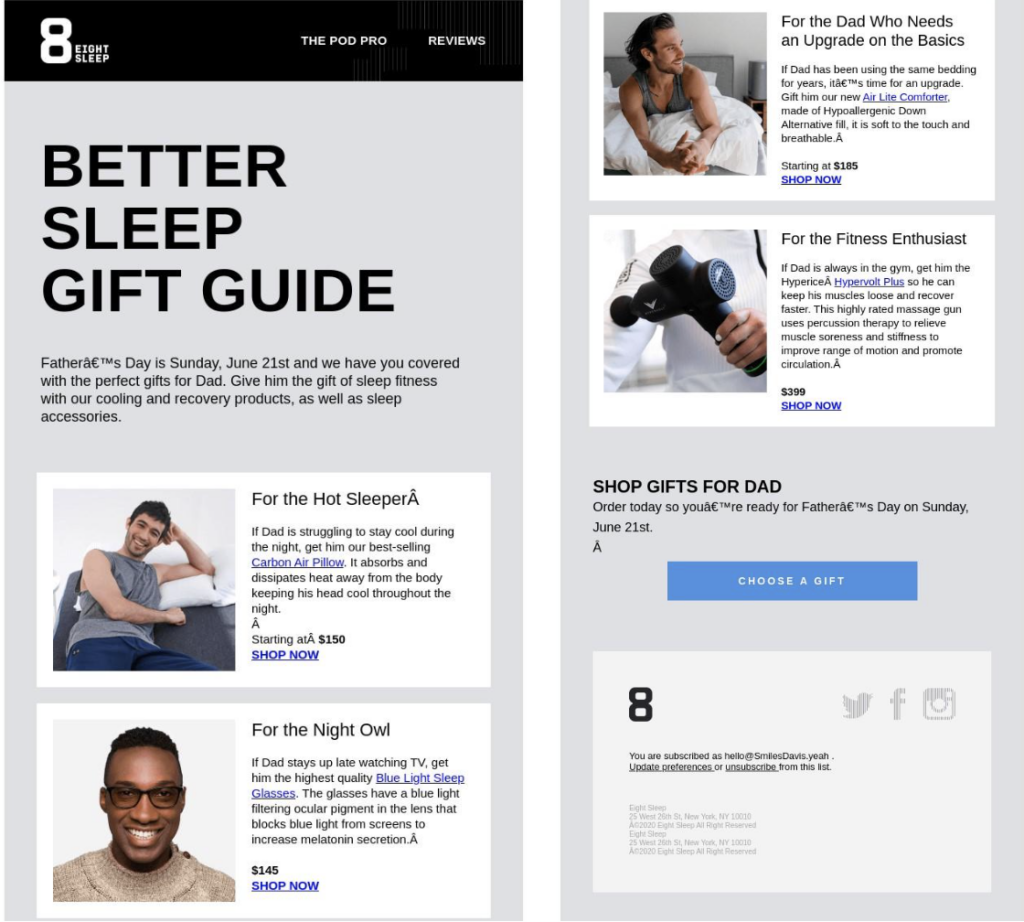 The content focuses on gifts that help give fathers much-deserved relaxation and comfort. Eight Sleep even designed their email to display properly on mobile devices.
Now that we went through the big profit opportunity holidays, let's mix mingle with the more fun holidays you can get into for building customer relationships.
Fun Customer Engagement Opportunity Holidays You Should Consider
Leverage these holidays for forging more fun and creative connections with your customer base. Your customers will appreciate your brand showing its more human and down-to-earth side.
Here are two other holidays you can use to connect with your audience:
1. International Day of Families (May 18)
This can be more for your social media channel. No need to get too promotional or too into sales during this holiday—just focus on connecting with your customer base.
However, a simple discount code for family-themed products or bundles won't hurt. Just remember to focus more on customer engagement and less on making sales for now.
QUICK TIP: If your employees are willing, they can share family photos that you can post on your social profiles. Celebrate your employees' hard work in keeping their families happy.
2. National Selfie Day (June 21)
For your brand, this holiday should be all about user-generated content (UGC).
QUICK TIP: Encourage your customer base to share their selfies with the products they bought from your store. Repurpose them into UGC content you can share on your social media platforms and even in promotional content such as emails and SMS.
Remember That Holidays Are For Profit AND Fun
While holiday sales are for raking in the profits, don't forget the holidays are meant to also be fun. Show your brand's fun side by mingling with your customers with creative content and engaging messages that connect with them during the corresponding holidays.
When you establish that deeper connection, you can expect higher conversions and more repeat buyers — ultimately leading to higher customer retention.
Customer retention marketing is the core of lifecycle marketing. Seven to eight-figure eCommerce brands know this, and we can share winning strategies from our experience with over 400 brands with you!
All it takes is one free strategy call with us, and we'll get to work on your online store's eCommerce success game plan.
Need a sample of our work? Check out our 6-Step Holiday Sequence that's worked for a lot of our clients in generating the numbers they needed to scale their business!