Tested and Proven Father's Day Email Marketing Campaigns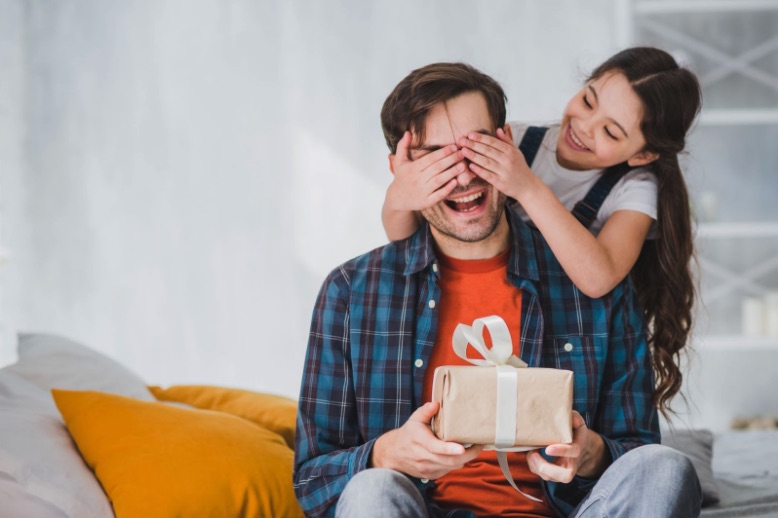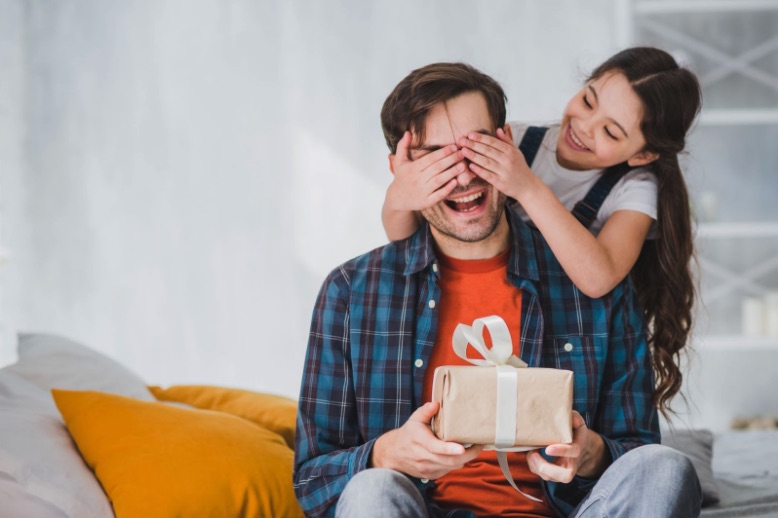 Father's Day is coming up! Like most holidays, there's sure to be a shopping surge for presents—or so you'd think.
Even though Father's Day is an international holiday celebrated almost everywhere, it still falls behind Mother's Day in generating sales in the days and weeks before the event. With the right Father's Day email marketing strategies, however, you can definitely ramp up your revenue while making dads everywhere feel special.
Why Should You Take Time to Plan Your Father's Day Email Marketing Campaigns?
In 2020, National Retail Foundation analysts estimated Mother's Day spending to reach up to 26.7 billion dollars! But their estimate for consumer spending during Father's Day was only $17 billion. Notice the discrepancy?

This year, however, the NRF has increased their estimate for Father's Day spending to 20.1 billion dollars, which indicates a lot of untapped potential around this holiday.
If your eCommerce brand caters to a male audience, that's some serious revenue you definitely wouldn't want to pass up.

Drilling down on effective Father's Day email marketing may be a much-needed revenue boost as the second half of the year comes creeping in.
4 Winning Email Marketing Ideas for Father's Day
With COVID-19 vaccinations rolling out in various parts of the world, people are starting to go out for shopping again. That said, eCommerce as an industry continues to rise. One estimate suggested that 2.14 billion people will buy something digitally this year. That's more than 27% of the whole planet's population.
ECommerce businesses can leverage email marketing to tap their current customers and subscribers and remind them that a very important holiday is coming up. Remind your subscribers that it's time to get Dad something!

Here are some examples of effective email marketing strategies that you can use to jumpstart your Father's Day campaigns.
1. Create Engaging Campaigns That Show Why Your Products Are Perfect Gifts for Dads
This is a pretty straightforward tactic for eCommerce brands that carry products for men. Focus on offering your best-sellers to your existing subscribers. Emphasize what makes these products special and why they are perfect for dads specifically.
Of course, there are eCommerce stores with products that are not usually given to men and especially dads. And while this may pose a challenge, you can think outside the box and explore some unique angles.

Check out this sample email marketing campaign from an eCommerce store that sells crystals. Even though healing crystals aren't always associated with dads, this Father's Day email marketing campaign tied the two together quite effectively.

2. Provide Gift Guides or Bundles Using Different Combinations of Your Products
Make it easy for your customers to purchase their Father's Day gifts from your eCommerce store!
You don't even have to launch new products. Instead, emphasize what you already have and put together creative gift guides or bundles.

Create a campaign that lays out your best sellers as the top gifts for dads. And don't forget your sharp CTAs to turn those emails into revenue!
3. Highlight the Event, Not Just the Product
Not all eCommerce stores carry products that are easily associated with dads. If you're a beauty brand that carries nail polish or make-up, for example, figuring out Father's Day can definitely pose a challenge.
In these instances, focus your content on the celebration and the event itself without hard-selling any of your products. You can slip in a mention or two about your product, but keep your email focused on Father's Day itself.

You'll be surprised at the engagement levels this will bring. It also adds a human touch to your eCommerce brand, as your subscribers will start to look forward to your content, not just promotions.

4. Create Content for Different Types of Fathers
Recently, Father's Day has expanded to celebrate different types of dads. They can be your brother (who's a new dad or going to be a new dad), or your mom who stood in as dad since you were young. Some even celebrate mentors, father figures, and grandfathers.
What does this mean for your brand? This gives you more opportunities to engage with your subscribers even if your products are not usually for dads. Here are some angles you can go with:
Position your products as great gifts for father figures in their lives, whether he's a boss or a fun family friend
Hit more birds with one stone by sharing a gift guide that outlines options for the men in your customers' lives
Create a message that tugs at subscribers' heartstrings by greeting the dads that are in your database, as well as their dads. After all, the celebration is about them!
3 Crucial Tips for Father's Day Email Marketing Campaigns
As you get ready to launch your Father's Day campaigns, keep these important tips in mind to ensure a smooth, successful, and seamless sales event.
1. Make a Splash in Your Customers' Inboxes With Stand Out Subject Lines
You know how important subject lines are, right?
Subject lines are a major factor in email marketing success. And they can make or break your email marketing campaign for Father's Day.
Did you know that 47% of your recipients (dangerously close to half!) will decide whether or not to open your emails based on the subject line alone?

Check out this collection of the best Father's Day subject lines for inspiration. Remember, standing out in a crowded inbox is a preliminary step to generating revenue.
2. Leverage FOMO by Employing a Sense of Urgency
FOMO is real! People don't like the feeling of missing out. And we've successfully leveraged that feeling for major holiday events like the Black Friday Cyber Monday season.
The email below is a great example of a successful campaign. A 70% discount is already attractive on its own, and when you add a 24-hour deadline, online shoppers will definitely not want to pass this up!

3. Empathy Goes a Long Way
It's important to be sensitive when it comes to specific holidays like Father's Day. You must acknowledge that not all of your subscribers are in a celebratory mood.
Klaviyo emphasizes that holidays like this may stir up feelings of sadness or loss in some people. Receiving marketing emails for Father's Day may trigger them and cause them to unsubscribe completely.
Make sure that there is an option to opt-out from Father's Day-specific emails to give your customers room to set their preferences. This will also reflect positively on your brand as you continue to build stronger customer relationships.

Here is an example shown by Klaviyo: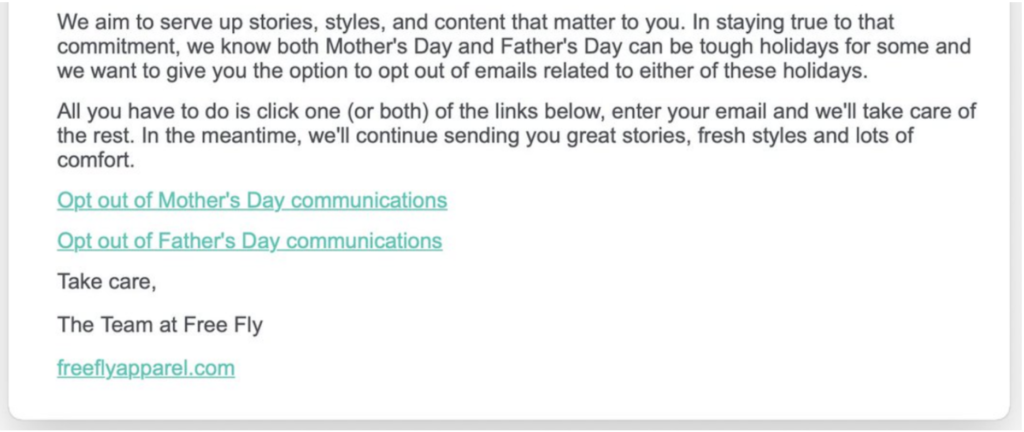 Start Your Father's Day Email Marketing the Right Way
Don't underestimate this holiday as a sales opportunity. If you haven't started preparing your Father's Day campaigns, now is the time!
With about a week left before Dad Day 2021, you can still formulate an effective strategy using the tips and best practices above.
And finally, you can also apply for a free strategy session with email marketing experts who can evaluate your existing campaigns and recommend improvements. Don't wait — schedule your session now!