How to Maximize ECommerce Revenue From Google Ads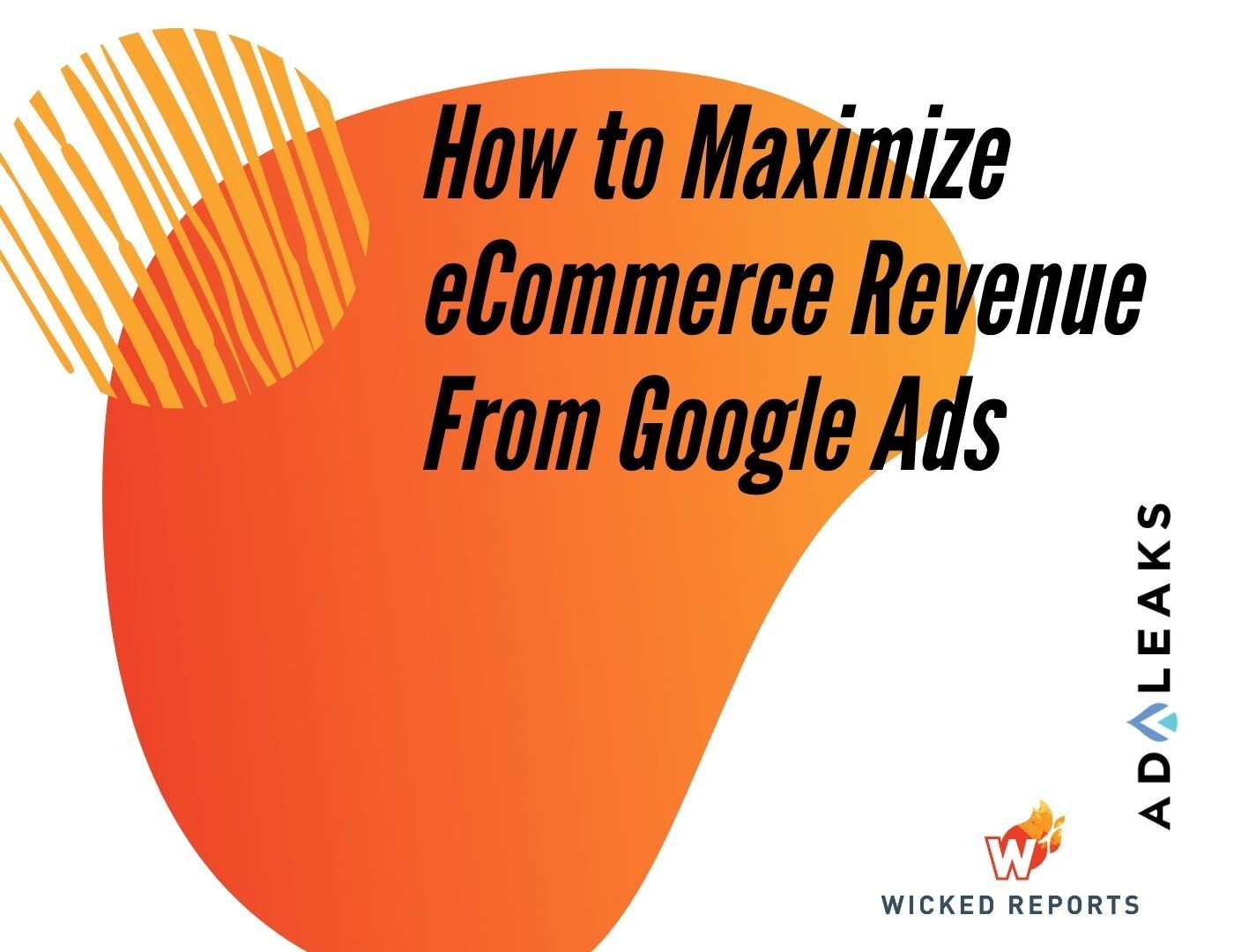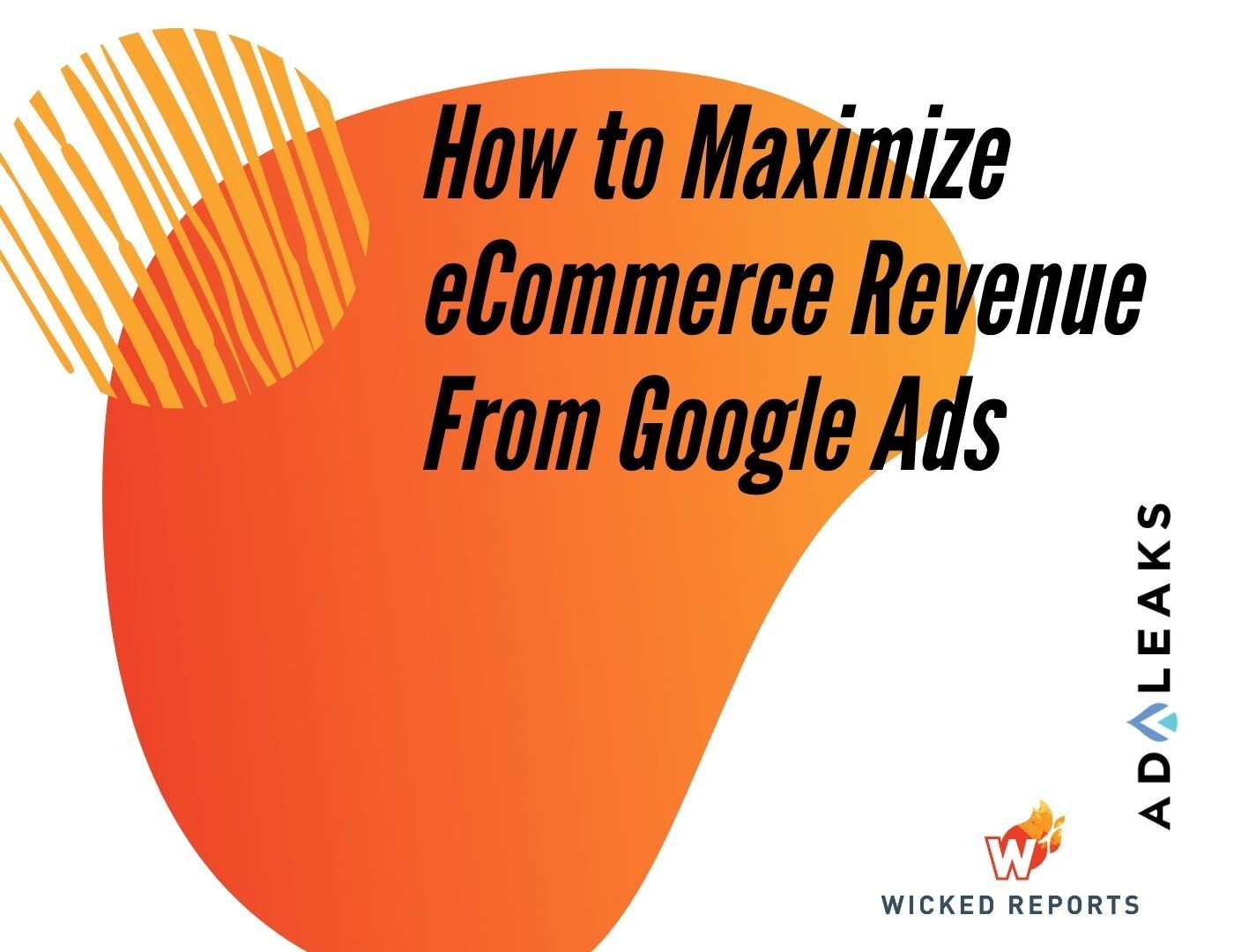 We've tracked more than $5 billion in ad spend at Wicked Reports, which has given us incredible insight into what works and what doesn't for eCommerce companies that are scaling their revenue from Google Ads.
One area that is critical in driving revenue growth customer Lifetime Value (LTV). We've noticed that too many eCommerce brands are missing out on opportunities to improve their ROI by failing to maximize the capabilities of Google Ads.
Keep reading to learn how you can use Google's powerful audience targeting and new lead generation options to massively improve your customer LTV with higher value leads.
Google's "Secret" Advertising Super Power: Audience Targeting
Google has very powerful and new-ish targeting options that are people and intent-based. If you aren't already using them, you should be!
Audience-based tracking is a huge opportunity because your competitors probably aren't using it (yet). The three people-based Google Audiences are:
1. Custom Lists
2. In-Market
3. Affinity
These audiences are determined by user activity, including search history, websites visited, Android phone activity, email content, and YouTube videos watched.
In other words, they help identify people actively looking for what you're selling. You can see how in-depth this gets, and how powerful it is to connect activity on so many different platforms to determine an audience.
To browse people-based targeting options for Google Ads, you can look at a few different activity areas, including:
Who they are (Detailed demographics)
What their interests and habits are (Affinity)
What they are actively researching or planning (In-market and life events)
How they have interacted with your business (Remarketing and similar audiences)
Your custom audiences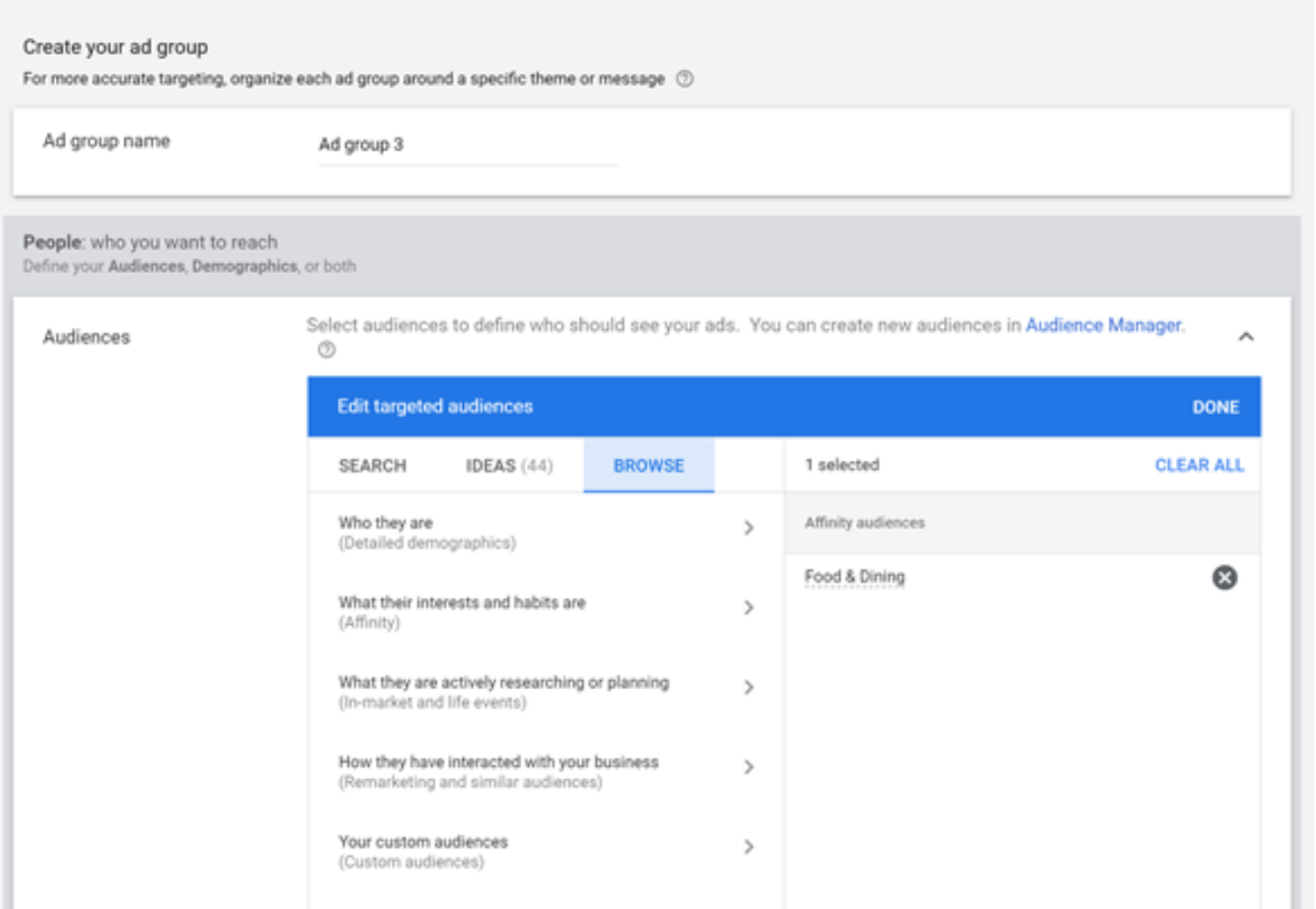 "Ideas" For Audiences
Once your account has been hooked up to Google Analytics long enough to get some "seasoning," Google will also begin showing you "Ideas" for audiences.
These ideas are based on your account's past performance, much like lookalike audiences on Facebook. Google is stricter with their criteria, however, and more upfront about how close of a match their segments are.
Take a look at how detailed these can be: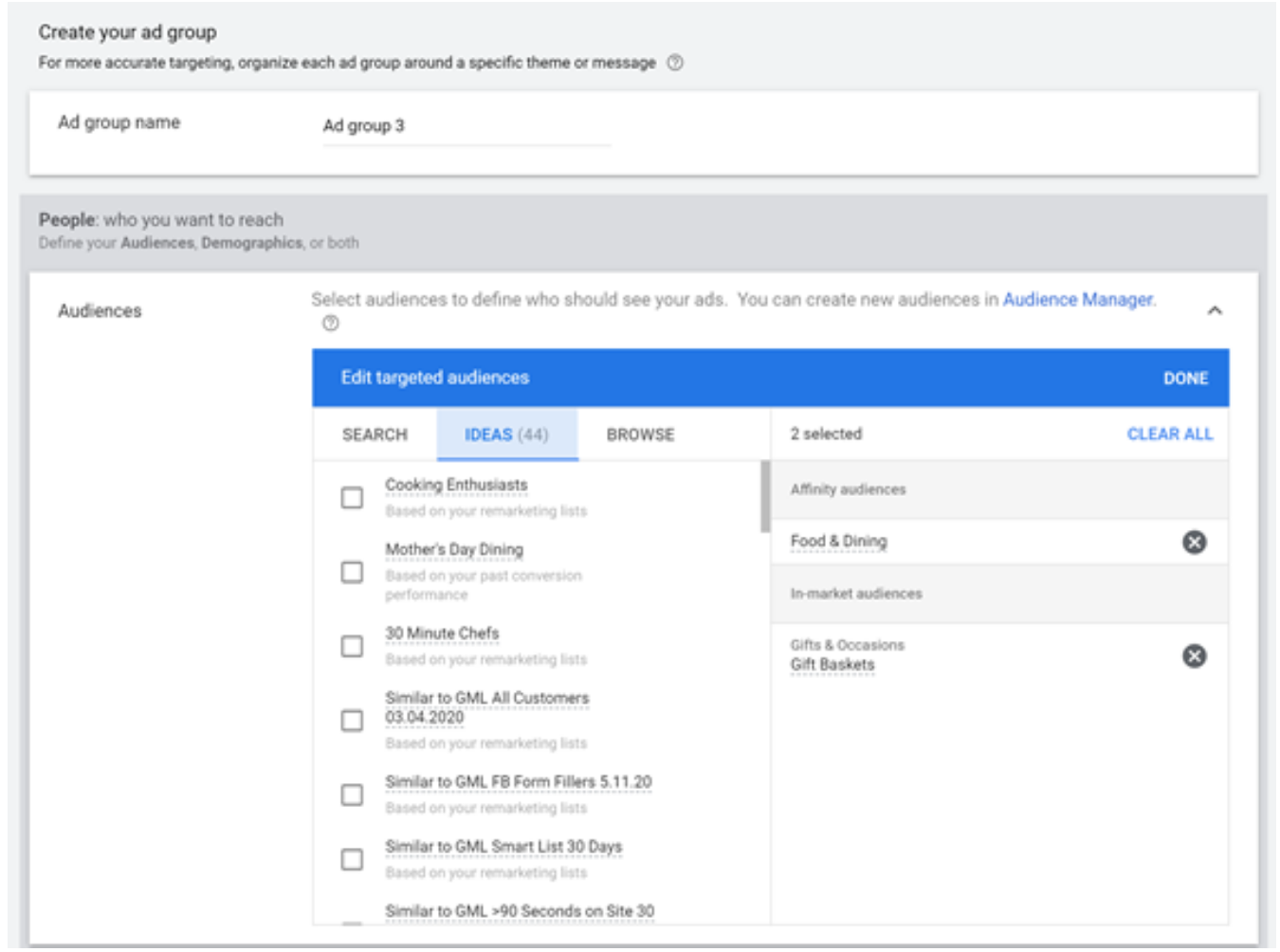 In-Market Audiences
In-Market Audiences aren't available for everyone, but if your account does have enough data for Google to offer them… congratulations!
This is the low-hanging fruit -- people who are actively browsing, researching, or comparing products like yours already. This type of audience makes it incredibly easy to reach prospects that are hot to buy your product.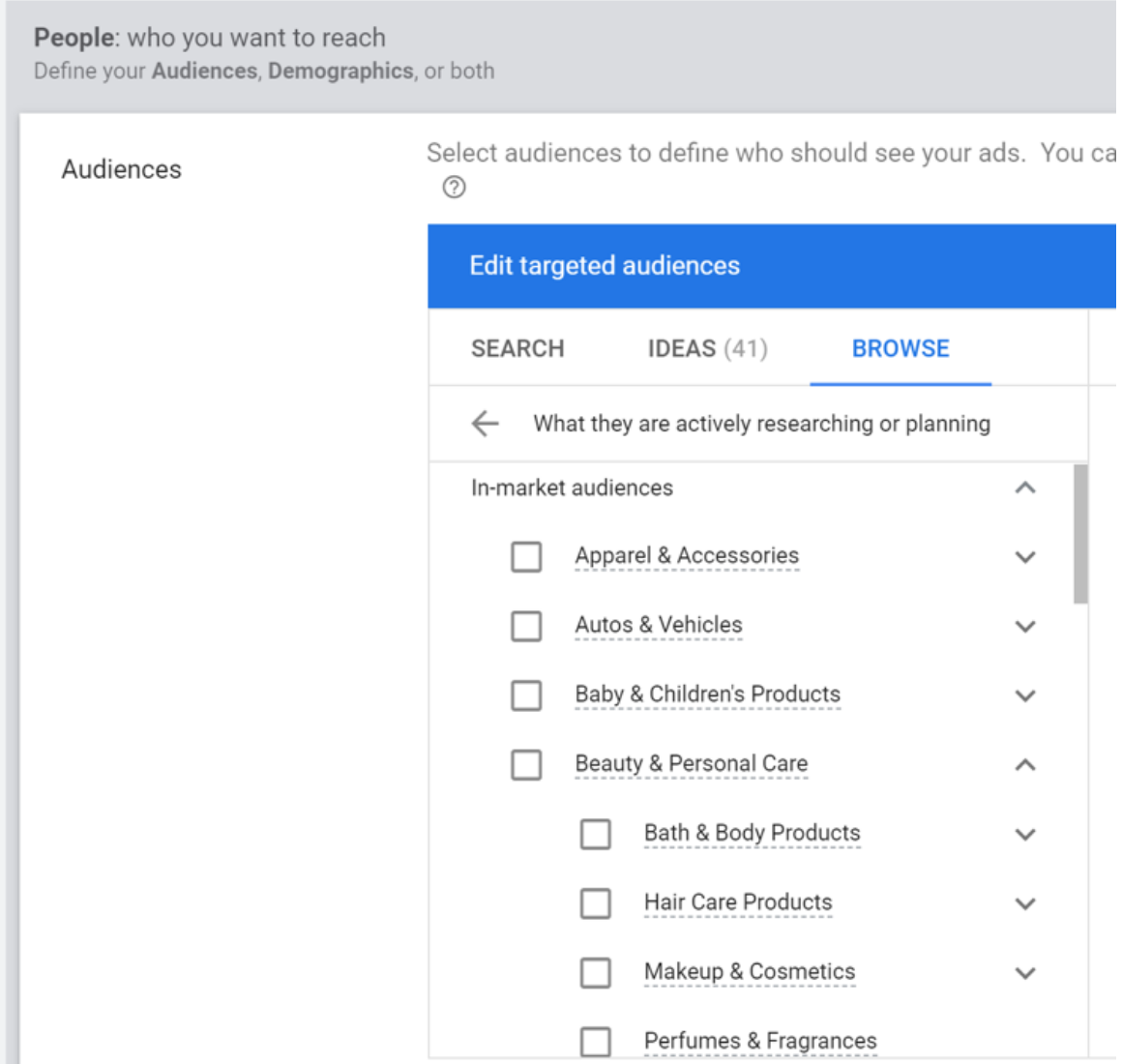 Affinity Audiences
Affinity audiences let you reach people based on a holistic picture of their lifestyle, passions, and habits. These are basically people pre-qualified to be interested in your product because of their interest in your niche or one very similar.
This reduces the "shotgun approach" and puts you in front of an audience that is much easier to convert. Further, there is a ton of hyper-segmentation available in this area.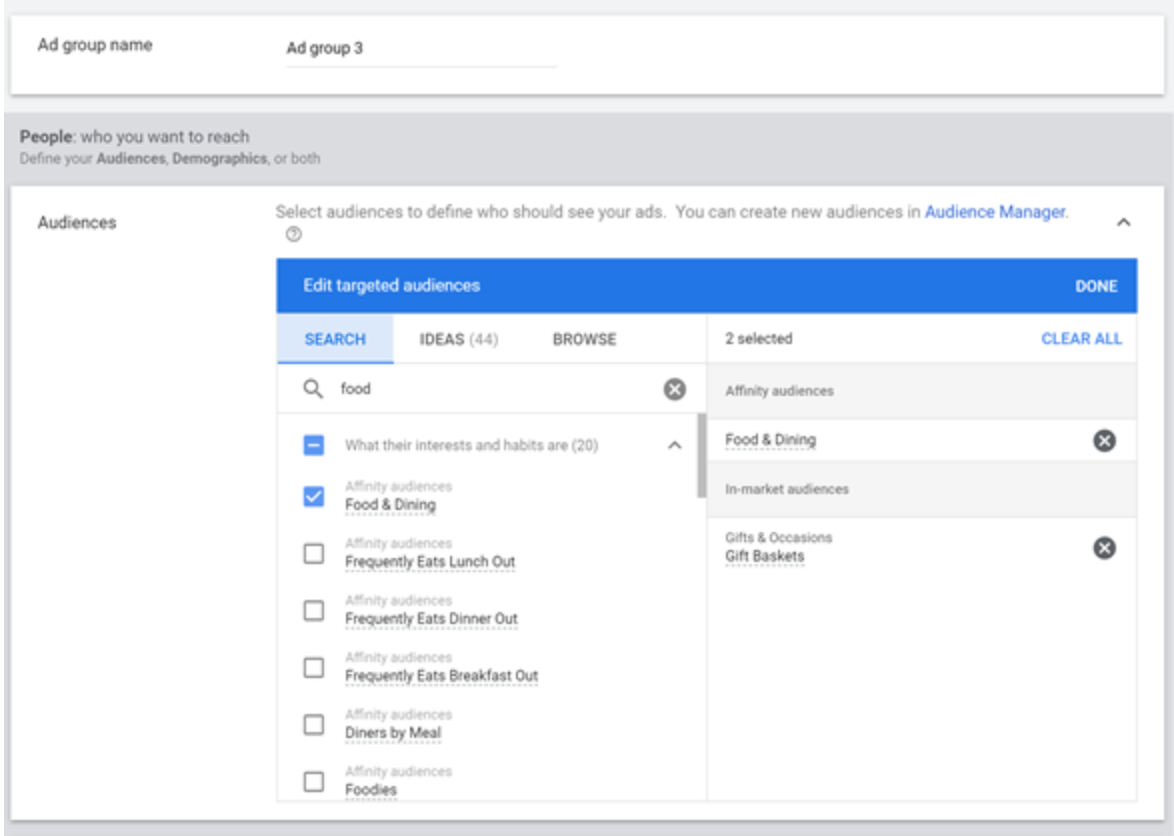 Ways to Capture Leads for Revenue From Google Ads
There are two Google lead generation delivery opportunities that we recommend for eCommerce brands:
1) Redirect: Create landing page lead capture for offer with a redirect to the product page.
2) Video: YouTube true view for action
1) Redirect Strategy
This strategy doesn't require a special offer for the ad, you can simply use an existing offer. Don't assume your audience knows your available offers as well as you do - they don't. They won't notice that the ad is a redirect to an existing offer.
One of our eCommerce clients used this strategy to scale to 8 figures.
All you do is create a simple landing page to drive your paid traffic to. Ask people to enter their email address for a special offer, coupon, or sale, which gets them on your email list.
Then you redirect them to the product page once they hit the submit button.
That's it. It's so simple. And it works amazingly well.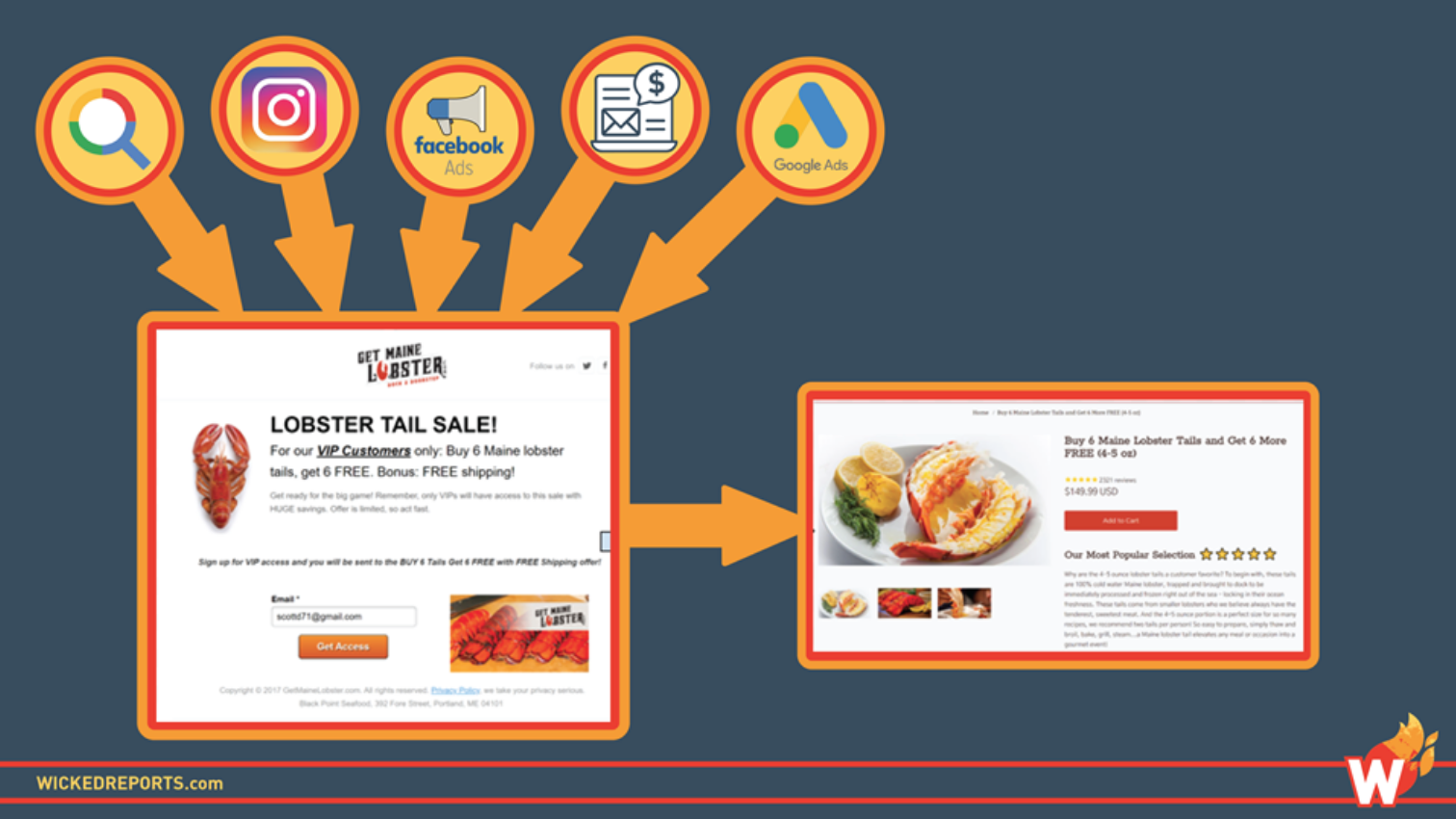 2) YouTube TrueView
YouTube TrueView is the box that pops up on the lower left of YouTube videos to allow clickable calls-to-action overlaid on your video.
It looks like the Wicked Reports "Source of Truth" box below with the blue "3 min ROI" button in the screenshot below.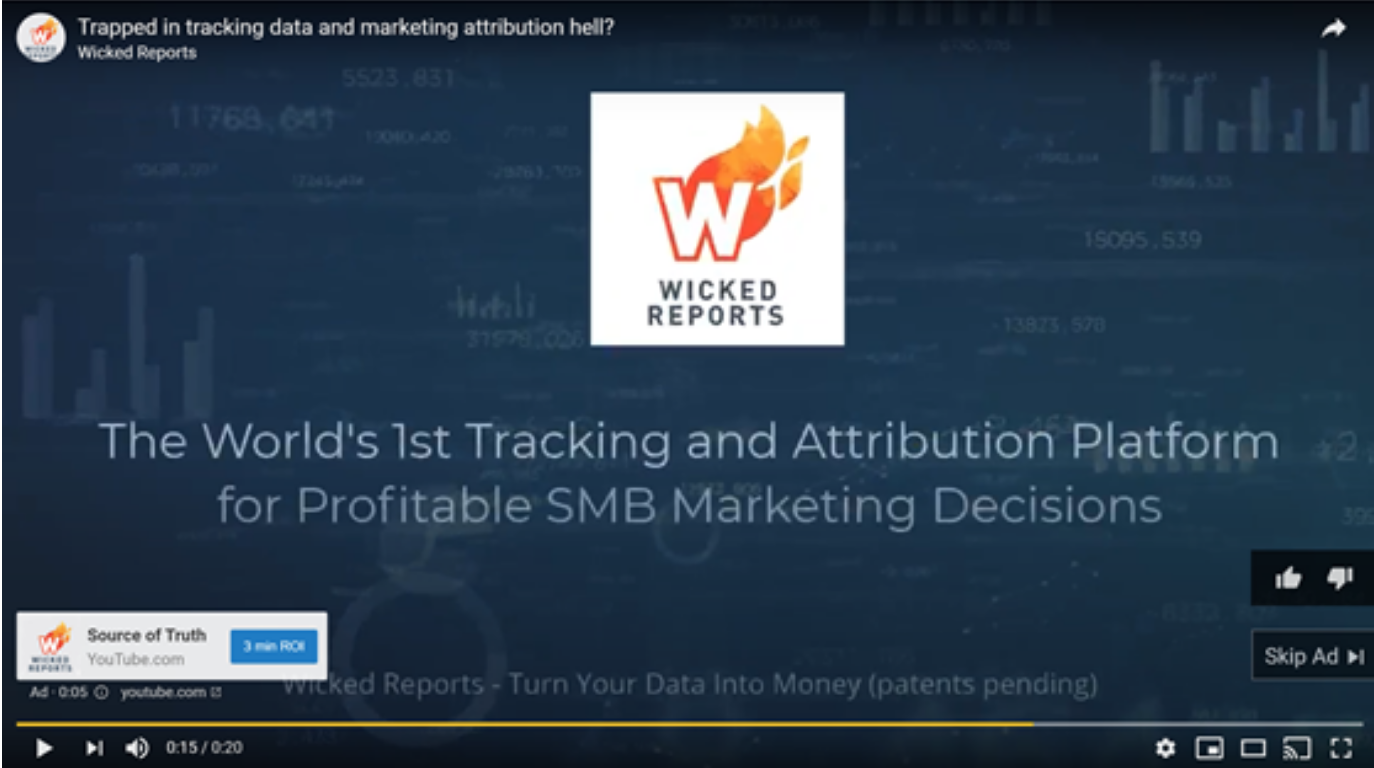 You create the copy, the lead clicks the button and they go to whatever landing page you choose. We recommend either the lead capture form or the redirect landing page strategy previously discussed in this post.
It's nice because you can tie the lead generation strategy into your YouTube channel to collect those hot leads easily without having to retarget.
Most people don't even realize this exists - use it!
Accurately Tracking Customer LTV for Revenue from Google Ads
Increasing LTV is the #1 differentiator between successful ecommerce brands that grow to 7- and 8-figure revenue and brands that shrink or stagnate.
The reason for that is bringing in leads -- any leads -- at low cost wastes your ad spend budget. You won't be able to optimize your advertising, and you'll miss out on the ability to maximize ROI and revenue from Google Ads.
The only way to scale effectively is by increasing the LTV of customers coming in. You can optimize ad campaigns to attract the people who buy again and again, not just any one-time buyers.
But there's a problem -- calculating customer LTV in the first place can be a challenge.
And there are two problems with using Google Ads (or Facebook, for that matter) to try and figure out customer value.
1. Google Attribution Isn't Accurate
First, Google's attribution isn't accurate.
We see it often with new clients. The revenue attributed to advertising channels just doesn't match the revenue coming through the payment processor.
This makes it impossible to tell which advertising channel, campaign, audience, or ad is performing, and which ones need to be scrapped. Without this information, you cannot optimize your ads and scale successfully. And you can't calculate customer LTV.
2. Google Can't Tell The Difference Between New Customers and Recurring Revenue
Second, Google has no idea which sales are new customers and which sales are recurring revenue from an existing customer.
This makes it impossible to figure out how many actual customers you have (versus the number of sales), and you cannot calculate LTV.
Wicked Reports: Easy LTV Performance and Ad Optimization
If you're unsure of how to calculate LTV or you're been unsuccessfully trying to optimize your revenue from Google Ads, you'll love Wicked Reports.
With marketing data attribution software you can accurately track attribution at every step of your marketing process, from the first click on a traffic campaign to the last click before the sale.
With easy LTV reporting through Cohort Reporting, you can see that your ad strategies are working and LTV is increasing.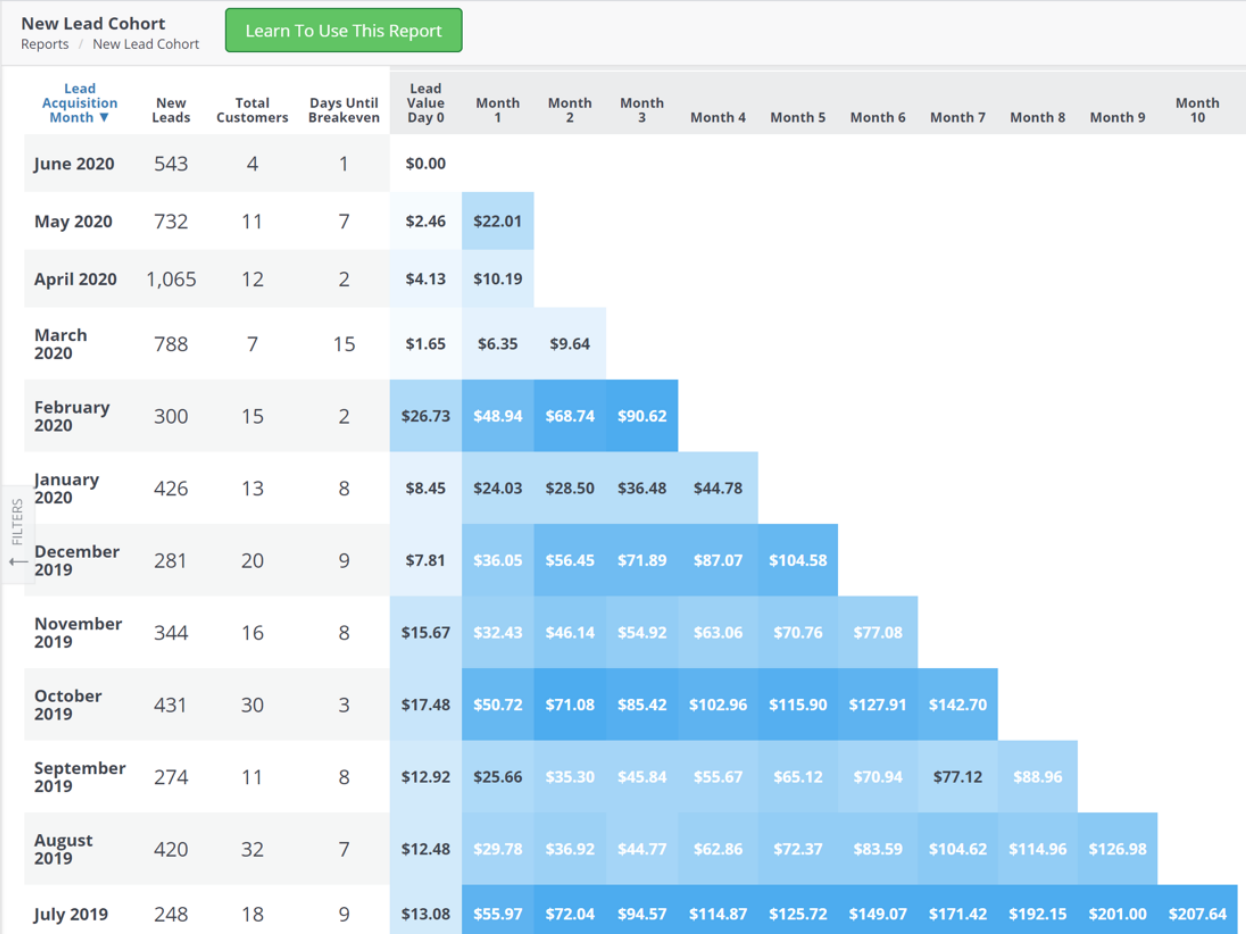 Finally, with customized reporting tailored exactly to your business, you will be able to see which paid ad campaigns are performing and which need to be cut easily. Ad optimization is easier than ever, and you can focus on growing your company's revenue.