5 Abandoned Cart Emails for a Fuller Sales Funnel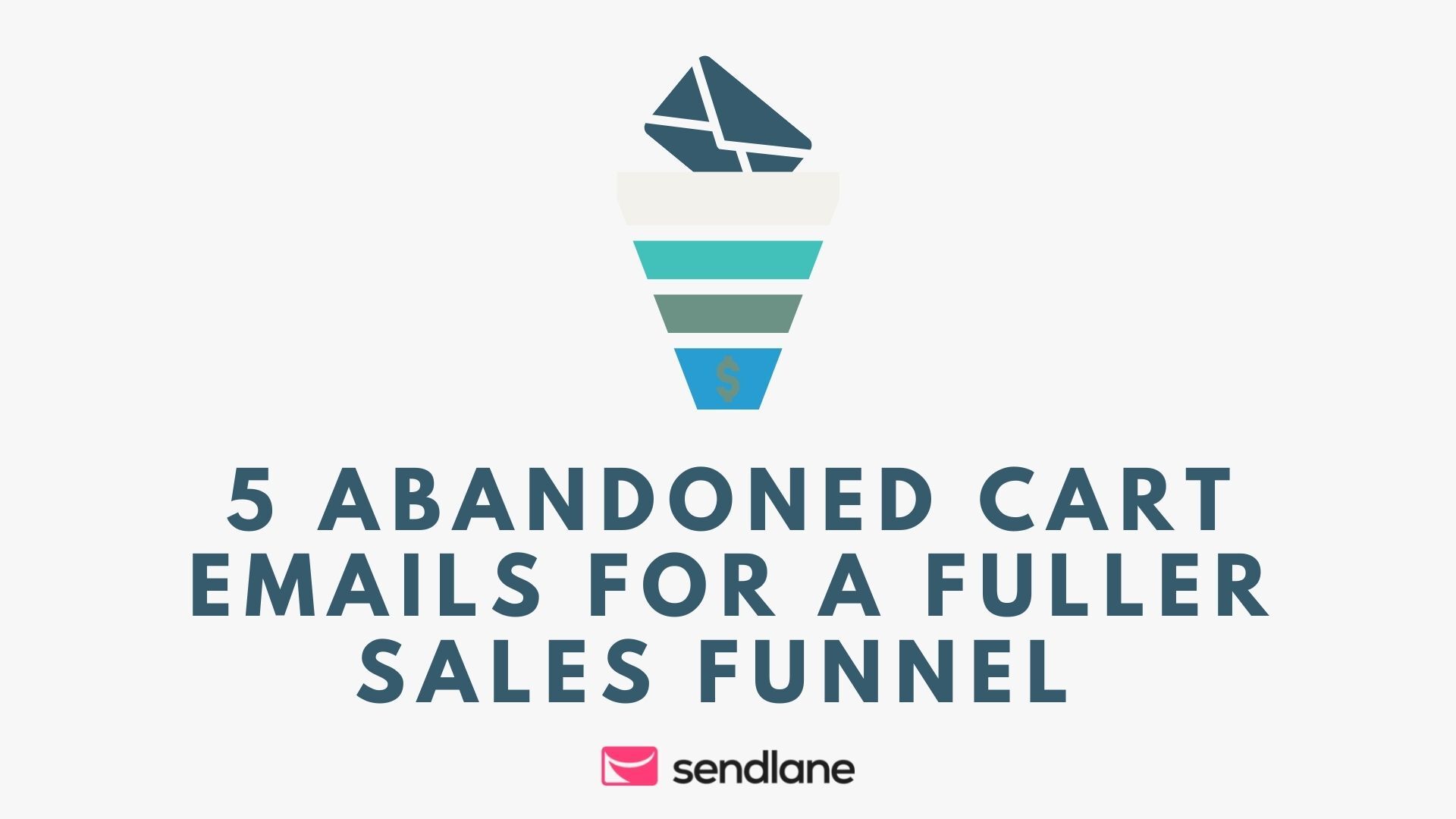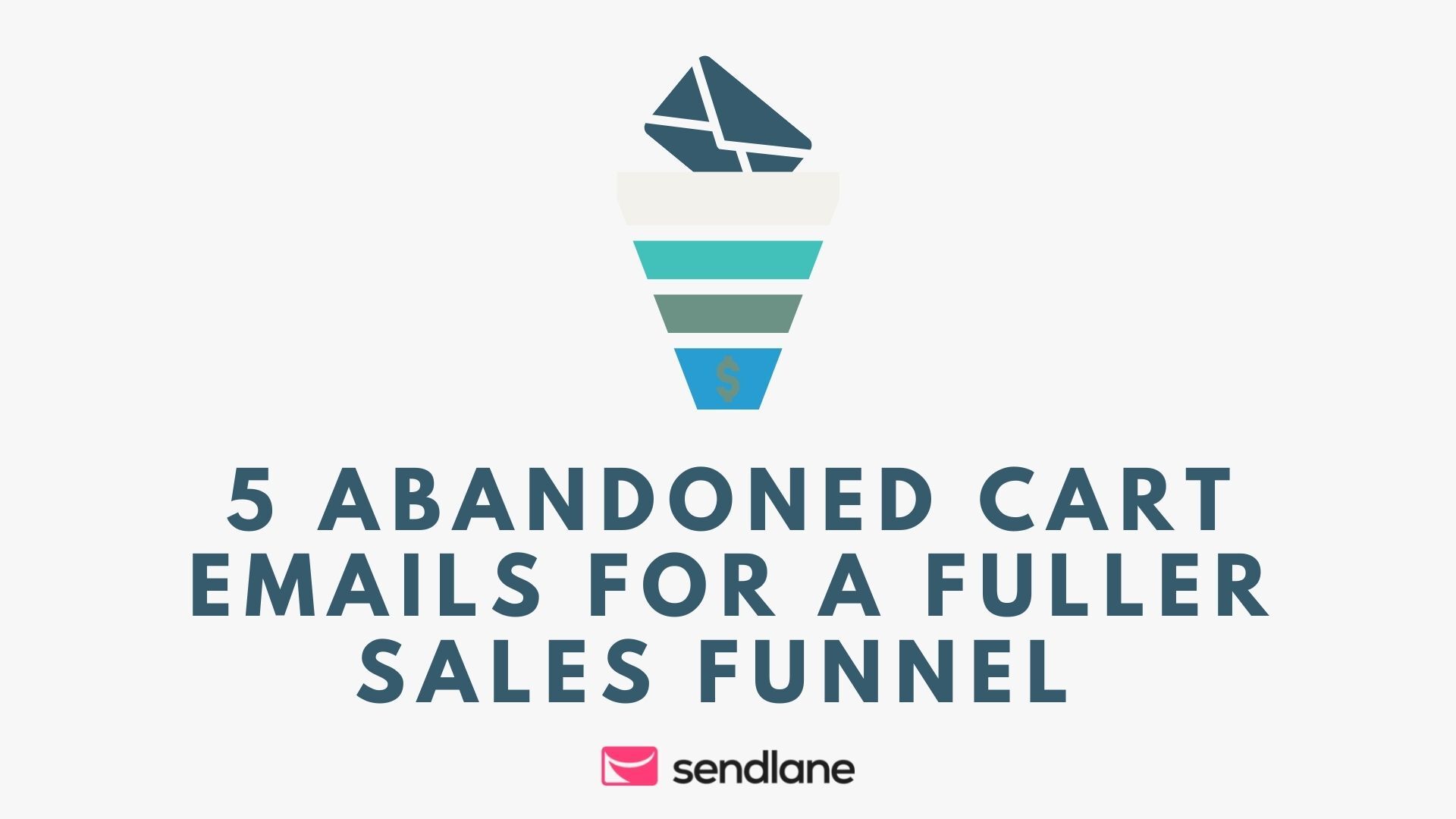 ​​If you want to use email as a revenue channel for your eCommerce store, every guide, guru, and goofball will tell you the same thing — set up an abandoned cart funnel.
And even though building an abandoned cart funnel isn't that difficult, building effective abandoned cart emails that actually bring lost sales back is something else.
For that, you need a plan. More specifically, you need a strategy, testing, and the right marketing automation tools and techniques on your side.
Revisit Your Abandoned Cart Emails to Secure Your Funnel
If your current funnel isn't working, start by doing a deep dive into your existing emails.
Lots of eCommerce brands and marketers start strong by creating an abandoned cart funnel, but they rarely revisit it.
This "set-it-and-forget-it" mindset is essentially leaving money on the table because you aren't making adjustments or improvements — especially around the holidays.
Also, a notable dip in conversions might mean that something in your email flow doesn't resonate with today's consumers or that the settings in the email need to be updated.
When you evaluate your existing funnel structure, ask questions like:
How many emails are in my funnel? One? Three? More?
What are the click-through and open rates? (In other words, are your emails even interesting enough to open?)
What revenue did my automation generate over the last three months? What about the three months before that?
When does my first abandoned cart email go out? After 20 minutes of no activity? An hour? A day?
Do my emails feature my brand as well as the abandoned cart items? Is my brand easy to recognize?
What are the calls to action in the email? How many are there?
Save the answers to these questions because you'll use them as benchmarks when you test new strategies.
Updating Your Sales Funnel with Abandoned Cart Emails
First, if your funnel has less than three emails, you might want to add a couple more. We recommend 3-5 emails in your flow, depending on your audience and the products you're selling.
That said, more emails alone won't maximize your funnel. You also need to consider what you send and when you send it to them.
We've created a great outline that you can use to put together a new abandoned cart funnel. You'll know:
How many emails to send
When to send your emails
What type of email you should send each time
‍
This funnel is so effective that our CEO actually teaches it in our eCommerce email mastery course.
And if you want to save it for yourself for later, just click here.
You'll get a condensed but still-insight-packed version of that course in this article. We'll provide the need-to-know components so you can apply them and build a revenue-generating funnel today.
5 Abandoned Cart Emails You Should Have in Your Flow
you can build your version of the funnel above in your email automation tool of choice.
Start by creating a new automation. Add your emails and your timing sequence. When you start, the emails will be empty.
Once your sequence is in place, you can build it out with the five emails we've listed.
We've also provided some examples below, but remember to create each email for your specific audience and according to your brand voice.
1. The Reminder & Scarcity Abandoned Cart Email
There are a lot of good examples of initial abandoned cart emails. And just about every great example we see does some or all of the same basic things:
Reminds people that they didn't finish checking out
Shows what's in the cart
A bit of urgency to get the shoppers' attention
All of the above
Some emails provide a friendly reminder, like this one from Nomad:
Some sellers use scarcity as an urgency creator like Google Store does in this email:
‍Another popular tactic is using the reminder and the data from the shopper's journey to show both the abandoned items and other recommended products, like Perigold does here:
‍
Those emails are right for those brands, but what's the right move for you?
First, take a hard look at the initial email you're sending now. Look at the data too. Is it converting?
Next, use dynamic content in your new email to show images of what shoppers left in their carts and use copy to imply scarcity.
Nomad, for example, used the subject line "Nomad Gear is Selling Out Quick."
In addition to the subject line, your content and CTAs can also apply much-needed scarcity.
Once you set the email to 'Active,' set a calendar reminder to check back in a month so you can see if this email is converting at a higher rate than your existing email.
2. The Trust + Education Abandoned Cart Email
After your first reminder email, you may want to let things cool a bit. Try waiting for a day before you send another abandoned cart reminder email.
And while this might work (and is worth testing), you also need to remember that building relationships with these emails is just as important as recovering sales.
For that reason, we suggest testing a second email that builds trust and tells shoppers more about your brand.
After all, in an AdAge study, more than 80% of respondents said that 'trust in brands is an important part of their purchase behavior.'
And yes, you can build trust with abandoned cart emails.
You can start by integrating testimonials, reviews, and user-generated content (UGC). This is an extremely effective tactic for selling online, which is why so many brands do it.
Target, for example, includes lots of UGC in its email content, which helps to personalize messages from such a large retailer.
And the art supply brand Winsor & Newton has this type of content built into their email funnel too.
This email is full of vivid imagery that is coupled with reviews and CTAs linking to social profiles before taking you back to their store. Also, the colors, logo, and layout make it easy to recognize who the email is from.
Your emails can focus more on education by telling subscribers about your mission and values as a brand.
This tactic applies to abandoned cart emails, but the same principle — building trust and helping people feel close to your brand — can apply to emails in other flows, like win-back emails or lead nurturing funnels.
To create your own trust and education email, pick a few relevant components from the list below and make them your own in your second funnel email:
Abandoned cart reminder
Add in/focus on reviews from users
Share brand mission
Share brand story
Share brand values
Product recommendation (plus images)
Follow on social
3. The First Abandoned Cart Email Discount
Let's say that your first two abandoned cart emails didn't move the needle. If your prospects are still giving you the cold shoulder, it might be time to warm them up with a discount.
Even if it's just free shipping, discounts can be the right nudge to push a hesitant shopper over the finish line.
The vitamin brand Ritual does this very well. Their flow uses a "discount ladder," a strategy that calls for an initial discount then a larger discount later if the first one doesn't convert. (We'll take more about increasing your discount in a bit.)
This email provides a coupon code and $5 off:
Adding a discount email to your abandoned cart automation is worth the try, especially if you've never offered discounts this way before.
Of course, you want to make sure that the offer won't hurt your bottom line. Even if you're losing a bit of profit on the front end, once someone converts, they're more likely to buy again — even if you don't share a discount.
Now, if this email doesn't seal the deal, we have two more tricks up our sleeves --
4. The Value Prop Abandoned Cart Email
Let's take a wider view of your sales process for a second.
Your potential customers need to understand why what you're selling is valuable. If they don't, you'll have a much harder time selling products.
And if you haven't convinced them to come back and complete their purchases at this stage of the sequence, a fourth email that focuses on your value proposition could help you make your case.
If you aren't familiar with the term, a "value prop" or "product value prop" is a to-the-point statement explaining the benefits of buying from you or buying a specific product.
Apparel brand 3sixteen offers its value prop in the form of an ode to sweatpants, which is a clever way to educate people about their brand without coming across too sales-y:
Generally, people will be skeptical about letting you into their in. Remember that these emails are for building relationships. Use the emails to show how doing business with you benefits your would-be buyer.
You can also show how the products your prospects were shopping for will benefit them. And for bonus opportunities, you can add a product recommendations section to the email to show off your other offers. (It can't hurt to try, right?)
5. The Final Abandoned Cart Email Discount
At this point, let's say your abandoned cart emails have gone 0-for-4 and failed to convert. We recommend sending one final email and returning to the discount ladder if nothing else has worked.
In other words, a final and steeper discount could be your best chance at bringing shoppers back.
Remember when vitamin company Ritual offered a discount way back in email #3? They also sent a follow-up offer with a larger discount as a last-ditch effort to close the loop on those stagnant carts.
Instead of the $5 off they offered before, this email includes a 20% discount off of your first month. And again, the copy speaks directly to people who might still be on the fence about buying.
Since this is your last email in the sequence, you can offer a discount that's a little sweeter than what you offered earlier.
That will look a little different for you than it does for others, but this discount ladder could be what you need to reel those cart abandoners back in to convert.
Final Thoughts on Abandoned Cart Emails for Recovering Sales
Now is a great time to start building (or rebuilding) your abandoned cart emails.
You can look at data from your last holiday shopping season as a benchmark and use the coming weeks and months to build something that will work wonders when BFCM finally arrives this year.
As we mentioned above, start with a look at how your abandoned cart emails are performing now.
If your current funnel's numbers aren't meeting your standards, try the flow that we've laid out above. Even if you don't use every email, adding just one or two of these emails to your automation can create a boost.
Finally, if you're looking for an eCommerce email and SMS marketing tool with amazing deliverability, we can help with that. Grab a free 14-day trial of Sendlane today.