Why Does Your eCommerce Marketing Strategy for 2020 Need Email Marketing?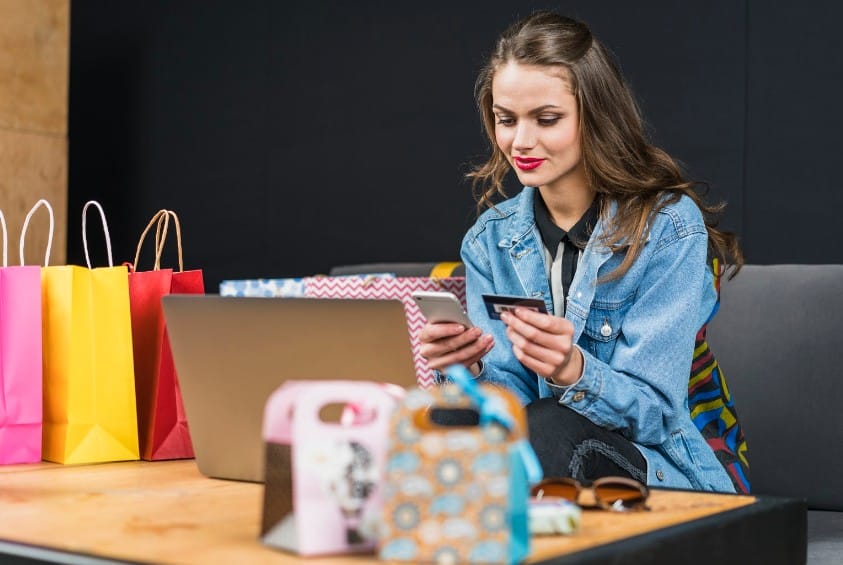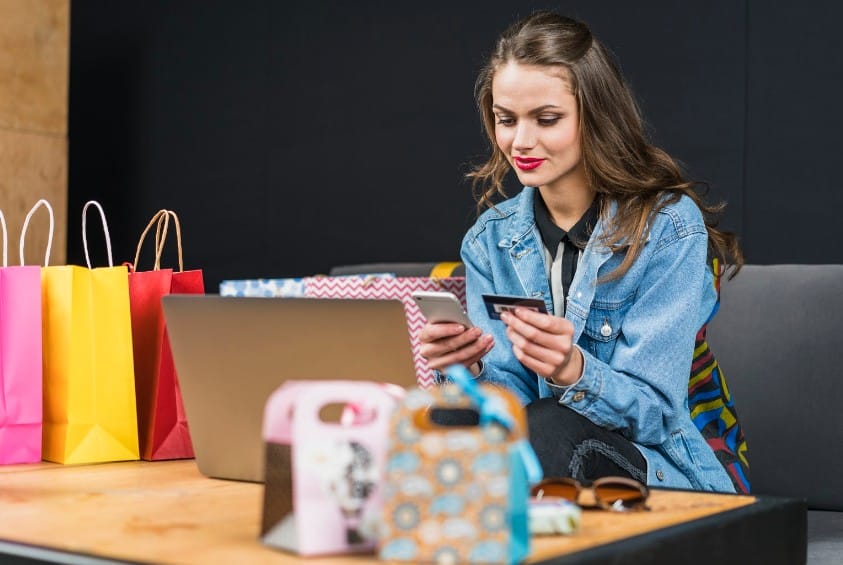 Last 2019, eCommerce sales blew through the virtual roof at $3.5 trillion sales worldwide. By 2021, eCommerce sales are predicted to make up 17.5% of retail sales worldwide.
But with the continuous rise of online shopping, it's getting harder for businesses to stand out. You don't have to look far. What you need is a trusted and proven eCommerce email marketing strategy this 2020.
Why should your eCommerce business invest in email marketing this 2020?
Simply put, eCommerce email marketing will drive revenue to your business—as long as it's done right, of course.
Whoever said that email is dead is clearly wrong. With more than 280 billion emails sent each day, email marketing is very much alive and kicking. This means the opportunities for your business are endless!
Check out these reasons why eCommerce email marketing is a must for you to invest in this 2020.
When it comes to ROI, email is the clear winner!
For every $1 you spend on email marketing, the average return is an astounding 3,800%. Surprised? Some people are because they feel that social media is the go-to channel in today's time.
Time and time again it shows us that social media and email marketing work really well together. Both offer up their own advantages that can give eCommerce businesses that extra push to demolish the holiday sales season. But email wins in terms of ROI and conversion rate and 59% of marketers can attest to that.
It spells efficiency.
Email marketing can be automated. You can schedule campaigns ahead of time. Plus, there are a number of flows you can set up. From customer acquisition flows, to cart recovery flows, and even win-back flows—there are automations for that! By setting up these flows, you can focus on other aspects of your business while the whole system operates by itself.

Here's an example of an abandoned cart email from one of our clients. You can just set up the triggers and every time customers add items to their cart but don't check out, they'll get a custom reminder.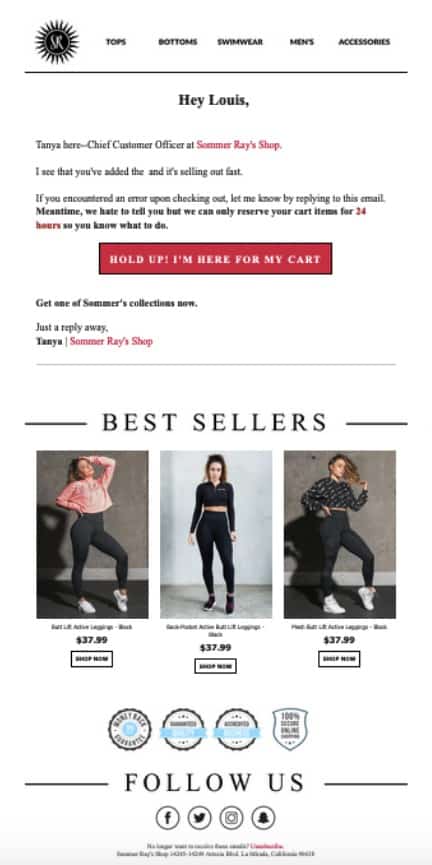 How effective are abandoned cart emails? One example we'd love to share with you is a text-based abandoned cart email we used during Black-Friday and Cyber Monday (BFCM) 2019.
It achieved a staggering 59% in open rates and recovered a total of $7,000 in revenue for our client. Here's the example of the email that was sent out.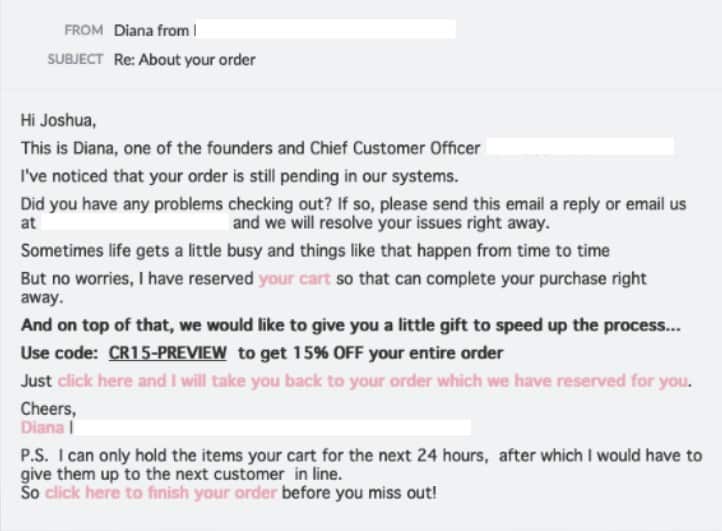 Whether you're sending html or text-based emails, it's up to you to test which works best by knowing what your customers prefer! And this brings us to our next point.

You'll be able to know your customers better.
Dive into what makes your customers tick. Have you ever thought about what factors help them decide if they're going to place an order from your store?

With email marketing, you have insights and analytics at your fingertips (literally). This information will tell you what your customers prefer and what kind of content they respond to. You'll be able to know them better so you can continue to provide them the right kind of emails and content that will guide them to become loyal customers. Numbers don't lie, after all.
Email marketing strengthens customer relationships.

Ecommerce businesses don't have the luxury of engaging with clients face to face. So what they lack in physical presence, they should make up for in terms of digital presence.

Thankfully, email marketing does just that. It helps strengthen the relationship between brand and customer. Thanks to segmentation, eCommerce businesses can tailor the content to customers depending on their level of engagement, buying behavior, or browsing history.

Here's another point for customer relationships. Email is a great customer feedback channel because you can send requests for review straight to your buyers. Some brands couple this with an incentive like a freebie or a discount coupon.

Flywheel takes it one step higher by making it super fun and adding a contest element.


Emails go straight to your customers.

What would you rather have? A new email subscriber, or a new Facebook follower? Here's the deal. About 90% of emails get delivered to intended inboxes, but only 2% of your Facebook fans see your posts in their news feeds. Basically, your message is more likely to be received and seen through email rather than social media. Plus, social media algorithms change constantly. Sometimes Facebook even crashes, leaving you with fewer channels.
Own email marketing this 2020 with this
Take a look at these emerging trends that will rule your customers' inboxes this year. If you're looking for ways to turn up those open rates, clickthroughs, and email revenue, jump into the new decade strong with these trends!
#1 - Leverage on user-generated content
Admit it. It's a red flag when a product has no ratings or reviews. It's also a red flag when there are too many negative reviews. This year is the year to use user-generated content to encourage your customers to buy from you. Did you know that 70% read reviews first before they decide to buy? People value what other people think, and they look for validation when it comes to their decisions.

So flaunt those ratings! Showcase those raving reviews, and entice your customers to place those orders. Sommer Ray's Shop does a great example of using user-generated content to increase conversions.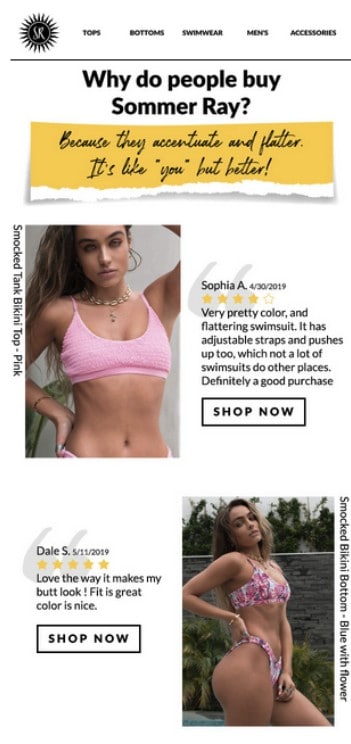 Go mobile!
In just four short years, the rise in purchases made from mobile phones rose from a meager 3.4% to 36.7%. What does this tell you? This means that shoppers are finding it a lot easier and more convenient to shop on mobile. Mobile shopping allows them to shop online without even opening a computer.

The key takeaway for business owners is this: make sure that the mobile version of your store is accessible and optimized for mobile. The customer journey on mobile should still be smooth and seamless.
#2 - Prioritize accessibility and explore AMP
If your emails provide a convenient and seamless experience for your subscribers, you'll be looking at more conversions. This year, it's all about accessibility and making purchasing way easier for your target market.

You can do this by exploring Accelerated Mobile Pages (AMP). With AMP, answering surveys, rating products, or even checking out items can all be done within the body of an email. Other tips for accessibility are using shorter sentences and simpler words. Why? Voice assistants are on the rise and are a great help to the visually-impaired. Keeping your content simple will make it more seamless to be translated to voice.
#3 - Integrate your email marketing with SMS
SMS is going big this 2020! A lot of brands are already using SMS notifications to reach customers faster. So why not take it a notch further? How? By integrating your SMS strategy with your email marketing strategy, and not just doing each separately.

This is effective for a number of reasons! While email delivers the highest ROI, SMS is the best if you're looking for immediate action. If you want to get a concrete step by step strategy on integrating email with SMS, here's a very valuable resource for you.
You can check out this special video starring Chronos Agency's and SMS Bump's CEOs as they talk about how you can use both channels to replicate the $831k week during Black Friday and Cyber Monday 2019.
#4 - Level up your segmentation and personalization efforts!
Personalization and segmentation never get old! Instead, continuously look for opportunities for hypersegmentation and targeting. Instead of just segmenting by demographics, why not study their buying and engaging behavior? Then, create branched flows with unique flows for each response.
This way, your approach will be very personalized and tailored to their behavior. Other segmentation ideas are price sensitivity, or their customer value (either historical or predicted).

Aside from segmentation, you can also try out text-based emails for a human touch. The 'from' name can be the actual name of a person and not the store's name.
Case Study — Sommer Ray's Shop
Check out this example from Sommer Ray's Shop. We wrote the email based on how Sommer writes her social media posts, and it's also signed as 'xo, Sommer.'
This email was actually a retargeting effort last BFCM for those who didn't open the initial announcement. The result? 35% open rates and $1,667.98 revenue.

This year is your year to thrive. Experience the increasing revenue that an effective email marketing strategy can give you. If you're looking for the next big jump in your conversions and metrics, email marketing is definitely something you should not overlook this 2020.
If you want to learn more or talk about specific steps you can take to move towards eCommerce email marketing 2020, you can always schedule a free call with an expert.
As an Adleaks Member, you get $200 off every month of our setup fee. If this is something you're keen on, you can take advantage of the perks of being part of this community by following this link.