Facebook Chatbot: A Low-Budget Lead Gen Tool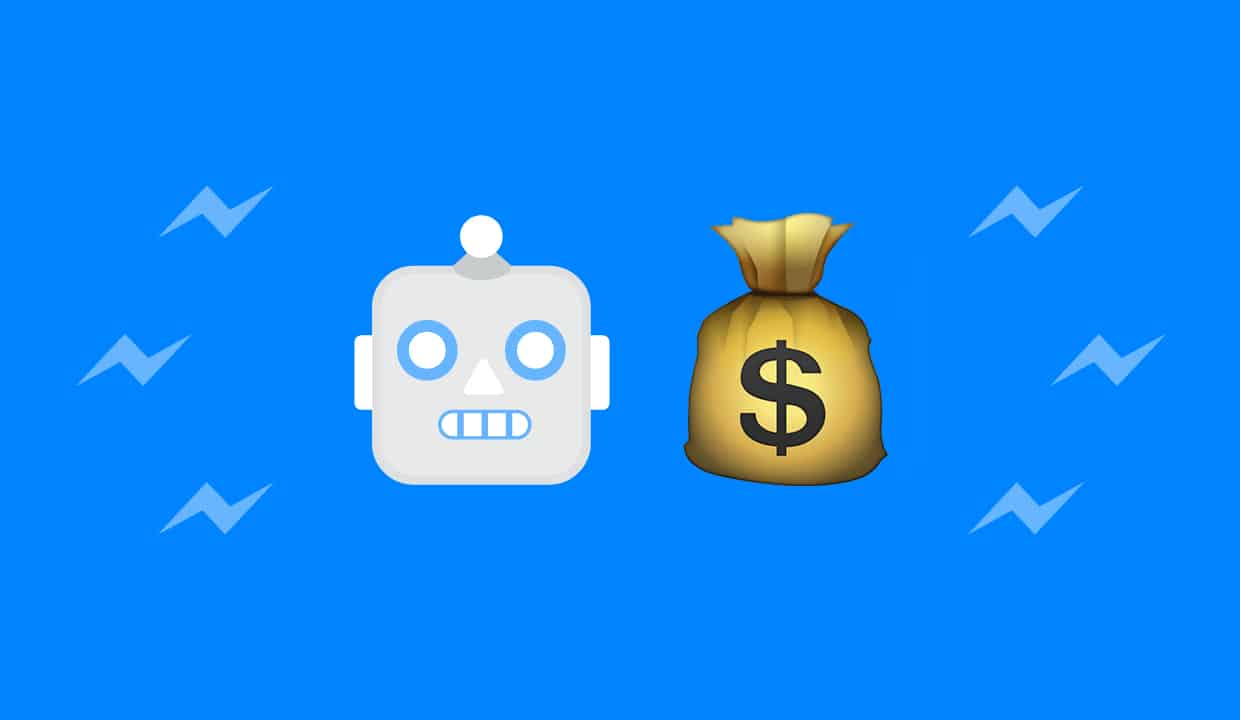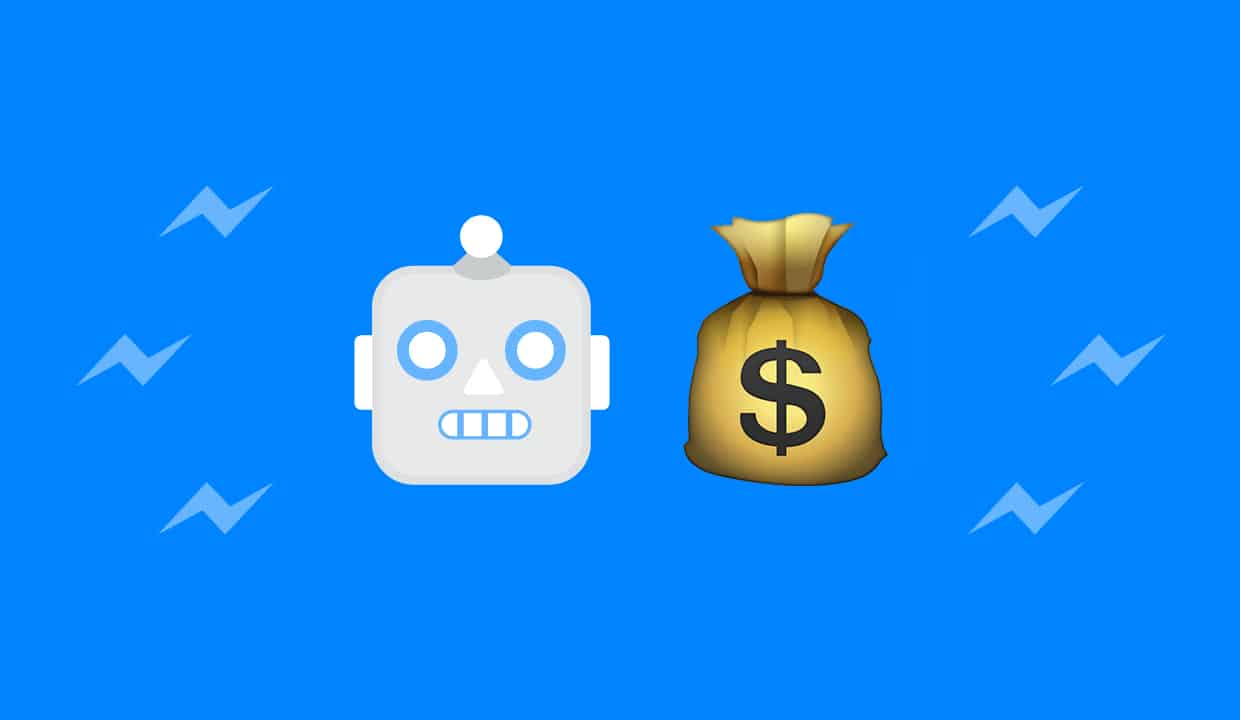 A Facebook chatbot is a new, killer strategy for generating high-quality leads!
This tutorial will teach you how to take advantage of your existing post engagement by setting up a "lead magnet" Messenger bot.
Step #1
Brainstorm your lead magnet. In this case, I'll be giving away one free bottle of Pixel Potion for each Facebook user who comments on my giveaway post.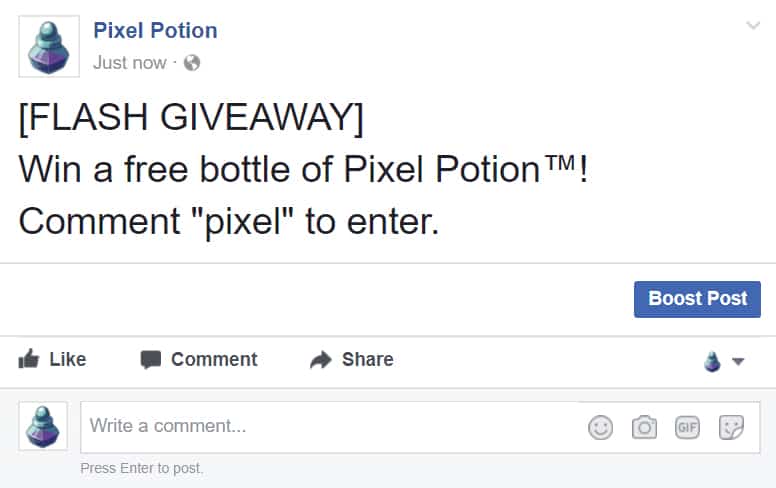 Step #2
Log into Chatfuel using your personal Facebook account. Create a new bot, then navigate to the CONFIGURE tab in your dashboard. Here you will connect the bot to your corresponding Facebook fan page.
(NOTE: You must have an admin role on the Facebook page you're connecting.)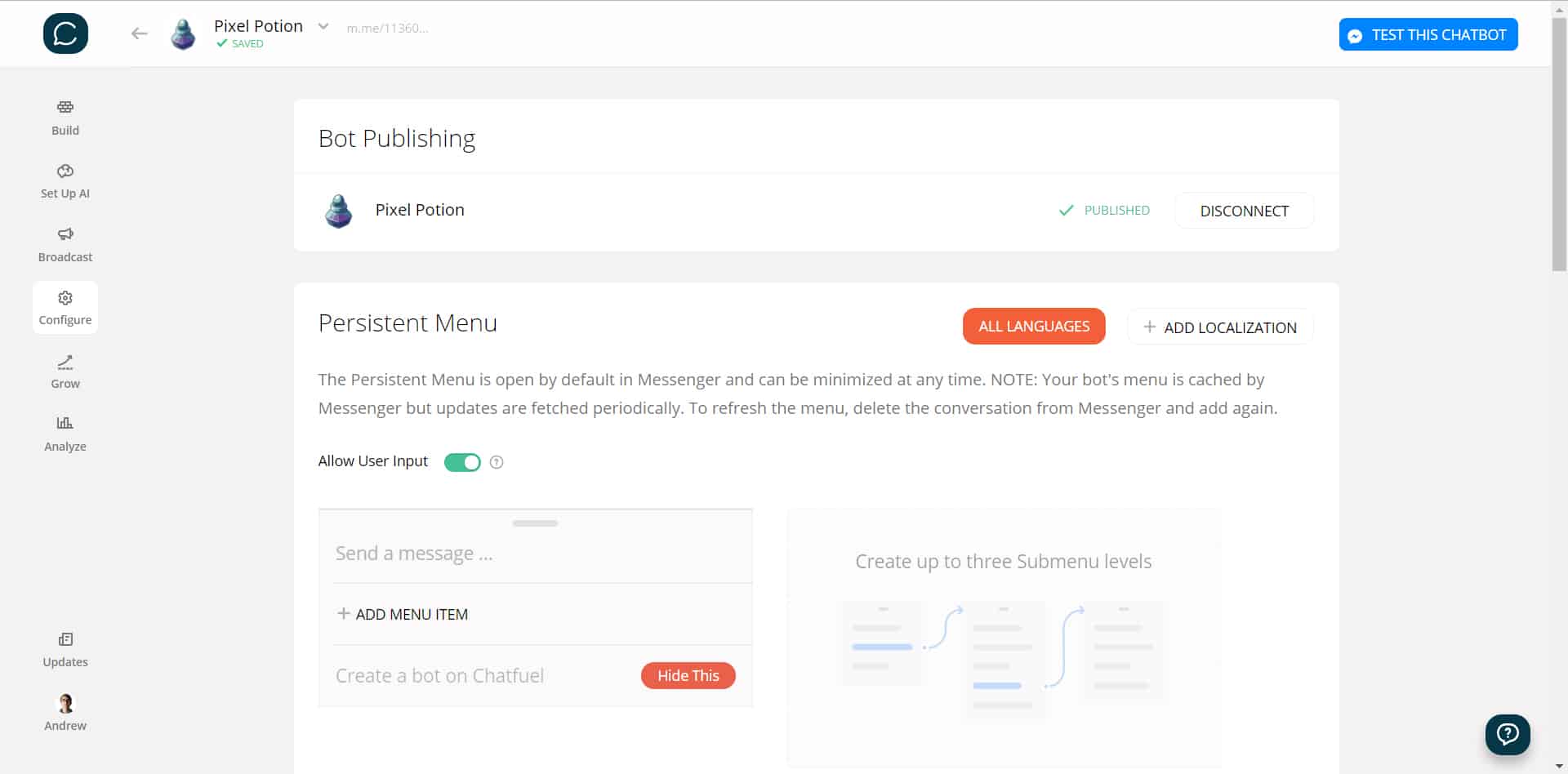 Step #3
Once the Facebook chatbot is connected to your page, navigate to the GROW tab. Click + ADD RULE in the "Acquire users from comments" module. For the time being, leave all options set to their defaults because you'll need to fetch your specific post's URL after it is published to your page.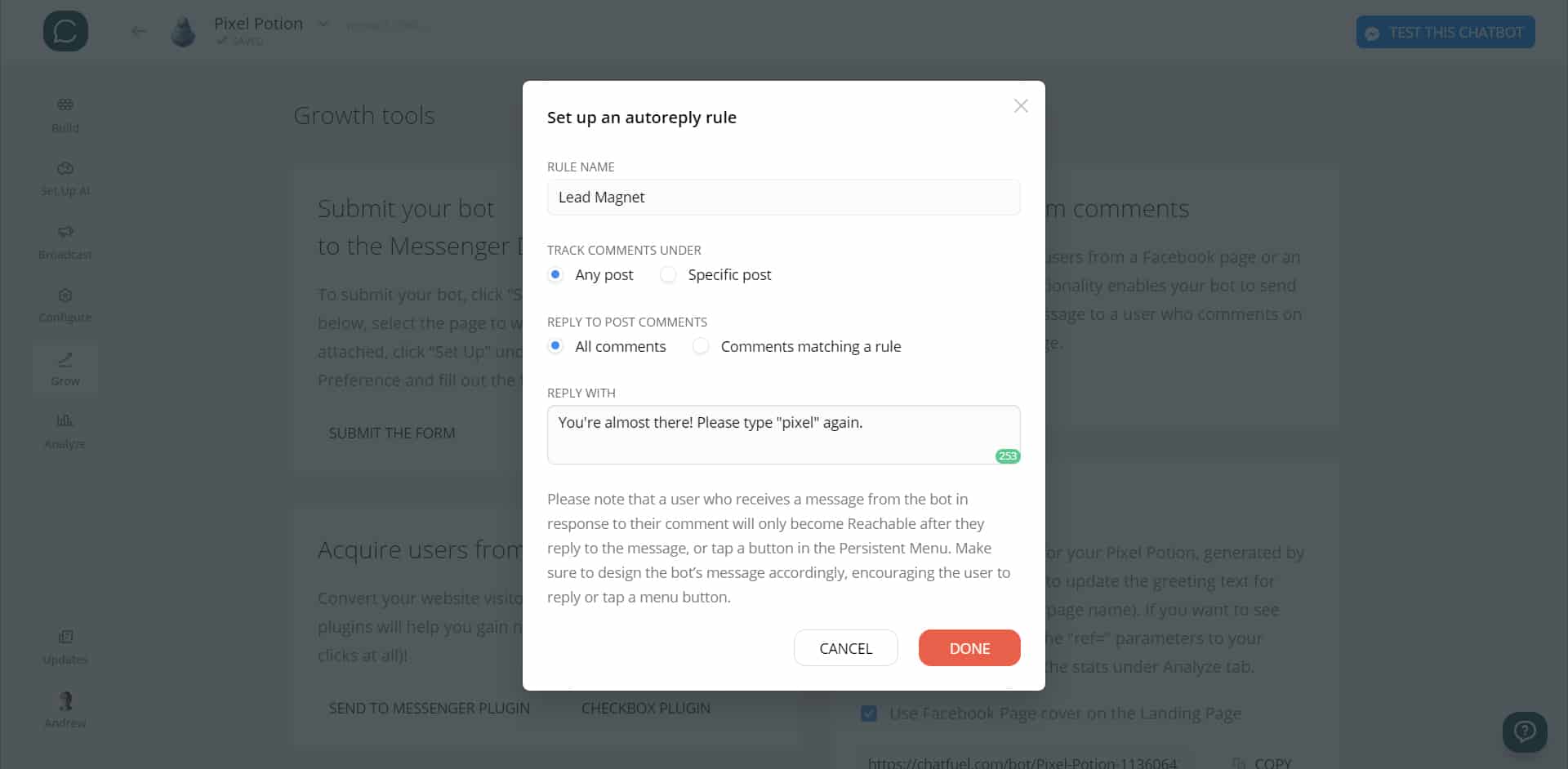 (NOTE: You can select "Comments matching a rule" to trigger the bot's response only when a user comments the exact keyword, but I suggest "All comments" to avoid losing leads who misspell the keyword.)
The REPLY WITH field is the initial message the bot will send Facebook users who comment on your post.
Step #4
As shown above, it's crucial in the REPLY WITH message to instruct bot users to enter another keyword. (I use the same keyword for simplicity!) This is because Facebook wants users to double opt-in.
However, we must tell our Facebook chatbot how to respond to users who type the "pixel" keyword.
Navigate to the SET UP AI tab to do this. Click + ADD AI RULE. In the left field, retype your keyword ("pixel" in this case). In the right field, switch from TEXT to BLOCK and create a new block.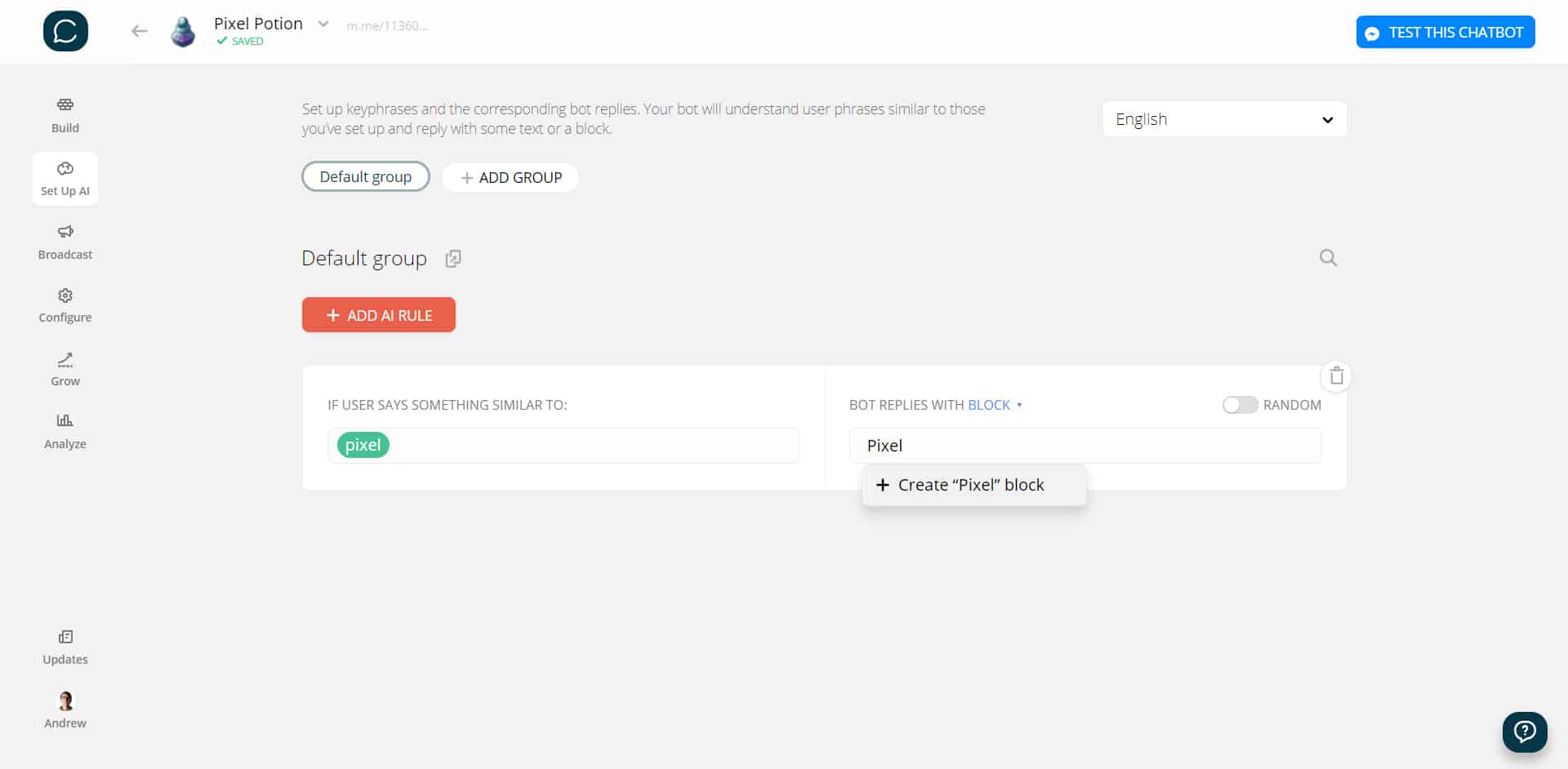 Now we can finally guide bot users down the lead funnel!
Step #5
Back in the BUILD tab, find the new block you just created. For this Facebook chatbot I'll design a super simple user flow. I'll capture the user's email address, then once it's verified I'll give them a coupon code for their free Pixel Potion.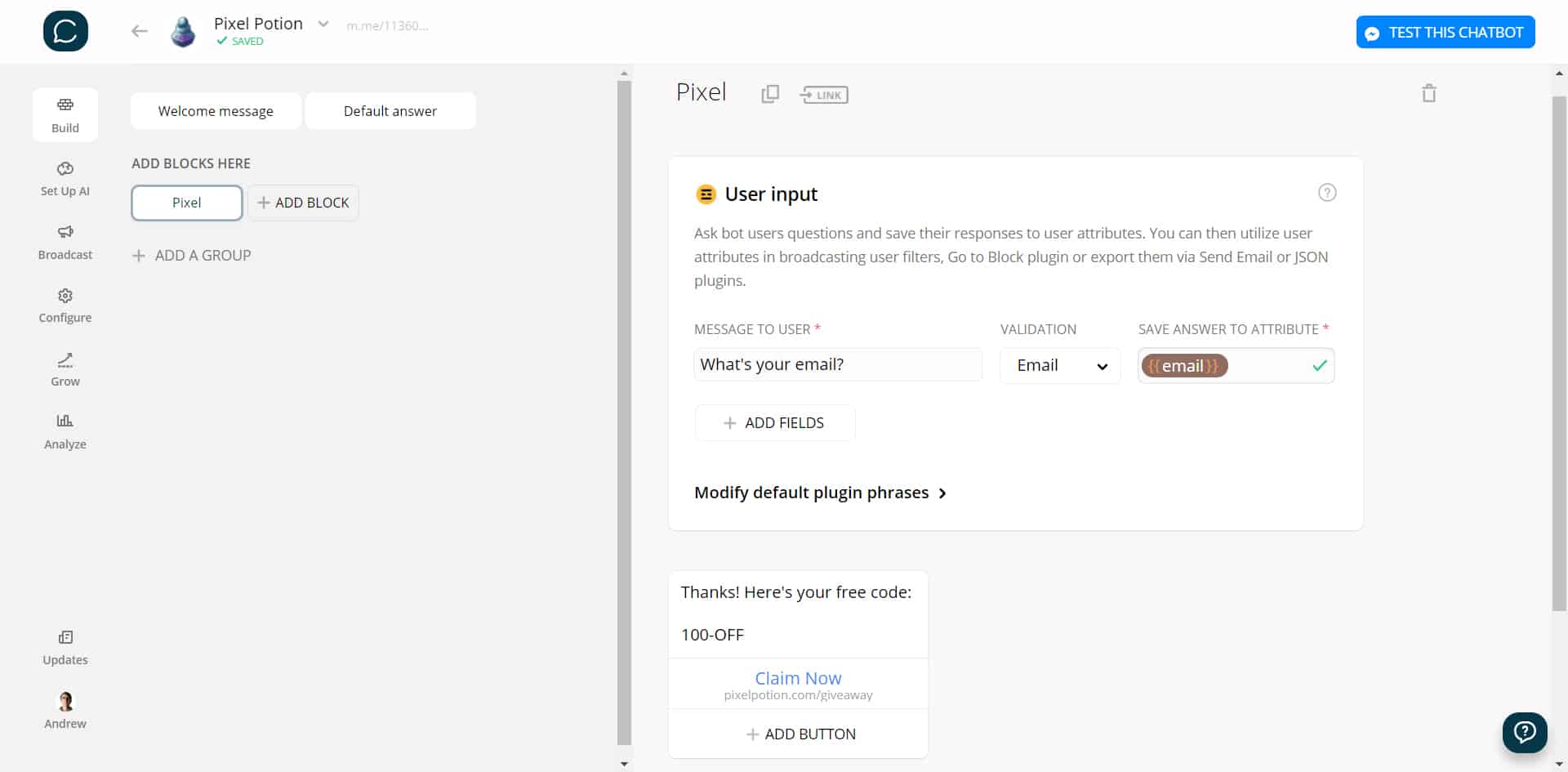 Step #6 (optional):
Set up retargeting triggers with user attributes. For example, we can later remind users who didn't complete the lead gen funnel (and didn't get their coupon code) to enter their email address.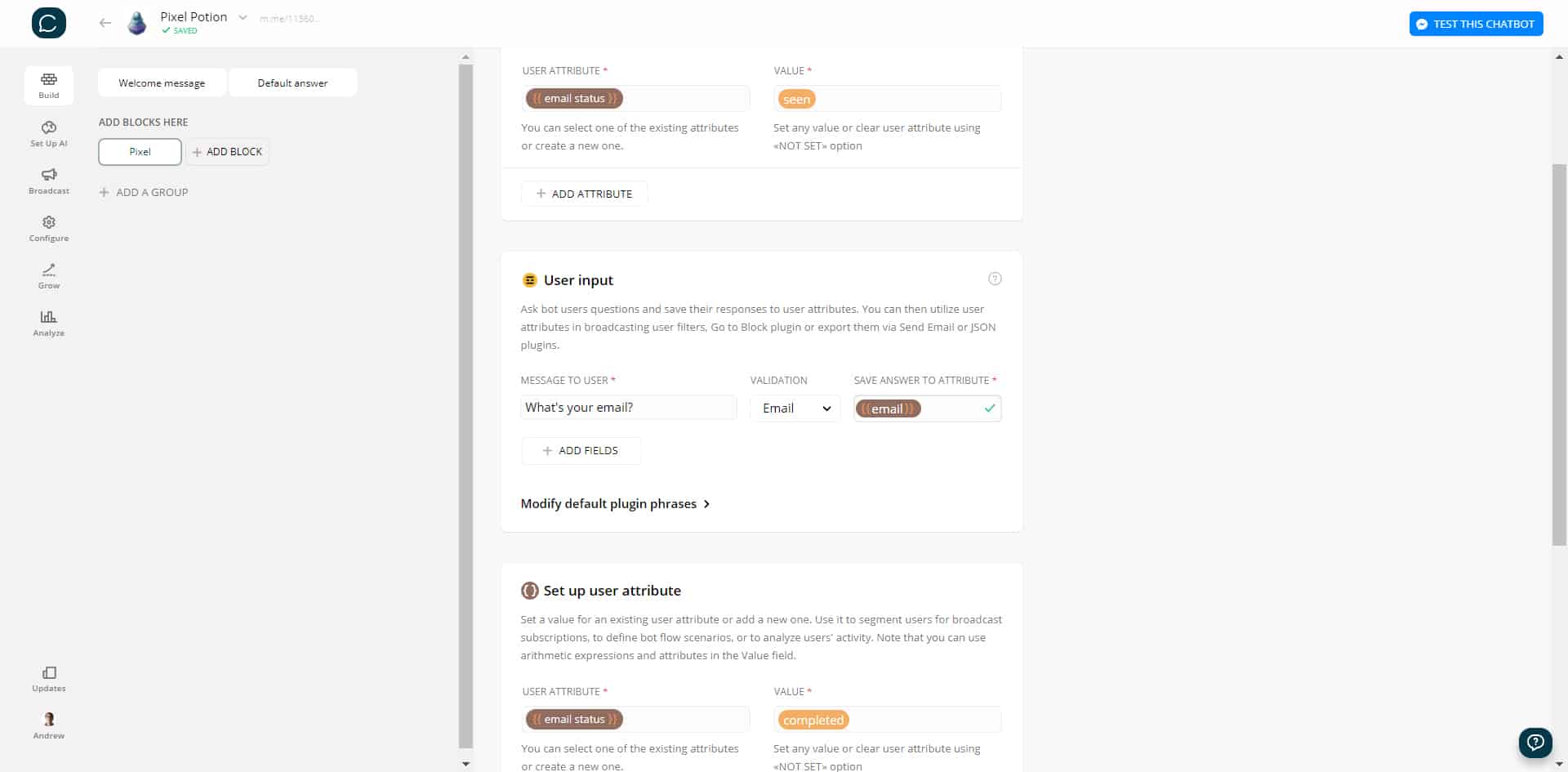 Click here to learn more about retargeting with Messenger bots.
Step #7:
Test, test, test! Simulate the entire customer journey for yourself, from Facebook post to coupon code.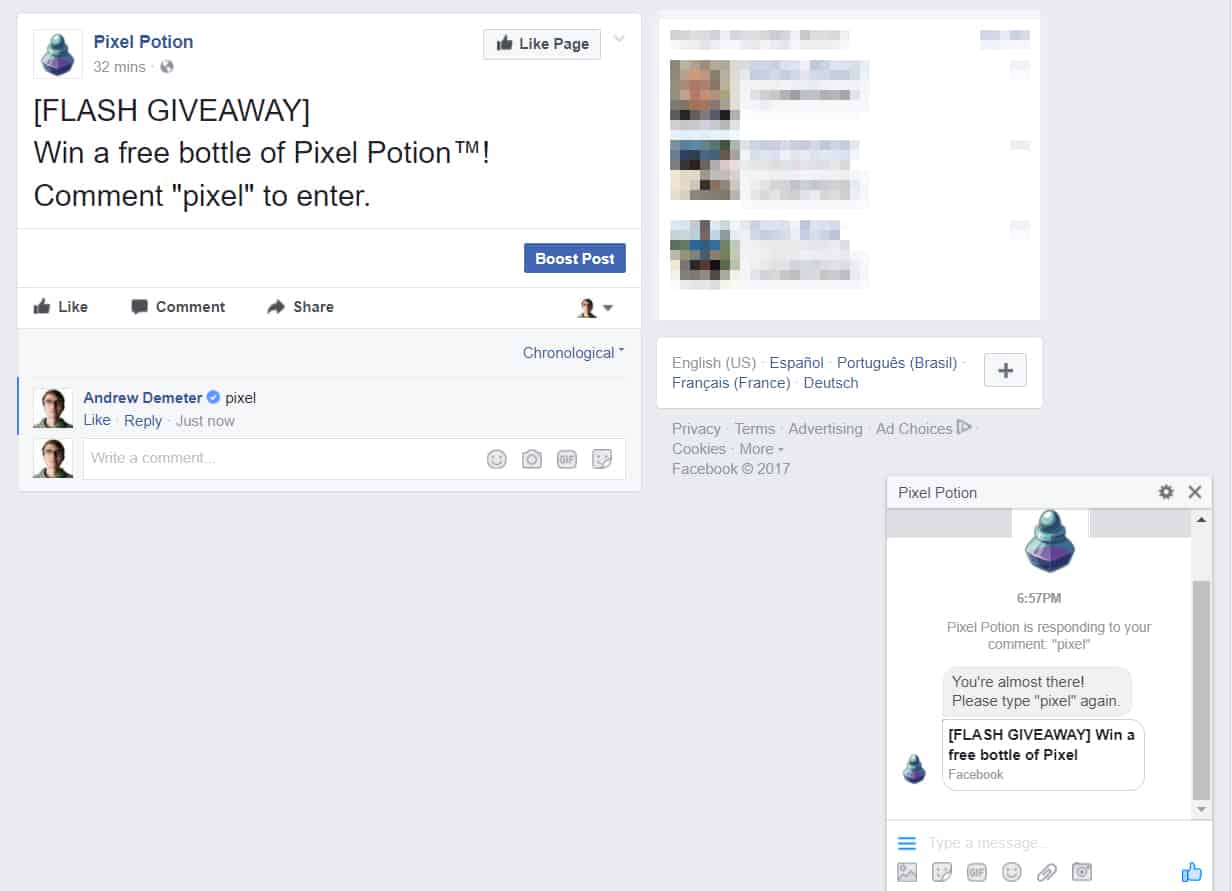 (NOTE: Make sure you're commenting on the post from your personal profile, not your fan page.)
Conclusion
Well, that's how to use a Facebook chatbot to generate leads! Bots are a fresh, creative approach that'll help you stand out in the hyper-competitive world of Facebook marketing.
In a future tutorial, I'll teach you how to automatically sync these captured leads with your existing CRM (MailChimp, Active Campaign, Infusionsoft, etc.) for easier data management.
When running these bot campaigns as dark posts, I've found that the 'Engagement' objective often produces the lowest cost-per-action. That's because, as opposed to a traditional 'Traffic' ad linking to an external website where the lead is captured, Facebook rewards you for keeping its users on their platform instead of redirecting them elsewhere.