5 Reasons to Work With a Full-Service Marketing Partner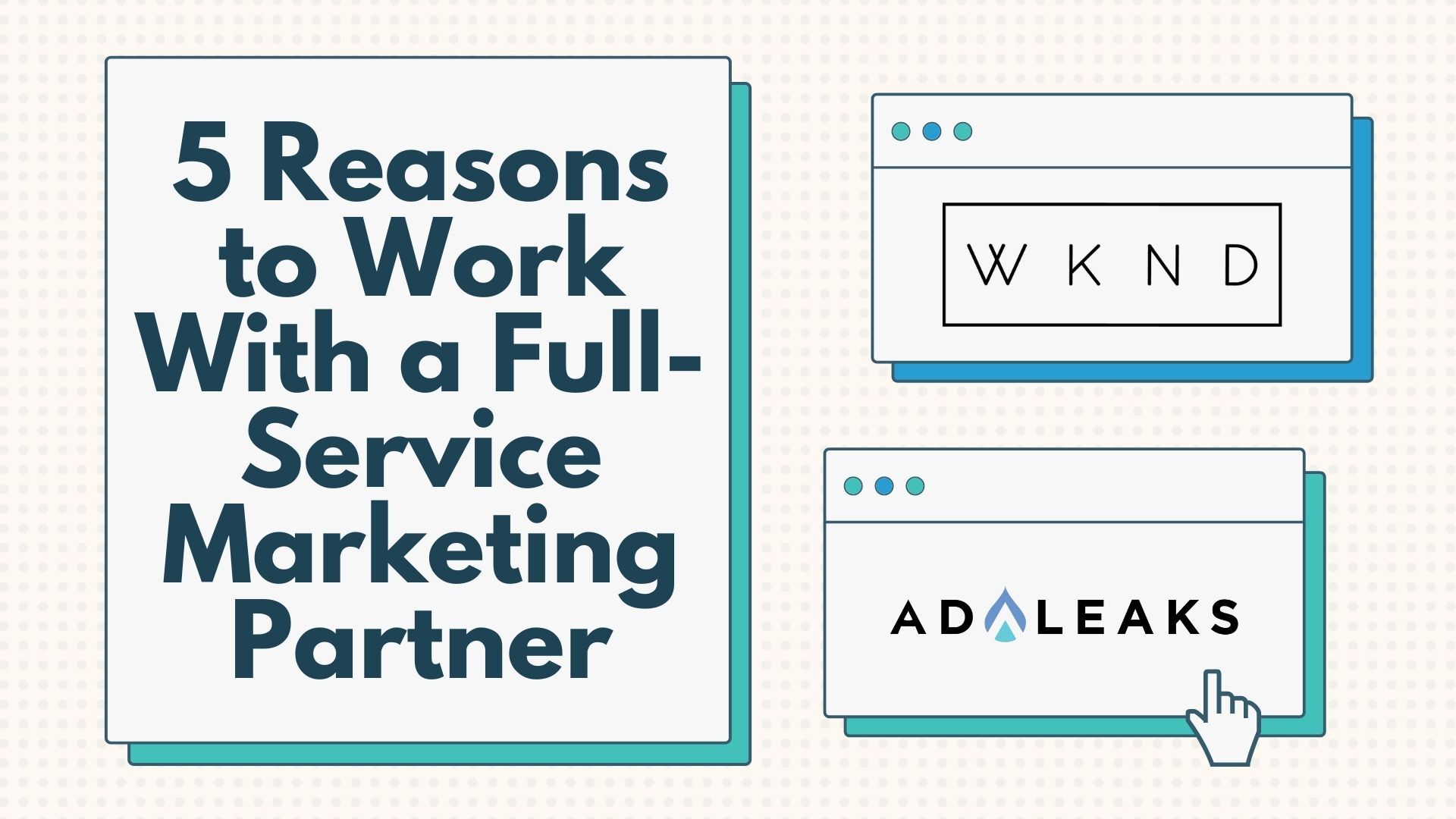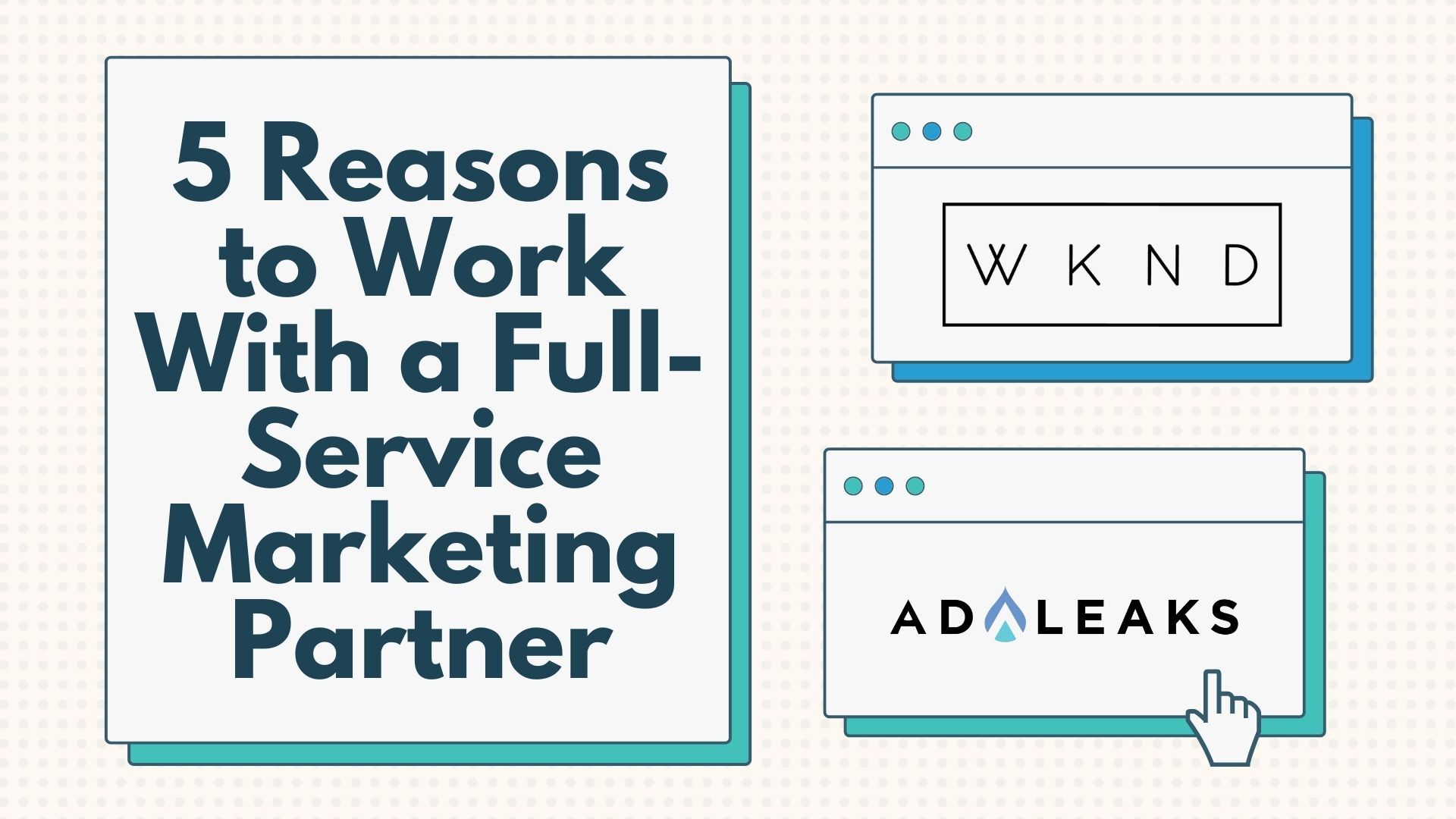 Lots of businesses these days choose to approach their marketing campaigns piece by piece, or channel by channel, without giving enough thought to the bigger picture.
Companies with tight grips on their marketing budgets often fall into this trap.
They might have someone internally who posts to their social media, for example, and someone else who sends email newsletters. Meanwhile, a third-party PPC agency is running their paid ads and someone else is building a new company website.
This is not the way. Instead of a piece-by-piece approach, most of these organizations would be better off with one partner who oversees and is responsible for all of their marketing needs.
Bringing all of your marketing efforts under one roof with one full-service partner can make your marketing more effective and successful — and just as importantly, it makes managing your marketing much easier.
Here are five reasons to give up the piecemeal marketing plan and dive in with a full-service partner:
1. It's Easier to Keep Your Strategies Aligned
When you're working with multiple agencies, each one may have different strategies or goals to generate success.
If you aren't careful, these strategies could work against each other and lead to oversaturated audiences, ineffective ad spend, and other holes you'll have to dig out of.
By keeping everything under one roof, you know that everyone is on the same page with your big-picture plans. When everyone is swimming in the same direction and focused on the same goals, you'll get better results faster.
2. Singular Point of Contact
Trying to coordinate with multiple agencies can be a headache. If you're updating your branding, for example, or rolling out new products, every item on your to-do list has to be double- or triple-checked with each partner.
But when you work with one account manager who is your main point of contact, it makes communication, goal setting, and strategy development so much easier.
Rolling out multi-channel campaigns or making sweeping changes is also easier when you only have to coordinate with one partner.
3. Build Relationships and Institutional Knowledge
If you're working with multiple marketing partners and they don't share information, results from just one channel might skew your understanding of your audience.
But if your marketing partner is creating content and campaigns based on the results from multiple channels, you're more likely to get effective assets that resonate with your ideal buyers.
4. More Agility & Flexibility
When you have one partner managing your marketing across multiple channels, it's easier to double down quickly when something works and cut your losses when something doesn't.
Of course, the opposite is true when you're trying to coordinate with multiple partners. And tasks like keeping product images and content up-to-date are also more work when you don't have a full-service marketing partner.
5. A Full-Service Marketing Partner is More Cost-Effective
The last myth we're busting in this post is one of the biggest — that working with multiple partners or niche specialists will save you money.
There is a chance that your marketing costs look better on paper with a few different partners in place, but the long-term results won't be as effective as they could be — especially when you factor in all of the extra time and effort you've spent coordinating everything with each partner.
That's why having one full-service agency is more cost-effective than multiple agencies. Even if the upfront costs are a little higher, a one-stop partner can help you increase your profits and scale faster.
WKND Digital is a full-service eCommerce marketing agency that leverages paid media, email marketing, content creation, CRO, and more to help DTC brands profitably scale. Schedule a call with us to learn more about consolidating your marketing efforts and crushing your growth goals.