8 Ways to Segment Your Email Lists For Better Results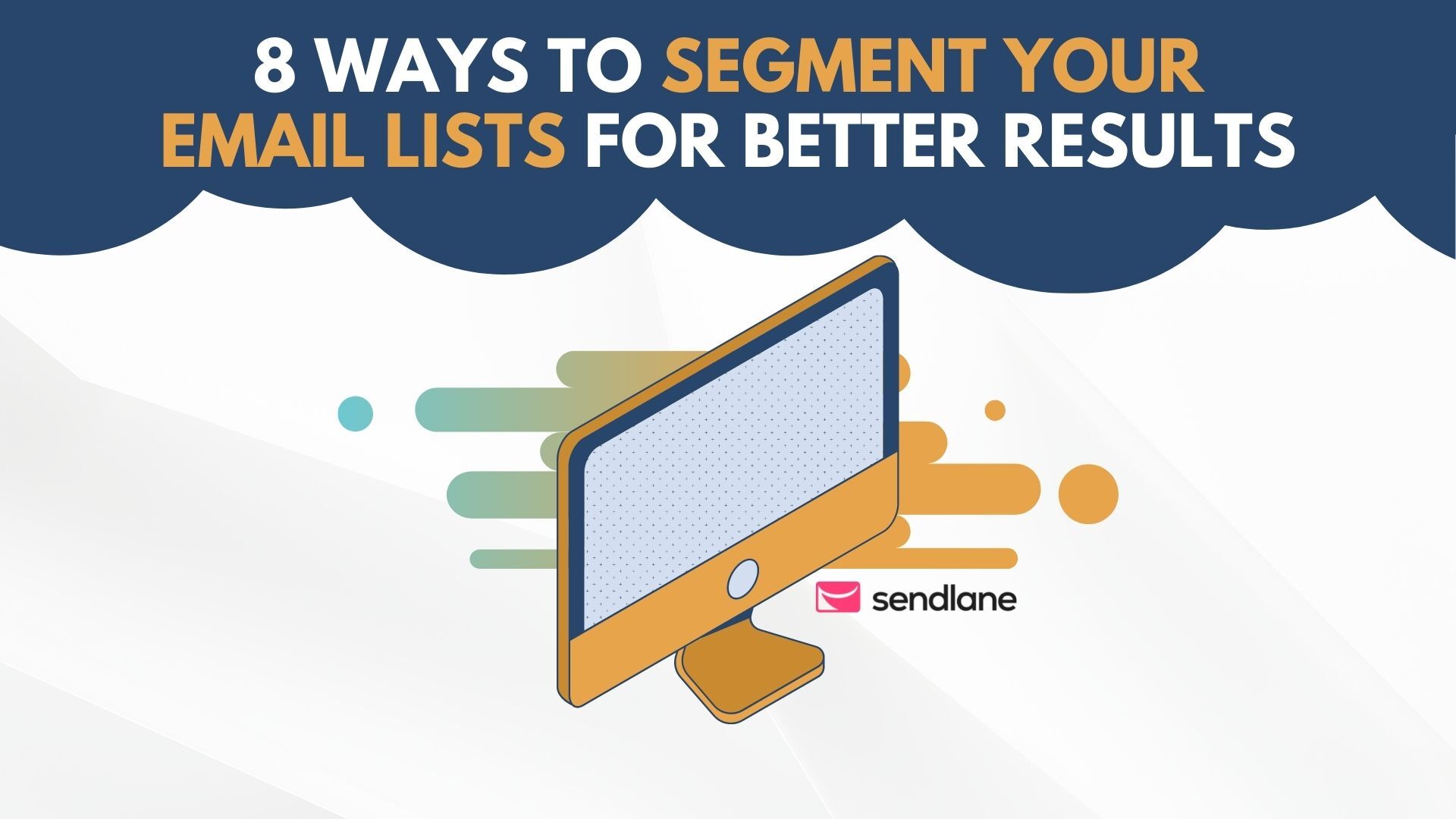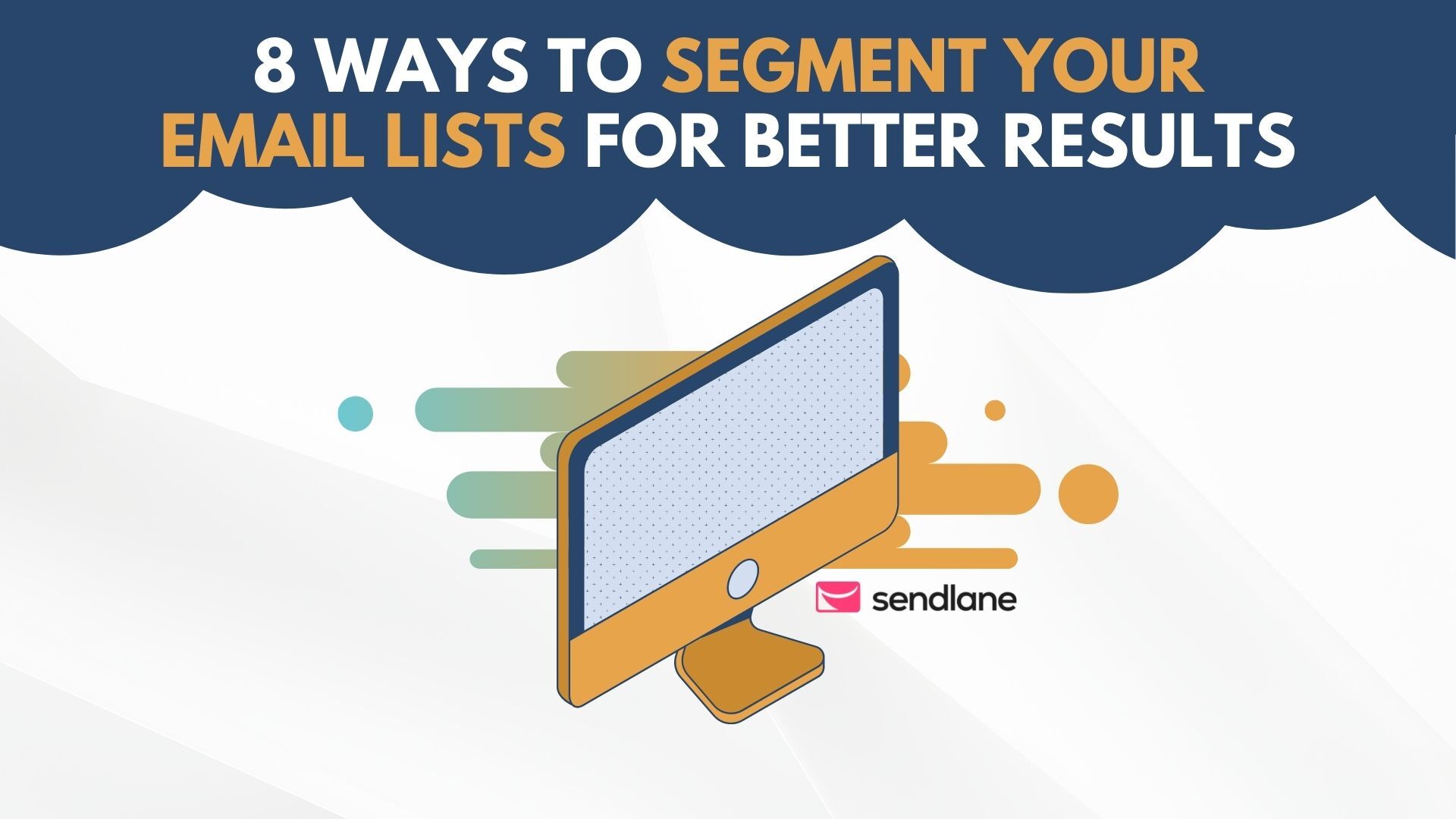 Email personalization is not an option for brands anymore. It's a requirement.
Subscribers don't want emails that aren't of interest to them. A whopping 72% of consumers said that they don't engage with emails that aren't relevant to their interests.
If you want better results from your contact lists, you need to send personalized messages that resonate and provide value.
And one of the most effective ways to do that is to segment your email lists.
Pro Tip: Download The eCommerce Segmentation Handbook to learn all about email segmentation in detail!
8 Ways to Segment Your Email Lists
We've collected eight ways to segment your email lists using Sendlane, but these segments and lists will work for just about any seller or marketer with access to the right data.
1. Buyer History
Purchase history is one of the best ways to segment your contacts. You can use buyer information to send targeted email campaigns that are more likely to succeed.
This segment is based on the simple fact that if contact has already made a purchaser from your store, they'll be much more likely to purchase similar or complementary products, too!
You can leverage past purchase information to send existing customers tailored marketing emails, such as product recommendations and sale alerts.
Let's say your store sells flavored coffee. If you know which customers purchased flavored coffee, you can create a segment and send them more specific product recommendation emails. These messages can highlight new flavors, best sellers, coffee mugs, and other offers.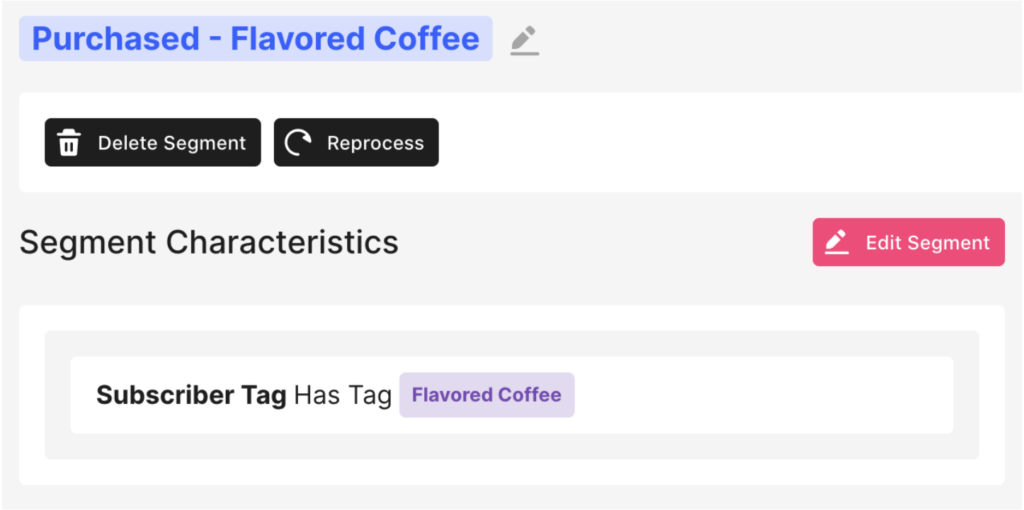 Highlighting these opportunities will drive email clicks and opens, and your chances of converting will go way up.
Similarly, you can use your contact's purchase history to send them purchase reminders.
Let's go back to our coffee shop example. If your contacts regularly buy flavored coffee, you can send messages to remind them to make a purchase before their current supply runs out.
Bones Coffee Company has an email that does just that:
2. Total Orders
Another way your eCommerce businesses can segment your email lists effectively is by using a Total Number of Orders segment.
By identifying your most loyal, high-value customers, as well as customers who need a little more convincing to make repeat purchases, you can create and send even more tailored emails that are likely to convert.
Let's say, for example, that you want to make a VIP segment of customers who have made more than five purchases from your website.
Here's how that segment will look in Sendlane: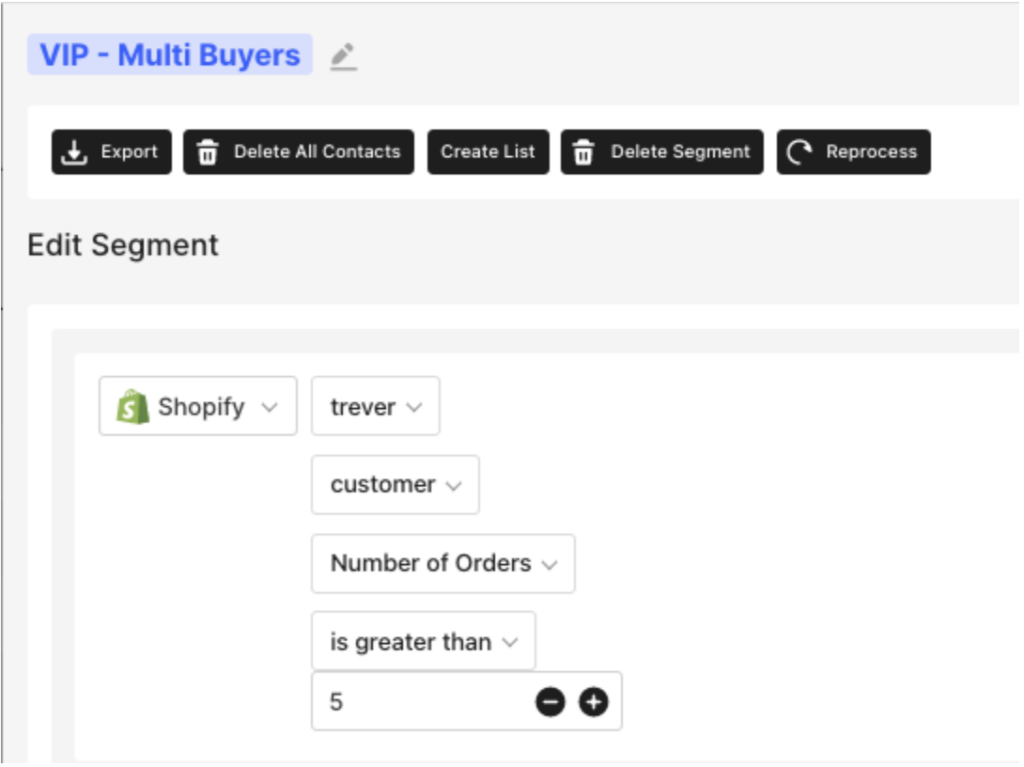 There are lots of ways to show these customers your appreciation and win their business again. You can provide special discounts, enroll them in a loyalty program, or just say Thank You to make them feel warm and fuzzy inside.
Here's an example of a Thank You email from David's Tea:
You can also create additional segments based on order number thresholds. If you're doing good business, for example, you might want to create the following three segments:
1-5 purchases
5-10 purchases
10+ purchases
This will give you even more opportunities to reach your existing customers, even those who don't buy from you too often.
3. Segment Your Email Lists by Product Categories
Segmenting by product category is similar to using buyer history. This technique empowers you to target customers who have shown trackable interest in a product or a certain type of product.
You can identify these interests through past purchases, excessive clicks, or more time on a specific webpage than others.
This information is useful for sending targeted and relevant emails to your contacts highlighting their specific interests!
For example, if certain shoppers have bought items from a specific designer clothing category, you can create a segment based on those purchases. With that list in hand, you can start creating and sending personalized emails when new items from that designer are in stock.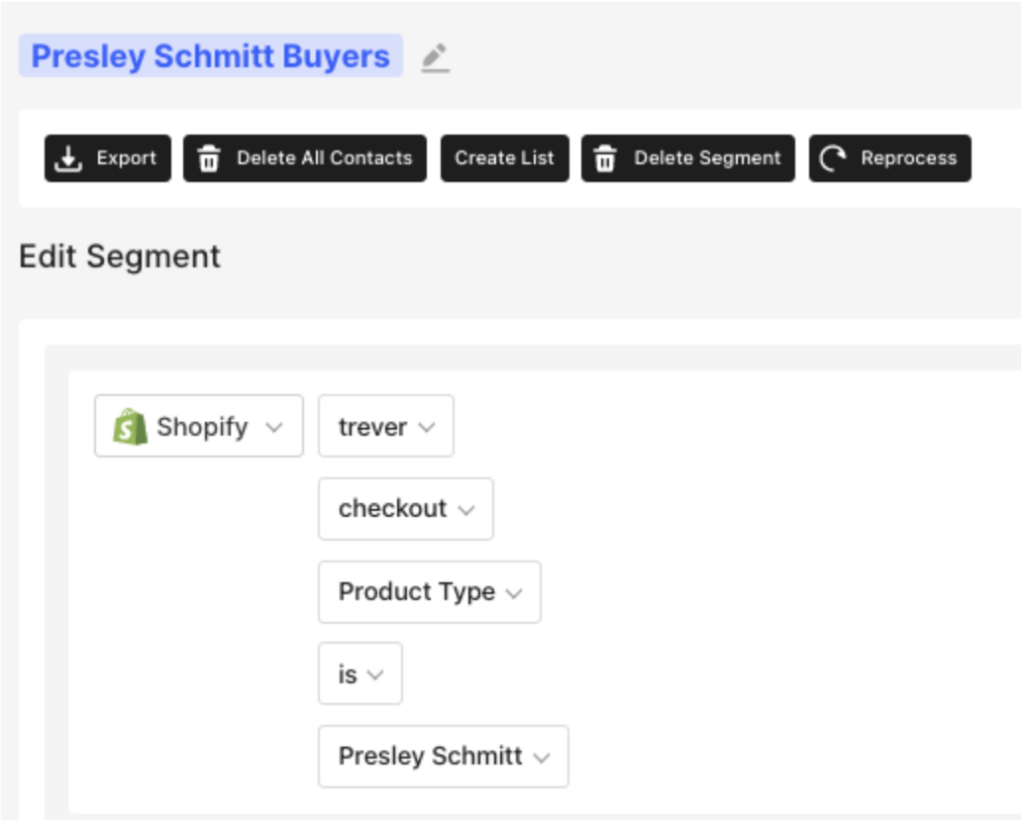 If you want to expand beyond purchase information, you can build this segment is by surveying your contacts and asking about their preferred product categories.
This information will allow you to send emails that these contacts will want to receive from you, even if they haven't made a purchase yet.
4. On-Page Activity
Website activity can say a lot about what customers are interested in and what they're likely to respond to.
With Sendlane, you can track website activity with the Beacon feature and use that information to target segments with personalized emails that actually work.
You can start by analyzing the web pages that contacts spend the most time. You can see which product pages prospects are engaging with and even the devices they're browsing from.
Targeted segments like "Has Not Visited Website in 60 Days," "Window Shoppers," and "Mobile Shoppers" are easy to create based on this data.

Mobile Shoppers is an especially important segment because you can double down on your marketing efforts by sending SMS alerts along with your emails.
5. Customer Lifetime Value (CLTV)
Customer Lifetime Value (CLTV) is an important metric because it shows you how much profit you can expect from a given customer over time.
Segmenting by CLTV can give you a better understanding of where to focus your email marketing efforts by identifying higher- and lower-value customers.
Depending on your sales levels, you can create three segments based on CLTV:
Unprofitable customers ($0 - $250)
Profitable customers ($250 - $1,000)
Very profitable customers ($1,000+)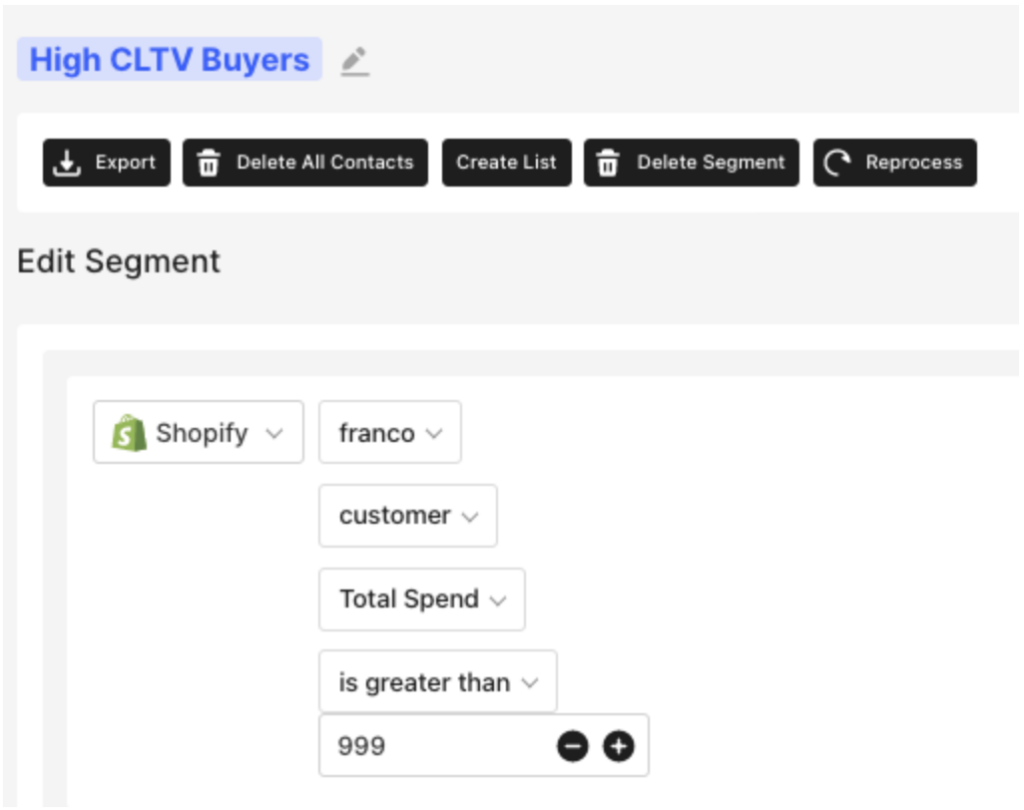 Now, you can send tailored emails to each segment based on how much they're worth to your business!
To your very profitable customers, for example, you can send loyalty rewards and tailored product recommendations in an attempt to retain them.
Similarly, to unprofitable and average customers, you can send upsell offers, educational content that helps them learn more about your products, and social proof like testimonials in an attempt to increase their LTV.
6. Average Order Value (AOV)
Average Order Value (AOV) is yet another popular way to segment your email lists for more effective messaging.
Unlike customer lifetime value, AOV is the average amount of money a customer spends on one purchase.
Like CLTV, however, you can create high, medium, and low AOV segments and send tailored emails to increase AOV for each customer segment.
Let's create a new example. Maybe you have an online store for pet supplies. You can use AOV to create three segments for your shop:
Low AOV ($0 - $50)
Medium AOV ($50 - $75)
High AOV ($75+)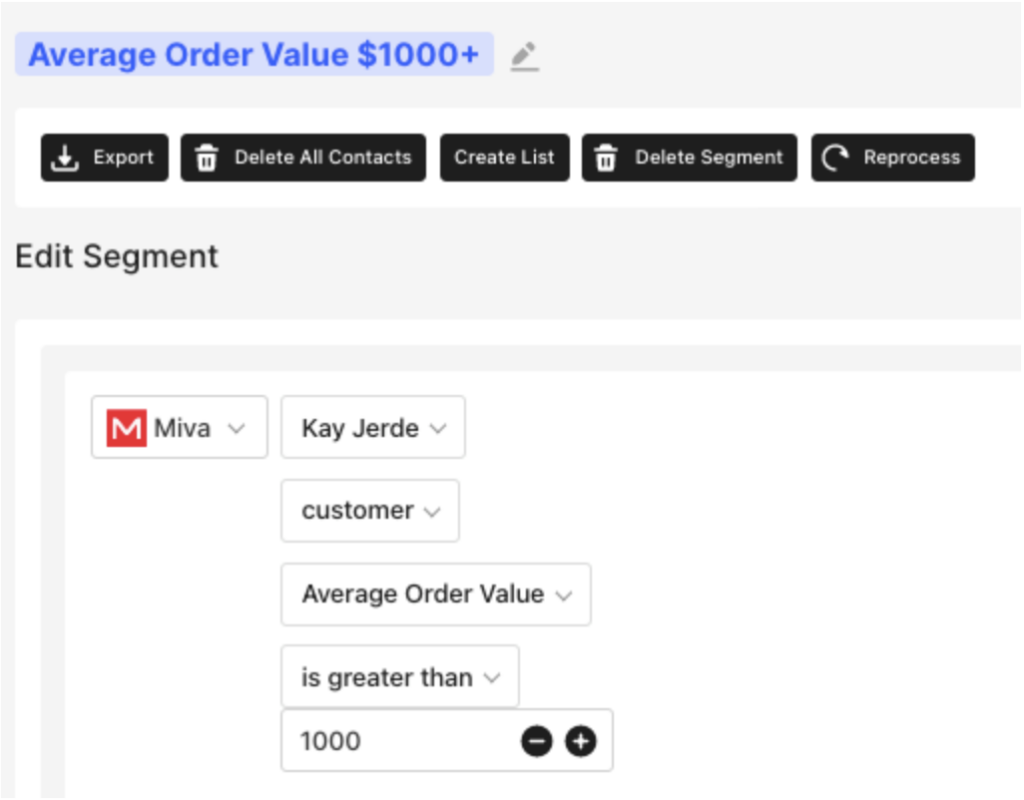 With this in place, you can send emails recommending expensive products, like fancy dog beds or litter boxes, to customers with a high AOV.
Since you know that these people are willing to spend more at your store, you know that they're more likely to respond to these emails.
Customers with medium and low AOV, in contrast, can receive emails that highlight cheaper products, sales, and discounts. You can also include upselling offers to increase their potential order value.
7. Interests & Preferences
We've covered a lot of data-based options so far, but one of the best ways to segment your email lists has to be your customers' interests and preferences.
And there are lots of ways to get your hands on this information.
One simple tactic is to send out a short email survey. Ask your contacts about their interests and email preferences and track what you learn.
You might find out, for example, that a bunch of your contacts would prefer weekly emails, while others might like a new email every day.
This information can tie directly into your email sending frequency. You can market to each segment according to their preferences with confidence that you aren't being annoying or intrusive.
You can also segment your audience using hobbies, products, and other information they share in opt-in forms or surveys. By creating targeted emails around this content, people will welcome your messages into their inboxes!
Let's say you have an eCommerce shoe business with a funny name. (I've always wanted to start a shoe store called "Godfather of Sole," and this might be my only chance, so bear with me.)
You recently conducted a survey and asked your contacts for their favorite types of shoes. Now you want to target contacts who picked Sneakers and Tennis Shoes with a sale.
Your Sendlane segment would look like this: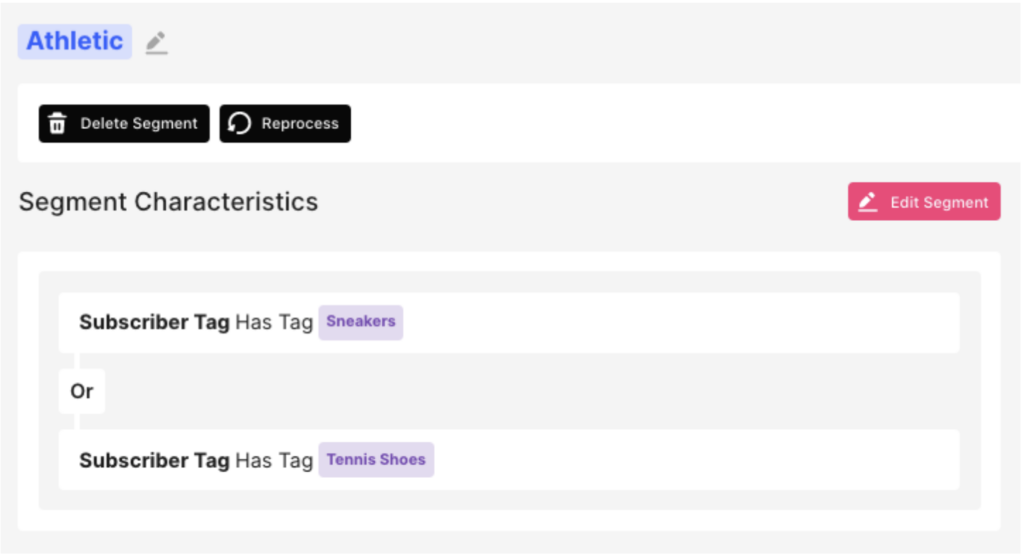 You can use similar segments to share information ranging from product recommendations to sale alerts to new arrivals.
The fun doesn't stop there either. You can use multiple interests and preferences to create highly targeted segments that maximize engagement and conversions.
You can layer segments, such as "Heels and Sandals Lovers," and "Weekly Emails Only," to dial in your target audience even more.
8. Engagement Levels
If you've been sending emails for a while, you should have some data on metrics like click rate, open rate, and other signs of engagement.
You can use this information in two ways. First, you can use it to improve the effectiveness of your future campaigns. Second, you can segment contacts based on how they interact with your emails.
One common segment is separating your contacts by how often they open or click your emails in a 30-day period. Here's how those segments usually break down:
Inactive subscribers: Did not open any email in the last 30 days
Active subscribers: Opened at least 1 email in the last 30 days
Very active subscribers: Opened all emails in the last 30 days
You can set this up in Sendlane with just a few clicks: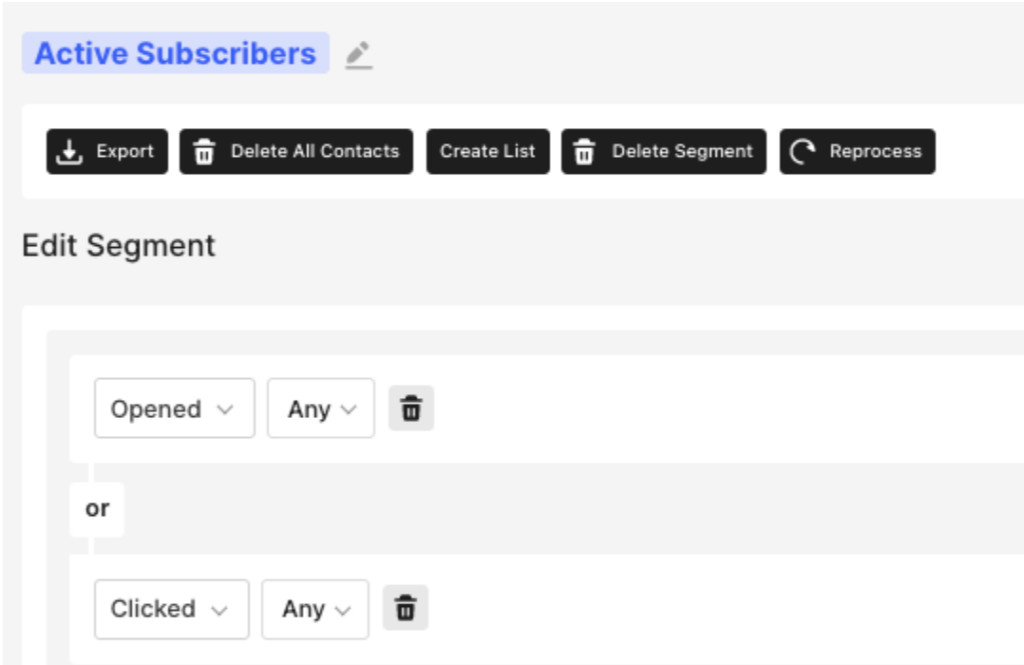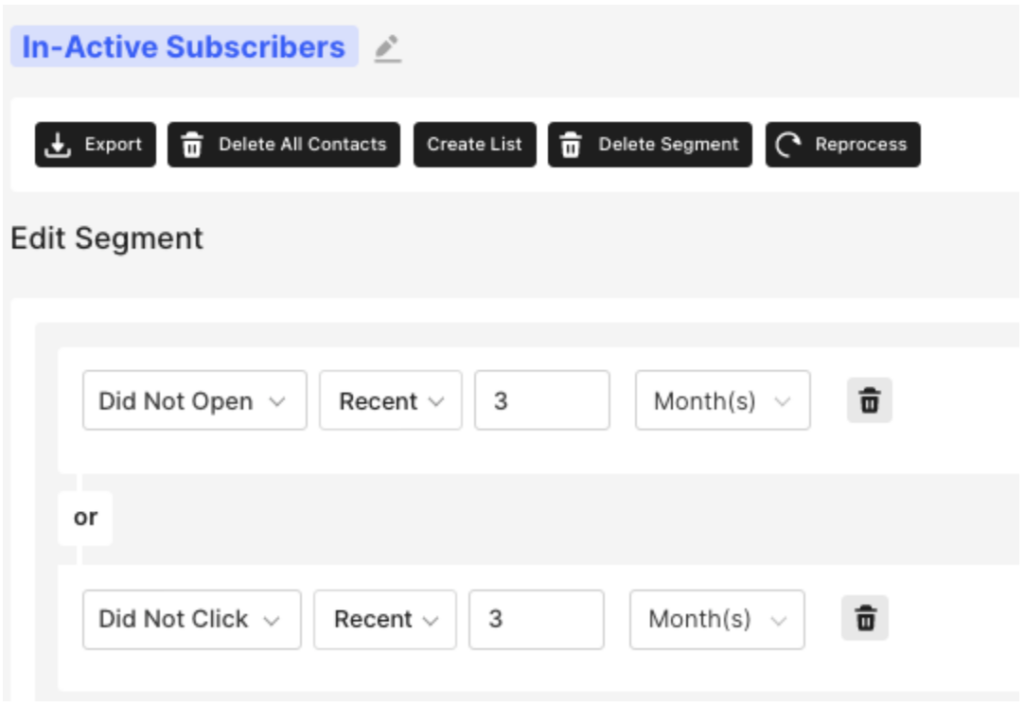 After you narrow down your subscriber list by activity level, you can target segments to increase engagement from its current level.
Subscribers who aren't active might receive a creative "We Miss You" email, and if that doesn't work, you can send a discount, free shipping, or a similar perk.
And if you find that a segment of those recipients still isn't interested, you can send them a "we're taking you off our list" email, like this one from Framebridge:
Segment Your Email & Contact Lists for eCommerce Success
Well-segmented contacts can be extremely valuable for your eCommerce business — and not just for your bottom line.
Segments help you identify the types of customers you have and what they're interested in. They also let you reach out to each prospect with more personal and relevant messages.
Emails that resonate will drive up engagement and conversion rates because contacts are more likely to respond to content that is tailored to them.
And once you've learned how to leverage segments, you'll generate more sales, loyal customers, and ROI!
If you want to learn even more about segmentation, click here to get The eCommerce Segmentation Handbook.
Ready to level up your email and SMS marketing with segmentation? Sign up for Sendlane's free 14-day trial and take it for a test drive!