Get to Know Shopify: An eCommerce Startup Guide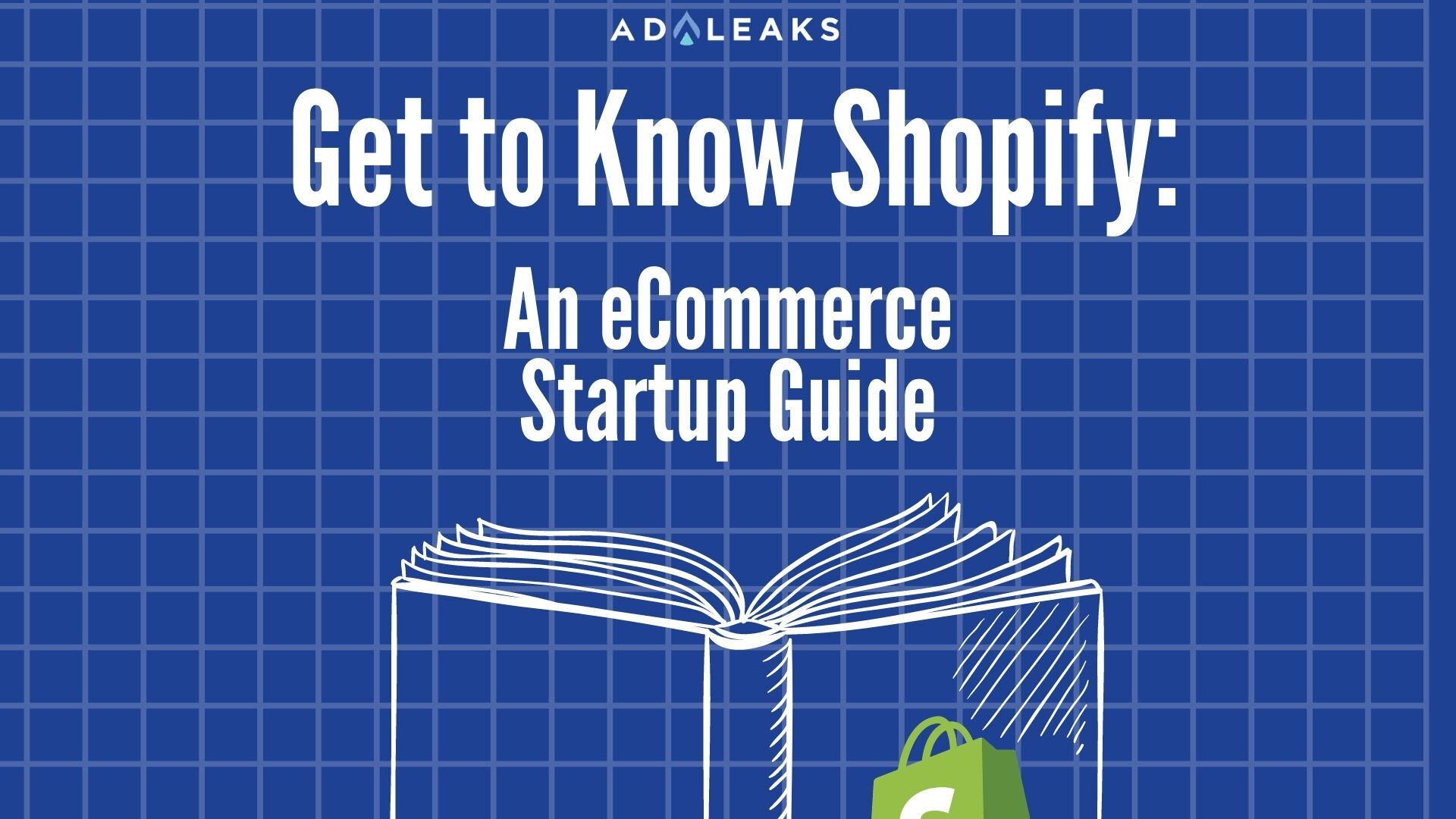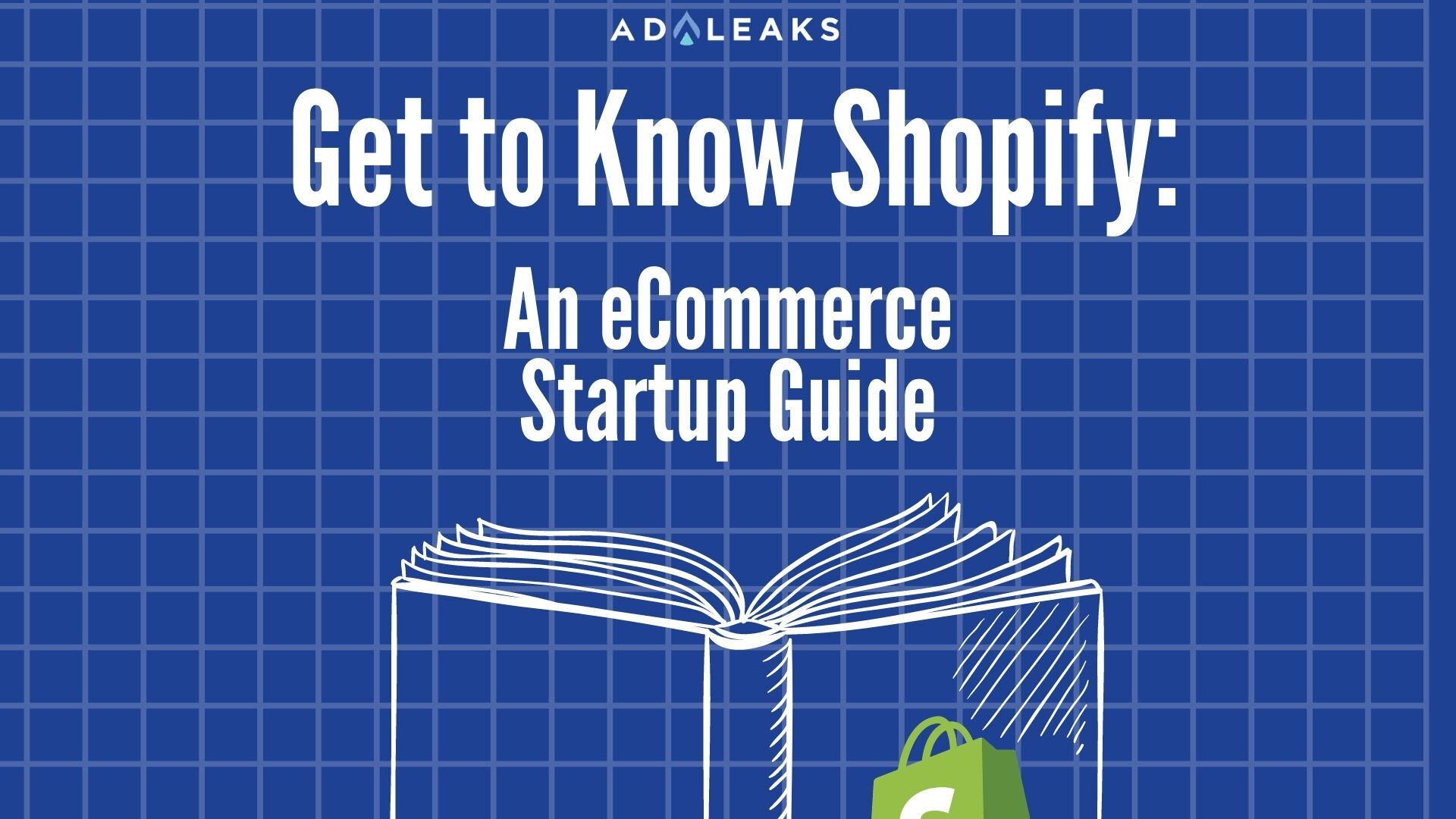 You've probably heard of Shopify before. But just in case you haven't, Shopify is a leading eCommerce platform for online stores.
In other words, everything you need to run a digital storefront — including shipping, payment, day-to-day operations — is available under one roof.
Shopify at a Glance
Founded in Canada in 2004, Shopify's has grown to claim about 12 percent of the global eCommerce market. In 2020, the platform supported 44 million customer purchases and total revenue climbed above $3 billion.
Like BigCommerce, Shopify is SaaS-based. The platform runs in the cloud, and you don't have to download any systems or learn how to code.
If you're just starting out in eCommerce, this is important because you don't need to spend money on a web developer. Shopify provides a website builder, so you can have everything up and running in a day.
Shopify's app store is extensive, and there are lots of upgrades to choose from as your business grows. These apps are created by third-party developers, but if you want something specific you can also have someone create a custom app or tool just for your business.
What Do You Get with Shopify?
Shopify has extensive offerings and includes features like:
Shopify point of sale (POS) for in-person sales and events
The ability to sell seamlessly on other platforms like Amazon, Instagram, and Facebook
A variety of design themes
Cheaper transaction fees than other platforms like Etsy and Amazon
A built-in blog to boost your SEO rankings
Award-winning customer support
How Much Does Shopify Cost?
If you're not ready to commit, you can start using Shopify with a 14-day free trial, as the image below mentions. This should give you the time to decide to see if it's the right fit for you. And the current pricing plans (in Q2 2021) break down like this: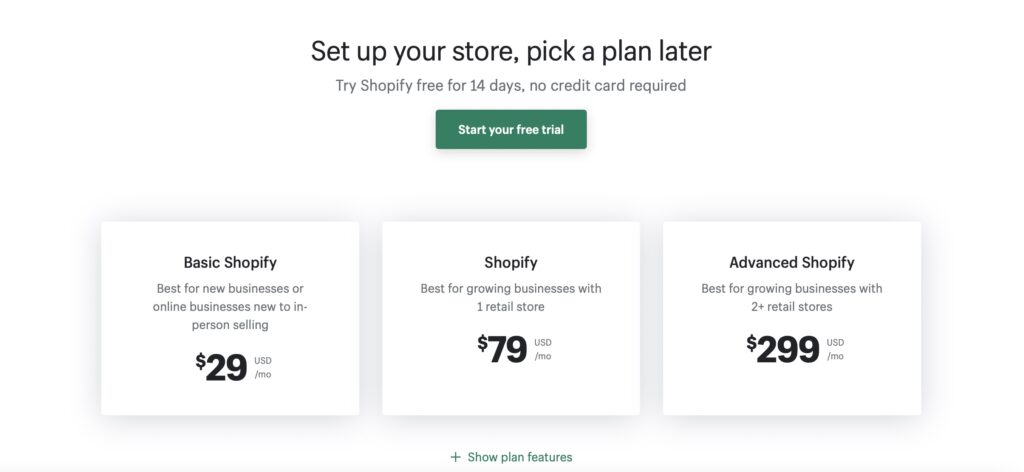 Basic Shopify is $29 per month and includes features like:
Unlimited products
24/7 support
Discount codes
Gift Cards
Abandoned cart recovery
A standard Shopify account is for growing businesses and one retail store. It costs $79 per month and includes everything above plus:
International domains
International pricing
Professional reports
Advanced Shopify is $299 per month and includes all the features above, as well as:
Up to 15 staff accounts
Third-party calculated shipping rates
International pricing variants
Shopify Plus starts at $2,000 per month, and It allows you to:
Sell more
Manage the business
Integrate quickly
Your How-To-Get-Started Guide
As we mentioned above, setting up your Shopify store will take about a day of work from start to finish. But before you begin, check out Shopify's 27-lesson video course. It takes about 90 minutes to complete and covers lots of aspects of using Shopify for eCommerce, including:
Designing your online store
Setting up shipping, legal, and checkout
Keeping customers happy
Setting up taxes and billing
Testing an order, launching the store, and adding an app
Once your store is up and running, you can join more than one million users in the Shopify community to get feedback and answers to your questions.
Final Thoughts
If none of the above options sound right for you, there is one more Shopify product to consider.
Shopify offers a "Lite" version for just $9. You can sell an unlimited number of products with this option, but you don't get to construct an actual online store. You can sell products on your Facebook page, for example, or other websites or blogs.
If you are a dropshipper, Shopify has a number of apps that can be integrated to keep your store in working order. These allow you to not only sell products online but also source them. This is where Oberlo gets a mention.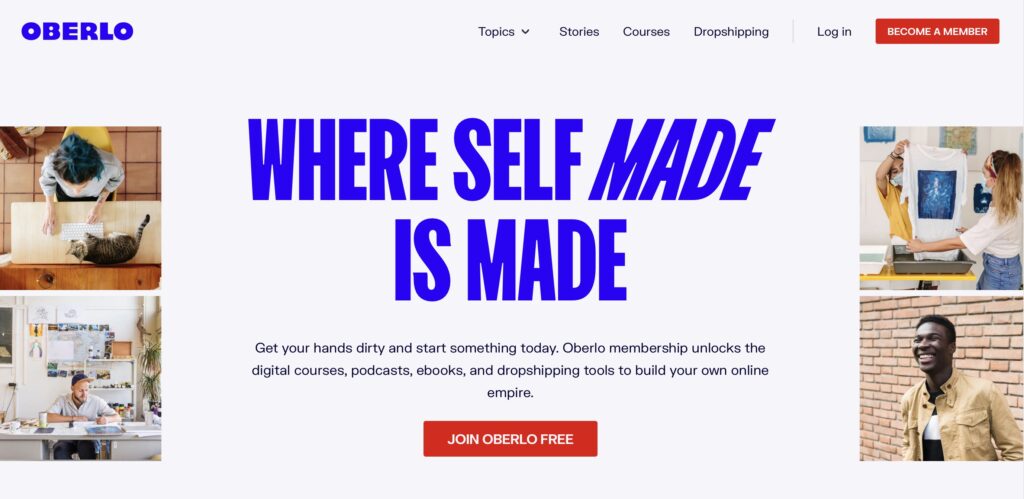 Oberlo connects to Shopify and helps with product sourcing searches. Choosing this route also means you don't have to hold inventory or worry about packaging.
Finally, Shopify is the largest eCommerce platform in the US after Amazon. So if you're looking for stability, Shopify is a good choice. Also, more than 80% of merchants use third-party apps, which means the ability to add custom functionality to your store will continue to improve over time.
To learn more about eCommerce, Shopify and get the latest and greatest digital marketing secrets, click here to Join AdLeaks!