Boost Engagement and Conversions with Web Push Notifications & Email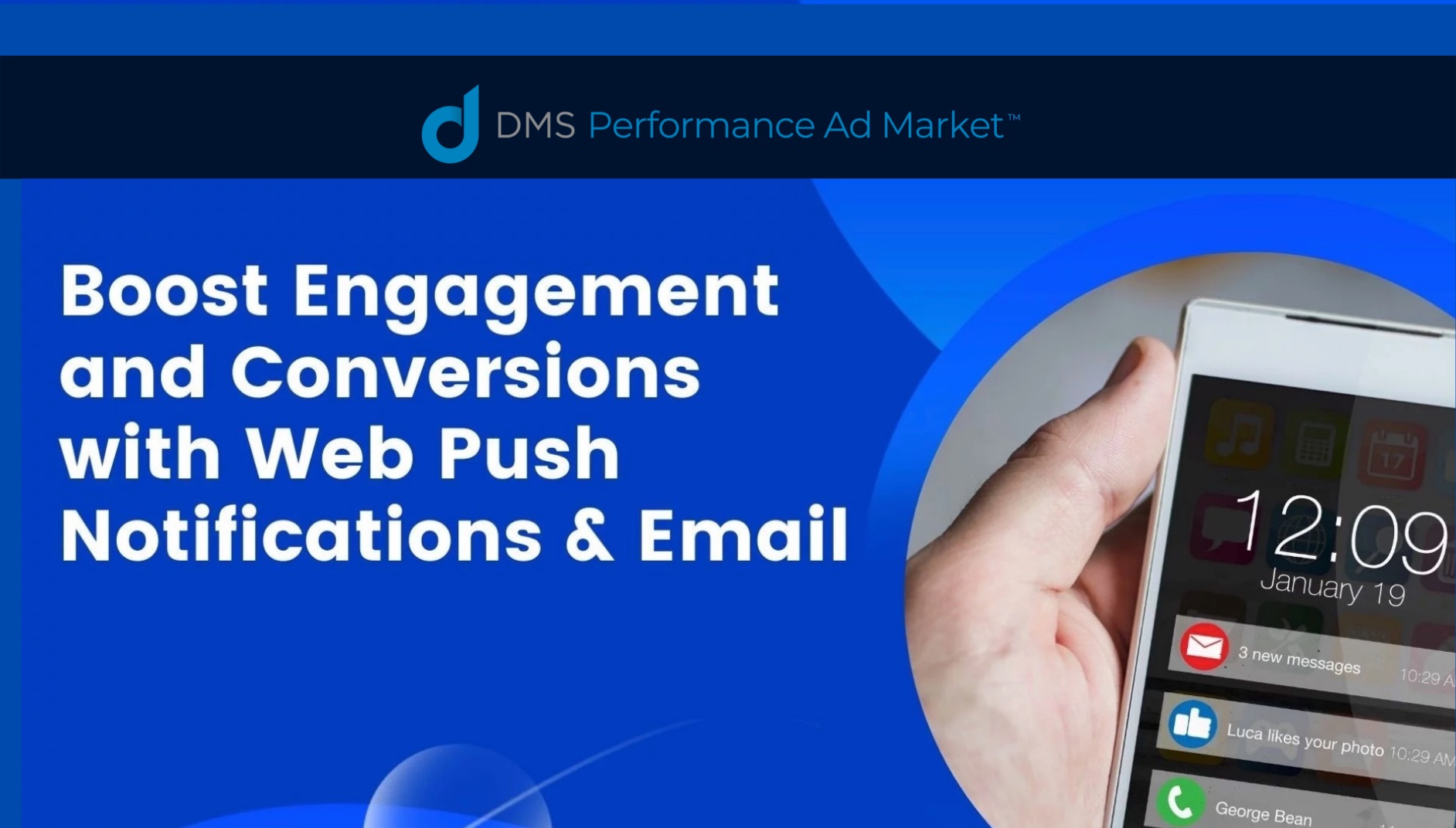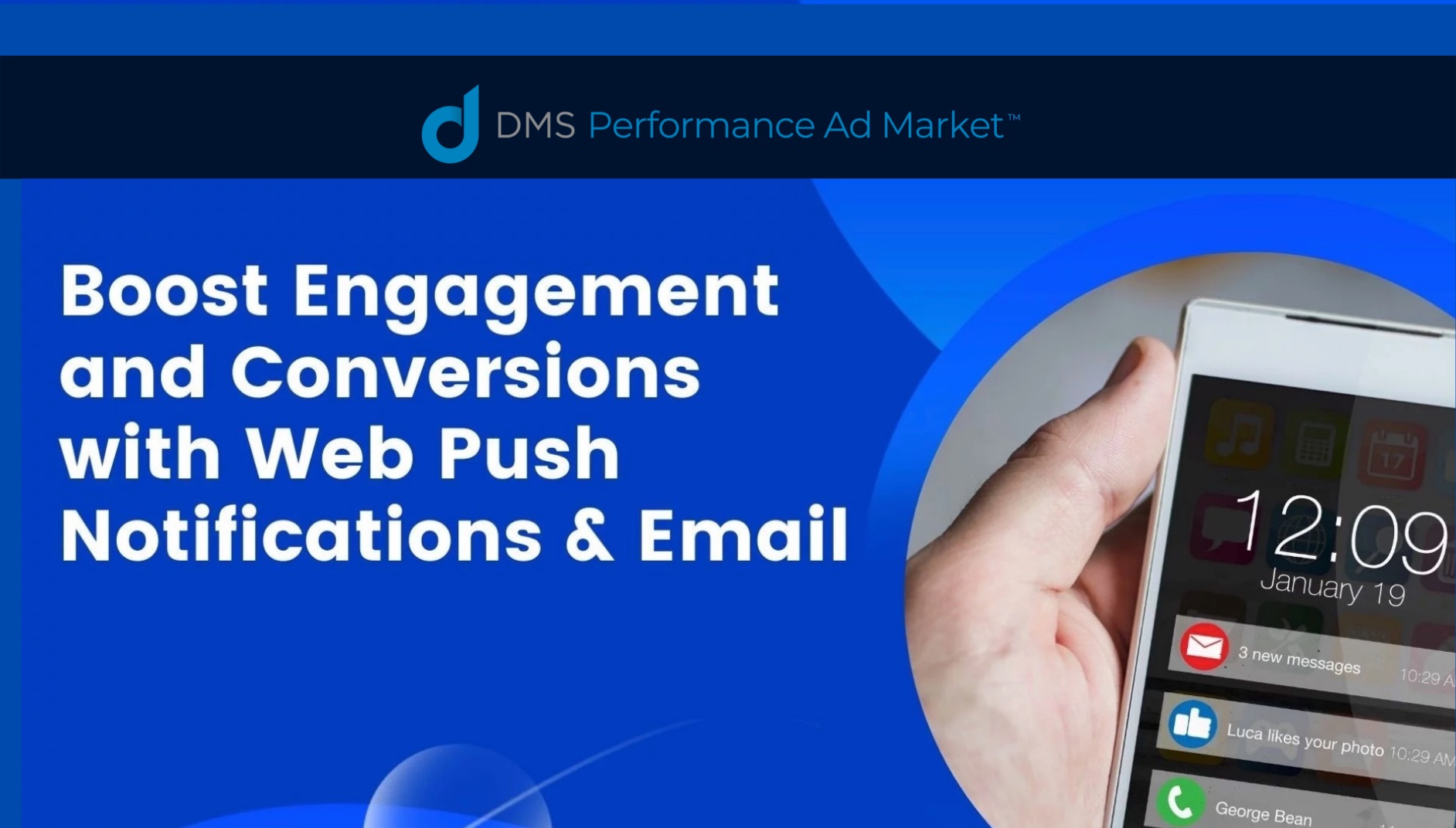 The number of ways consumers can engage with brands continues to increase, which means that digital advertisers need comprehensive strategies to reach consumers in unique ways.
A multichannel marketing approach provides advertisers with enhanced opportunities to connect with their audience. When used in tandem, web push notifications and email can create opportunities for improving audience engagement, website traffic, customer loyalty, and overall conversions.
The unique nuances of web push notifications and email empower brands to connect with their audiences in distinct ways.
Use Web Push Notifications To Communicate Urgency & Relevancy
Push notifications are best for content that requires immediate attention. They enable advertisers to instantly connect with consumers.
What are Web Push Notifications?
Push notifications are immediately delivered to subscribers' desktop or mobile devices, providing elevated visibility for messages that are designed to be seen right away. Messages deployed via web push notifications will display on subscriber's devices no matter what they are doing, even if they are not visiting websites or using a browser.
A brand that shares urgent or timely information via push notifications can generate an immediate bump in website traffic. Advertisers can take advantage of this level of visibility for time-sensitive messages like breaking news alerts or flash sale reminders, and web push ensures that the right consumers receive the right messages at the right time.
Maximizing Results From Push Notifications
Advertisers have an opportunity to maximize results by delivering content to high-intent consumers. With a push marketing provider that tracks on-site user behavior, advertisers can leverage this data to create segments of consumers.
Publishers, for example, can segment their audience into groups based on the types of content they engage with to send notifications that match consumer interest.
Web push notifications also help consumers find the products or services most relevant to them on a brand's website easily. These alerts can improve the user experience and boost customer satisfaction, two factors increasingly tied to higher customer retention.
Brands looking to enhance customer engagement, loyalty, and satisfaction should consider incorporating push marketing into their over digital marketing strategy.
Engage Consumers Via Email To Share Detail-Rich Content And Transaction-Oriented Information
Push notifications are a useful tactic, but consumers still turn to their email inboxes for information from brands that pique their interest.
In fact, a report from email optimization company Litmus found that 53% of marketers expected to send more emails in 2020 than the year prior, a number that is likely to continue growing in 2021.
Ecommerce advertisers should leverage email campaigns to display new products and share corresponding information.
Additionally, to continue meeting increasing consumer expectations, brands should deploy email messages that keep their customers informed about important information relating to their orders, such as order numbers, tracking information and delivery timelines. By delivering this content via email, consumers will have a copy of this information to reference as needed.
For non-transactional emails, quality visuals can help advertisers capture consumer attention. Visually appealing campaigns can help improve consumer engagement. Stock photos can be used when needed, but original graphics provide the best results, according to a study from Venngage.
Web Push Notifications & Email Can Amplify Brand Messages and Maximize Retargeting Together
A multichannel approach can also enhance revenue generation, as 2020 research from Omnisend revealed. Marketers who promoted a single campaign across three or more channels reported a 287% higher purchase rate compared to those that only employed one channel.
Advertisers should rely on both web push notifications and email to maximize reach and improve consumer engagement opportunities. Messaging consistency is crucial in helping brands form lasting connections.
Marketers can leverage the advantages and effectiveness of web push to enhance the performance of their drip campaigns, retargeting efforts for cart abandonment, and drive web traffic via content marketing.
Web Push Notifications Can Make Drip Campaigns More Effective
With the right combination of web push and email marketing, advertisers can create drip campaigns to increase brand awareness and connect with consumers.
Push marketing drip campaigns keep brands top of mind for shoppers at all intent levels. Further, push marketing can be easily integrated into a holistic digital marketing strategy to attract and engage new subscribers.
Email drip campaigns serve similar purposes, but the additional space allows for more detailed campaigns that create a narrative.
Marketers Can Retarget Cart Abandonment With Push Notifications
Advertisers can increase revenue by retargeting consumers who started filling online shopping carts but left the site before completing a transaction.
Both web push and email are effective avenues for retargeting consumers who abandoned their carts. With timely messages and personalization, email and web push can encourage consumers to return and to complete their purchases.
For a cohesive strategy, brands can stagger the times for web push and email retargeting campaigns with consistent messaging that encourages the desired action: making purchases. And again, advertisers increase their chances to engage consumers effectively by marketing across more than one platform.
Web Push Notifications Can Entice Consumers With Content Marketing
Brands can leverage both push notifications and email to engage consumers higher up the sales funnel, encouraging interaction with content such as blog posts, videos, or webinars.
RSS feed campaigns, for example, can be established on web push platforms for nearly any RSS feed to automatically send to an entire audience quickly, or preferably, to audience segments that are more likely to engage with targeted content.
A/B testing and analytics monitoring will provide insights into what messaging and channel performs best, as well as ideas for improvement. Advertisers can use this data to adjust their strategy accordingly to continue to effectively engage their target markets.
Email & Push Messaging Related to Unique Audience Needs, Motivators And Values Are Most Effective
Advertisers looking to maximize meaningful audience interaction should leverage the combined and complementary strengths of push notifications and email campaigns.
Push campaigns are useful for capturing the attention of target audiences with time-sensitive content that requires immediate attention quickly. Email marketing remains an effective platform for engaging consumers with more detailed content, including visuals and transaction-related information.
Across both email and push, advertisers should focus on creating cohesive messaging based on the needs, values, and influencing factors of their core audiences. Deployed correctly, these channels can help advertisers take advantage of audience segmentation to deliver the right messages to the right audiences.
By leveraging a multichannel strategy, advertisers can effectively engage prospective and active customers with both web push notifications and email to maximize results.
Are You Looking For New Ways To Monetize Your Traffic?
Once you've made updates to help overcome common inboxing challenges, you need the right partner to help you monetize your traffic. DMS Performance Ad Market (formerly W4) is committed to offering a diverse selection of high-yielding campaigns and providing the best publisher support in the industry.
The DMS Performance Ad Market gives publishers the tools needed for maximum success, including one-on-one expert advice along with the best-performing campaigns at the absolute highest price points.
DMS offers flexible, on-time payment terms to support scale. We value our publisher relationships and ensure that our publishers are handsomely rewarded for their loyalty and business.