The Curious Marketer's Guide to Amazon Ads
Amazon, first and foremost, is a search engine.
According to appypie, a search engine is a web-based tool that is used by people to locate information.
But when someone searches on Amazon, they aren't just looking for information. They're looking for products.
Amazon searchers, then, are actually bottom-of-funnel prospects who are ready to buy. This means Amazon Ads can be effective for eCommerce sellers. But where to begin?
Who Should Use Amazon Ads?
Before you start selling on Amazon and running Amazon Ads, you need to know if your customers are there.
Amazon has a price comparison style, for example, so if your product is more expensive than your competitor for no obvious reason, it will be a tough sell.
Further, Amazon customers are looking for deals and items that will be delivered quickly. But if this doesn't sound like your product, don't despair. If you source unique products that are:
Lightweight
Below $50
Fill a need
Good quality
You could have a winner on your hands. The uniqueness of the product, however, will have the most impact on your sales success.
What Does It Cost to Sell Products on Amazon?
According to Amazon, selling products depends on a number of variables, which can include:
Selling plan: There is an individual plan of $0.99 per item or a professional plan for $39.99 per month.
Referral fee: This is a payment made to Amazon by the seller, it is a percentage of the total price. These range from 6% - 45% but are usually around the 15% mark.
Fulfillment fee: As the seller, you can fulfill purchase orders or you can organize Fulfilment by Amazon. These fulfillment fees vary based on:

Weight
Apparel/Non-apparel
Storage fees according to the time of year

Other costs: Additional costs can cover inventory, refund administration fees, and other incidentals.
To get an estimate of your sales margin on Amazon, take advantage of their cost calculator.
Types of Amazon Ads
Amazon Ads currently offer eight options, the first three of which are most common for sellers.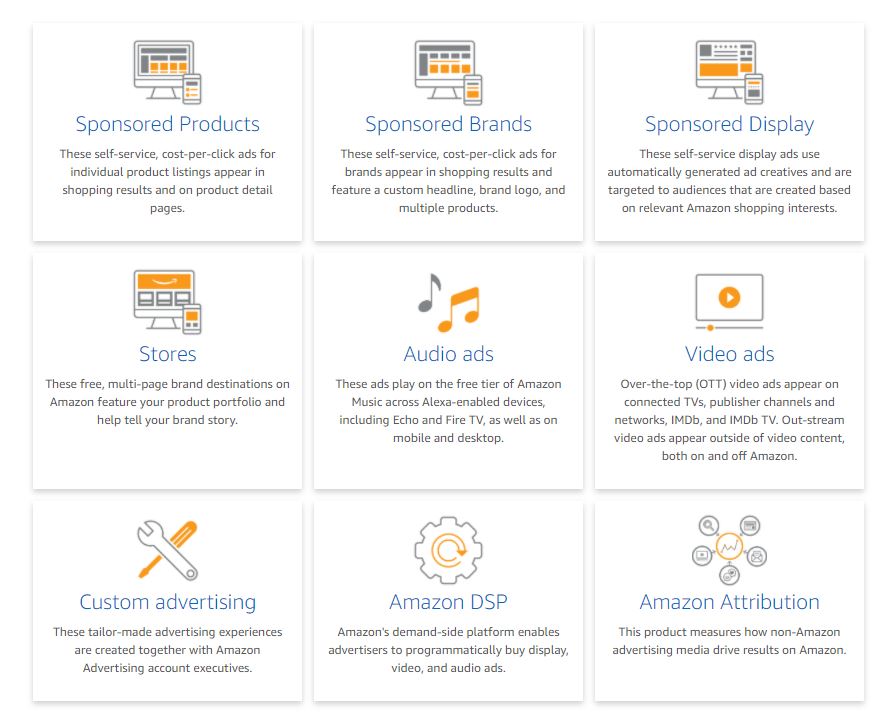 1. Sponsored Products
Amazon recommends Sponsored Product ads for anyone new to advertising. These are CPC (cost per click) ads that focus on one particular product you are offering.
2. Sponsored Brands
Amazon Ads for Sponsored Brands are also CPC-based, but they focus more on brand awareness by displaying your brand logo and headline.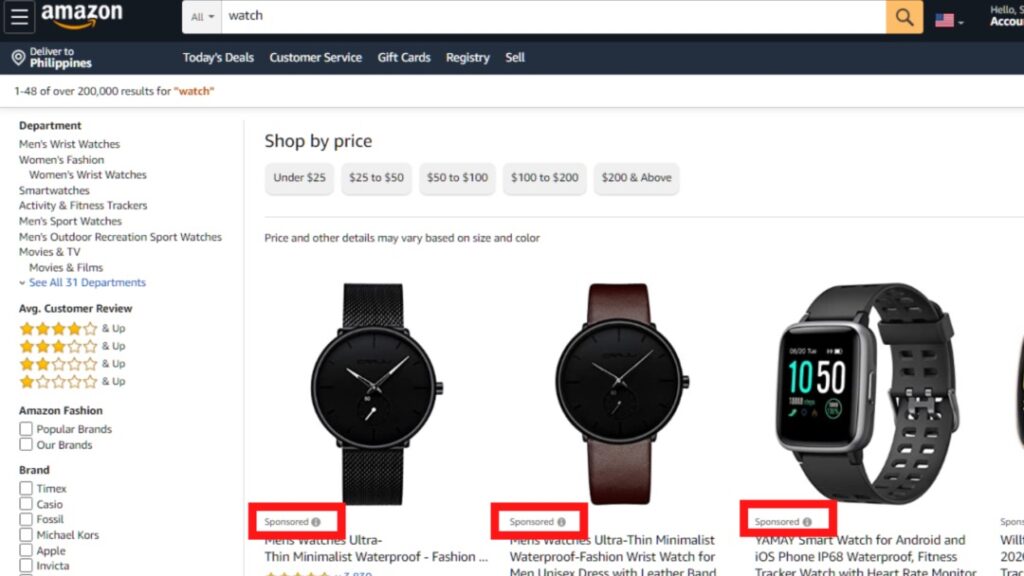 3. Sponsored Display
Sponsored Display ads are featured both on and off Amazon. They are also CPC-based and help to increase your buyer base and your online presence.

4. Stores
Amazon Ads for Stores allow you to showcase multiple products featured in your Amazon shop or under your brand. (There is no extra cost for setting up an Amazone Store.)
5. Audio Ads
Amazon Audio Ads play on various devices for the free-tier users of Amazon Music. They start off at $25k, and you don't have to be an Amazon seller to purchase ad space.
6. Video Amazon Ads
Amazon Video Ads reach audiences on Amazon-affiliated sites.
7. Custom Advertising
Tailor-made experiences or custom advertising is showcased across Amazon's physical and online stores.
8. Amazon DSP
Amazon demand-side platform ads (DSP) include programmatic advertising via video, audio, and display, both on and off Amazon. It's effective both for retargeting and brand awareness.
Amazon Attribution
Amazon Attribution allows you to see how non-Amazon marketing is affecting sales on Amazon. This system functions like the Google Analytics of Amazon.
Final Thoughts on Amazon Ads
We hope this has given you a basic understanding of Amazon Ads and selling on the platform. If they are the right fit for you, make sure that once you get started work hard to get reviews — they are King.
To learn more about Amazon Ads, Amazon Product Research, and other exclusive digital marketing secrets, click to Join AdLeaks now!