Hiring Development Teams: Should You Go Agency or In-House?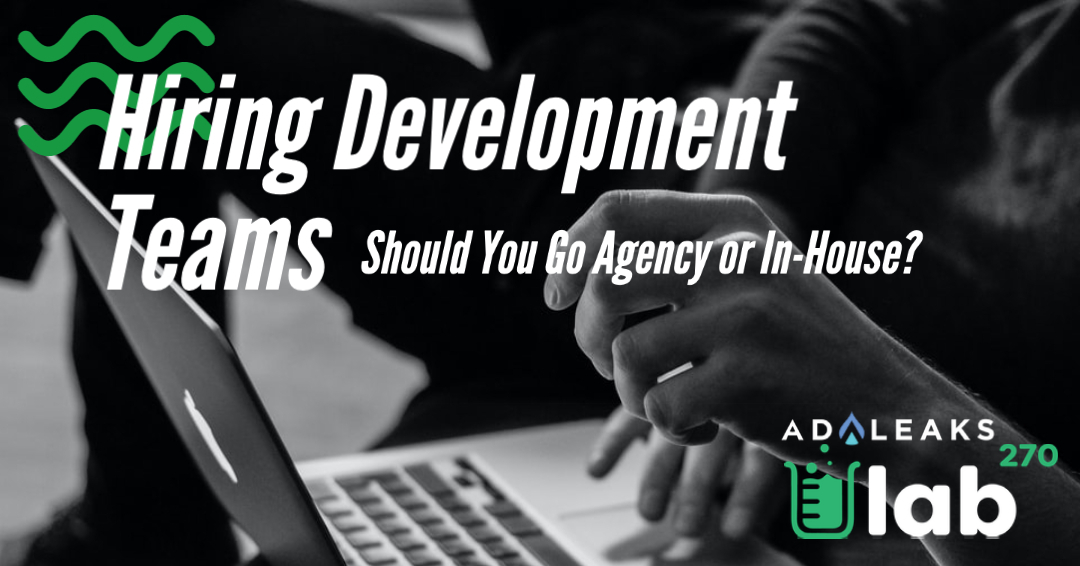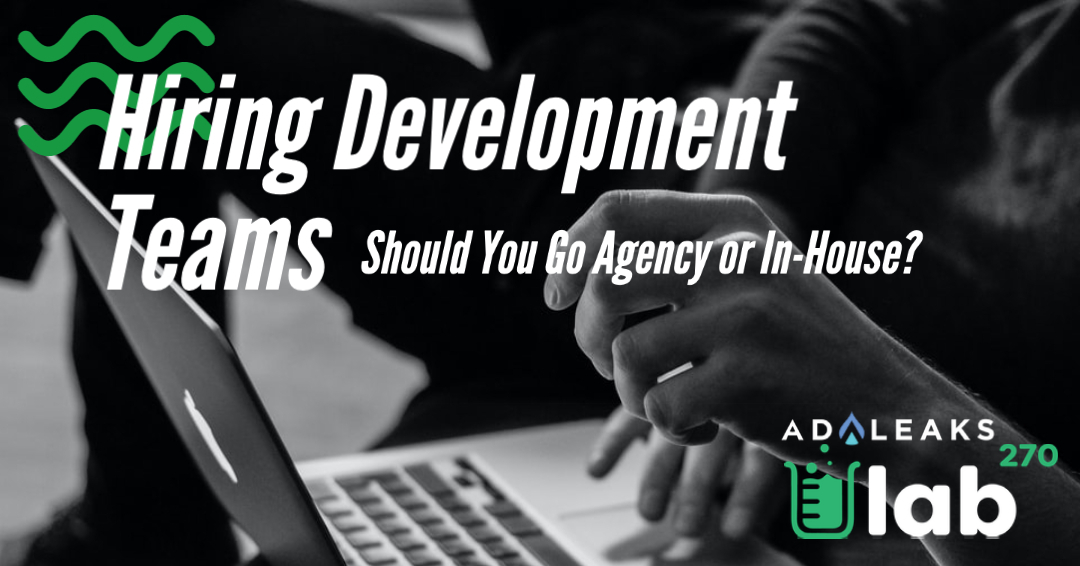 At some point, just about every digital marketing and advertising agency will need to consider hiring development teams for advanced technical or back-end work.
The choices usually come down to hiring an internal team, partnering with a third-party development agency, or going full do-it-yourself with click funnels and automated services like Instapage or Unbounce.
That said, even the most enthusiastic DIY-ers will need an expert or consultant to handle specialized issues at some point. Agency owners, account managers, and designers rarely have the technical expertise necessary to create and optimize the infrastructure necessary to develop campaigns that convert.
Therefore, the decision comes down to either hiring an internal or working with an established dev agency. Let's examine the pros and cons of both.
Benefits of Hiring a Dev Agency
Hiring an agency to do development work is the best solution for a lot of marketing and advertising firms. Some of the advantages include:
1. A Pre-Existing Team
By hiring a development agency, you'll work with a full team that has amassed a broad base of knowledge and experience that one or two internal employees can't provide.
Also, a development team that already knows how to do the work that needs doing will be able to turn projects around more quickly.
2. Take Project Management & QA Off Your Plate
Hiring a developer with the right talents who fits in with your company can be difficult. It can be especially tough in a fast-paced, client-centric industry like advertising.
Working with a dev agency means that much of the project management will be handled for you. Agency owners and project managers can stay in the loop without overseeing projects on a day-to-day basis. You won't have to worry about the QA process either.
3. Faster Onboarding
Hiring one or more developers and building a team from scratch can be a long and difficult process. Going from an initial job posting to a hired and productive employee can take weeks, if not months.
In contrast, an experienced dev agency can sign a project or partnership contract in a much shorter time span. If the team you choose is proactive and responsive, you can get tasks completed and campaigns launched long before a would-be new hire's first day on the job.
4. Less Expensive Than Employees
Complex advertising and marketing campaigns that need back-end development to succeed often require multiple developers that specialize in different fields.
If you do not have enough work -- or budget -- to hire multiple full-time developers, a third-party development agency will usually be less expensive. Even a five-figure monthly services retainer, for example, will be less expensive than an in-house team that produces the same work.
Drawbacks of Hiring a Dev Agency
While there are quite a few good reasons for hiring development teams outside of your agency, even the best partner might not be a perfect fit. Here are a few issues to watch out for when hiring development teams as a third party:
1. Lack of Direct Control Over Results
Even if you've been referred to an agency and they sound great on the sales call, you won't really know what you're getting from your dev agency until they provide results.
Building that level of trust is very important, and an agency that delivers a subpar product can waste valuable time and resources.
2. Limited Availability
Unless you're paying a premium for 24-hour support, your agency partner might have different availability or working hours than the rest of your team.
This can also be an issue if your developers work remotely or in a different timezone.
3. Partnerships Are Less Transferrable than Departments
Entrepreneurial owners who build successful marketing or advertising agencies often find themselves fielding acquisition offers from larger businesses.
If you're building an agency with this goal in mind, some buyers might see a lack of internal development capabilities as a hindrance. For example, the change in ownership might necessitate a contract renegotiation with the development partner, which could make the transition more difficult.
Benefits of an In-House Development Team
If entrusting your projects -- and your clients' trust -- to a third party isn't your cup of tea, there's nothing wrong with hiring an in-house development team. In fact, there are a few benefits that an agency can't always provide, such as:
1. Your Team, Your Systems, Your Culture
By building a team that is integrated into your systems and your company culture, you'll have more consistent control over your developers' work.
This includes finished outputs but can also extend to client communication, task management, and other project elements.
2. Create & Implement Internal SOPs
Third-party agencies and contractors typically complete a given project "their way," while factoring in variables like client expectations, budget, and deadlines.
By creating standard operating procedures (SOPs) for your in-house dev team, you can have more transparency into the development process. You can also put safeguards in place to ensure that each project meets a certain threshold of quality control.
3. Choose Your Own Specialists
If a project requires specific talents that are beyond your team's skill set, you can hire a specialist. Lots of contractors will do the work on a freelance or project-based basis. This 'hybrid' option is a way to temporarily expand your team without going through the full hiring process.
Drawbacks of In-House Development Teams
Hiring development teams that work in-house might seem like the right fit at this stage. Hold your horses, however -- it's not all sunshine and rainbows on this side of the fence either. Some concerns with hiring internally include:
1. Less Flexibility
In contrast to hiring a third-party team, an in-house developer or team will come in with a pre-defined and static skillset. This might address your immediate needs, but as your company grows, you may need someone with more specialized abilities than you have on staff.
Unless you devote significant time and resources to ongoing industry education, your in-house developer or team won't be able to provide the jack-of-all-trades services that an agency can offer.
2. More Expensive
As we touched on above, the price of building your own dev team can be quite high.
Today, hiring a qualified and high-quality full-stack developer costs upwards of six figures annually -- and that's just one employee.
If you anticipate a variety of technical marketing projects across multiple platforms, or for multiple clients, a direct-hire team might eat into your profitability -- without providing the range of services you'd like to offer.
3. Higher Risk of Turnover
Hiring an internal development team can generate useful internal knowledge and experience over time. But you also risk losing that experience when employees leave for other positions.
If your developer departs, not only are you losing that institutional knowledge, you might have to pause or outsource tasks while you look for someone new. This can also be a concern if your employees take time off for life events like vacations, maternity leave, etc.
In contrast, most development agencies have multiple people on staff and can pivot to cover any employee turnover.
Final Thoughts on Hiring Development Teams
Picking, or building, a development team that meets your needs is rarely a simple task. Whichever path you choose, ask specific questions about your prospects' experience and capabilities. You'll need to ensure that they can handle whatever work you send their way.
To find out how advanced development can improve your advertising and marketing campaigns, contact Product Vessel Labs now!