How to Make Lookalike Audiences and Custom Audiences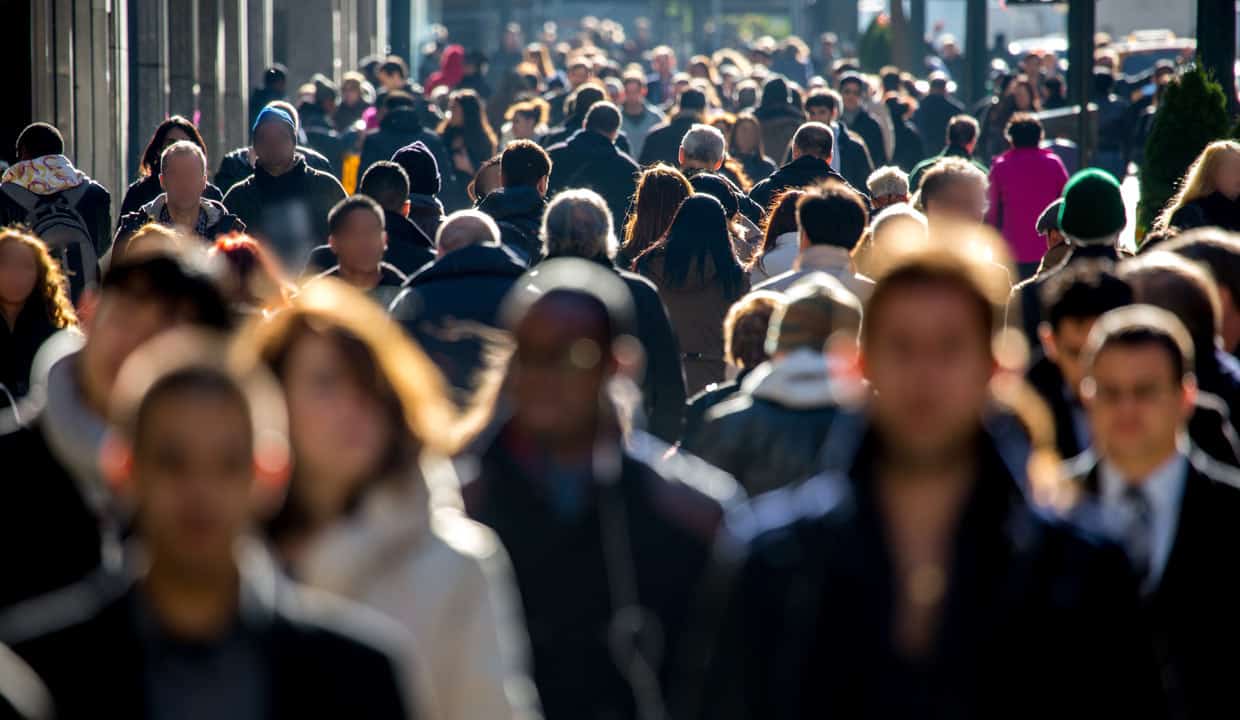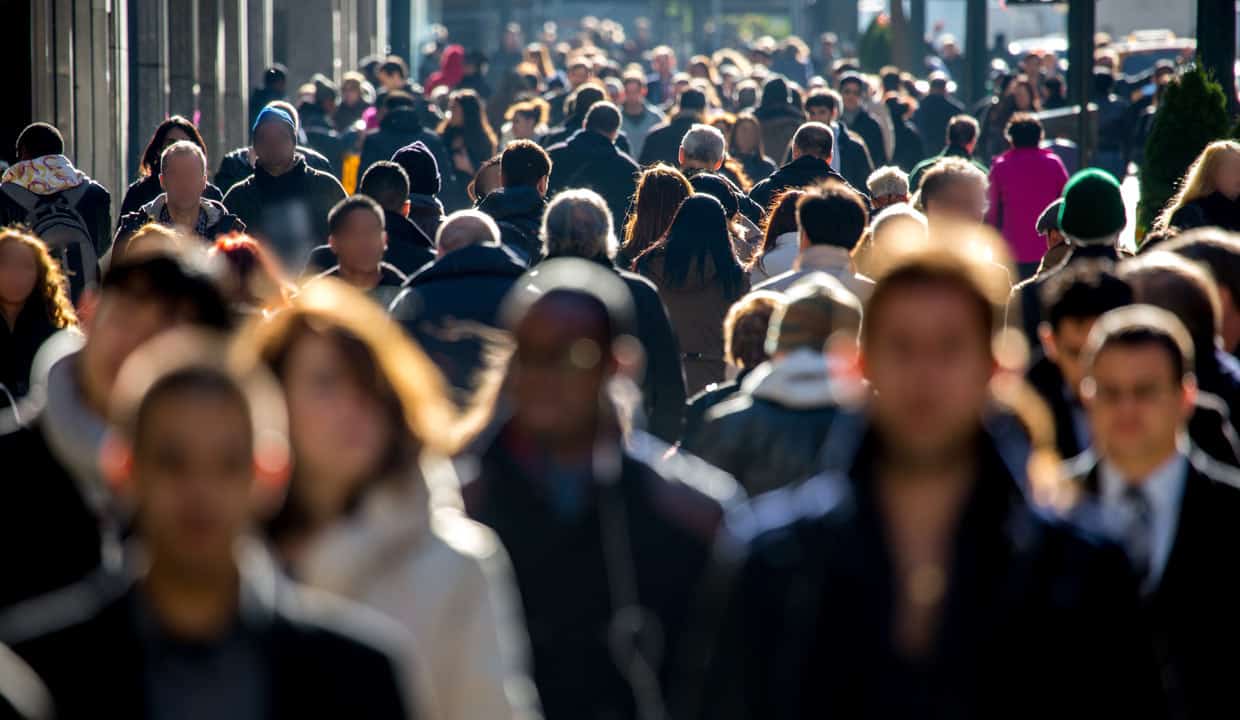 Editor's Note: This post has been updated with new links and content.
Original Publication Date: September 1, 2017
Using Custom and Lookalike Audiences is a great way to narrow down your targeting and get the most out of your dollar.
But some of you might be wondering what Custom and Lookalike Audiences are. Let's get into it.
What is a Custom Audience?
A Custom Audience is an audience you can create using four different options:
1. Customer File
Using this you can upload customer information such as email and phone number to match with their profiles on Facebook and build an audience out of them.
2. Website Traffic
With the Website Traffic objective, you can gather an audience of people who have visited your website in a period of time, for example, the last 30 days. Facebook uses a pixel installed on your site to track this information.
3. App Activity
Using this objective you can build an audience out of people who have engaged with your app by rating it, making a purchase on it or downloading it.
4. Engagement
The Engagement objective allows you to create audiences out of multiple options: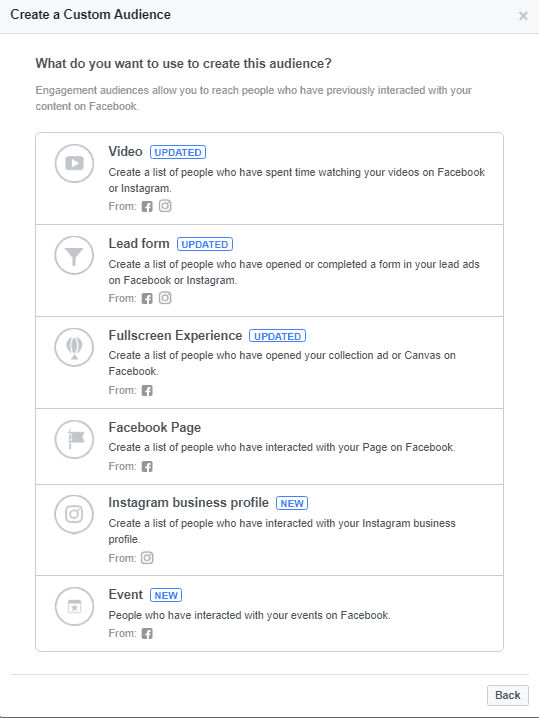 Some of these options include engagement from not just Facebook but Instagram also.
Benefits of Creating a Custom Audience
By using one of these objectives to create a Custom Audience you can broadcast your ads to people who have already shown an interest in your product or service.
For example, you can broadcast an ad to people who viewed 75% or more of your video. This means your ads are only being broadcast to people who viewed 75% or more of your video and have an initial interest in your product/service. The benefit to you is that you are only paying to reach people who have expressed interest.
This is a great tool but Facebook notches it up another level with an even better tool, Lookalike Audiences!
Lookalike Audiences
A Lookalike Audience allows you to take your Custom Audience and use it as a source to build another audience of people with similar interests and behaviors as those in your Custom Audience. Simply put, a lookalike audience is an audience that looks like your source audience based on the hundreds of data points Facebook has.
For example, here I've taken a Custom Audience of 800 people who viewed 75% of my Facebook video (Engagement objective) to make a much larger audience of people with matching interests and behaviors as those 800 people who watched 75% of the video: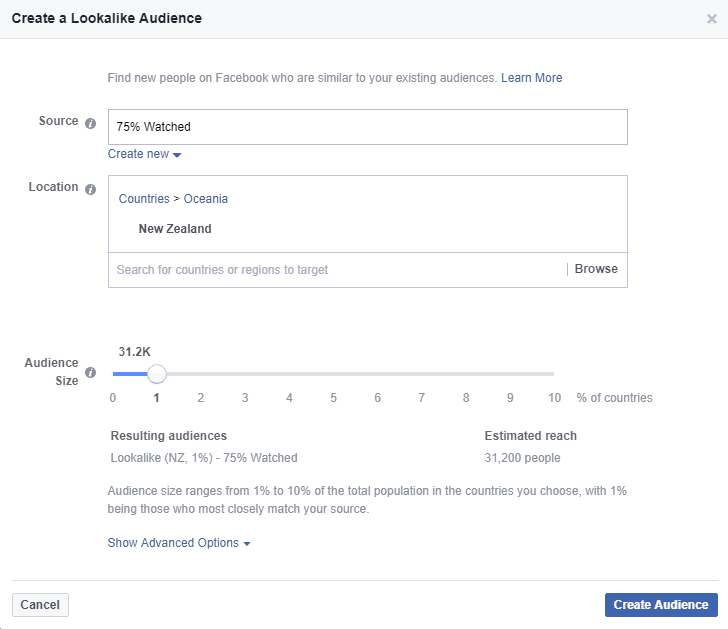 You can target multiple countries with custom audiences. From there, choose the audience size based on the percentage of the total population. 1% is an audience that most closely matches your source audience and 10% is the broadest.
Finally, you'll have to be a little bit patient. When you create a Lookalike Audience, Facebook will need a few minutes to populate your new audience with the right users.
Using a Custom or Lookalike Audiences to Create an Ad
Of course there's no point creating these audiences if you're not going to use them.
To use your new audience, select it from the Custom Audience drop-down during your ad creation.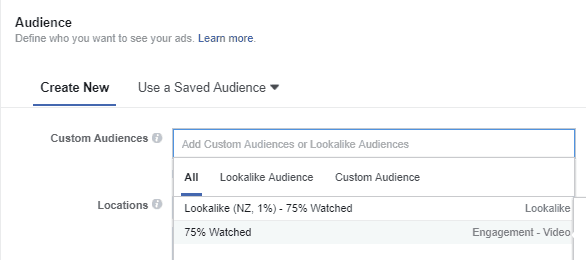 Using Custom and Lookalike Audiences is a great way to define your targeting. You can also broadcast your ads to the relevant people to increase ad engagement and conversions.
We hope this article helps you understand Custom and Lookalike Audiences. Now you should have the knowledge to implement these in your campaigns.
Good luck, and tell us how you're using lookalike and custom audiences in our Facebook groups!
For exclusive and advanced digital marketing tips, Join AdLeaks today!