6 Lead Generation Tools to Find Better Prospects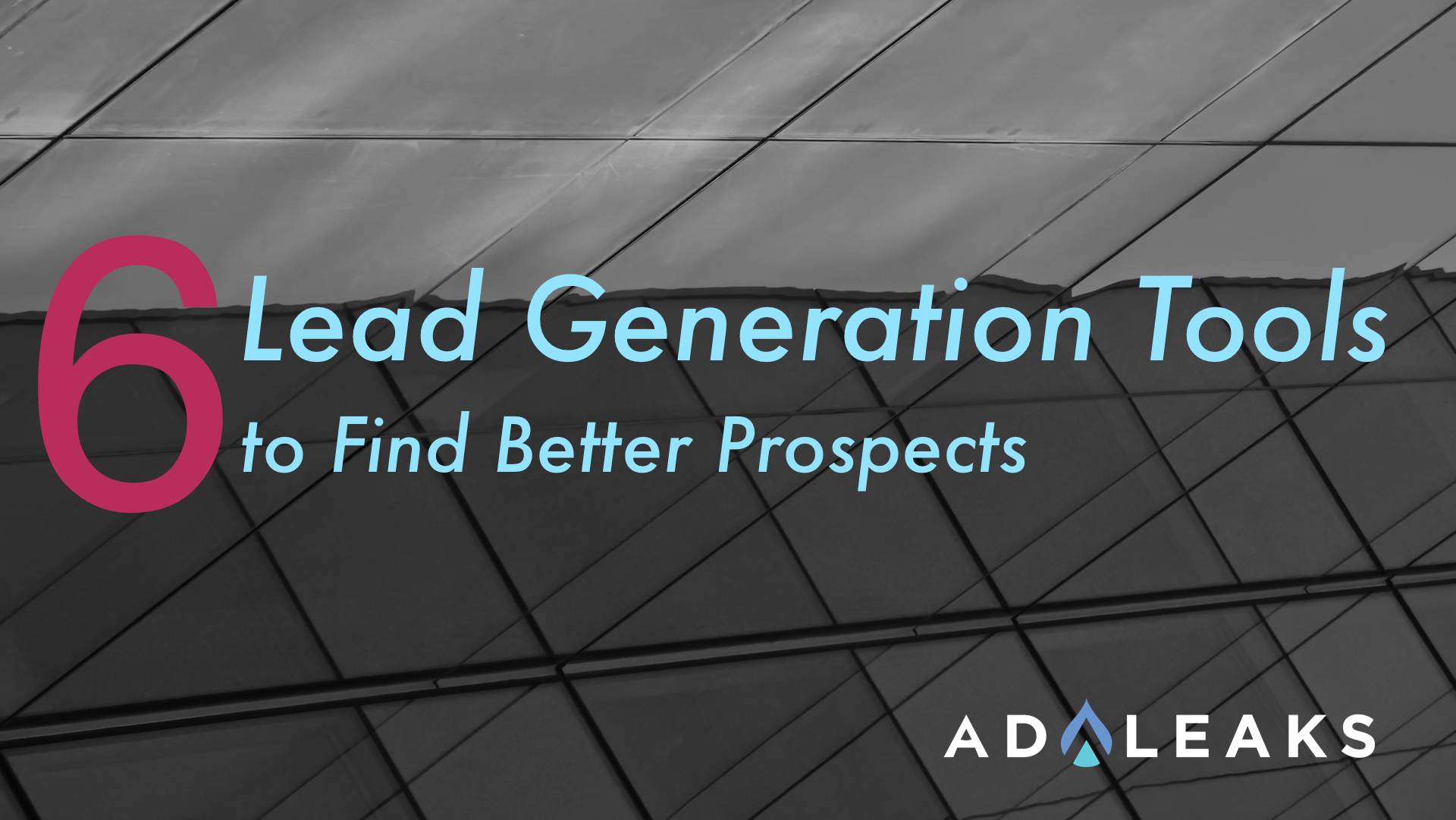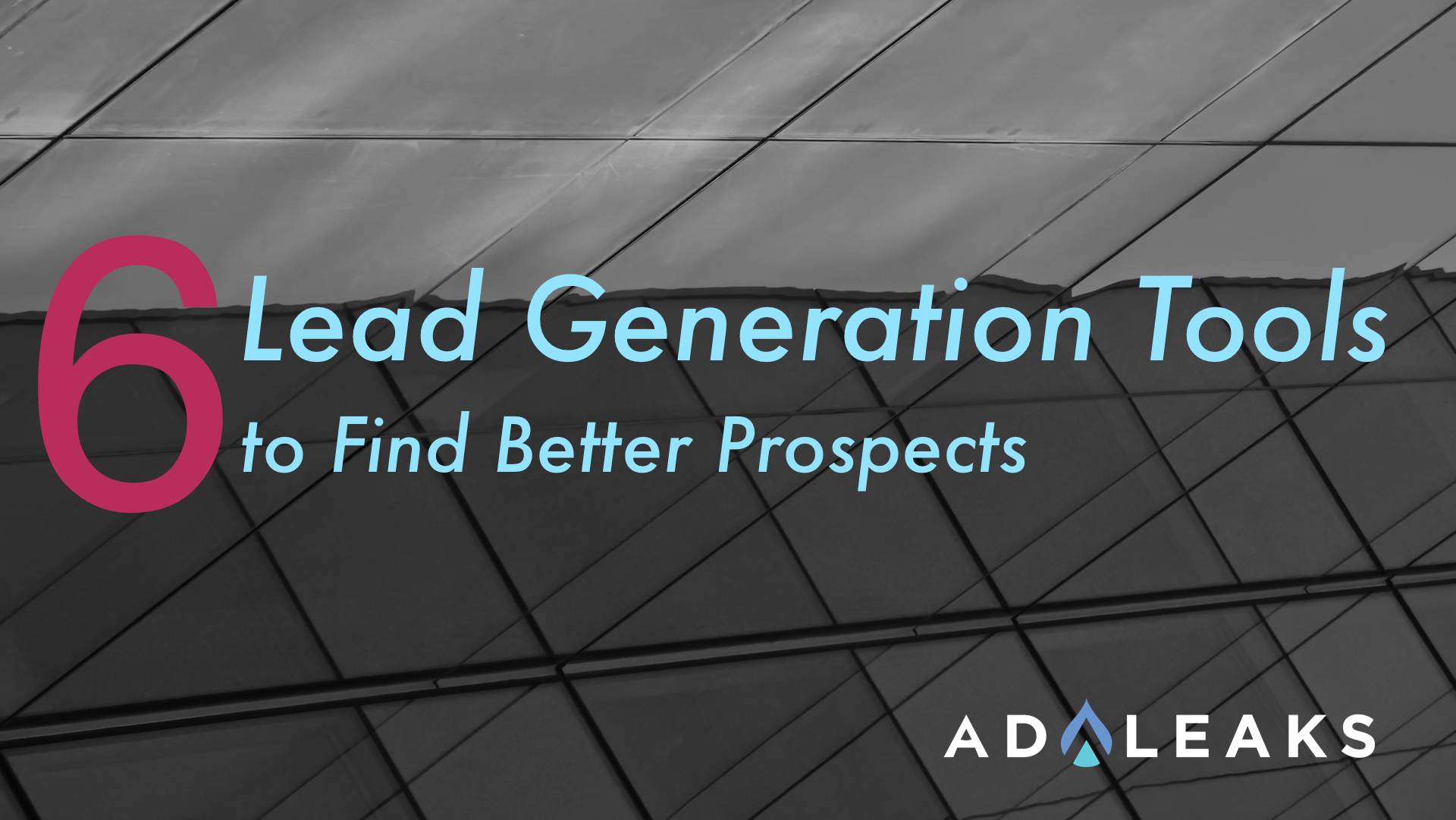 All digital marketers need to generate leads in some form or another. Lead generation in the B2B sector is even more essential because leads turn into prospects and prospects turn into sales. And of course, you'll need a worthwhile lead-generating strategy to succeed.
But is that all? (Probably not.)
We've compiled a list of lead generation tools to make your campaigns more relevant and effective. Find out how below they will add value to your marketing strategy!
1. CustomFit.ai
This is a special tool that converts website traffic to leads. It works in part by changing the text and visuals on the site based on the visitor and their behaviour.
The better you understand your customers, the more you can drive conversions. And CustomFit.ai helps you understand your customers by collecting and curating their data and making the experience more personal.
How Does It Work?
Emails are personalized. When the prospect clicks the link in the email the page will display what you want them to see rather than something standardised.
Social Media campaigns link to your website, which is customized according to the user
Organic customers are targeted based on their industry, time of day, and other factors
LTV is increased for repeat customers due to further personalization
How Does CustomFit.ai Provide Value?
Understand users better
Get reports on how to improve
See where users are dropping off and affect necessary changes
How Much Does It Cost?
There is a fixed monthly price based on your growth. But the good news is that there is no coding required and it's easy to set up.
2. Landingi
Are you a non-programmer who needs a landing page? Landingi has you covered!
What Does Landingi include?
Landing page builder
Drag and drop editor
Multiple landing page templates
Copy and paste the same sections to numerous landing pages
Mobile user-friendly pages
Option to add extra lines of code
Duplicate landing pages
Image library
Pop up builder
How Does It Impact Leads?
Landing pages can be integrated with email
Display your landing page as part of your Facebook company profile
Verify and score leads in an external platform to nurture them
Embed callback widgets on landing pages
Use tracking to get insights on customer behaviour
What Subscription Options Are Available?
Create: $55/month
Landing Page and pop up builder
400+ Landing page templates
CRM/sales and email integrations
WordPress plugin
Automate: $79/month
Everything above
A/B testing
Autoresponder
Funnels
Campaign scheduler
Smart sections
Agency: $149/month
Everything in Create and Automate
White label solutions
Priority support
API to create sub-accounts
Custom images and templates
There are also options to power up these plans which include more visitors and more domains.
3. Leadfuze
Leadfuze is a search engine for leads! Using its own artificial intelligence and third-party data partners, they match and verify prospect information to provide quality leads.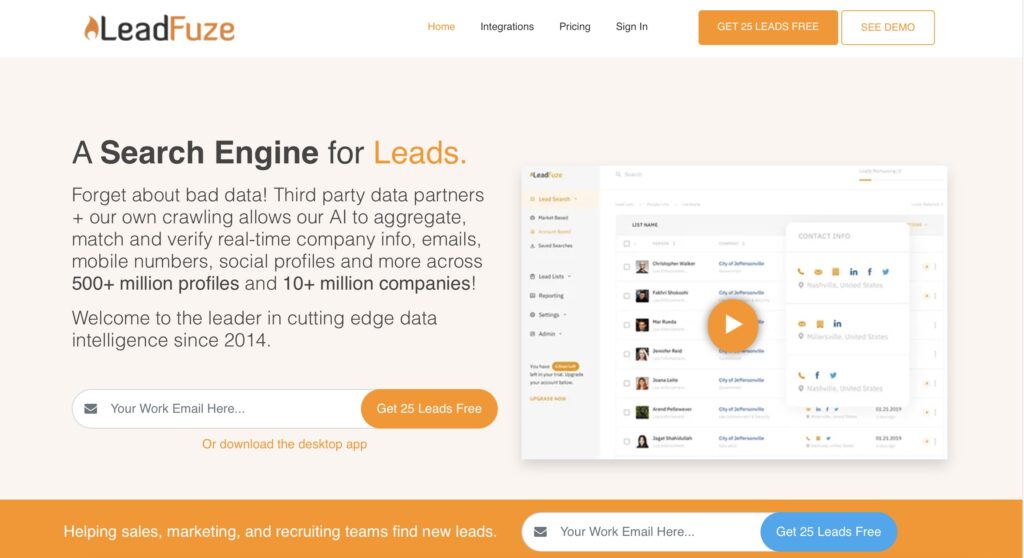 Benefits of Using Leadfuze as One of Your Lead Generation Tools
Get hyper-targeted leads
Use the ignore list to prevent adding existing customers or duplications
Build lists
Get verified emails, lowering the bounce rate
Integrates easily
Leadfuze Plans and Features
Starter for $132.30/month:
Unlimited lists
Account-based search filters
Market-based search filters
Fuzebot list build automation
Ignore lists
Export to CSV
De-duplication
Integrations
500 Lead credits
Scaling for $447.30/month:
All of the above
2500 Lead credits
Leadfuze also provides a custom plan for those of you with specific needs.
4. UpLead
There are various sites that dig for leads, and while they may be able to provide quantity, there is no guaranteeing the quality.
UpLead differs in this way by offering B2B prospecting with 95% or higher accuracy.
What You Get
Find the right leads and build a list
Get the most important information
Get bulk data
Verify the data
Get Mobile and direct-dial phone numbers of prospects
Pricing Plans
Essentials: $99/month
Single User
Verified emails and phone numbers
Mobile direct dials
Chrome extension
CRM integration
No contract
Plus: $199/month
All of the above
Data enrichment
Advanced Search Filters
Enrichment API
Technographics
Email pattern intel
Professional: $399/month
Team Account
Competitor intelligence
Sales triggers
All search filters
5. Drips
Drips is a tool that automatically follows up on leads via email and SMS with — you guessed it — drip campaigns.
Drips improves engagement rates for some of the biggest brands in the world so it's definitely worth taking a look at.
What Are The Benefits of Drips?
It uses conversational AI that is constantly learning for better engagement with your customers
Ensures constant engagement for a better brand experience
Easy to integrate with your existing systems
Open API
Solid support team
How Does It Work?
An event is triggered on your website and a prospect's information is gathered
Drips figures out the best campaign for engaging the prospect and works with your systems to start communicating
Drips uses SMS to identify the prospects' needs and sells the product based on those needs
6. Lusha
For those of you searching for leads that are CCPA and GDPR aligned, Lusha may be just what you are looking for.
What Will It Help You With?
Finding prospects across the web
Building accurate prospect lists
Accurate data and easy integration for a clear customer picture
Will It Break the Bank?
Drips offers a free trial period, and after that, you can choose from three different options available at different price points:
Professional: $99/month
Email address
Phone numbers
Prospecting
Export Contacts
Premium: $199/month
All of the above
Bulk data enrichment
Save contacts to CRM
The Enterprise option is built for scale and includes extras like team management, API access, and a success manager.
Final Thoughts on Lead Generation Tools for Digital Marketers
Different lead generation methods work well for some and not so well for others, but one or more of these tools will open up all kinds of opportunities for your marketing campaigns. Try them out now!
NOTE: This post contains affiliate links. AdLeaks earns a commission from purchases made through affiliate links on our site.
To take advantage of more deals and get exclusive digital marketing secrets, click here to Join AdLeaks now!