7 Reasons to Leverage Push Notifications in Your eCommerce Marketing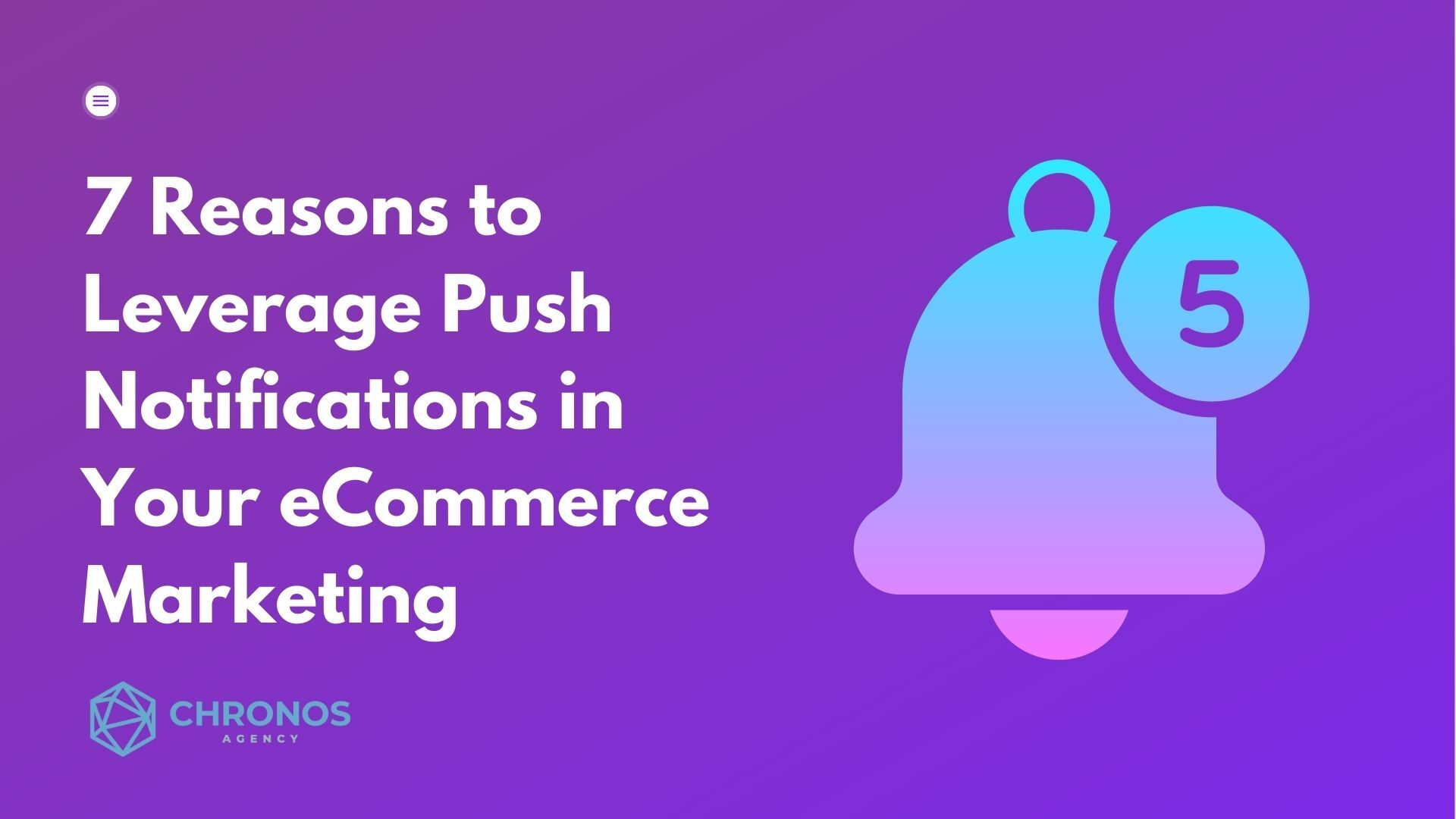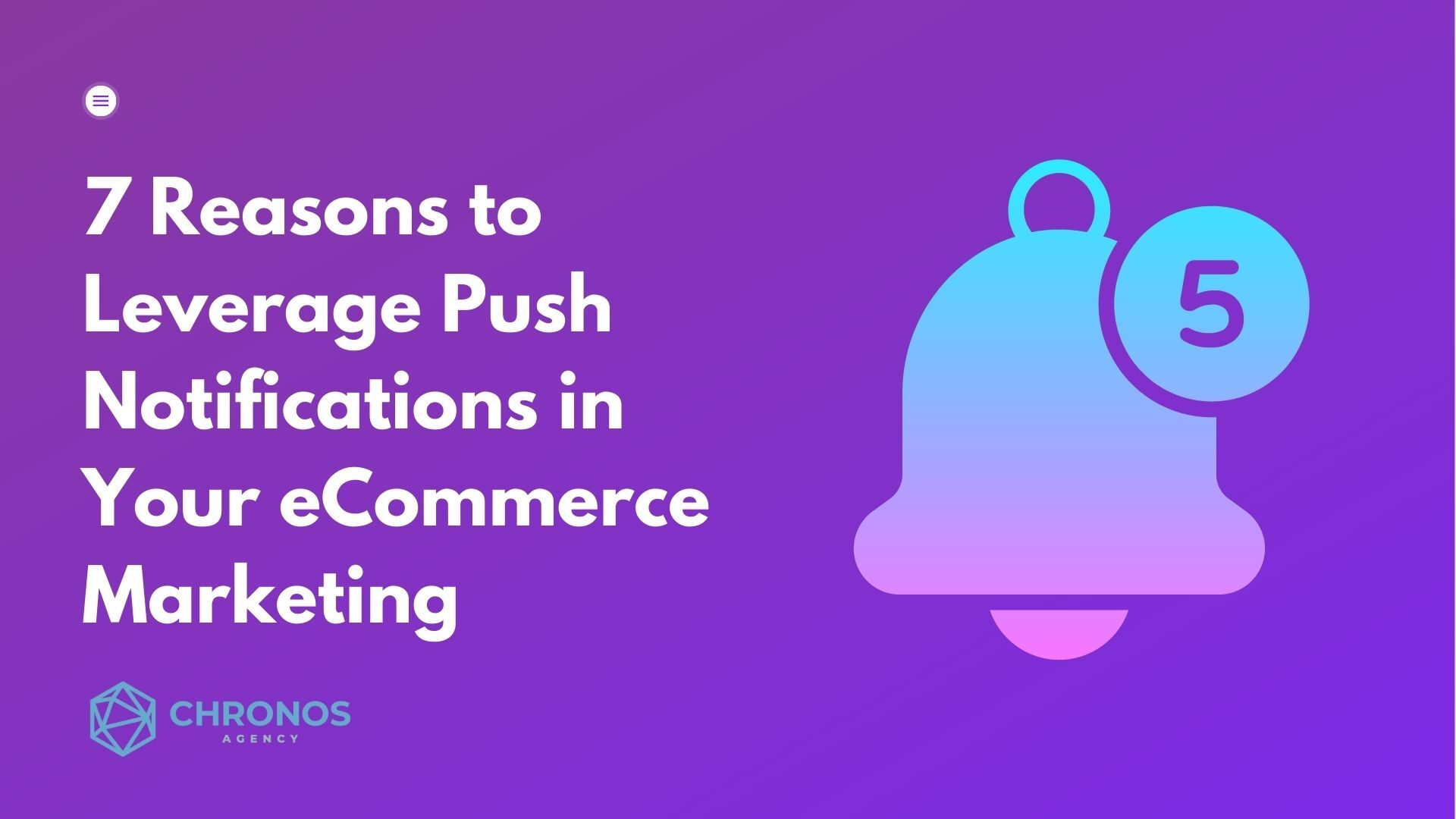 Maximizing your eCommerce sales revenue starts with maximizing your customer reach. But how do you ensure that your target audience sees your messages?
Emails and SMS marketing can do that, but push notifications are another channel that deserves your attention. Their value as an effective eCommerce marketing tool has never been higher than today.
Why Marketers Should Leverage Push Notifications
For emails and SMS marketing messages to reach your audience, the recipients have to open and read them.
Push notification marketing, however, sends updates about your online store's services or products using browser notifications. These can range from product sales to company operation updates.
In other words, push notifications highlight high-value content that you want your customers to see as on-screen pop-ups.
Savvy marketers are adding this advertising strategy to their eCommerce tool belt for a few reasons. Starting with… 
Push Notification Marketing Enhances Your Customer Retention Marketing
One essential benefit of push notification marketing is how it adds more to your customer engagement efforts. It helps you maintain contact with your customers and keep them up-to-date with your brand.
At this point, we should mention that push notifications need a user's permission to activate. For store owners who get that permission, however, customers who see your push notifications are very likely to open them and respond to your CTA.
After all, they've shown genuine interest in your brand by giving you consent to send them push notifications.
Further, since they're permission-based, push notifications have open rates as high as 90%. Also, 70% of consumers see push notifications as useful, which gives push notifications a click rate 7x higher than email marketing.
Top 7 eCommerce Advantages of Using Push Notification Marketing
As the statistics above demonstrate, push notifications have the potential to drive your marketing efforts to a new level of success. Here are just a few of the notable advantages you'll get.
1. Re-Engage and Retain Customers
Push notifications are a great medium for sending relevant content to your customers. These can include preferred product sales and important company announcements.
Customers love it when you send them content that speaks to their interests. This is tangible proof that your brand cares about their desires and preferences.
2. Accurately Target the Right Customers
Typically, push notifications ask permission for users to provide their location information. This can help you find and target the right customers based on geolocation data.
In most cases for mobile users, you can track crucial customer data such as:
User activity time
Product preferences
Device type
Average order value
Demographic data
3. Push Notifications Increase Your Brand's Visibility
Keeping your brand top of mind with your customers is always a challenge. But sending timely notifications from your online store's app can help remind customers that your brand exists.
Push notifications also display your company logo, helping you further imprint your brand in your customers' consciousness.
4. Improve Customer Nurturing Efforts by Leveraging Relevant Content
These notifications aren't just another medium to send sales messages. Alerts and important company announcements can be of high value to your customers as well.
Build trust and solidify your customer relationships by keeping your customers updated with your store operations.
5. Establish a Closer Connection with Your Mobile Customers
One of the best signs of a close relationship is consistent communication. Keeping in touch with your customers helps to build that relationship and gives your brand a human touch.
Also, push notifications help you communicate specific information that your customers would find interesting. These can range from simple giveaway alerts to wishlist alerts.
6. It's Automation Compatible
Push notification marketing can help you track crucial customer data, and you can also base your automation triggers on that information. This makes push notifications a great tool to complement your email and SMS automation frameworks.
7. It's Cost-Effective
The best part about push notifications is that they're FREE.
There are some push notification services that charge you fees, but the push notifications by themselves are a free feature you can leverage in your marketing efforts as much as you need to. 
Take a minute to watch Diesel Sellerz CMO Van Oakes' presentation on push notification marketing from the Affiliate World Conference event in 2019.
He talked about how he generated $67,000 at $0 ad spend — simply mind-blowing!
Push Notification Marketing is Just One of Many Lifecycle Marketing Strategies
Lifecycle marketing is all about customer-centric marketing. Customer-centricity was the overarching marketing trend of 2020. And these changes are giving online store owners a wake-up call to optimize their marketing campaigns.
Customers are the lifeblood of your eCommerce store. They have the power to dictate your online store's growth. Addressing customer pain points and having a more data-driven approach to your marketing will set your store up for sustainable long-term growth.
Because there's more to success than sales campaigns.
If your team already has their hands full with other operations, we will gladly do your lifecycle marketing for you! Just schedule a free strategy meeting with us and we can get to brainstorming.