3 Email Flows to Maximize Your Conversions and Optimize AOV for BFCM 2021
Did you know that you could be missing out on a huge chunk of your email revenue right under your nose?
More often than not, online store owners don't realize how much money they are leaving on the table.
Where exactly is all that revenue hiding? Turns out that it's all in emails that aren't maximizing average order value (AOV).
Specifically, these stores and brands are missing out on the profit potential of their high revenue-generating email flows.
Based on Chronos Agency's experience with over 300 clients, flows that optimize AOV can experience as much as 217% higher open rates and 90% higher revenue per recipient compared to regular email campaigns.
Zero in on Your 3 Heavy-Lifting Flows
To maximize your sales strategies this Black Friday Cyber Monday, take a look at these three crucial email flows that can help retarget customers and generate higher returns for your online store.
1. Cart Recovery Flow
Did you know that eCommerce businesses lose about $18 billion to abandoned carts each year?
That's a mind-blowing amount of unclaimed cash right under most store owners' noses.
If you're new to the eCommerce optimization world, the cart recovery flow is a series of emails designed to bring customers back to their unfinished purchases by reminding them that they didn't finish checking out.
In most cases, all it takes is a simple text-based reminder email or SMS message. Many of these customers just forgot about their cart or got distracted in the middle of a purchase, so a simple reminder is all that it takes to get them to convert.
Here's a great text-based cart recovery email that Chronos designed for ForChics: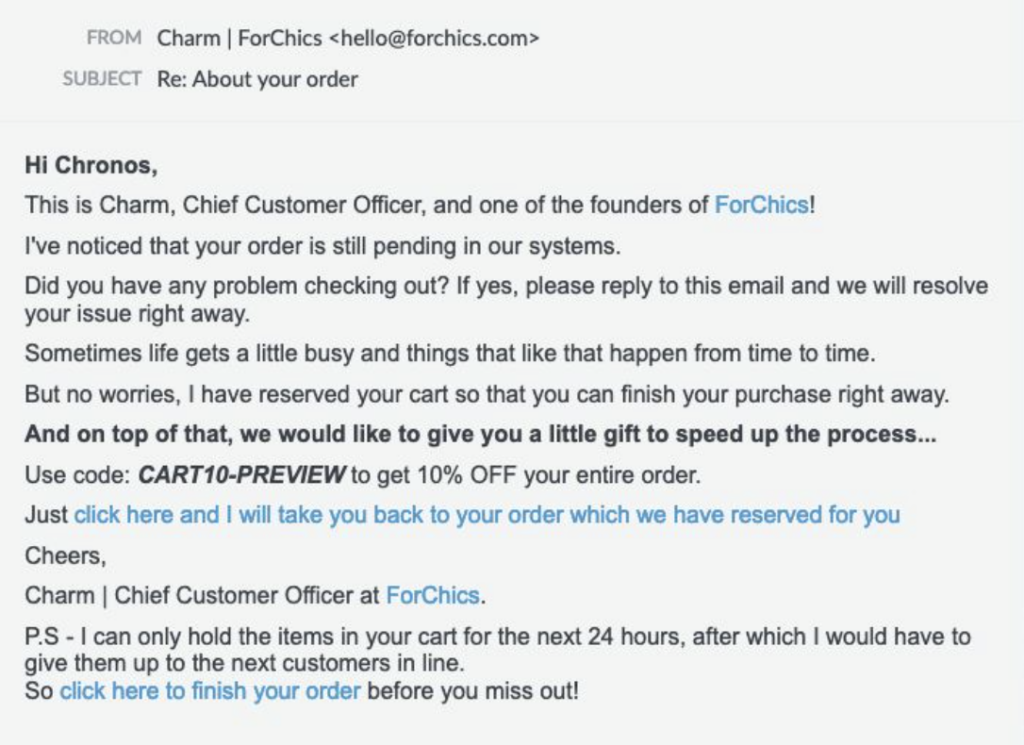 Of course, even if you have a top-notch reminder email, there will be times when your customers need an incentive to complete their purchases.
In these cases, you can throw in a discount code to sweeten the deal. And if they still won't bite, include another reminder email in your flow, but this time with a countdown timer for the discount code. Conveying a sense of urgency can make your offers look more attractive.
2. New Customer Acquisition Flow
This email flow is for acknowledging and welcoming new subscribers. It may include a soft sell, but its main job is to introduce your brand and create a good first impression for your new subscribers.
Here's another example from ForChics, this time featuring an effective welcome email:
One takeaway you can get from this email is their inclusion of a welcome discount code. This should prime your new subscribers to start shopping at your online store immediately!
3. Optimize AOV with a New Customer Nurture Flow
Finally, the new customer nurture flow is extremely important for boosting customer retention.
While acquiring new customers is good, retaining them and your existing customers is key to sustainable brand growth.
Loyal customers are also more profitable, as engaged customers buy 90% more frequently from your brand.
After all, the customer journey doesn't end at checkout. This is another opportunity for your post-purchase emails to help you optimize AOV.
One reason why this flow has high-profit power is that its objective is to entice customers to make another purchase right after their initial purchase. This potentially turns your customers into repeat buyers and loyal fans.
ForChics nailed this objective with their Thank You email: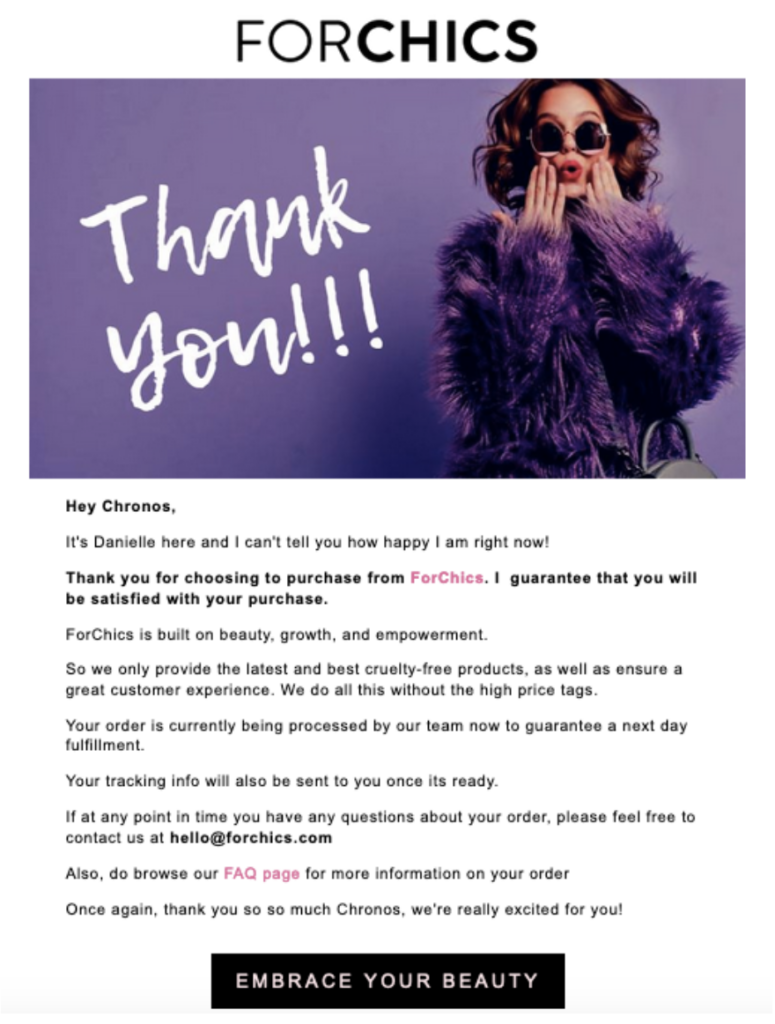 One key takeaway from this email is their message. Rather than hard-selling another product, they share a bit of their brand's mission, vision, and reasons why their customer made the right choice in buying from them.
In addition to these examples, there are many more post-purchase emails you can try out. Be sure to run some A/B tests to determine which ones perform best for your brand.
Optimizing Your Existing Digital Marketing Systems to Maximize Your BFCM Success
If you refine these email flows now, you can amplify the returns from your high-revenue-generating campaigns before the next Black Friday Cyber Monday (BFCM) selling season starts — and it's not far off.
It all comes down to knowing which strategy your eCommerce store needs to get the boost in growth you're aiming for!
That said, we also understand that accomplishing this task requires a dedicated team of customer lifecycle marketing experts. If your team already got its hands full in preparation for this year's BFCM, feel free to schedule a free strategy meeting with Chronos Agency!
They'll help you zero in on the digital marketing systems you need to optimize to maximize your conversions and optimize AOV in time for BFCM.