Using Messenger Chatbots To Become A World-Leading Advertiser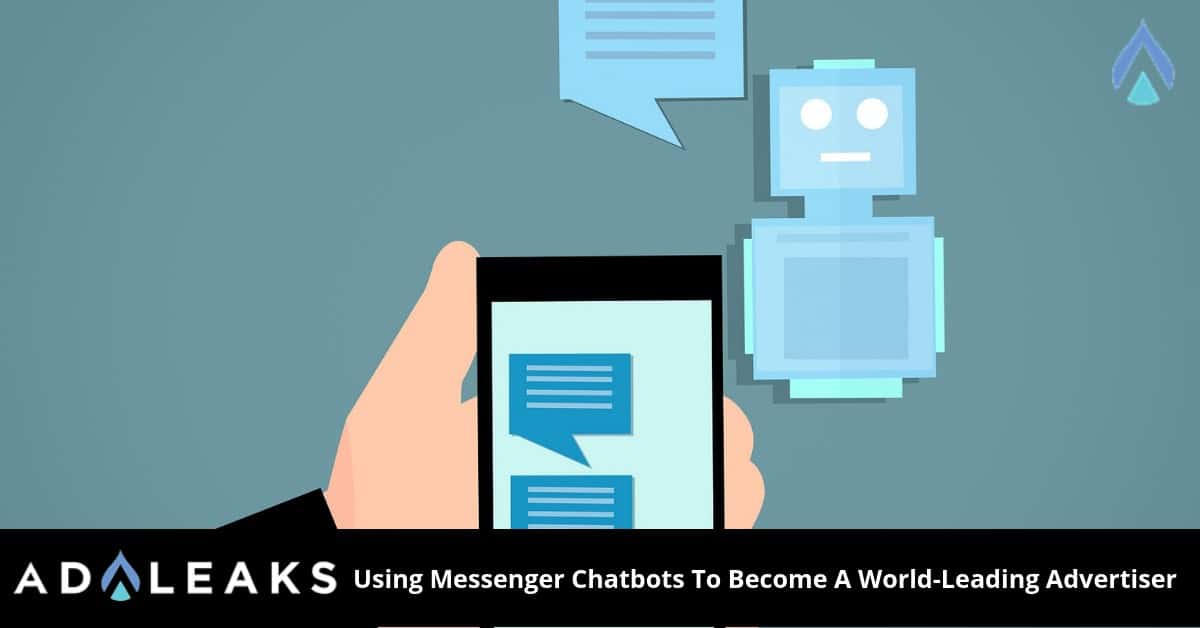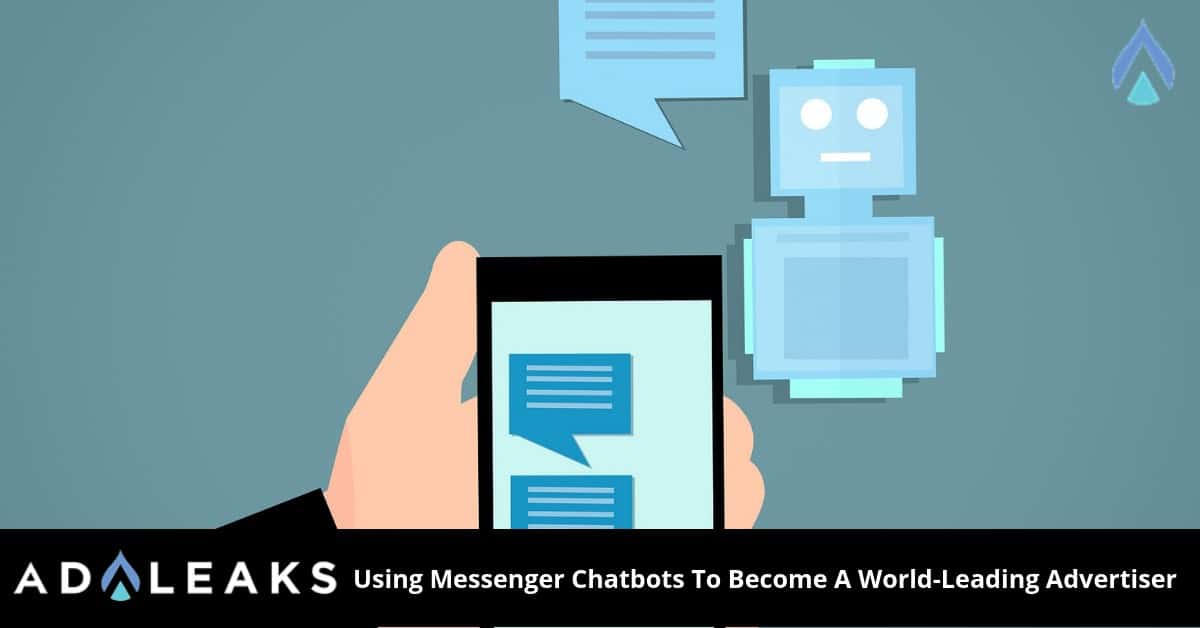 How to Use Facebook Messenger Chatbots Right Now to Become One of the World's Leading Facebook Advertisers
Not long ago, I sold my first startup and launched a new one built on a single marketing platform — Facebook Messenger.
Big risk? Maybe, but I don't take risks without some assurance that my efforts are going to be successful.
I staked a lot on Facebook Messenger. And I did so with good cause.
I believe that Facebook Messenger marketing is the single most effective marketing platform available today. But it's only scalable if you use chatbots.
By reading this article, you'll discover the following:
Exactly why I believe in the massive power of Facebook Messenger marketing for Facebook advertisers
How to harness this power in your Facebook advertising campaigns
How to achieve results that will place you into the top 1% of Facebook advertisers today.
Facebook Messenger is the marketing platform with a unique combination of value, power, and potential.
Before we get into the nitty-gritty of Facebook Messenger chatbots, let me give you a sense of the potential that Facebook Messenger offers.
One aspect of potential is size. How many users are within reach on Facebook Messenger?
And if the past is any predictor of the future, that number will just keep climbing:
Facebook reports the following:
And as those messaging platforms go, Facebook Messenger is the platform of choice for a western audience.
Plus, the three messaging platforms that Facebook owns — Whatsapp, Instagram, and Messenger — are merging.
What does this mean? It means that your potential reach nearly doubles.
I'm not some wolf howling at the moon about this. Others are saying the same thing. One brand on Medium prophesies: "Messenger chatbots will become as important as email marketing; and maybe one day, they will completely replace it."
AdWeek reports it like this: "Facebook Messenger is perhaps the highest-opportunity channel for retailers to connect with customers."
But potential alone does not predict true success.
To me, "true success" means conversion rates, engagement rates, and real money rolling into my coffers, right?
Early adopters of Facebook Messenger are getting insane engagement rates.
Think back to your most recent marketing campaign.
What was it? Facebook ads maybe? An email campaign?
What kind of results did you get? A 5% clickthrough rate on a Facebook display ad? A 10% open rate from your email campaign?
With those numbers in mind, look at this:
What you're looking at is the dashboard in MobileMonkey for my drip campaigns. This particular drip campaign achieved an 87.9% read rate and a 61.5% response rate.
The read rate in Facebook Messenger is the number of people who tapped a message to open it.
The response rate in Facebook Messenger is the number of people who replied to the message.
Keep in mind that this campaign was bot-powered.
Here's what a typical bot message might look like:
If the user taps one of those options, that's considered a response. And over 60% of my list responded.
When compared with any other marketing channel — email, for example — those engagement rates are jaw-dropping.
But there's another shocking metric to consider — the time that it took all of this to happen.
90% of all my open rates took place within the first sixty minutes after the bot was released.
Here's another data example — this time showing the results from another drip campaign that I sent to a segmented user group.
But what if others are already doing it? The whole thing about unicorns is that they're rare, right? Not something you see laying around every day.
According to the data, not a whole lot of businesses are using chatbots.
Facebook reports the following:
Put that data into a pie chart, and it looks like this:
I don't know about you, but it doesn't look like the masses have picked up on the fact that there's a massive marketing channel just waiting to be tapped.
And frankly, the term "chatbot" scares people away. Small businesses with limited resources think they need to hire a developer or buy expensive software to make a chatbot.
Facebook Messenger chatbots are blowing up the marketing scene right now.
Facebook Messenger marketing is the simple act of using Facebook Messenger as a marketing platform, similar to the way that you'd use, say, email marketing.
Messenger chatbots allow you to automatically interact with dozens or hundreds of thousands of potential customers in a completely automated way.
Messenger chatbots do way more than just carry on a simulated conversation with potential customers. Facebook Messenger chatbots comprise the functionality of an entire marketing funnel. Taking users from entry point to sale by means of a series of messages, options, data, downloads, or what have you.
What else can they do?
Schedule appointments with prospective customers
Provide tickets to events
Allow users to download a PDF, video, or music file
Create and confirm reservations for anything from an Airbnb stay to a tooth cleaning
Segment users using a series of questions
Provide surveys
Facilitate payments
Provide shipping status updates
Send a flight status or a weather warning
Send a blast to dozens or thousands of users at a time
Easily gain contact information like phone number or email address (with a single click)
Create drip campaigns
Send customers to a Messenger sequence if they respond to an organic Facebook post
Messenger chatbots allow for a vast array of functionality. This includes simple things like weather...
...to the more serious, like finding true love.
These are the Facebook Messenger chatbots that I use most often.
Chatbots can do a lot, no questions asked.
I use chatbots to run drip campaigns, build my Messenger contact list, drive signups, stack conferences with attendees, and blast thousands of users with a message.
But there are three Messenger atomic bombs that keep delivering sky-high results time after time.
Once you've been initiated to the unicorn league of Messenger chatbot users, you'll want to use these tactics as well.
You'll need a chatbot builder to create and launch these bots. You can use the chatbot builder I created, MobileMonkey (free and easy to use), or select from this updated list of chatbot tools.
The organic Facebook post autoresponder (Post Guard)
Here's how this little gem works.
When someone comments on my organic post, it automatically sends that person a Facebook Messenger message.
The post looks like an ordinary-run-of-the-mill status update, right?
At that point, they can opt-in to receive goodies, start a chat, whatever. This person is now a Facebook Messenger lead.
I used this on Facebook one time and stacked up over 500 leads in the matter of a few minutes. All that it takes is a juicy organic post that people really want to comment on.
What makes this tactic really powerful is when you boost these posts.
Add a comment guard to any posts with significant reply rates, and then apply a boost post.
When you do this, you'll still be scoring high engagement rates, and all those commenters turn into solid Messenger leads.
Major win.
Facebook Messenger Chat blasting (Messenger Broadcast)
As the name suggests, chat blasting sends a message to a whole lot of people at once.
It's a lot like email blasting, except better, as evidenced by these statistics:
One of the major advantages of chat blasting is the ability to send a message to a large group of people or a highly segmented group of subscribers.
Segmenting your users, something that's easy to do with MobileMonkey often means even higher engagement rates.
Click to Messenger Ads
Facebook provides the ability to create Click to Messenger ads that convert the user in Messenger.
I've found this to be extremely powerful because a Messenger bot sequence has a high likelihood of engaging that user, retaining that user, and successfully funneling that user to the desired end.
Plus, it is so much less expensive than running conventional ads!
This is the kind of cost I was looking at after I started running click-to-messenger ads.
These three techniques are the proverbial tip of the iceberg.
Facebook Messenger chatbots offer limitless functionality to a vast audience with ease of implementation and drastically low cost.
Facebook Messenger Marketing with Chatbots:  The Fast Track to Becoming a Marketing Unicorn
]Messenger chatbots offer limitless functionality to a vast audience with ease of implementation and drastically low cost.
Any marketer who starts using them is virtually guaranteed to experience success.
Here's your quick-start guide:
Have a Facebook Business page. (Most businesses do.)
Select a chatbot builder.
Connect your Facebook Business page to the chatbot builder.
Create your first chatbot.
Depending on the chatbot builder you've selected, you can create one in as little as thirty seconds.
Once you've deployed the first chatbot, you're ready to head to unicorn land with your marketing results.
I can't wait to see you there.