How Google's New UTM Parameters Will Improve Your Tracking
For the first time since the prehistoric days of 2007, Google has added new UTM parameters to its tracking options.
Given all of the recent struggles digital marketers have faced with privacy changes and data restrictions, this is an important step toward restoring visibility into ad performance and effectiveness to your marketing campaigns.
But first, a brief review.
What Are UTM Parameters Again?
If you aren't familiar, UTM parameters are short bits of text that you can add to the end of a link. That text tells Google Analytics and other tools more information about each link.
You use them to track general information, for example, traffic levels from social media to your website. You can also use them to track more specific details too, like revenue from specific pages or calls to action.
By adding UTM parameters and unique values within those parameters to a given website URL, you can see how a visitor reached that page. And there are an awful lot of ways to track links with UTM parameters.
For years, the standard options for UTM tracking have been Campaign Source, Campaign Medium, Campaign Name, and Campaign Term. You've probably seen links that look like this --

All of that information in the box is providing tracking data via UTM parameters. And those parameters haven't changed for about 15 years... until this month. (More on that news below.)
Fun Fact: The acronym "UTM" stands for "Urchin Tracking Module." Urchin was a software company that Google acquired in 2005. Urchin's systems eventually evolved into Google Analytics, but they never got around to changing the name, so here we are.
Setting Up UTM Parameters
The most common way to use UTM parameters is within Google Analytics.
If you don't have an Analytics account, your first step will be to create one. Visit google.com/analytics and click "Start for Free." If you already have a Google Analytics account, sign into it.
There are tons of ways to use Google Analytics, but for our purposes here we're just going to focus on tracking your UTMs. To access UTM information, click Acquisition, then Campaigns, then All Campaigns: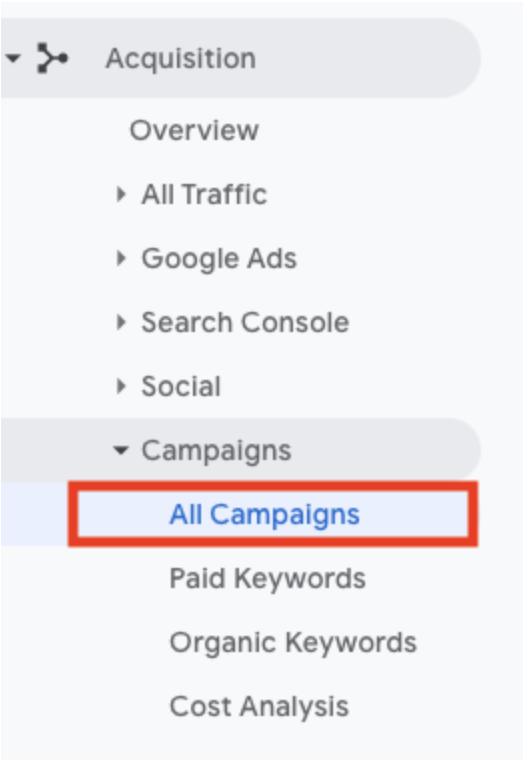 On this screen, you'll have access to UTM data as Google collects it.
Primary Dimensions shows you data like Campaign, Source, Medium, and Source/Medium. And you can dig in deeper by looking at secondary dimensions like Event Category, which will show you how your campaigns are doing relative to other dimensions.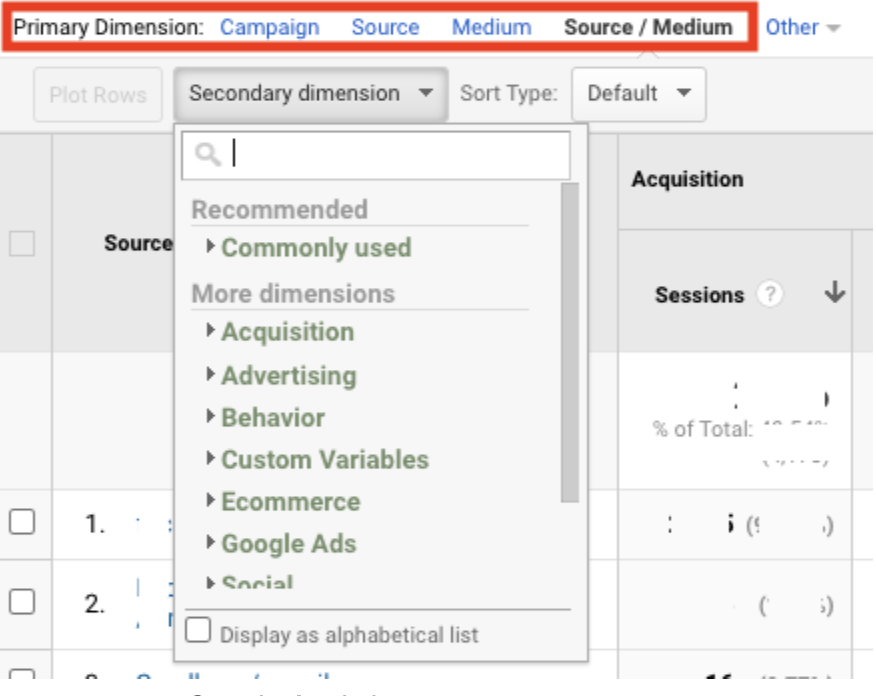 In GA4, you'll find UTM information in three different Acquisition reports: Overview, User acquisition, and Traffic acquisition.
Click on Reports, then Acquisition, then Acquisition Overview. Your campaign data will appear in the session medium and campaign cards.
What's New in Google Tracking
Google rolled out three new UTM parameters for GA4 in March, marking the first major update to UTMs in 15 years.
As first noted by Charles Farina on Twitter, the new parameters are:
Source Platform
Creative Format
Marketing Tactic
The new UTM components go beyond tracking where your traffic comes from and how users arrive at your site or app to include the specific marketing efforts you use to drive that traffic, including creative formats and tactics applied.
These new insights function in the same manner as existing UTM parameters. You should be able to review them in your Google Analytics or GA4 account.
Pro Tip: If you're creating integrations between Google Analytics and your various ad platforms, you'll still want to use the auto-tagging feature with each integration. Auto-tagging provides more data points than you get with manual tagging, including platform-specific dimensions.
If you aren't going to integrate Analytics and your different ad platforms, you can still tag the destination URLs in your ads with UTM parameters manually to collect basic traffic source information.
We don't have to explain the benefits of increased visibility and data points for digital marketers these days, especially as privacy concerns continue to rear up around the world. We just wanted you to know that this information is available now, and it'd behoove you to use it.
Good luck out there! And for more digital marketing solutions, tools, and community support, click here to join AdLeaks!