3 Flows For An Optimized 2020 BFCM Email Marketing Game Plan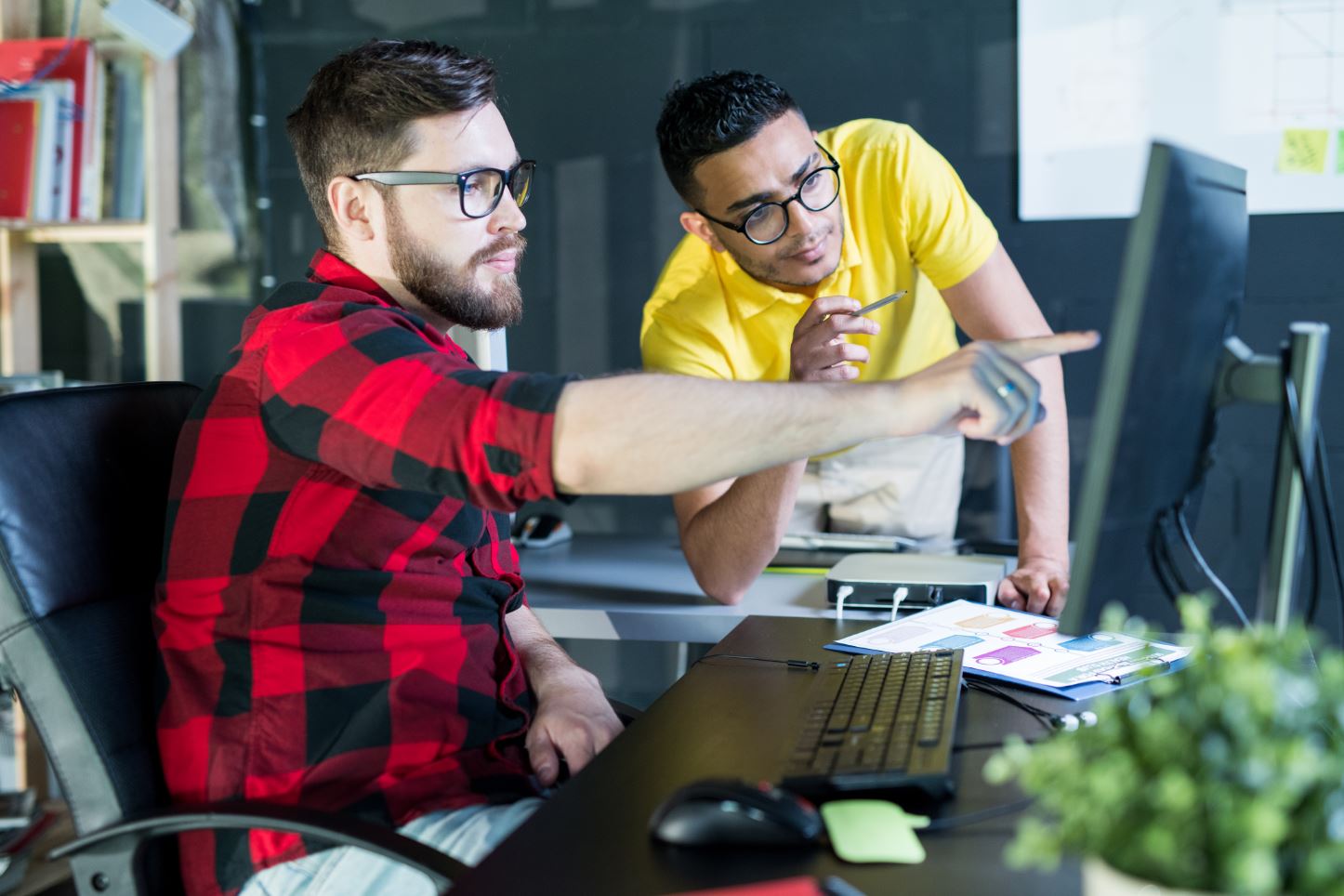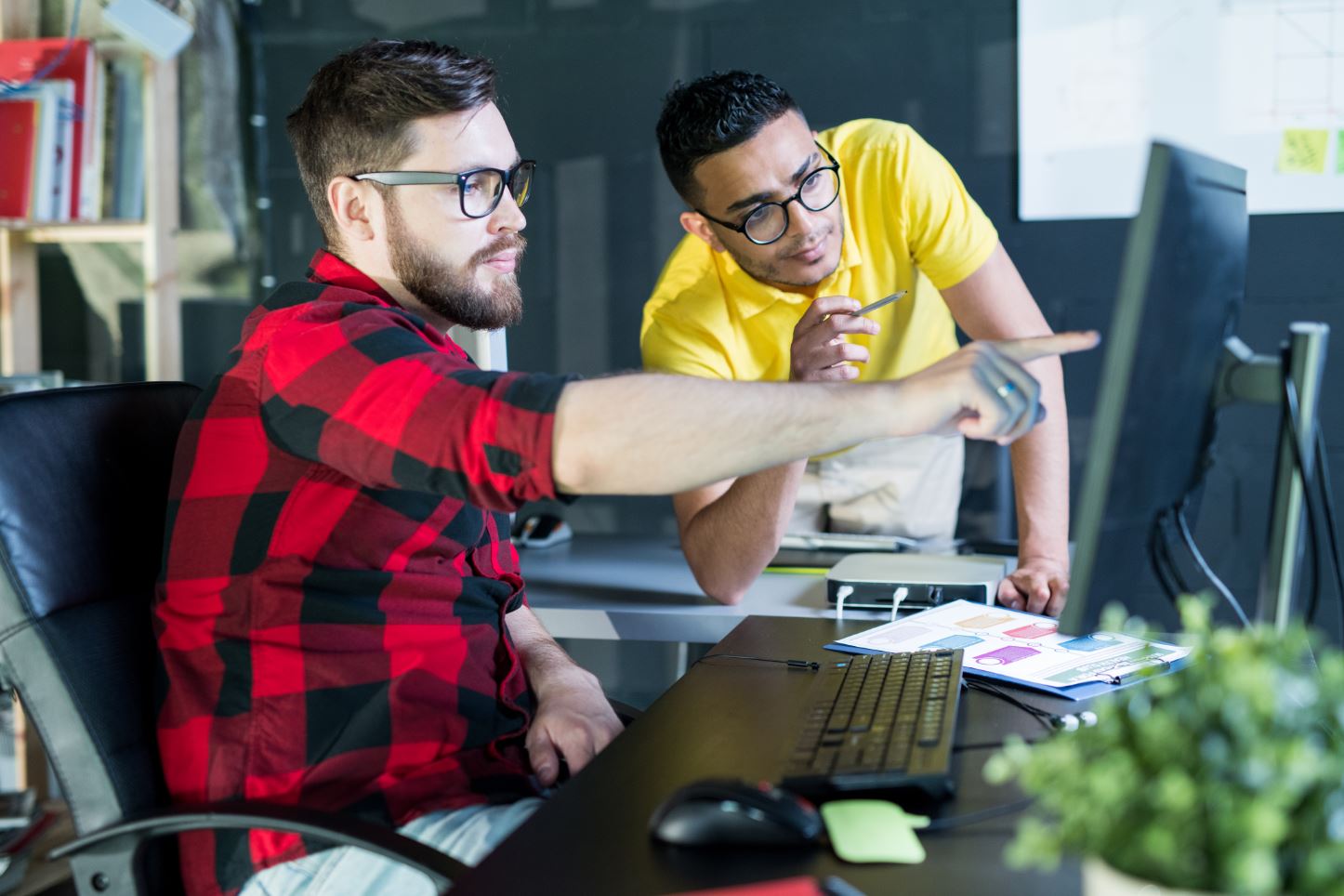 BFCM 2020 is upon us. ECommerce stores are scrambling to make sure that this is the year they'll make record-breaking numbers, and BFCM email marketing will be crucial for those efforts.
To help clear the clutter and lighten the load of your BFCM preparations, we've drilled down on the flows your BFCM email marketing framework should have to reach new heights.
1. Post-Purchase Flow
Post-purchase flow emails are sent right after someone finishes placing an order. This flow informs your customers that they made the right choice after purchasing from your brand (no regrets!).
Overall, the post-purchase flow is meant to nurture and extend your customer's journey after they make a purchase.
Here's the rundown on why post-purchase flows are a must-have, especially during big sales events like BFCM:
Reduces buyer's remorse, which also leads to fewer refunds
Builds healthier and stronger customer relationships
Assists with winning over repeat buyers
Excites your customers about their next purchase
Here's an example of the first email in a post-purchase flow we made for our client. This serves as the order confirmation and "thank you for purchasing" email: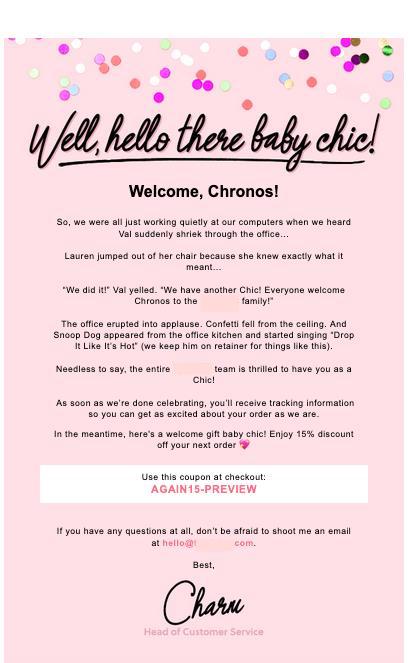 Notice that the copy is creative, upbeat, and exciting. And the included coupon code encourages customers to make another purchase.
Our post-purchase email flow continues with the following sequence:
Email #2: Brand Promise + Coupon Code (Reminder)
This one shows how much you appreciate your customers for buying from you. At the same time, you're reminding them about the coupon code that they can use when they purchase again (keyword: again).
Email #3: Details About Your Order + Maximum Discount + Shipping Info Updates
Communication is key! Update your customers on their orders.
This is also the best time to include any updates on shipping delays and the measures your brand has taken to ensure the package still gets delivered. This proved to be essentially important during the surge of the COVID-19 pandemic earlier this year.
Email #4: Join the Community
This is a great way to use BFCM email marketing to promote your brand's social media profiles. Once you're connected, you can engage with your customers on multiple platforms.
This is a great way to expand your tribe and expose more people to your content and product ads.
Regularly sending updates along with social content highlights the benefits of ownership of their purchased products. By doing so, you help eliminate any doubts, worries, or buyer's remorse that your customers might have.
In turn, they would feel more comfortable buying from you again—and they will become your repeat customers.
Enhance Post-Purchase Flows With Cross-Sell Emails
Another email we added into this flow is the Cross-Sell Email. When it comes to maximizing sales during BFCM, it's important to bring your customers' attention to more of your products, aside from your top-selling one.
Highlight your second most popular products as part of the recommendations section of the email. This way, you can expose your customers to your other best sellers.
Let's say that your main business is selling eggs, but you also sell milk on the side. By making your customers who know you as the egg seller aware of your milk products, you can increase sales order values through your expanded offerings.
More Cross-Sell Email Benefits
Increase your customer lifetime value (CLTV)
Leverage dynamic automation by automating personalization through smart segmentation
Leverage high purchase rates (encourage frequent buyers to buy more through your recommendations)
Increase AOV with bundles that sell a primary product with relevant complementary products
2. Abandoned Cart Recovery Flow
BFCM is the season when wallets run dry, wishlists are crossed off, and delivery trucks flow a-plenty.
However, there will always be customers who get second thoughts and won't finish checking out. In 2019 alone, the global digital cart abandonment rate was more than 60%!
Cart abandonment is a common issue for many sellers already, but if it persists during BFCM, you'll leave TONS of money on the table.
So what should you do?
There are two major adjustments you can make for your Cart Abandonment flows.
Create urgency with discount deadlines
Make strategic use of BFCM email marketing content
Discount Deadlines
Add an extra layer of encouragement to your reminder emails by adding discount codes with deadlines. This should be the extra push your customers would need to finally complete their purchases
As for content emails, while they don't directly make a significant amount of revenue, they can supplement your reminder emails by adding more value to the products left by your customers in their carts.
Strategic BFCM Email Marketing Content
One type of value-added content is User-Generated Content (UGC).
This is where you feature customer reviews, testimonials, and feedback about your products. Reassure your customers that they're making the right choice buying that particular product.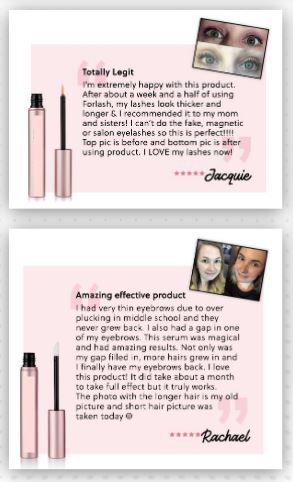 So with the incentive of a discount upon completing their purchase and the added value backing the products in question, your customers will surely go back and finally checkout—allowing you to claim your dormant revenue.
To align your cart abandonment flows for BFCM 2020, try these suggestions:
Integrate remarketing strategies that put your ads in front of people who visited your website, or people who left their carts before checkout.
Last Call / Sales Ending Soon emails to create urgency for discounts and incentivize your customers to complete their purchases.
Use value-added content like UGC. This helps position your abandoned products as high-value, making them more appealing to your customers and removing barriers to purchase.
Cross-Selling, or recommending relevant products, can also increase order value or customer lifetime value during or after checkout
3. New Customer Acquisition Flow
Another heavy lifting flow you need for BFCM 2020 is the New Customer Acquisition Flow.
Why? Because even though sales is the top goal for any eCommerce business during BFCM, you can also capitalize on this opportunity to grow your tribe.
For example, from March to April 2020 we managed to help our client:
Increase customer acquisition flow revenue by 1.9% to 4.6%
Increase pop-up performance on Desktop by 2x
Multiply the same for Mobile by 20x!
And here's how we did it:
Targeted pop-ups on two high-performing landing pages, exposing the pop-ups to the high traffic levels
Set the pop-ups to only show after 60% of the page has been scrolled by visitors so they could see enough information to decide before the opt-in prompt appears
Continuously updated designs to optimize customer acquisition assets and keep everything looking fresh and running smoothly
Optimize Your BFCM Email Marketing Flows & Stop Leaving Revenue on the Table
Flow optimization is a sure-fire way to lock in sure sales during BFCM.
Walk out of BFCM 2020 with both record-breaking sales and a bigger and healthier tribe but integrating these strategies. Maximize your revenue by making sure you're leaving nothing on the infamous dormant revenue table. And grow your tribe by keeping in touch with your customers even after they buy from you.
Do you need to learn more about how to properly and effectively apply these strategies to your BFCM 2020 plan?
Give us a holler and schedule a strategy call with Chronos today!