5 Email Marketing Tactics to Boost Customer Retention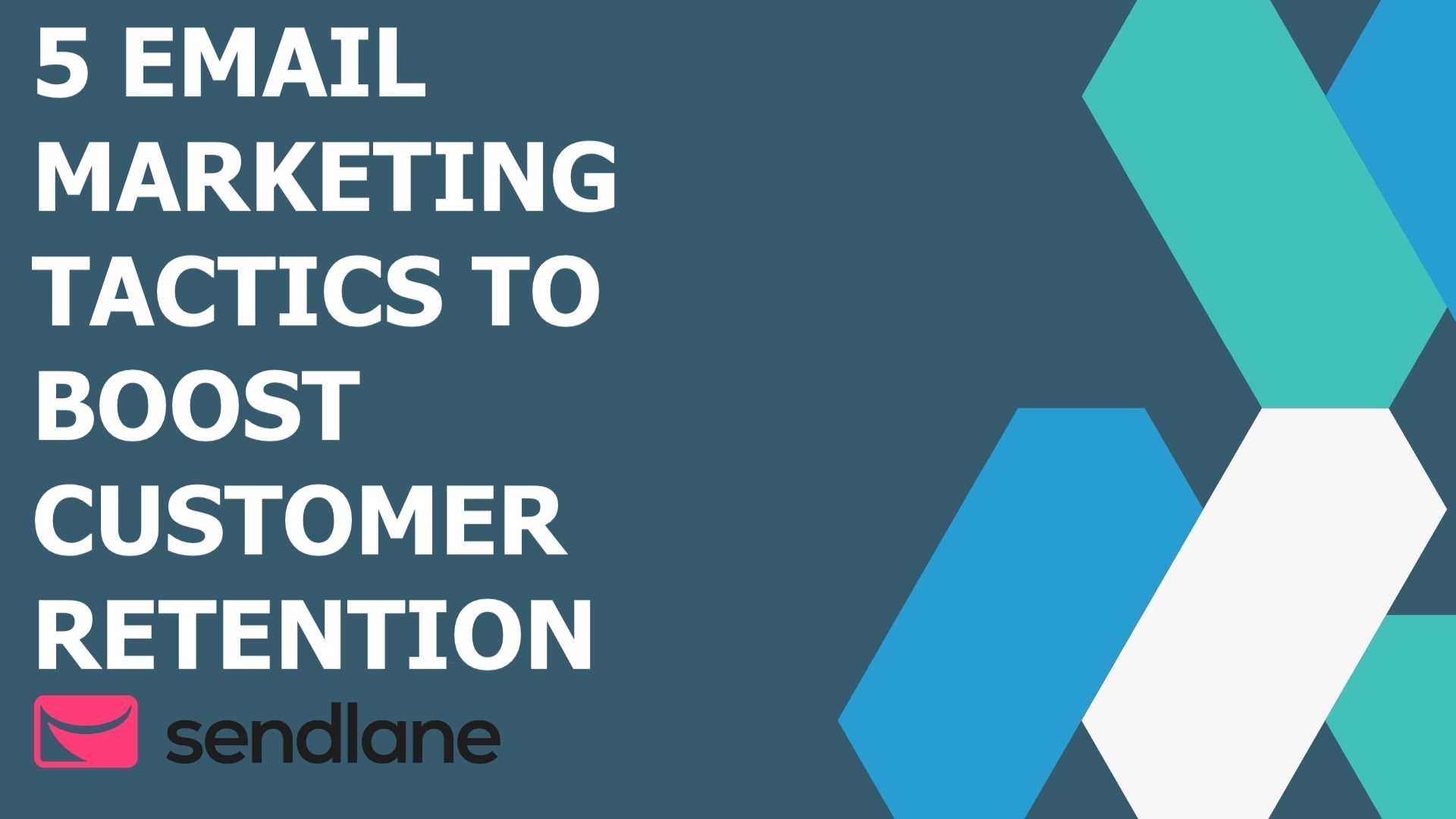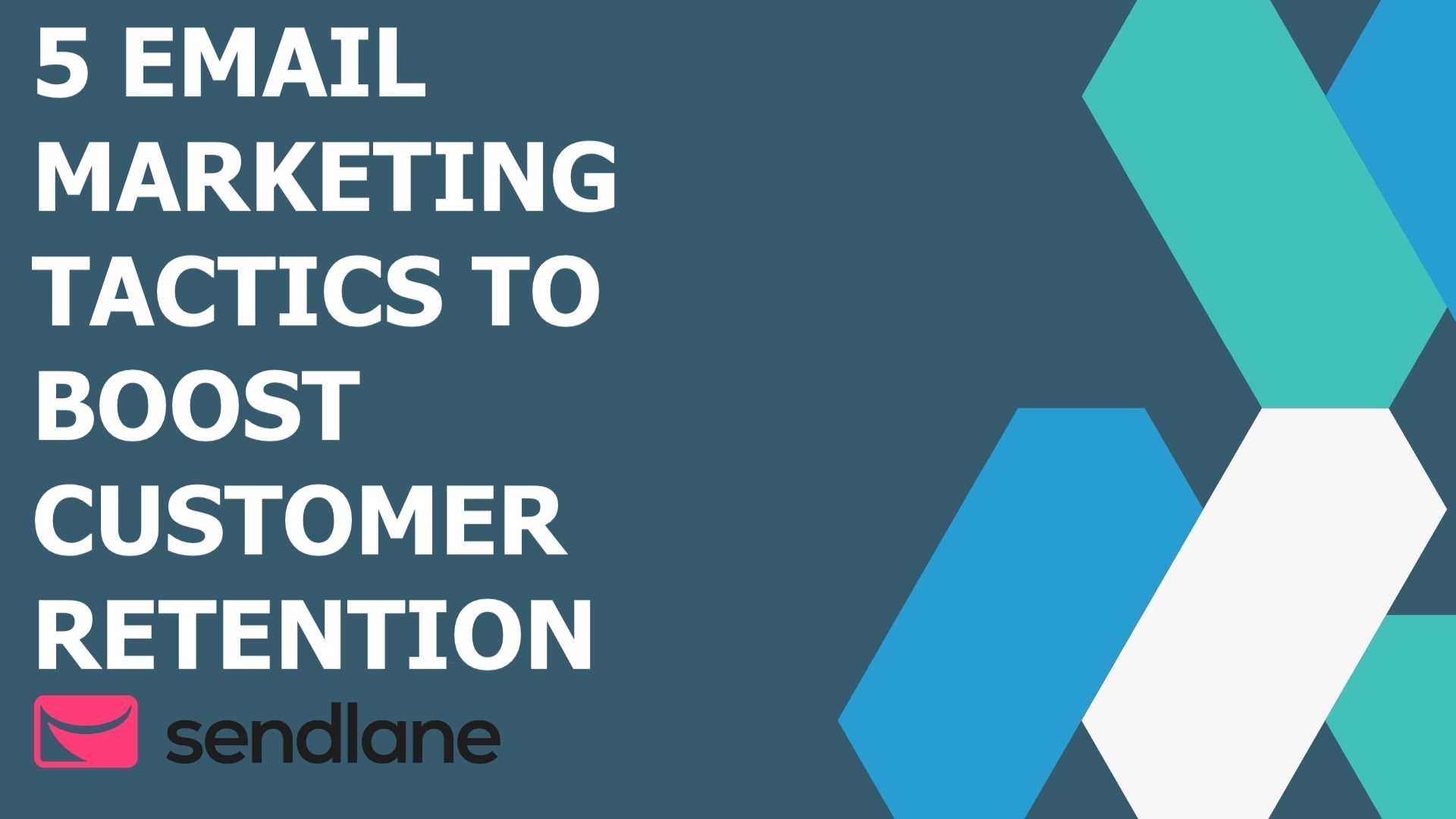 Making new friends as an adult can be uncomfortable, awkward, and overwhelming. And it usually means joining someone else's friend group, which is a lot more work than just chatting with someone you've known since grade school.‍
If you're selling products or services online, finding new customers can be just as tough, especially compared to keeping existing ones.
‍Getting buyers to buy or subscribe again, otherwise known as customer retention, doesn't get as much attention as new customer acquisition in most marketing circles. But it should! If only because finding new customers can cost up to five times as much as keeping existing ones.
‍Also, you've already "won" your existing customers. If they're already happy with a product and aware of your brand, they're way easier to sell to.
With that in mind, customer retention should be Priority One for your email marketing strategy.
Email is one of the best channels to stay in contact with your buyers. Emails feel more personal than other marketing channels like advertising or social media. It's the most effective way to keep your buyers close.‍
Unfortunately, businesses that want to dive into customer retention don't know where to start. What should you say to prior buyers if you aren't selling something new?
We've collected a few existing customer emails to answer that question. Use any (or all) of them after a conversion to keep your buyers engaged until they're ready to buy again!
1. Ask For Feedback
Using your existing customer emails to ask for feedback is the first and best place to start. This is the low-hanging fruit of your post-conversion email marketing strategy.
In fact, you should be emailing your customers after a sale even if you aren't doing so for marketing purposes.
It might be nerve-wracking to ask, "how did we do?" But that's the most straightforward way to find out if their purchase was a success.
Further, it should be easy to connect your sales interface to your email marketing automation tools. Sendlane, for example, has a Shopify integration that gives you the option to tag and segment your customers automatically. This makes the experience on the customer side totally seamless.
Also, there are several ways to ask your customers for feedback. You can choose an option that will add value to your brand.
Try asking for a product review, or tag you in a social media post, or answer a brief Net Promoter Score (NPS) survey. (You don't need someone's whole life story.)
Finally, the timing of your feedback email is important. While it depends on your product or service, the best time to check in is usually a week or two after the purchase. You'll give them enough time to live with the product for a while, but their initial impressions are still fresh.
In this email, Everlane asks for feedback on a recent apparel purchase:
You probably shouldn't ask for feedback on clothes the day after their shipment arrives since they'll probably wash them first — and laundry day might not arrive until next week. By waiting, you're more likely to get an honest and useful review from your buyer.
Once you start getting responses, you can also segment customers into different groups based on their satisfaction. For example, you can use that information to send referral requests to happy buyers or a "need some help?" email from customer support.
2. Request a Referral
As we just mentioned, referral requests are another great opportunity for existing customer emails. They can serve as both customer retention touchpoints and opportunities to expand your brand via word-of-mouth. In other words, they keep your current friends close and help you make new ones!
Research shows that recommendations from friends are the most credible form of advertising these days. People naturally trust friends more than strangers (especially on the internet), so you can increase your trustworthiness by using customer referrals in your online marketing strategy.
Further, if you can incentivize referrals by giving one or both customers a small reward in the process, you'll be in even better shape.
Speaking of 'in shape,' here's a referral email from fitness apparel brand Outdoor Voices: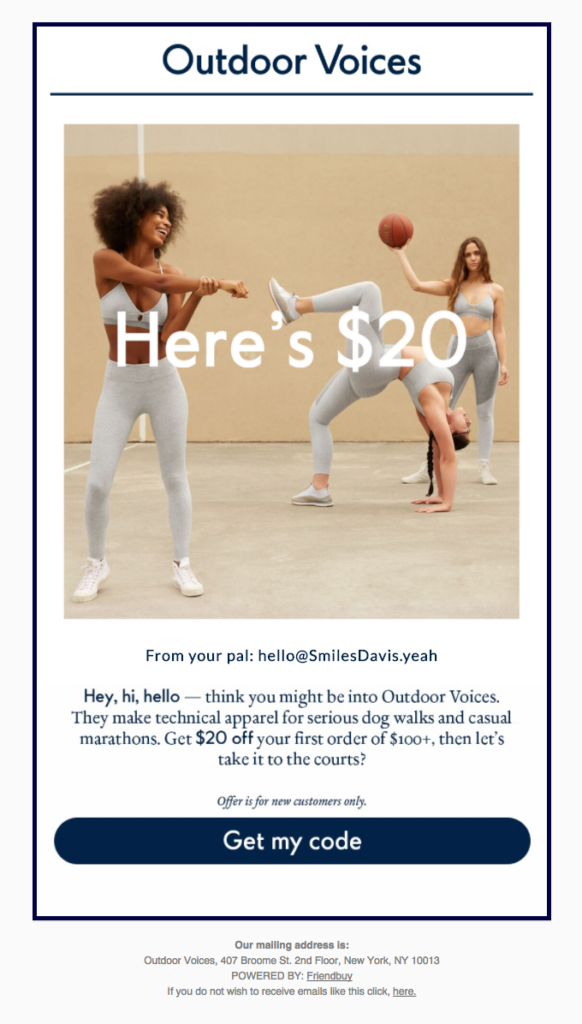 These emails are a great follow-up after a feedback email because they don't push customers toward another purchase. But it's still a way to keep buyers engaged before moving onto some of the emails here more focused on renewal.
3. Check-in or Motivational Emails
Let's zoom out a bit and talk about less-recent purchases.
Customers that first tried your product a month ago, for example, still deserve attention. How can you keep them interested in buying again when the time is right?
That's where motivational or "drop in" emails come in.
This message from the beauty brand, Aillea, is a good example. They ask if you're missing something in your skincare routine and offer ways to make it cleaner and healthier:
What behaviors do your customers link your products to? Start by building content around those ideas and go from there. You want to keep them excited until the next sales cycle, which is where the next existing buyer emails will shine.
4. Highlight New or Related Products in Existing Customer Emails
Let's say that a few weeks or months have passed since your customers' purchase.
The emails you've been sending have kept them engaged, so you know that you're still on their minds.
That's when you start suggesting another purchase or renewal.
One option, for example, is to tell them about products that supplement what they already have. Just a nudge will do. Remember, they're already warm leads, so you don't need a hard sell.
In this example, KiwiCo offers to add a handpicked book to an existing crate order — and the first month is free:
‍
These recommendations can help conversions even when a customer doesn't buy. It serves as a mental cue that shifts customers back into "buy" mode.
5. Upselling & Reselling Emails
Now that you've nurtured your buyer for a while, take things to the next level by recommending another purchase.
That purchase might be the same product again, a complementary option, or something in a different category altogether.
The best option will depend on both your customer and your product availability.
This email tells Harry's buyers about new products — and even mentions "your feedback" in the copy:
Harry's manages to personalize the message and reference previous engagement while also encouraging future purchases. (Not bad for an email with just five sentences of copy!)
Emails that upsell should be more focused than related recommendation emails. Use more specific calls-to-action, and sync them to the length of your customer's average sales cycle.
Turn Sales Funnels Into Sales Cycles to Boost Customer Retention
With these strategic existing customer emails, you'll be able to stay engaged and top-of-mind with all your customers.
These messages seamlessly connect the end of one sales funnel and the start of another. Just as importantly, they build up your customer relationships along the way. Each retention email you send can help you learn more about your customers and provide more effective options for them.
And with Sendlane's advanced marketing automation tools, you'll find even more opportunities for personalization and retention that can help your brand grow!
If you're ready to start turning shoppers into lifetime customers, click here to try Sendlane free for 14 days!