The Best Facebook Ads For Your eCommerce Funnel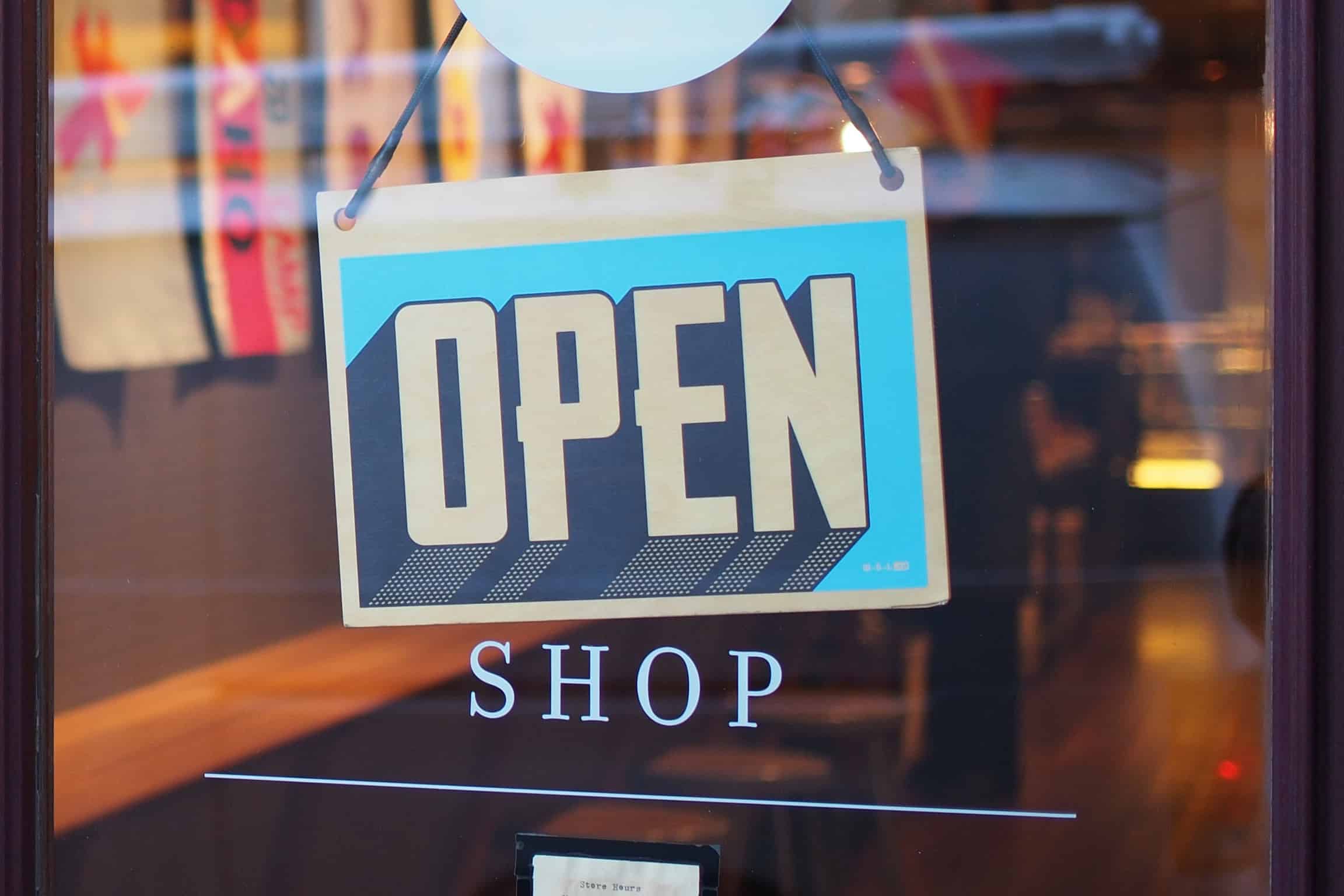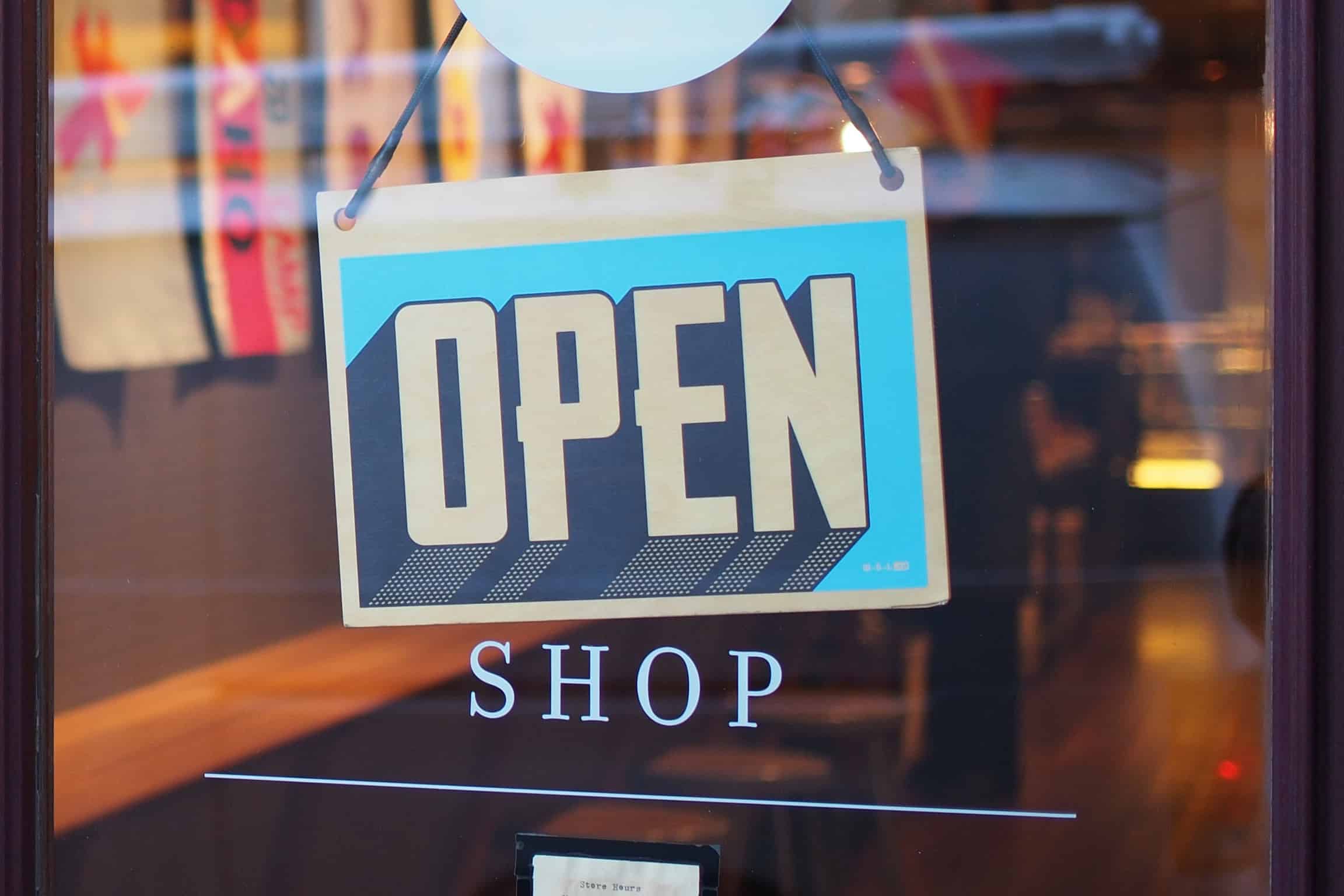 Our friends at Revealbot recently published a fantastic guide to Facebook ads for eCommerce that covers everything eComm advertisers need to know -- implementing the Facebook Pixel the right way, starting with high-ROI audiences, and the best types of ad creative for consumer products.
We decided to add our own take on the creative tactics that we see working in Facebook ads for eCommerce funnels at AdLeaks.
After all, getting ad creative right is crucial for eCommerce companies that are running Facebook ads.
Testing and tweaking new ad ideas is an ongoing process. But first, you'll need to identify where your prospects are in your eCommerce sales funnel to target them effectively.
How Do Facebook Ads Reach Buyers in Your eCommerce Funnel?
As you probably know already, the sales funnel is a visual representation of how people go from unaware of your brand to buyers of your products.
The top of the funnel is an audience with little to no knowledge of who you are and what you offer.
The middle of the funnel is users who are interested in what you provide, but aren't ready to buy yet.
And the bottom of the funnel is users who know what you offer and are ready to purchase or have purchased in the past.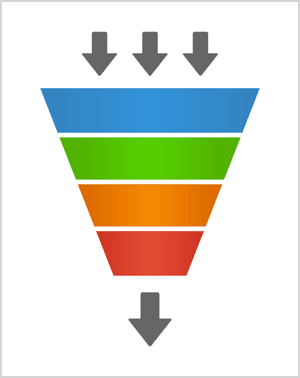 Some potential customers drop off at each stage, which is why it's a funnel and not a bucket. - image source
You can target each stage of your funnel with a variety of Facebook ad data sets, including demographic information, interests, location and more. You can also incorporate tracking information from your website to target users based on pages they visited, previous purchases, and other indicators.
We'll start at the top of your eCommerce funnel and work our way down to examine how to reach users at each level.
Top of Funnel Facebook Ads for eCommerce
First, even though we're starting at the top of your funnel, it's important to keep in mind that your return on ad spend (ROAS) for these campaigns won't be as high as your middle- or bottom-of-funnel efforts.
Remember that these prospects probably haven't even heard of you before. Quite the opposite, in fact -- they're a "cold" audience that is unlikely to convert immediately. So before you devote too much ad spend to these prospects, we highly recommend that you exhaust your bottom of funnel and mid-funnel audiences first.
The goal of these ads is to get people engaged and drive traffic to your storefront or landing page. First, you want them to learn about your brand. Second, you want them to pick up a tracking pixel for retargeting at a lower cost later.
Since you're trying to generate brand awareness at this level, the most effective method is to show your prospects what "success" looks like with your products.
Tell Your Customer's Story
In this ad, the copy identifies the audience (business owners who want to make ads), empathizes with their problem, and presents a benefit-filled solution in a few short sentences.
The customer doesn't just get a story -- they get a whole character arc.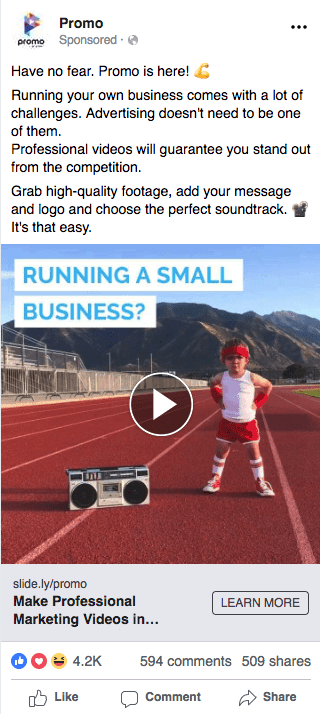 The cute kid with the boombox helps too, of course. - image source
Ads like this have to hit a lot of different notes. You're trying to grab the viewer's attention, name the problem, present the solution and, in this case, address objections that might prevent the user from clicking.
Done well, though, this strategy can produce impressive results. Not only did this ad get a lot of shares, it drove a 42% increase in click-through-rate compared to general brand videos.
Middle of Funnel Facebook Ads for eCommerce
Your mid-funnel audience already knows about your brand or products. They will be more receptive to specific information about your offer.
At this stage, you're using ads to answer questions like "why should I care?" and "what makes you better than the competition?"
You can do that by showing success, just like at the top of your funnel, but you need to be more convincing. Two great ways to do that are with video ads and use case ads.
Video & GIF Ads
Videos are and will continue to be one of the most effective formats for Facebook ads. But if you're trying to get people to care, you'll need something compelling that will draw users in with benefits and solutions to existing problems.
Short, looping videos or GIF-based ads are a good choice for mid-funnel audiences. You can present high-level information quickly and creatively. In the Wendy's ad GIF below, the salad options are presented visually so users can see how customizable the menu is: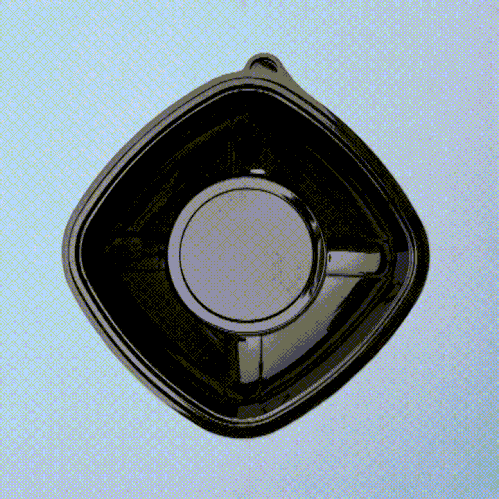 Anyone else getting hungry? - image source
Making GIFs is a straightforward process, and you can use them with your existing creative assets or for new campaigns.
Use Cases
Two traits are almost always enticing to social media users -- creativity and authenticity.
You can incorporate these traits with use cases in your ads to give more people a chance to "get" what you're offering.
For example, in the ads below, Toyota used visually compelling images and videos of street musicians to drive engagement with their "Feeling The Street" giveaway campaign: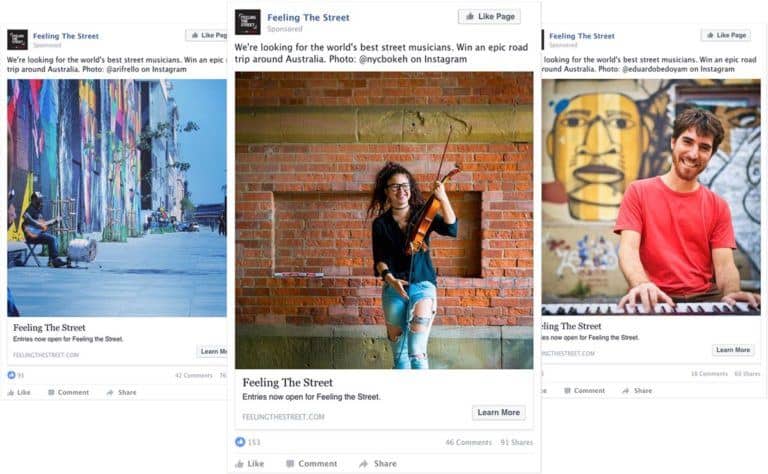 These ads generated a 440% year-over-year increase in total Facebook engagement for Toyota. - image source
Bottom of Funnel Facebook Ads for eCommerce
Users at the bottom of your funnel already know about you and what you're offering. These are your previous purchasers, your cart abandoners, and your multiple-product-page viewers.
This audience is most likely to purchase an item directly from a Facebook ad, or, in other words, the most likely to improve your ROAS.
Three types of ads are especially effective for bottom of funnel audiences -- dynamic product ads, carousel ads, and user-generated content.
Dynamic Product Ads
Dynamic product ads (DPAs) are the first bottom of funnel Facebook ads you should set up. Which is good news, because they require the least amount of effort.
DPAs are automatically generated ads created from your catalog through your eCommerce store's product feed.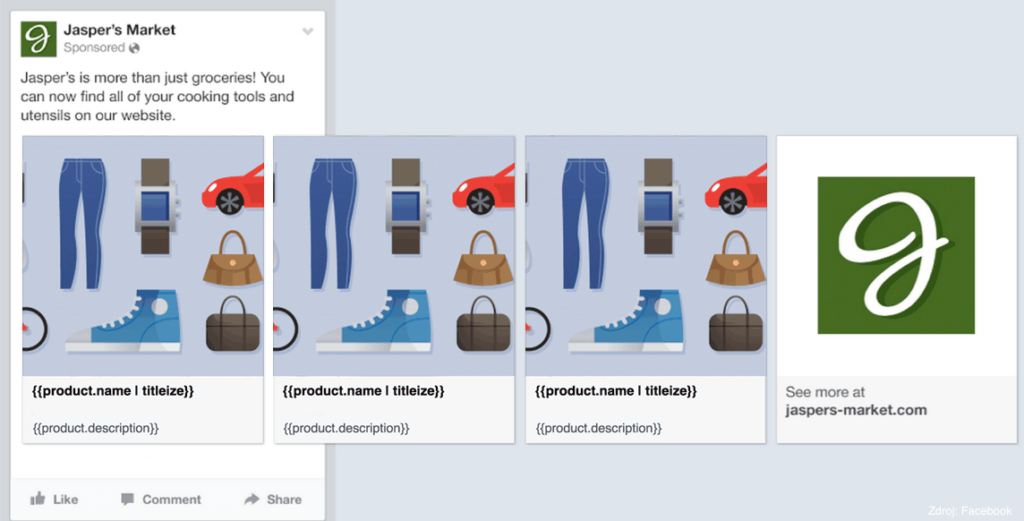 The dimensions of your DPA cards are adjustable to drive engagement. - image source
By integrating your product feed with Facebook Ads Manager, Facebook can use existing product images, titles, descriptions, and more to create your ads. You can even incorporate retargeting to show your leads products that they already looked at but did not purchase.
How to Set Up Dynamic Product Ads
If your eCommerce platform already supports product feed integration with Facebook Ads, then setting up DPAs shouldn't be too difficult.
For example, Shopify has an app called Flexify specifically designed to help with integration. This is especially useful for eCommerce stores with many ad campaigns and large product catalogs. Creating these ads without some sort of automation would be wildly time-consuming.
If you're adding a product feed manually, open Facebook Business Settings and go to Catalogs. You can enter product information there, and Facebook Ads Manager will still create automated ads based on your data.
After creating a catalog, you can create a new ad campaign for catalog sales, which will pull in your catalog information for the ads.
User Generated Content
We've already mentioned that video ads can be effective, especially with audiences further along in your funnel.
User-generated content (UGC) has become an especially popular tactic for video ads in recent years. These ads incorporate clips of customers talking about how much they love your product with branding, creative, and calls to action.
UGC ads are another way to present success and authenticity to your prospective buyers. According to a 2019 report, 90% of consumers say authenticity is a factor in their brand preferences, and consumers are 2.4 times more likely to see UGC as authentic than branded content.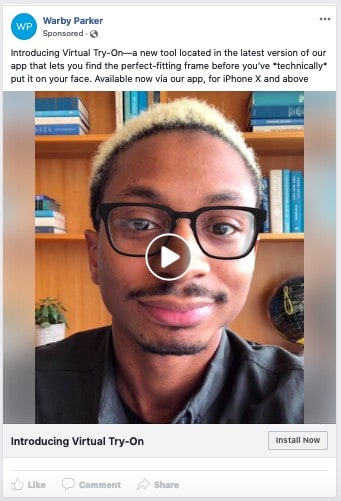 In this video, Warby Parker uses UGC selfies to show their products in real-life environments. - image source
By showing prospects that real people love your product already, you'll establish trust and trigger a fear of missing out (FOMO) that can incentivize someone on the fence to convert.
Carousel Ads
Carousel ads, like DPAs, incorporate images and messaging so you can target specific audiences with products and offers.
The primary difference, however, is that these ads aren't auto-generated by Facebook Ad Manager. Instead, carousel ads give you complete control over the copy and images or video. Creative advertisers can use these customizations to capture attention and get people to click and scroll through your products.
In the example below, Facebook users are encouraged to swipe through the carousel because of the partial image of the next product on the right side of the screen -- a common visual cue in Facebook ads.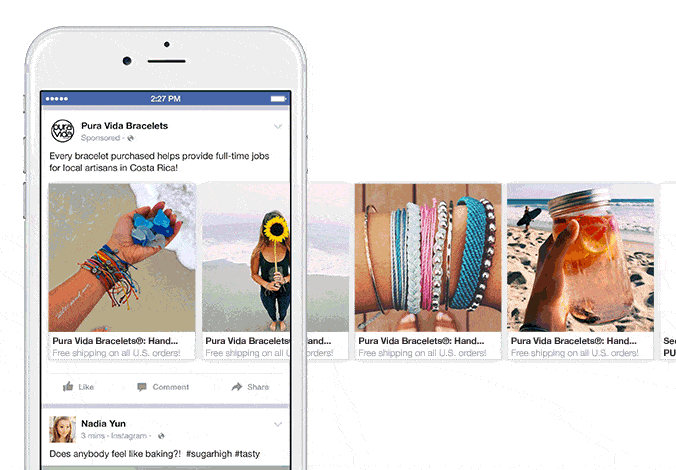 This innovative carousel campaign drove a 20x increase in unique products sold. - image source
Effective carousel ads also include visually distinct images, a CTA on each slide, and context about each individual card. Driving engagement with these ads also has secondary benefits like higher engagement scores and even lower ad costs.
The Best Facebook Ads For Your eCommerce Funnel
Facebook ads are a versatile and useful tool for digital marketers in general and eCommerce storefronts in particular. By combining the tactics above with automation and audience information, your Facebook ads can be a sustainable source of revenue and growth.
To help with the automation part, we use Revealbot for all our Facebook ad automation needs. Try it yourself free for two weeks -- no credit card required.