12 Ways to Quickly Gain Instagram Followers in 2020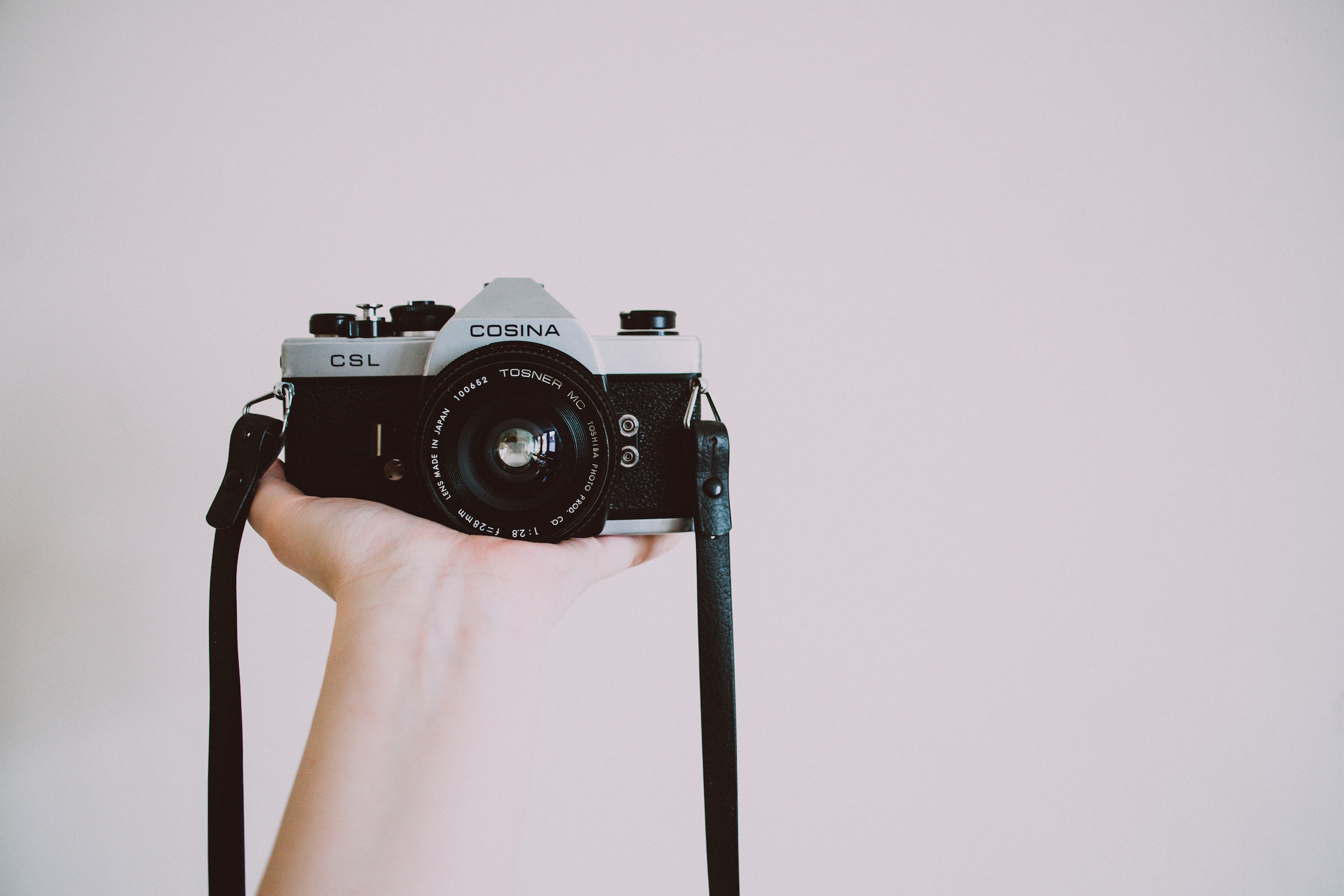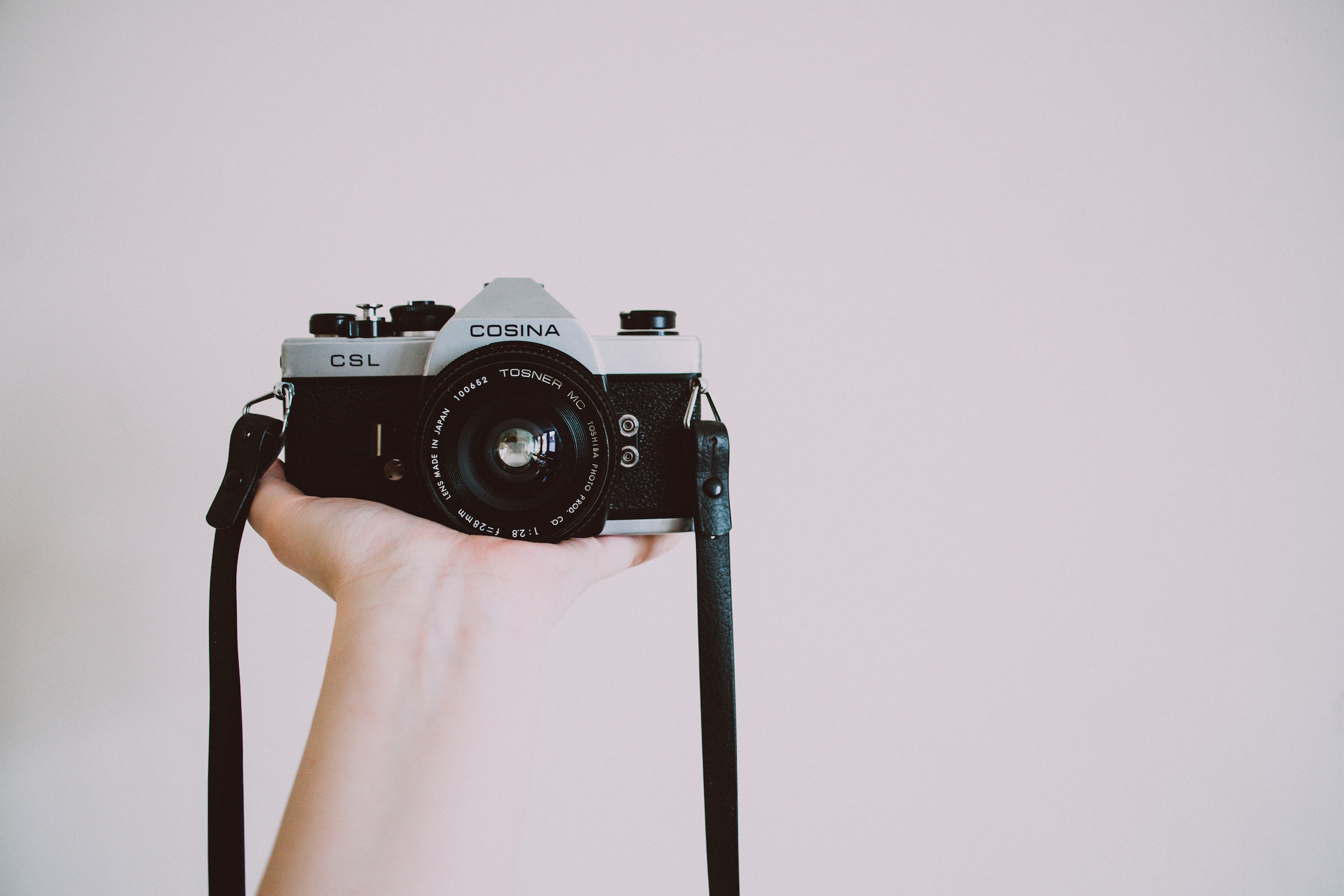 No matter where you are in your business venture, if you want to grow your social media following this coming year, then you need to make sure your strategy is carefully charted out.
Don't even think about taking any short cuts like buying followers. This can hurt your business, it doesn't work anymore... and just isn't worth the risk.
Only authentic followers tend to lead to true brand awareness. Gaining these followers organically will bring a level of trust to your business that both your current and future customers will appreciate.
It's no secret that the competition on Instagram is fierce!
With more than 1 billion active monthly active users and 500+ million Instagram stories posted every day, to get more IG followers you'll need to rise above all that noise. Take a look at these 12 strategies to help you build an engaged Instagram following by optimizing your profile, posts, stories, and ads.
#1 - Find Your Target Audience
Whether you are just getting started with Instagram or are looking to expand your current following it is important to find an audience that is interesting in the content you are creating.
Instagram Insights is a great tool you can use to see who this potential audience might be. Narrowing down who your current following is made up of based on demographics makes it a lot easier to target more followers with similar characteristics. You don't want to waste time and resources targeting an audience who has no interest in your product.
#2 - Create Fun, Engaging Content
IG is visual! Captivate your audience with interesting pictures. Only then, will they pause and take a look at your captions.
Check out this spooky image from Lush Cosmetics.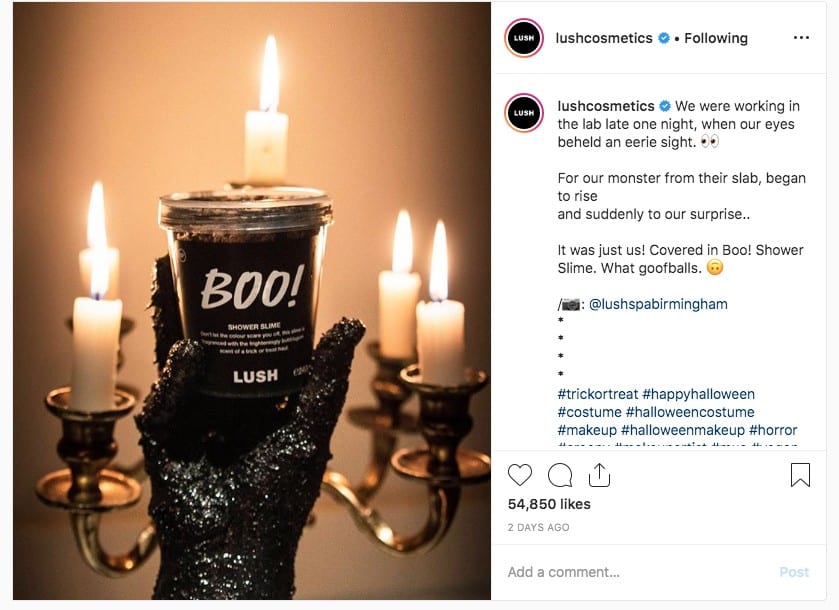 This close-up picture of one of the company's seasonal products is a great way to showcase the shower slime. You can also see that the photo is supported by fun content in the caption. The company does a great job playing up the Halloween vibes, and even connect with followers in the comment section, answering questions.
These personalized touches make the product more appealing to potential customers.
#3 - Use High-Quality Images
If you aren't into using high-quality images for your company's profile, your social media popularity is going to drop. Using blurry, grainy, or out of focus images is unprofessional, and your followers will take note.
Again, Instagram is a visual platform. You need to use interesting pictures to entice potential followers. Check out this post from artist Tyler Lamph.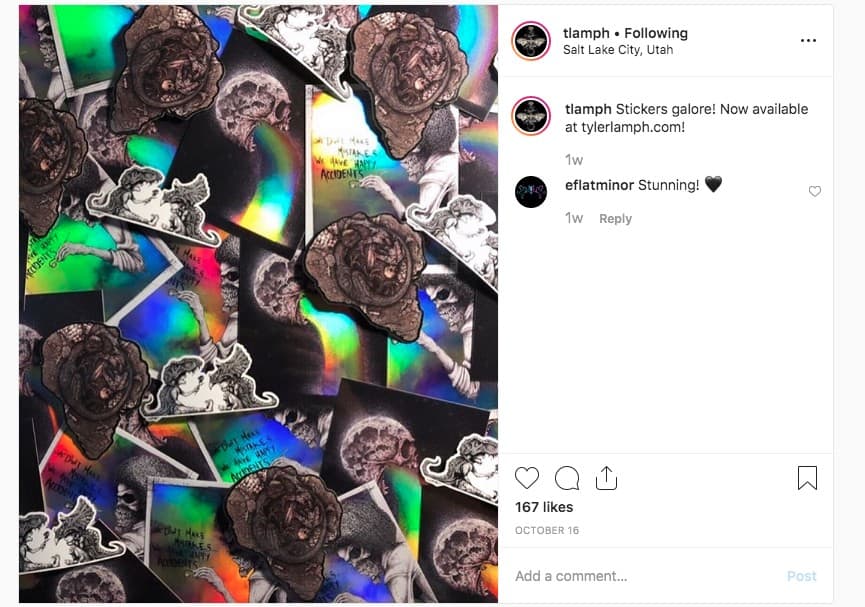 This picture stands out! The image is crisp, the black and whites are a great contrast to the holographic stickers. The post does a great job of displaying some of the artists' merch.
Try using filters and tools like Layout or Boomerang to create images that will add variety to your feed and differentiate your brand. We are lucky, most smartphone cameras today will provide a great image to start with.
The more attention-grabbing the image, the more potential there is to bring in new followers.
#4 - Find the Right Hashtags
Hashtags help Instagram to sort the content that is being posted. Using hashtags allows you to target specific keywords and can increase your reach significantly.
If an Instagram user searches any of these topics, this post will show up.
If you are unfamiliar with hashtags, check out this cool list of 79 HASHTAGS FOR EVERY DAY OF THE WEEK, put together by Vision Creative. From here, you can experiment with the ones that make the most sense with your post.
Make sure you are targeting a specific group with your hashtag choices.
#5 - Join In On The Conversation
SOCIAL media, is for social engagement with an online community. Interacting with your audience is preeminent.
The more you foster a relationship with your followers, users will be more willing to share your content with their social media network.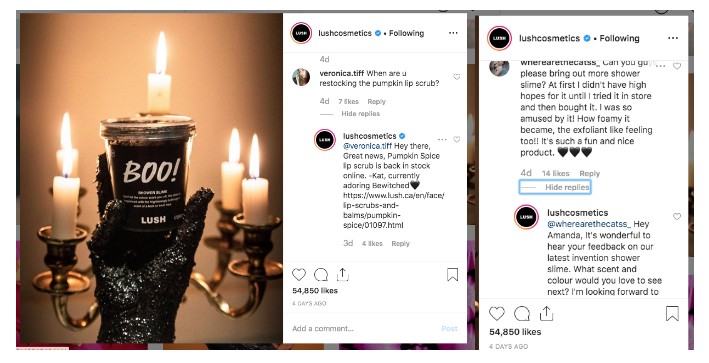 We have seen this already in the example from Lush Cosmetics.
#6 - Use Instagram Ads For Maximum Reach
You can create feed and story ads to promote your company profile on Instagram. You can use these to create ad campaigns that broaden your reach, increase brand awareness, and boost your posts.
Using these ads to target the right audience will bring you more followers. Check out this example from Busted Tees that incorporates a call to action. Using cues like the arrow in this add ensures that people know they can click on the button to visit your website.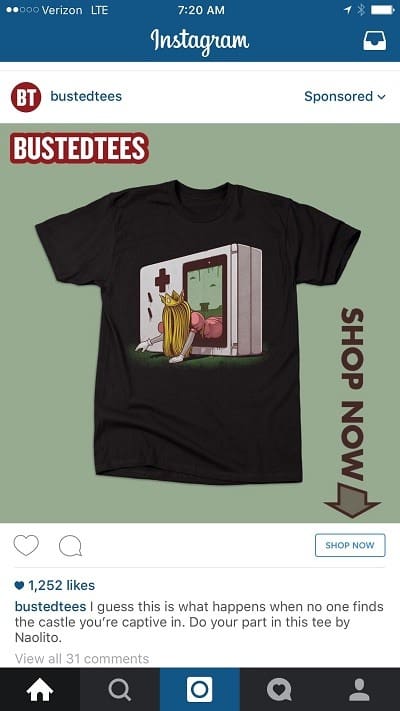 #7 - Use Story Highlights
Instagram Stories see greater engagement than regular posts. Stories are a great way for a business owner to provide prompt updates to followers and allow for longer narratives
Instagram Stories can be pinned to your profile page, these can be organized into several different Highlights. This allows for followers that are new to the brand to view them.
Here is an example of the Highlights from Essie, a company specializing in nail polish.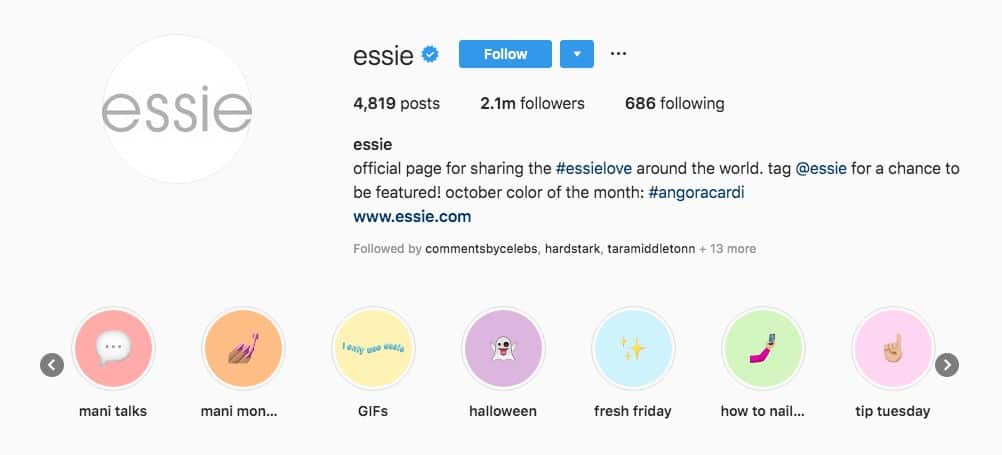 Not only do these highlights provide information about the company and the products, but you also find other useful information like 'How To's" and "Tip Tuesday." By pinning stories to your profile you add value to your account, which will lead to more followers.
#8 - Write an Engaging Bio
Your profile probably isn't going to be the first thing potential followers see, however it is where they will go to get more information about your brand.
The options are limitless, but we suggest to create a bio that is short and sweet. Focus on introducing your brand.
You can also add any branded hashtags or a link to your homepage. Instagram doesn't allow you to link through posts unless they use Instagram Shopping, so your bio is your chance to send people to your home page.
Check out this casual, and very on-brand bio from LEGO.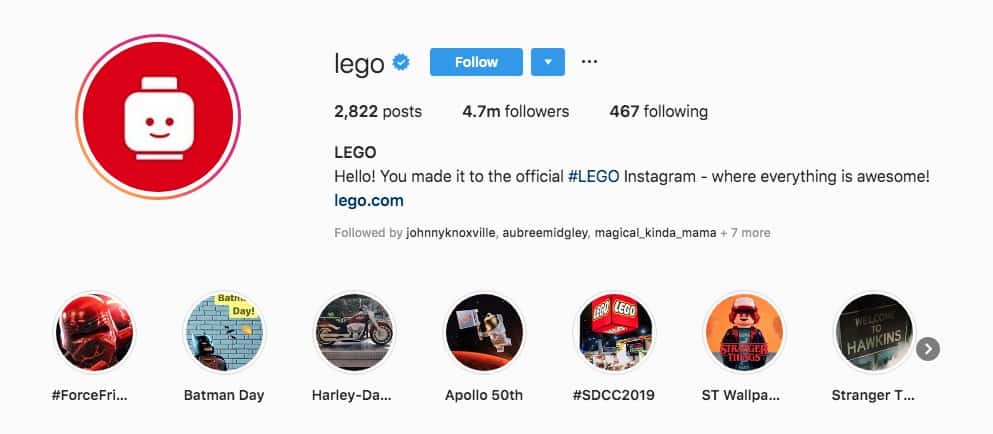 #9 - Show Personality!
You can't be boring on Instagram and expect to gain new followers. There are thousands of brands out there competing for attention. What are you going to do to stand out from the crowd?
You need to send a clear message while staying authentic and true to your brand.
Totinos has a clever way of showing their quirky personality by allowing Pete Zaroll the pizza roll to take over their account. The company created this alter ego character as a way of having fun and showing off their personality.

The company's feed is only loosely based on their product but has the personality to boot! They have fun with the content they create and post, really setting them apart from competitors. You can see they have over 40 K followers!
#10 - Find The Best Time to Post
People are interacting on Instagram 24 hours a day. The right time to post for your business the time your target audience is most active on Instagram. You can use Instagram Insights to start testing times that will most benefit you.
Some Instagram content types are more affected by posting times than others. For example, stories will bring in more followers during peak hours, whereas posts can gain traction over a few days.
Think about how these times impact your ability to engage with your audience as well. If you're running a promotion or encouraging comments, you need to be there to reply to any questions.
#11 - Tag, Be Tagged, and Share!
Tag other users in your captions to spread awareness and get more traffic to your posts. Let's say you mention a popular blogger in your caption, by doing this you now have access to their tens of thousands of followers who will most likely be interested in your content as well. You have just opened the door to many potential new followers.
Chances are if you have an awesome product people are going to talk about it and want to share! If someone tags your brand in a fun post make sure to share it to your company profile as well! It's ok to brag a bit, it's a great way for newbies to get a feel for what actual customers are saying about your brand.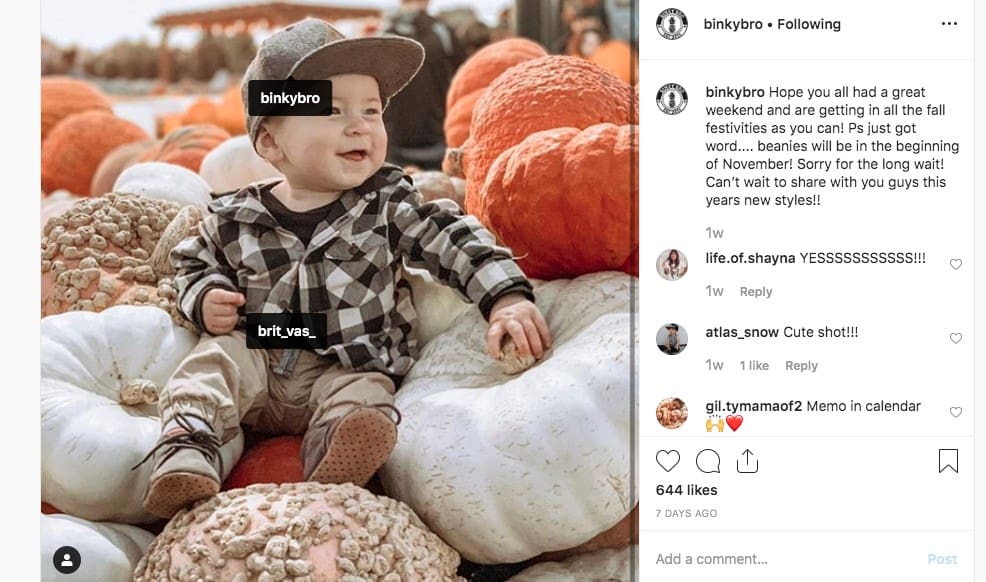 BinkyBro is a rad baby apparel brand that is great at doing this! Check out this post where they use the customer's actual picture as well as giving it a tag.
#12 - Try Instagram TV
Instagram TV is a platform for showing video content without the 60 second time allotted within the feed. IGTV allows you to showcase your brand without having to deal with time restraints. Here's an example from chef Matty Matheson, in which he promotes the release of his new LP cookbook.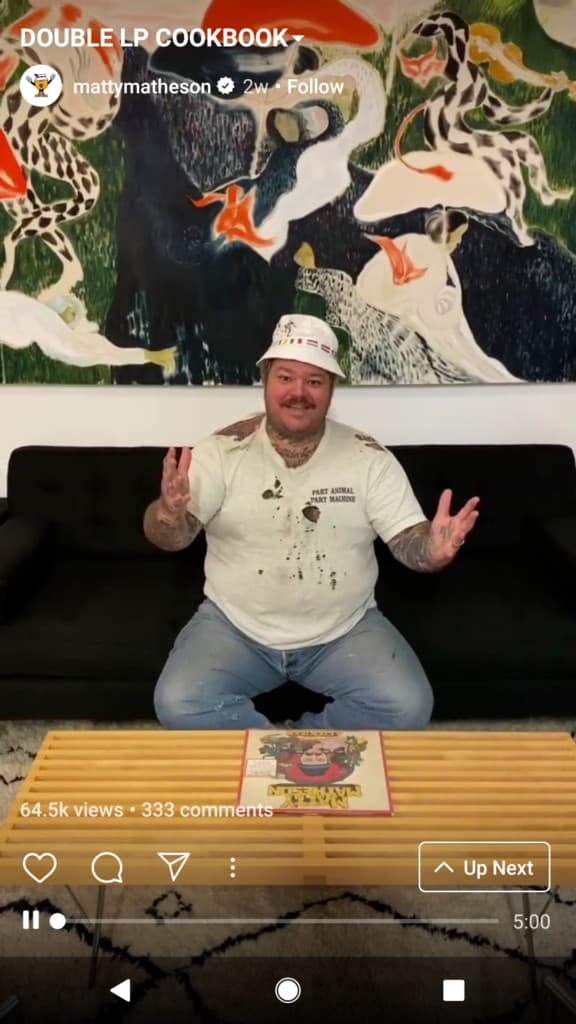 You can see in the bottom corner that Matty reached 64.5K viewers with this video. Views can scroll through his additional videos or go directly to his profile page where they are sure to find more content they are interested in.
Pro Tip: Make sure to select a captivating thumbnail for the video that will grab the viewer's attention.
Elevate Your Brand With More IG Followers
There you have it. More followers mean more power to boost brand awareness. Not to mention, having a significant social media following makes your business look credible to users. Try these strategies to keep that follower count rising!