9 Creative Tools For Massive Marketing Wins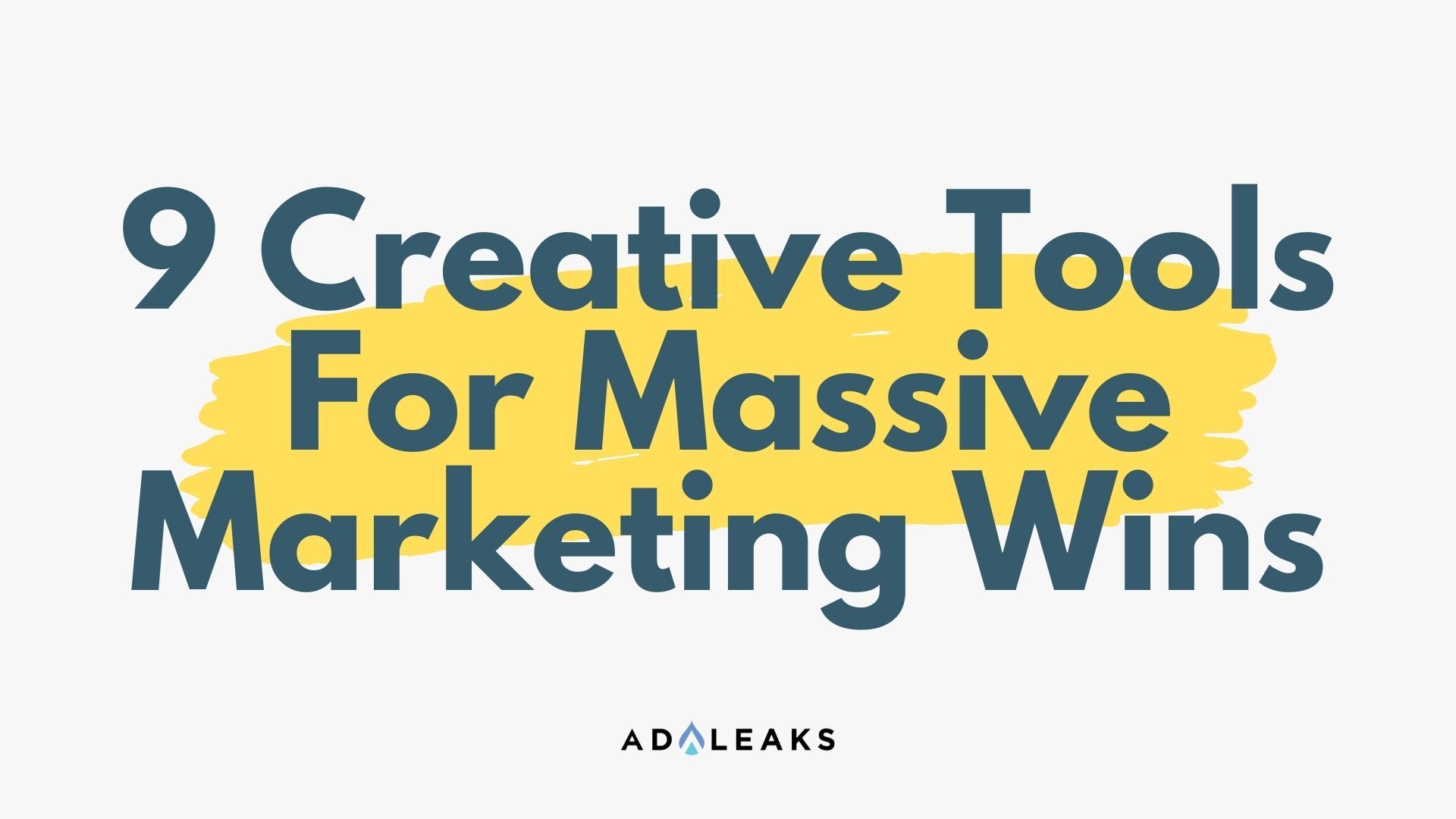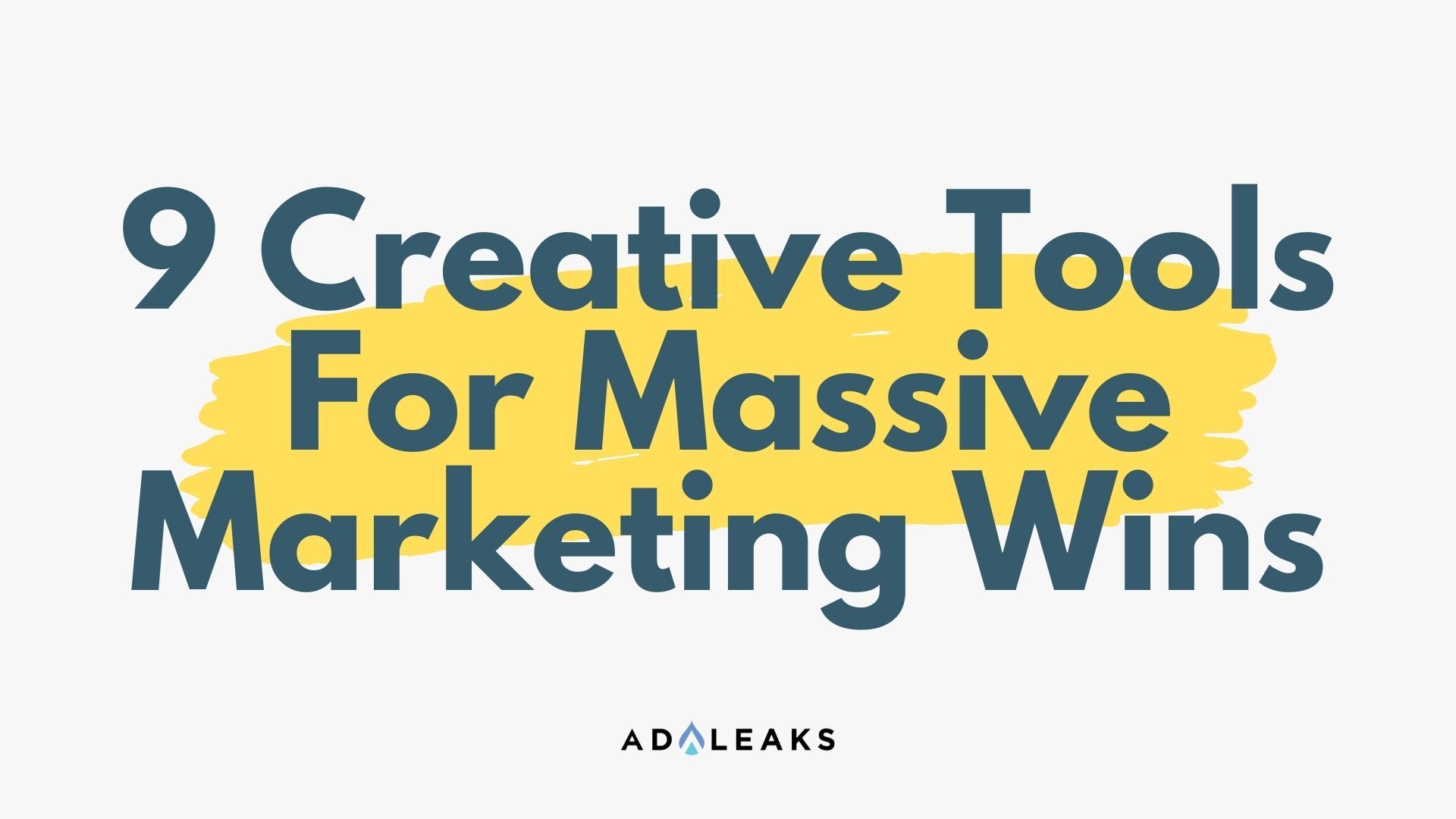 iOS14 has cut off access to a lot of the tracking data you're used to, and as a result, lots of ads just aren't working as well as they used to. In short, dull ads are dead and it's time to step up your ad creation game with the right creative tools. 
Did you know that design and visual content is the biggest challenge for about one in four digital marketers? So where and how should you begin? Right here, with our list of agencies, tools, and other creatives to help you out.
1. Welling Media
If you are in the market for a creative agency, this is the one you need.
Welling Media uses video and imagery to sell your product. They have lots of success stories and proven experience in a multitude of industries.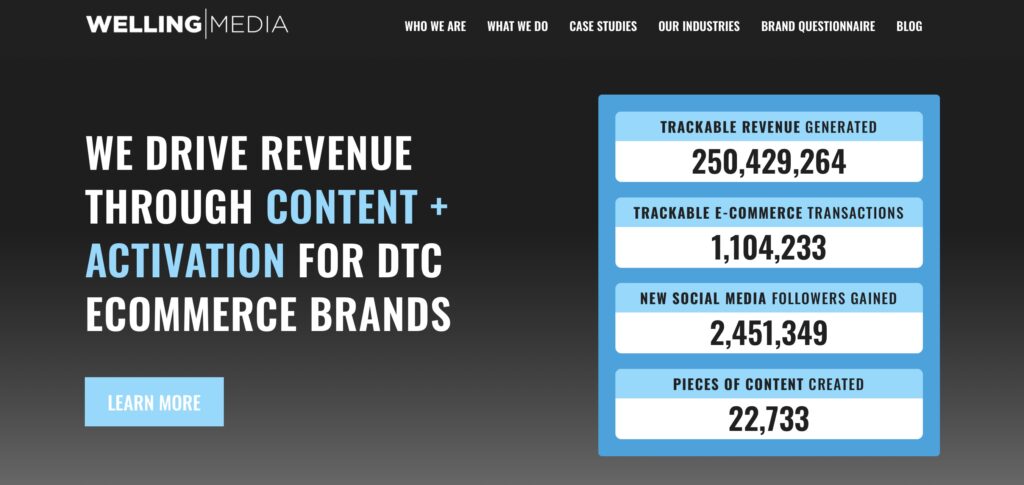 How Do They Help?
Welling Media's creatives can help you:
Plan strategies
Launch branded content
Display your brand's story in a compelling manner
2. WKND Digital
WKND Digital creates content for you that will improve sales. They have worked with multiple top-tier brands like Disney, Discovery, and Trifecta.
How Do They Help?
Improve your ROI with PPC marketing
Produce compelling copy
Get data driven design
3. Viewability
This team offers various options to get you started, including a book from Tom Breeze.
Viewability also offers training for YouTube ads and creatives if you want to learn yourself. But you can also let their agency do the heavy lifting for you by creating and running your YouTube Ads and managing your campaigns.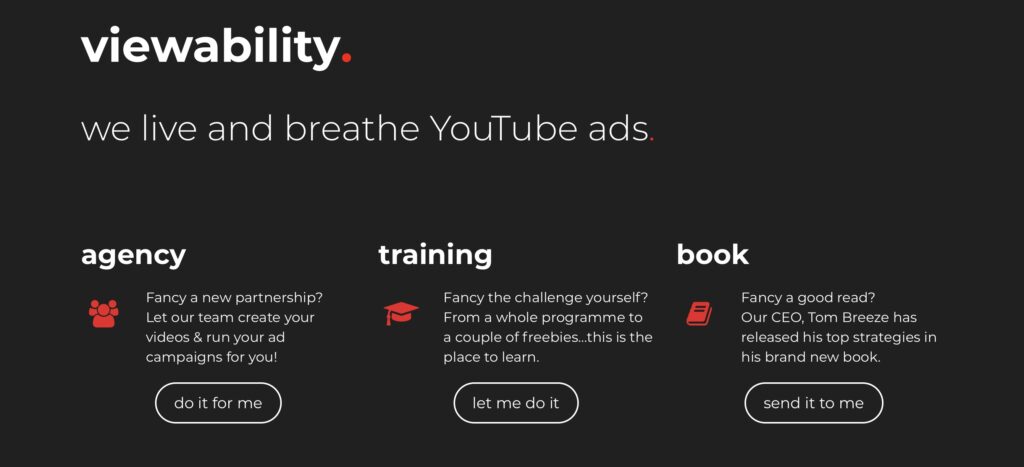 How Are They Special?
Viewability specializes in YouTube ads and they don't do anything else. They're the experts!
Agency takes care of the creative and campaign
Clients only pay on cost per lead or sale
4. Lumen5
Lumen5 is a video maker that allows you to improve your content strategy. Over 800,000 companies use Lumen to enhance their brand.
Features?
Easy-to-personalize video templates
Turns blog posts into videos using AI
Gain access to a huge stock library of photos and videos
Customize logos, fonts, colors to maintain brand consistency and elevate your content
Abandoned cart push notifications
Send personalized notifications
Plans and Other Features
Prices start at $0 and go up to $99.50 per month for Premium. There is also a custom option available.
5. upRive
upRive heavily split tests ads to improve profitable scaling. upRive also creates and saves a master copy of your ad so that you can use it across multiple audiences and campaigns without losing social proof.
What are the Key Features?
Stops overlap on audience while split testing
Ads get four times the budget without increasing costs
Improves conversion rates
Finds low competition rates
Has automatic trigger optimization rules
6. Offeo
If you want to get creative for yourself and gain access to the right tools and platform, Offeo could be for you. It allows you to make unique brand designs for social media.
What are the Key Features?
Gain access to hundreds of videos templates
Get professional animation
Fully automated for beginners
Cloud based
How Much Does It Cost?
Offeo is priced at $19 per month or $149 annually and all licensing costs are included in the price.
7. Glorify
Glorify allows you to create product images quickly and easily. These creative tools include templates for various niches including eCommerce, social media, adverts, and ebooks.
Key Features
Team collaboration
Background remover
Smart resizing
Shadows and reflections
Annotate tool
Brand kit
Image library
8. No Limit Creatives
No Limit Creatives provides unlimited graphics and video at a set monthly rate. No Limit Creatives can take care of everything from logos to social media posts, branding, and more.
Key Features
A design team inside of a single designer
Get multiple versions of a design
Access to a library of design styles
Works with a variety of business models
How Much Does It Cost?
For limited designs, there is a startup price of $349/month. You can also choose an unlimited graphic option for $449 per month or unlimited video for $549 per month. And if you want everything unlimited, it's $899 per month.
9. Canva
Canva is a popular online platform for developing your own creative assets. You can start from scratch or choose from thousands of professional templates, images, and other forms of quality content.
Key Features
Use team folders to stay organized, maintain brand assets, and manage your content
Plan, create, schedule, and publish social media posts from the Canva platform
A built-in comment function empowers communication and collaboration in real-time
How Much Does It Cost?
Canva offers a free plan for individuals and small teams to develop creative assets, and Canva Pro provides more functions and options for $9.99/month on a yearly plan. There's also an Enterprise option. Further, registered non-profits can get Canva Pro for free.
Final Thoughts on Creative Tools for Digital Marketers
If it's an agency you're after, YouTube Ads, DIY, or specific help, there's something for everyone out there.
Creative is a component that simply cannot be overlooked anymore. Almost half of digital marketers rate visual marketing as very important to their strategy. You should be one of them!
NOTE: This post contains affiliate links. AdLeaks earns a commission from purchases made through affiliate links on our site.
To take advantage of more deals and get exclusive digital marketing secrets, click here to Join AdLeaks now!