5 Top Search and Spy Tools for Digital Marketers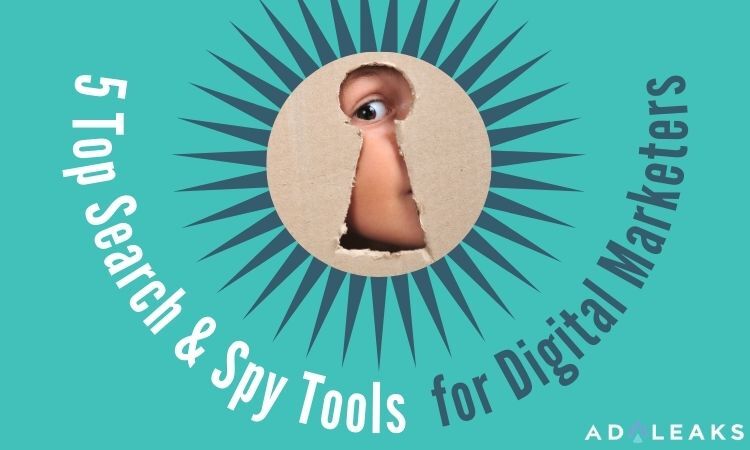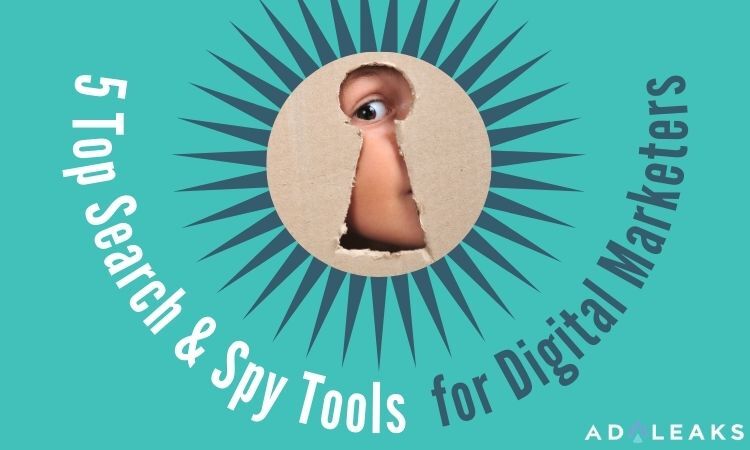 Every kid has dreamed of being a secret agent. Why? One reason is the excitement and intrigue of having information that no one else does. Especially when that information pertains to the opposition and strengthens your side.
The same rules apply to digital marketers. If your goal is to be the best, you'll need to put in some work to get ahead of the competition. And to do that, you need to know what competitors are doing and not doing, what they are getting right and getting wrong. This is all so you can take advantage of their weaknesses.
Even if you are already the best, you need these search and spy tools to stay on top. And if you are lagging behind, you need these tools to catch up.
What Search and Spy Tools Should I Try?
Here is a list of tools available to digital marketers. Some have overlapping features, while some have specialties and functions that might pique your interest. Take a look and see if one is the right fit for you.
1. AdSpy
The name AdSpy should tell you a lot in itself. With this tool, you can spy on competitors' ads to see how they're positioning themselves in the market, for inspiration, or other research purposes. But it has a few extra special features.
As you can see, the search can be as wide or as narrow as you want. You can even hone in on details like Offer ID and Likes.
Who uses it?
Dropshippers can use AdSpy to find hot new products with its huge data pool.
Affiliates can use the Offer ID function to see how other affiliates are promoting a specific offer.
Media Buyers use it to find out what areas competitors are dominating and what you have overlooked.
Benefits of AdSpy
Discover new campaigns and monitor competitors
Save money on testing new campaigns
Find new products
2. SpyFu
If you want to see the formula competitors are using in their search marketing, SpyFu is the tool for you. It helps you to avoid mistakes and take advantage of their successes.
What Does It Offer?
PPC Competitor Research for tracking every domain bidding on your Google ads, finding overbroad keyword matches, and discovering competitors' core keywords
SEO Competitor Research for tracking changes, getting recommendations, and targeting influencers whose links will help you rank on a specific keyword
Keyword Research Tools to find the most profitable keywords in a particular niche and generates keyword ideas
Domain Leads and Top Lists
Benefits of SpyFu
Improve contact information
Monitor SEO rankings not just on Google but on Yahoo and Bing
Get recommendations to improve SEO
3. Connect.io
Connect.io is an interesting gathering tool for Facebook data that also does analytics. In short, it finds targeted audiences and rates them too, which can help you serve the right ad to the right audience.
Who uses it?
Affiliate marketers
Social Media marketers
eCommerce marketers
What Does it Do?
Prequalifies interests
Lets you target by foreign language
Find untapped interests
Adds interests to your Ads Manager
Has interest 'layering'
Doesn't rely on outside tracking tools
4. InterestExplorer
Like AdSpy above, InterestExplorer basically does what its name says. Facebook hides interests, so this tool saves the time you would spend on interest targeting research.
What it Does
Find interests competitors can't find
Saves you time on research
5. BigSpy
BigSpy is a free spy tool that you can use to find the best creatives out there through and filters. You can also check out the performance, demographics, and landing page of a given ad.
Who uses it?
Media buyers
Ads agencies
Ad designers
What it Does
Includes ads from all the main platforms
Advanced search with filters for country, ad type, format, industry type, etc.
Trending ads
A database with more than a billion ads
Next Steps For Your Search and Spy Tools
Now it's time to pick a tool that will work best for you and your niche. Do you want to analyze competitors or get more insights on keywords? Choose accordingly and you should see better results on your Digital Marketing campaigns!
Finally, some of these tools are available at a discount for AdLeaks members. To take advantage of these deals and get exclusive digital marketing secrets, click here to Join AdLeaks now!
This post contains affiliate links. AdLeaks earns a commission from purchases made through affiliate links on our site.