9 Tips for SMS Marketing Campaigns That Convert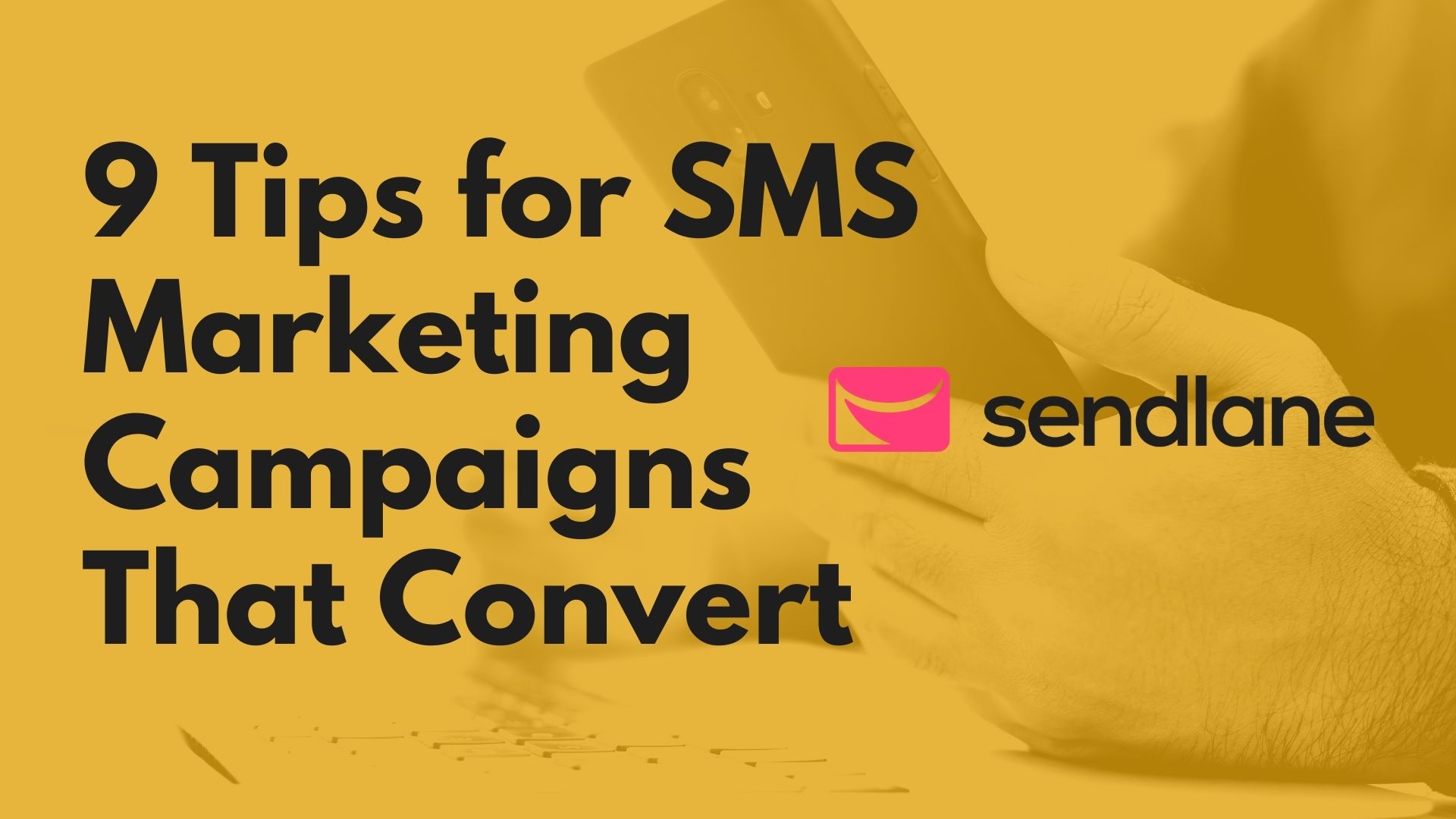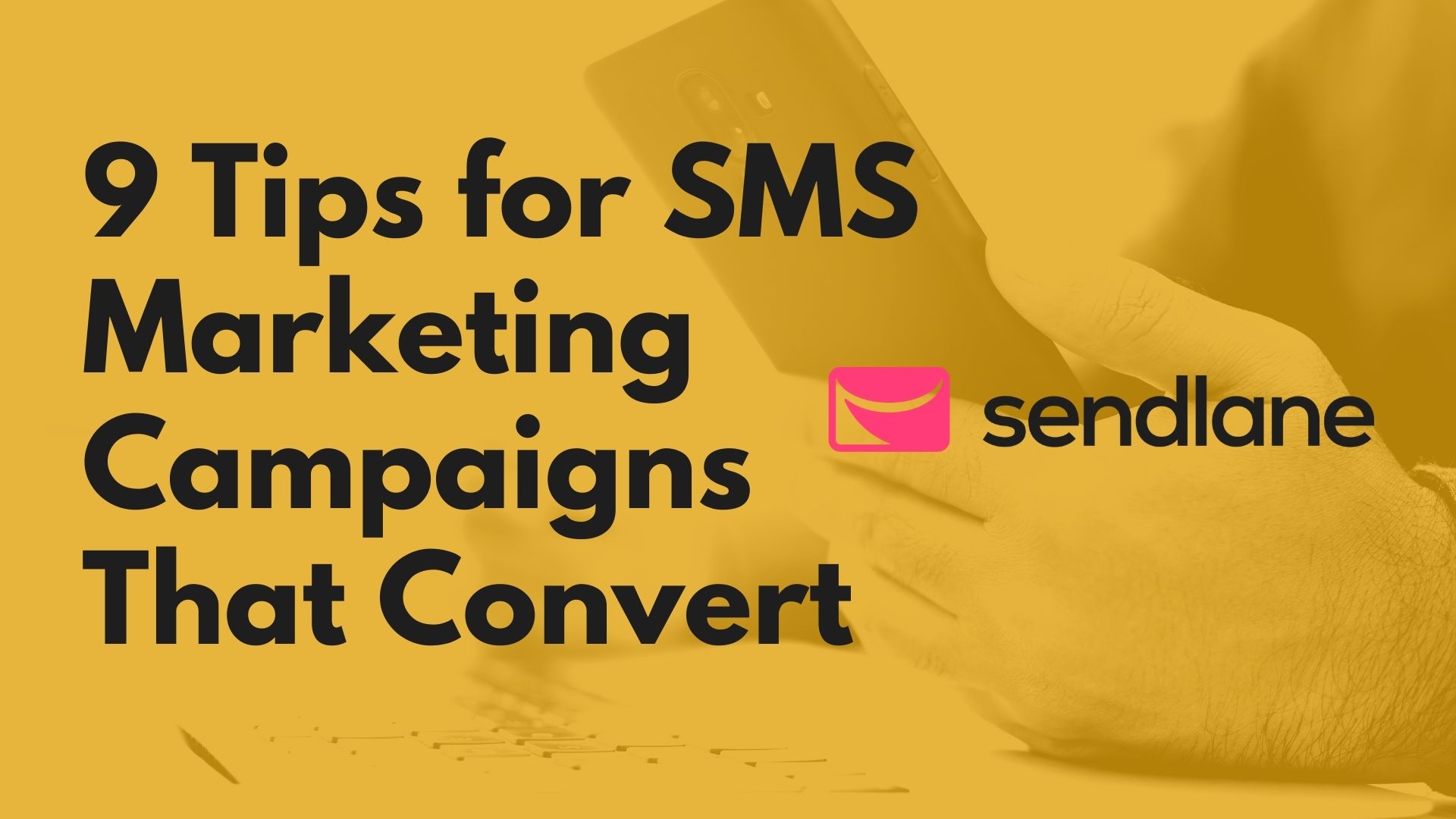 Did you know that 97% of American adults own a mobile phone?
And that we send, on average, 27 trillion text messages every year?
To be clear, that's 27,000,000,000,000 SMS messages every year in the US alone. Wow!
Further, 99% of texts are read and 45% of texts get responses in 90 seconds or less.
Texting comes more naturally than phone calls for today's consumers. Most of us get notifications from several messaging apps on our devices, and we don't filter text messages in the same way that we do for emails.
As a marketer or an eCommerce brand, SMS campaigns are a great opportunity for you to connect personally and immediately with your customers.
Lots of businesses are already seeing good results from text message campaigns. In a survey of marketers using SMS, 96% of respondents said that it has helped them drive even more revenue than before they started using it.
So yes, SMS campaigns are a good idea. But that doesn't mean you're guaranteed instant success as soon as you launch your first text marketing campaign.
First, you've got to know how to write messages your customers will love.
SMS Marketing: A Recipe for 160 Characters (or Less)
Generally speaking, text messages are limited to 160 characters, which includes spaces. So, if this paragraph had been sent as a text, it would have exceeded its limit 26 characters ago.
That gives you an idea of how concise your messages need to be.
We know that it can be daunting to try to say what you need to say and convince your recipients to click a link, book an appointment, or take some other action in just 160 characters.
Technically, you can send longer messages with as many as 918 characters. But they will get broken up into separate parts by mobile carriers and you'll be charged for multiple messages per recipient, not just one.
Let's get real, though. No one wants to receive, let alone read, 918-character text messages. Messages that long defeat the purpose of texting. Messages that long belong in emails, blogs, or social media posts.
That's why you need to know when text messages are the right choice, and how they fit in with your other marketing plans.
9 Best Practices for Writing SMS Marketing Campaigns‍
1. Short & Sweet
If you're going to jump into SMS marketing, you'll need messages that get to the point. Immediately.
Forget what you learned about grammar and sentence structure in school. And skip those copywriting techniques that help you create connections and build empathy.
Your text messages don't have room for that type of persuasion. You need to spell out the benefit of your offer or your message as concisely as possible. All you have is a second or two to grab your recipients' attention and tell them what they need to do.
Use short sentences like this:
There are no wasted characters in this message. Recipients know exactly who the message is from and get the info they need to grab this new product at a discount.
Making This Work For Your SMS Marketing Campaigns
Shorten your links. Try to avoid spelling out entire URLs in your SMS messages. There are lots of free link optimizer tools that will shorten your links. If you use an SMS tool like Sendlane, your links will be automatically shortened and tracked! If not, try something like Bitly to edit your long-winded web address down to a space-saving clickable snippet.
Tell them who you are. Your recipients always need to know who the sender is. This is good for branding as well as a legal marketing requirement. In the example above, the business name is the first thing in the text. And if you use an URL shortener, find a place for your brand name in your image or somewhere in the text.
2. Commit to One Message & One Action
Texting is a poor choice if you want to tell customers about your summer sale, a new location, and a website update all at the same time. That's what email campaigns are for.
Your SMS messages should have one message and one call-to-action (CTA) — and that's all.
With this in mind, you need a sharp focus on the outcome you want and specific details that spur action.
Let's say, for example, that you want to move through some of last season's styles. You might send out a message like this one from Pottery Barn:
Sharing the percentage discount and the reason for the sale gets straight to the point and indicates that the sale won't last long.
Making This Work For Your SMS Marketing Campaigns
One text. One message. One action. Whatever your broader SMS marketing strategy is, this rule is a keeper. If your sale is starting soon, say that in a message. When a new product comes out, tell your audience in one text. And of course, direct your link to the right URL and only use one CTA.
3. Earn Their Immediate Attention
Research has found that 95% of customers who choose to receive a business's SMS messages open and read those messages within three minutes.
So when your message goes out, you know you have their attention.
Once you lose that, however, the possibility of action or response falls with every passing minute.
This is why texting is perfect for promoting short-term, time-sensitive offers that compel recipients to make quick decisions.
Here's an example from Blenders. They're alerting SMS subscribers on a new product launch and trending styles they'll want to sport this season.
Making This Work For Your SMS Marketing Campaigns
Timing is Everything. The timing of your text campaign is just as important as the words or images in your messages. Be mindful of quiet hours and do not send messages from 8 PM ET - 10 AM ET and stick to send times between 11 AM ET- 8 PM ET.
4. Don't Overuse Uppercase or Emojis 😜
One of the benefits of SMS marketing campaigns is their simplicity.
Simplicity, however, is also a disadvantage.
While SMS delivery has expanded to include images, audio, and video, you still can't change the style or format of your words.
The only options at your disposal when it comes to text variety are capitalization and emojis.
Let's start with capitalization.
To paraphrase Jeff Goldblum in Jurassic Park, just because you can write your messages in uppercase doesn't mean that you should.
Too much uppercase, as we all know, reads like SHOUTING — and no one likes to be shouted at.
This message from Butter London is a great example.
Now, let's talk emojis.
Emojis are useful for adding personality to SMS marketing messages that would otherwise only include words.
All that said, don't go overboard with emojis. You don't want them to pull the reader's focus away from the message you're sending.
Making This Work For Your SMS Marketing Campaigns
Highlight your sale, event, or CTA with uppercase text or emojis. Capitalizing the right words draws focus to key elements of your message, like 50% OFF or FREE PIZZA. If you supplement that with emojis — 🍕FREE PIZZA! 🍕 — then that part of the message will really pop. Your CTA is another good location for drawing eyeballs. Just remember not to overdo it!
5. Add an Image
You've probably heard the old cliche that a picture is worth a thousand words. Even if that's only half-true, that's still a lot of extra content space to work with when you're limited to a 160-character SMS message.
Lots of SMS publishing tools are set up to include an image with your text message, which means that the right creative asset can do most of the heavy lifting for you.
In this example from Reebok, the footwear brand leverages a celebrity partnership to announce that products are back in stock:
The image and text work together to draw interest. The minimal backdrop draws your eye to the outfit, and the fact that Cardi B is standing on top of a taxicab relates to the "stop NYC traffic" copy.
This is just one way to incorporate images, of course. Also, it's important to remember that you don't rely on the image to do all the work. If some of your recipients have delivery issues and the image doesn't come through, they should still be able to figure out what your offer is.
Making This Work For Your SMS Marketing Campaigns
If you use an image, use it for a purpose. Any image that you add to an SMS message should create the same sense of excitement, FOMO, or urgency that you're aiming for in the copy. If you can't make that happen, it's okay to skip the image this time.
6. Power Up Your Word Choices
Even if you decide to throw in some on-image copy, you still have to make a concise and compelling case for your offer within those 160 characters of text. And to do that, you'll need to choose words that can punch above their weight.
In the marketing world, we call these power words. And they're essential if you want text message campaigns that convert.
Power words are meant to provoke strong emotions. They make you feel anxious about missing out, excited to get your hands on a bargain, curious to know more, grateful, tempted, or safe.
Here's an example from Lulus that packs in some power words:
Can you guess the power words? "Celebrate" is one of them, as is the "New" in New Year's. If those popped out for you, then you're on the right track.
Making This Work For Your SMS Marketing Campaigns
Power words are a great way to pull attention to your message and create desire.
Use power words in your message copy often. And if you aren't sure what those words are, here's a list of words that work especially well in SMS messages: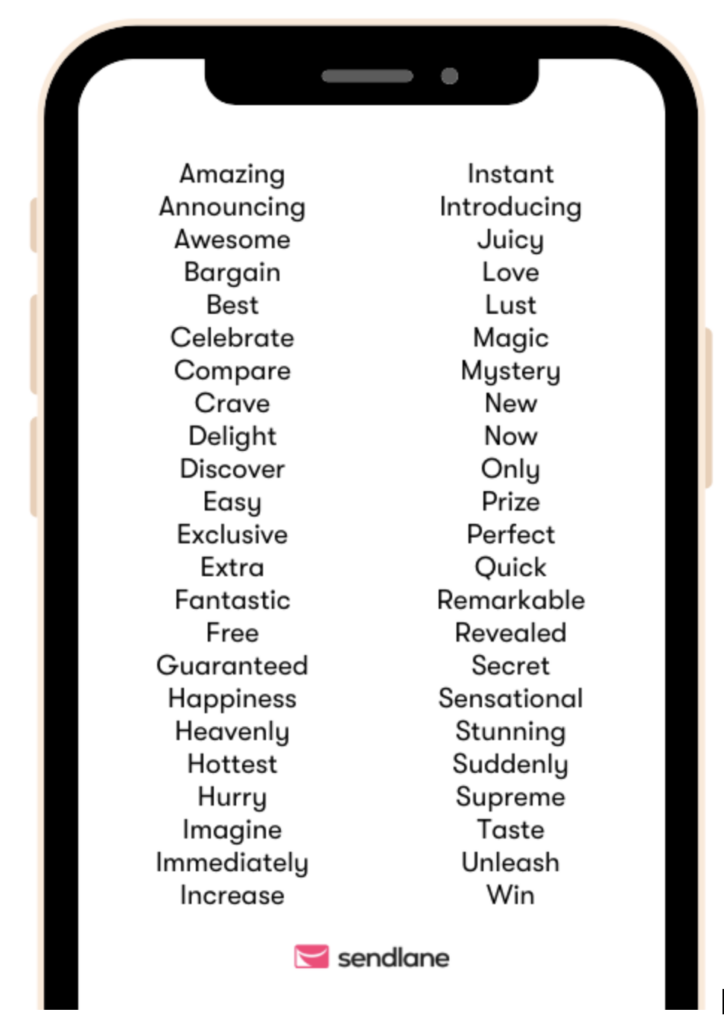 ‍
7. Make Your SMS Marketing Personal
People like to read or hear their names. That's a fact.
That's also why we've personalized marketing emails for years. We know that including a personal touch like a name makes the recipient feel valued.
Text messages are no different.
Of course, personalization requires more than adding a user's name to a message. Effective personalization will also include segmenting your SMS contacts, much like your email lists.
If your store has a physical location, for example, do you know if a given user signed up in-store or online?
That's a data point you can use for segmentation. It gives you insight into how users opted into your SMS messages and gives you more ways to personalize their shopping experience.
Most of the segments you create for eCommerce email lists can work for SMS too. A few common examples include:
Past purchases
Demographic and location information
Engagement level
Here's another example. Let's say that you own a yoga shop and have a segment of loyal shoppers that always wait for a discount or sale to make their purchases.
You could send a message like this one from Noli Yoga, which announces a special "Friends & Family Sale" to entice regular customers to buy again.
Segmentation can help you level up your personalized offers, and that's just the beginning.
Making This Work For Your SMS Marketing Campaigns
Start segmenting your SMS subscribers. Effective personalization is built on a foundation of segmentation. You probably have segments for your email list in place already, but you'll need them for your SMS audience as well.
See above for a few ideas on where to start segmenting for SMS marketing. Remember that many of the segmentation principles that work for email marketing will apply to your SMS marketing too.
8. Minimize Slang
Is your target audience a bunch of extremely online teenagers who are obsessed with their connection to your brand?
We doubt it. This is why you should avoid "text talk."
For example, "CUL8R" might be nine characters shorter than "See You Later," but if your audience isn't familiar with that abbreviation, they'll probably spend more mental energy working it out than on your actual offer.
If you spend some time writing SMS messages, you'll find that shortening words will be necessary on occasion to fit within the 160-character limit. But you want to be clear and professional — for example, you can say 'Pls book early' to shorten the phrase 'Please book early.' Similarly, write 'T&Cs apply' instead of 'Terms & Conditions apply' to save space.
Most text message recipients are familiar with these common abbreviations and will understand that they're used to save space.
This message from PacSun uses abbreviations well:
Use common sense and think about your audience. You'll never offend anyone with professional-sounding language, but too much slang, like too much uppercase or too many emojis, may cost you some customers.
Making This Work For Your SMS Marketing Campaigns
Be clear, not clever, in your SMS messages. If you're familiar with the tenets of copywriting, you'll know that it's always better to write messages that are clear, not clever. Too much wordplay or tangents take attention away from your message and use up valuable character space.
In short, it's acceptable to use abbreviations in your SMS campaigns when the situation calls for it. But double-check for clarity, including asking others outside of this project to read the content. If they can't understand the message, your customers won't either.
9. Stay on the Right Side of the Law
Text messages from businesses are considered commercial electronic messages. In the US, that means your messages have to comply with the CAN-SPAM Act and the Telephone Consumer Protection Act.
Other countries have similar laws in place too.
What does this mean for your SMS marketing campaigns? Commercial messages have two requirements:
You must clearly identify your business
An easy-to-see unsubscribe function
As the examples above have shown, most messages include a phrase like 'Reply STOP to opt-out.' And before you ask, yes, those characters count as part of your message total.
The examples that don't have an unsubscribe option, however, are not considered 'transactional.'
The message, in other words, is a customer service notification or update and not seeking to sell products or services.
If you're worried about it, though, you can always put an unsubscribe option in, as Kopari does in this message.
Making This Work For Your SMS Marketing Campaigns
Identify your business and include an opt-out option in every message. While identifying your business seems like an obvious choice, you may not want to give contacts an easy "out" from your messages. Don't get wobbly on this — it's a must, and you could face serious consequences if you fail to include an opt-out.
For more on the fundamentals of SMS Marketing, download your free copy of Sendlane's Digital Retailer's Guide to Modern to SMS/MMS Marketing eBook!
The Last Word on Effective SMS Marketing Campaigns
Text messaging can be a valuable tool in your marketing strategy, but it shouldn't be the only tool.
After all, your first point of contact with leads and customers won't be a text message. That will happen online or in person.
Remember, you can't start sending people texts until they've opted in. To do that, they need to know what your brand is and what you offer, either through your store, website, social media, or some other channel.
After that first connection, however, following up with a powerful value-adding text is a great way to stay connected.
Ready to put SMS marketing to work for your business? Chat with a Sendlane expert today or start your free 14-day trial right here.