The Curious Marketer's Guide to App Store Ads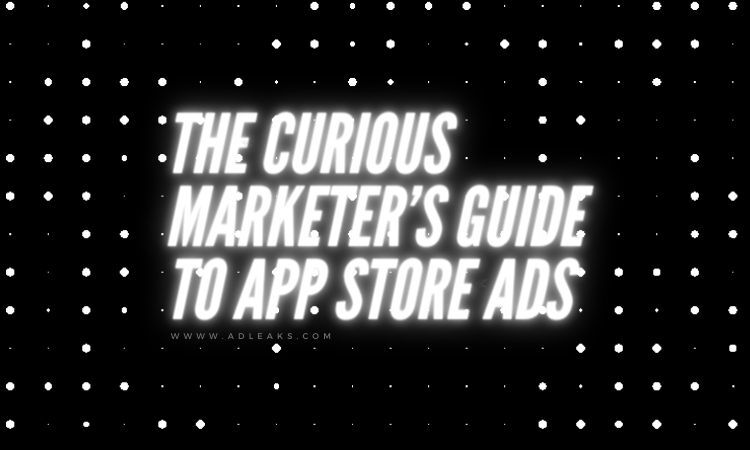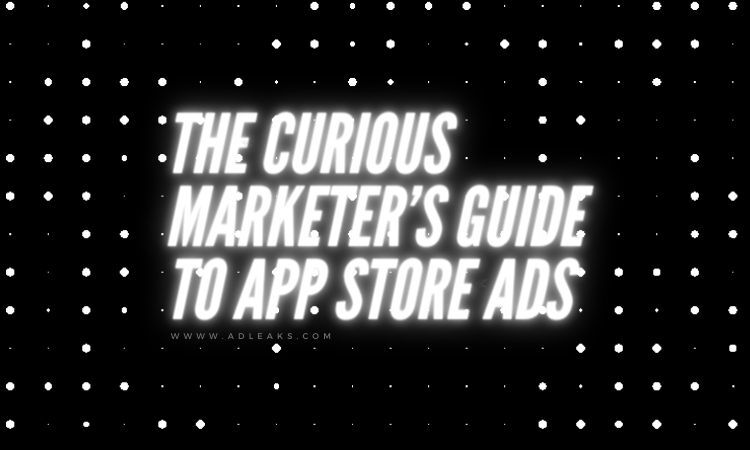 Broadly speaking, app store ads are sponsored content that appears where mobile device users look for applications. Typically, these ads lead directly to a download screen within the app store for the user to convert.
In other words, users type in a search term like "organizer," the store search engine provides suggestions that include sponsored content, and someone who sees an app ad can get that app with just a couple of clicks.
Marketers working in this space can leverage app store ads to increase everything from brand awareness to downloads. But where do these ads appear, and how does one make the most of them?
Where Do App Store Ads Appear?
The two most-used app stores belong to Apple and Google, and if you're trying to reach users, this is where your ads will be too.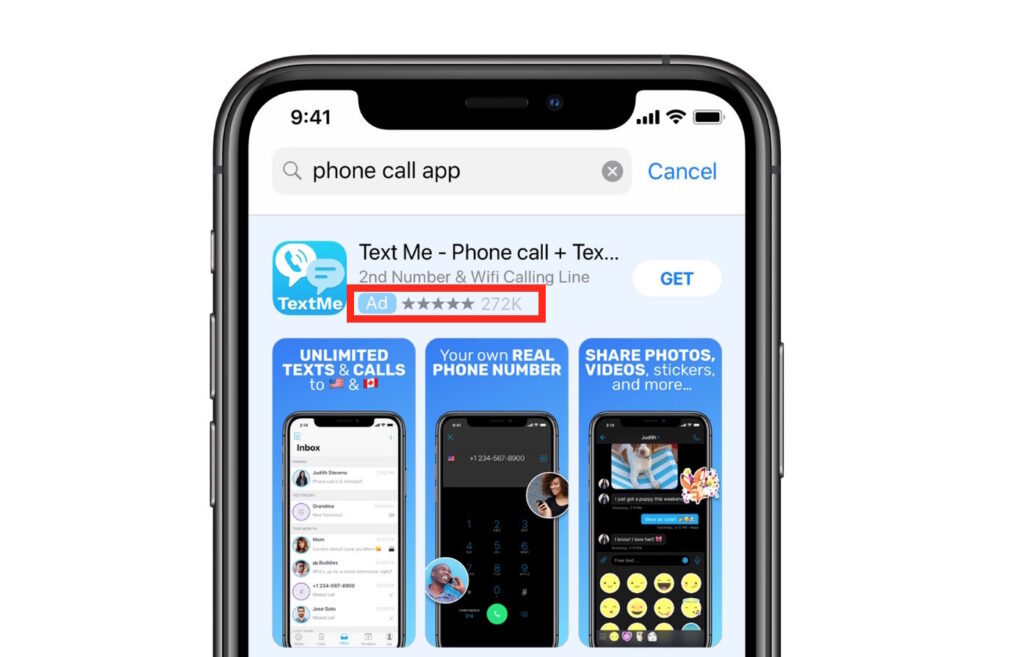 iPhone users can only download apps from Apple's App Store, and while Android users aren't locked into the Google Play app store in the same way, the vast majority of downloads take place in the store.
Each of these platforms supports millions of apps and billions of downloads — users downloaded 108.5 billion apps in 2020 from the Google Play Store alone.
Apple App Store Ads
Advertisers who run ads on Apple's App Store bid on keywords and the opportunity to feature at the top of the search results, just like other ad-supported search engines.
According to 9to5mac, however, the new iOS 14.5 can show users a suggested app at the top of their search results that may have nothing to do with their search.
And although the search result may look random, it may not be as random as you think. Apple uses the data it collects on users (that's you) to run targeted App Store ads, just like other platforms.
Types of Apple Ads
To run Apple App Store Search Ads, you'll need to start by choosing either a Basic or an Advanced campaign.
Basic Search Ads:
Pay only for installs at a pre-prescribed price
For budgets up to $10,000 per month
Requires little expertise
Includes a quick view performance dashboard
Advanced Search Ads:
Manage your own campaigns
Freedom to set bids and budget
Pay only when an ad is clicked
Get detailed reports
Access to the search match feature - making ads appear to more relevant users (this also saves time on app keyword research)
Control over ad scheduling
According to Apple, more than 70% of iOS users discover apps through the App Store Search option. If you have an app you want to push, that's the place to do it. (Just lock in your strategy and creative assets first — more on that later.)
Google Play Apps & Ads
Google app ads are a little different from Apple app ads. But what is really important to know is that there are over 1,000 app submissions a day on Google Play!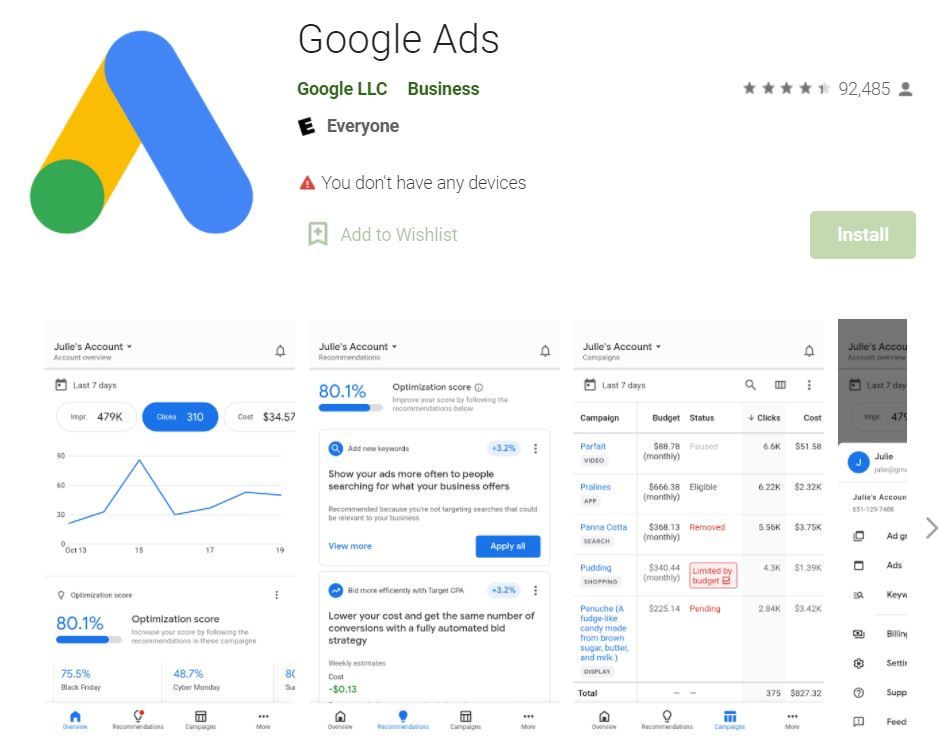 In that environment, making your app stand out is a prerequisite if you hope to have any success. And advertising the app is one of the most surefire tactics to generate the exposure you'll need.
Universal Google App campaigns allow you to promote the app across Google's real estate not just within the app store. These platforms include:
These opportunities can provide a huge audience, even bigger than Apple App Store ads. Specifically, in relation to Google Play, your ads can be featured in:
Search Results
Related App Sections
Home Page suggestions
Related search terms
Google also provides the opportunity for dynamic app ads, which limits the need to test ads manually, as the platforms themselves look for the best combinations to show users.
Even though Google creates the ads from the assets you provide, there are still some things that need to be set manually. These include:
Budget
Languages
Target locations
Text
Campaign start and end dates
Ad objective:

Cost per install (For attracting new app users)
Cost per action (When you are looking for users to make in-app purchases)
Interestingly, when you set up a Google app ad campaign, you can target both Android and iOS. To start setting up your campaign now, click here.
And for detailed advice on how to run a successful campaign, take a look at Google's five-step process for finding the right app users.
Strategies for Effective App Store Ads
If your audience is in the Apple App Store, Google Play Store, or both, there are a few best practices that you should implement as you create your ad campaigns.
Optimize by using the right keywords, images, titles, and metadata.
Produce ads that engage the audience and follow the theme of the app clearly.
Think long and hard about the look of your icon, screenshots, and video. These details can help, or hurt, the likelihood of a download.
Monitor app performance and respond quickly to issues to keep it running
Listen to the feedback of users and respond accordingly
Work to improve ratings and reviews to increase ROAS
Focus on the app experience in your ads
Test your campaign and track relevant metrics to improve your conversion rate
There a significant amount of untapped potential for savvy marketers to leverage App Store ads. And if you're looking for more advanced and exclusive digital marketing secrets, click here to Join AdLeaks!